Aussie Batteries & Solar - 12V Shop for Solar & Batteries Direct Online
Aussie Batteries & Solar Online 12V Shop for the best 12 Volt, Batteries,Solar and Off Grid Solar Living Products & Solutions with Australia Wide Delivery! We specialise in Batteries and Solar for a range of Camping, Caravaning, 4WD, RV's, Marine and Off Grid Solar Living applications. When you need 12 Volt Direct supplies or expert advice on quality Caravan & Camping Battery and Solar Setups or 12 Volt Accessories we can help. At Aussie Batteries & Solar our promise is to offer the best prices and exceptional service on batteries, portable solar panels, inverters, solar regulators, solar panels for camping and a 12 Volt Shop for appliances such as portable fridges. We are the experts in 12v/24V/240V Off Grid Solar and Battery solutions for a range of applications and offer fast and efficient shipping Australia Wide on all our Batteries, Solar Panels,12 Volt Camping Fridges & 12Volt Products.
Aussie Batteries & Solar are experts in providing advice to help you get the best Batteries Direct including; Solar Batteries, Dual Battery Systems, Deep Cycle Batteries, AGM Batteries, Gel Batteries, Carbon Lead Batteries, Marine Batteries, Caravan Batteries, Battery Monitoring Systems, Battery Banks, Battery Boxes and Battery Chargers that are the best in class for your 12 Volt Camping, Caravan, RV and Marine Power Requirements.
We endeavor to provide the best Batteries Direct and Solar Products Online. Our 12V Shop specialises in camping products that handle Australia's harsh environmental conditions. Here at Aussie Batteries & Solar we back all our products with exceptional warranties because we're confident that they'll last you for many years to come.
Call our team for expert advice on Batteries, Solar or 12V Camping Setups including 12V Battery or Solar System Setups for Camping, 4WDs, RV's, Caravans, Boats or Home. Or ask us about getting complete off the grid solar power with stand alone solar and battery solutions.
We love to help our customers find the best batteries, solar and 12v products for their needs email or call our friendly experts on 1800 853 315 - We are more than a faceless online store and pride ourselves on excellent customer service. We have a dedicated team of Battery, Solar & 12 Volt experts who are waiting to take your call and help you get the best Batteries, Solar and 12V Camping Gear for your needs and location - Austraila Wide & Australian Direct Shipping Service on all our Batteries & Solar.
Best Price Guaranteed!
Australia Wide Delivery
Need Help? Get Expert Advice
Visit our Retail 12V Shop
Exceptional Warranties
Australian Owned and Operated Business
Blog Posts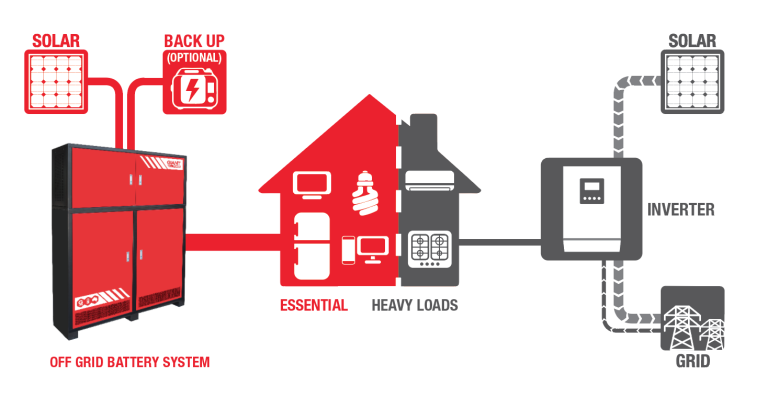 Our friends at Giant Power have been assisting the Solar Choice website in a primer on partial off-grid systems. In this article, Solar Choice discusses going partially off the grid as a... read more
View more posts
Free eBook
Learn everything you need to know about
Deep cycle batteries
Solar panels
Portable fridges
Inverters
and more!
Download now