Caravan Solar Panels - Solar Power for Caravans & Motor Homes
Caravan Solar Panels - Buy

Caravan Solar Panels Online with Australia Wide Delivery
Aussie Batteries & Solar provide the best options and prices on Caravan Solar Panels & 12V/24V Solar Setups for your Caravan or Motorhome. Let us help you get the best Solar Power setup for your Caravan, Recreational Vehicle & Motor Home with Australia Wide Delivery or In-store Installation and Servicing.

We stock a large range of Caravan Solar Panels that are perfectly suited for the roof of your caravan, camper trailer or motor home.
Solar Panels for Caravans allow you to camp anywhere with reliable power. Installing Solar Panels to your caravan is an excellent way to keep your batteries charged and a quality solar system installed into your Caravan will last for 20 years or more & require hardly any maintenance. We can provide you with 12 Volt and 24 Volt (nominal) solar panels to match your Caravan or RV's battery voltage. Our caravan solar panels come in various shapes and sizes to suit most roofs & installation areas. Most modern caravans & motorhomes have a 12 volt, or 24-volt battery system. These battery systems are charged by the vehicle's alternator while the engine is running and often incorporate a 230V battery charger that will work to maintain the battery when it is connected to mains power. However, in remote locations like National Parks, you will find that 230V/240V power is not available. Caravan Solar Panels are a great alternative power supply unless you want to run a generator or the engine of the vehicle to re-charge the batteries which of course spoils the desired benefit of camping remotely.
Roof Top Solar Panels or Portable Solar Panels are both great options for Caravans & RV's
If your vehicle is large enough solar panels can be mounted to its roof. Portable Solar can be more efficient than roof top installations, however, most long term campers prefer the stationary and mounted solar options for their caravans as it is easy, convenient and simple to use and maintain. Remember that your Caravan or RV Solar Panels will have to withstand very strong head winds or constant vibrations, for this reason we highly recommend a professional installation. Aussie Batteries & Solar have decades of experience in retrofitting motor homes or caravans with solar power.
If you need expert, tailored, no-obligation advice on Portable Solar Panels for Caravans email or freecall our friendly team on 1800 853 315 we have a dedicated 12 Volt Solar & Battery team just waiting to help. Shop for Caravan Solar online with Australia Wide Delivery by browsing our range of Solar Panels for Caravans and Recreational Vehicles below and get Australian direct shipping and Solar Panels delivered to your door!
Watch our video on Caravan Solar Panels
Blog Posts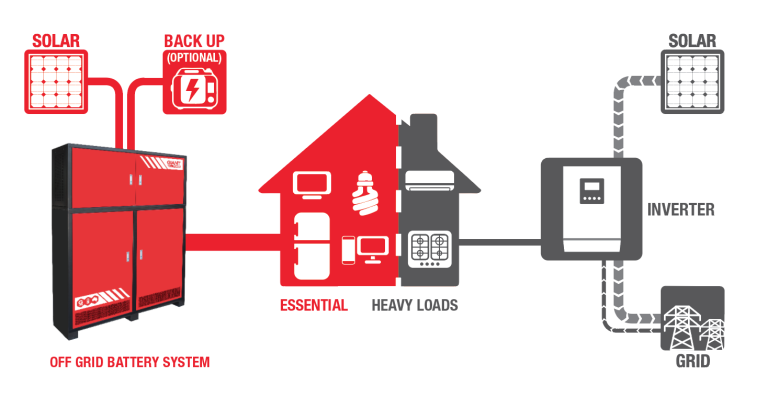 Our friends at Giant Power have been assisting the Solar Choice website in a primer on partial off-grid systems. In this article, Solar Choice discusses going partially off the grid as a... read more
View more posts
Free eBook
Learn everything you need to know about
Deep cycle batteries
Solar panels
Portable fridges
Inverters
and more!
Download now