Generators
Generators are a great source of power, particularly as a backup solution in times of emergency or for long periods of bad weather with solar power. Modern generator technology has made generators lighter, more efficient, and quieter than ever before - so much so that they are now becoming a common piece of camping equipment. Our inverter generators provide both 12V and 240V, so you can charge up 12V batteries, run 12V appliances, and also run any 240V appliances you need.
Blog Posts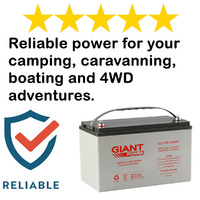 How to get the best Battery Boxes and Portable Power Battery Power Packs for Camping - A guide to using a Battery Box for Camping and 12 Volt Battery Box Setups for Camping - Battery Power Packs VS Battery Boxes... read more
View more posts
Free eBook
Learn everything you need to know about
Deep cycle batteries
Solar panels
Portable fridges
Inverters
and more!
Download now