Gel Batteries and Solar Batteries
Deep Cycle Gel Batteries and Tubular Gel Batteries
A Gel Battery (also known as a "gel cell") is a sealed, valve regulated lead-acid deep cycle battery that uses a gel electrolyte. Our Gel Batteries range is built tough and completely maintenance free. Aussie Batteries range of Deep Cycle Gel Batteries uses a gel electrolyte technology, which holds the battery plates securely in an immobilised gel. This design makes our range of Deep Cycle AGM Gel batteries extremely robust and resistant to spillage if accidentally tipped upside-down.

Our range of Deep Cycle Gel Batteries and Tubular Gel Batteries are some of the best on the Australian market.
A common question we get asked is "What is the difference between Deep Cycle AGM (Absorbed Glass Matt) Gel Batteries and Tubular Gel Batteries ?"
In Tubular Gel Batteries the electrolyte is mixed into a paste, which gives similar advantages to AGM Batteries (e.g. makes them non-spillable with lower internal resistance leading to better performance than traditional Lead Acid). We sell both these types of Gel Batteries, and it depends on the application, you want the battery to fulfil.
If you need expert, tailored, no-obligation advice on Gel Batteries email or call our friendly team on 1800 853 315
Our range of Deep Cycle Gel Batteries is completely maintenance free, needing no topping-up of liquid electrolyte, while the valve-regulated sealed design allows installation in hard to reach locations. Our range of tubular Gel Batteries are some of the best solar storage batteries available on the Australian market. When you need long-term power storage solutions, the Aussie Batteries range of Tubular Gel Batteries have superior discharge capabilities.
Our range of Tubular Gel Batteries come with a 20 year designed service life and 5500 cyclic life rating (30% DOD). These tubular gel batteries are devised in every aspect to go the distance. Each tubular gel battery is a single 2V cell, in comparison to other types of batteries which contain multiple 2V cells within them (a 12V battery contains 6x 2V cells).

This feature of a Tubular Gel Battery provides greater reliability by removing the possibility of a higher voltage battery dropping a cell and needing complete replacement. Due to their single cell nature, tubular gel batteries are also available in substantially larger sizes than combined cell batteries.
We stock Gel Batteries sizes from 270AH to 2000AH, and can source larger sizes if required. For expert, tailored, no-obligation advice about Gel Batteries and Solar Batteries you can email or call our friendly team on 1800 853 315
Gel Batteries - Solar Batteries - Deep Cycle Gel Batteries
Why you should not use a Gel AGM Battery under the Bonnet: Oil, fuel and other engine lubricants may cause damage to battery casing materials. We strongly recommended that you avoid fitting Deep Cycle Gel batteries under the bonnet of your vehicle as this will void the warranty the best for under the bonnet are sealed lead acid batteries such as an Exide Batteries we can supply these in our store located in Warana, QLD. We do not ship lead-acid car batteries due to their volatility.
Gel batteries are also often called a 'Solar Battery' and are valve regulated lead-acid (VRLA) batteries that do not release corrosive gas. Presently, Gel batteries have the highest cycle rate of all our deep cycle batteries, and this makes them perfect for many solar power systems.
The term "valve regulated" means that VRLA batteries recombine the (O) oxygen produced at the positive plates with the (H) hydrogen from the negative plates. This reaction creates water and consequently prevents water loss and oxidation within the battery.
Gel Batteries as we previously described keep the electrolyte suspended in a gel-like fixative. Similar to AGM batteries, Gels do not need a battery tray as they are considered non-spillable. Hence, the name 'sealed gel battery' often used to describe them. However, we still recommend an upright position to get the best from your batteries.Gel batteries can also recover remarkably well from deep discharges. However, to get the most out of gel batteries, it is still best to charge them up as soon as possible.
The advantages of using a sealed gel battery are that the cycle life of Gel batteries massively exceeds that of Flooded or AGM batteries if properly maintained. Remember, gel batteries must be charged at a lower voltage than AGM or Flooded batteries (therefore gels can't be directly hooked up to a vehicle's alternator).
The above condition is not restrictive when Gels are used by a solar system with battery chargers and regulators as they have specific settings for gel type batteries. Gel batteries are often called a 'Solar Battery' because they are long lasting rechargeable batteries that are ideal for use in solar power systems, predominantly where low maintenance is desired/required. Remember the extra costs will pay off over the lifespan of the batteries.
Read more
Watch our video on Tubular Gel Batteries
Blog Posts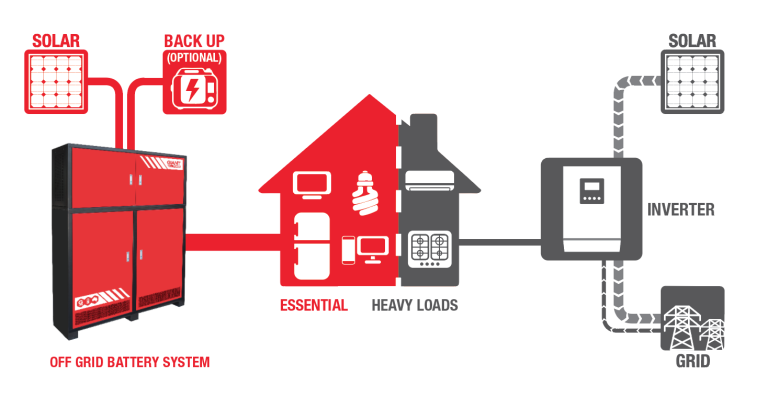 Our friends at Giant Power have been assisting the Solar Choice website in a primer on partial off-grid systems. In this article, Solar Choice discusses going partially off the grid as a... read more
View more posts
Free eBook
Learn everything you need to know about
Deep cycle batteries
Solar panels
Portable fridges
Inverters
and more!
Download now