Off Grid Solar System |Off Grid Stand Alone Solar Power & Battery Systems
OFF GRID SOLAR SYSTEM AND STAND ALONE SOLAR POWER SYSTEMS - OFF GRID BATTERIES
An Off Grid Solar System will allow you to get off the grid energy anywhere in Australia with Stand Alone Solar and Off Grid Batteries. Are you living in a remote or rural area of Australia where mains electricity just isn't available or is terribly costly to get connected to the grid? You should consider your options and get a free quote on our range of off grid solar system & stand alone solar power solutions. Advances in off grid solar system technology means it's now cheaper and more efficient than ever to start living off the grid with electricity generated by stand alone solar and battery power. If you don't have access to the grid for power, then an off grid solar system is a great solution as a stand alone power & complete energy system for your home, shed, boat, granny flat, remote/rural property or any other off grid application.
Experts in Off Grid Solar Systems - Off Grid Batteries - Stand Alone Solar Power Systems
Aussie Batteries are specialists in the supply of Stand Alone Solar and Off Grid Battery systems that are designed to allow you to live without having to sacrifice any of the modern day comforts you may be used to living with. We offer Custom Off Grid Solar System Design & Australia Wide Installation Services.
We provide off grid solar system packages & stand alone solar kits. Contact us for a free off grid solar system quote and individual system design that is suitable for your circumstances and location or browse our range of Off Grid Solar System and Battery Kits. Buy online below and get the best prices on off grid solar in Australia.
Our range of Australian off grid energy solutions include deep cycle battery power systems, that generate power with solar and store power in heavy duty rechargeable deep cycle or lithium batteries. Our off grid solar systems are designed by S.A.P.S accredited designers/installers, and comply with all relevant Australian Standards. Here at Aussie Batteries and Solar we can customise a unique off grid solar system to meet your energy requirements perfectly. We also have installers all over Australia. Getting the right off grid solar system and standalone power set-up for your needs is crucial and will depend on where you live. Let us help you get the best off grid solar and battery energy system that is individual to your situation.
For expert, tailored, no-obligation advice, get in touch with our friendly team and find out further details about our complete off grid solar system & stand alone battery & solar packages. Start your journey to living off the grid with the best off grid energy products and service in Australia. Aussie Batteries & Solar have decades of experience in providing off grid solar solutions to customers all around Australia. We continue to grow and have become one of the largest suppliers of high quality off grid solar system and stand alone solar power products in Australia. Browse below from our range of Off Grid Solar & Battery Kits for DIY Off Grid Packages or Contact Us and create an individualised Off Grid Solar setup.
Watch our video on Off Grid Power Systems
Blog Posts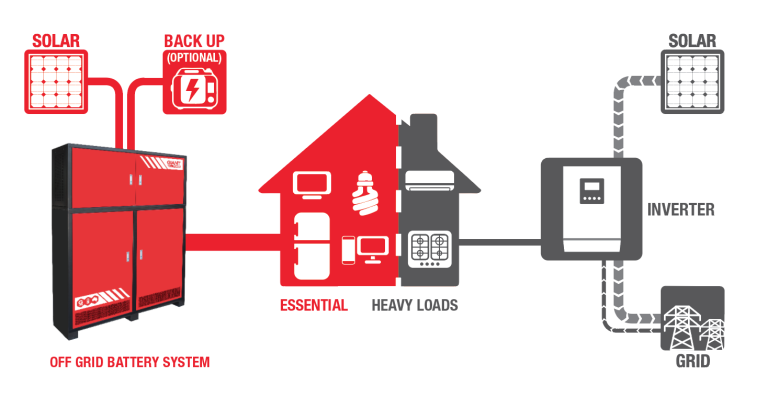 Our friends at Giant Power have been assisting the Solar Choice website in a primer on partial off-grid systems. In this article, Solar Choice discusses going partially off the grid as a... read more
View more posts
Free eBook
Learn everything you need to know about
Deep cycle batteries
Solar panels
Portable fridges
Inverters
and more!
Download now