200W Complete Foldable Solar Kit with Ardent Battery Box + 120AH Eclipse Battery
SKU:

ARD-EC120AH-200WCB2
Buy now, pay later
Interest free instalments
Four equal payments of $323.75/fortnight, with instant approval online. Learn more
Enjoy your gear now, and pay for it later! We're happy to provide the opportunity for our customers to shop with us using popular pay later options.


How it works
Buy what you want today, pay for it over four equal fortnightly instalments. Use your debit or credit card, get approved instantly.

Ordering online
Add the products you want to your cart, and select Afterpay as a payment option during checkout.
After your order is processed, you can log in to your Afterpay account to view your order, make payments and manage account details.
Note: Afterpay is only available on orders under $2000 value.
For terms and conditions, please refer to the Afterpay website
ALSO AVAILABLE

How it works
Buy now and pay later, with 6 months interest free. You pay over time weekly, fortnightly or monthly, whichever suits you best. Applications are quick, and get a decision in real-time.

Ordering online
Add the products you want to your cart, and select Zip as a payment option during checkout.

Ordering over the phone
Call us on 1800 853 315 and place your order with our friendly staff. Ask to pay using Zip.
Note: ZipPay is only available on orders under $1000 value, while ZipMoney is available on orders up to $10,000 value.
For terms and conditions, please refer to the Zip website
Overview
---
Video Overview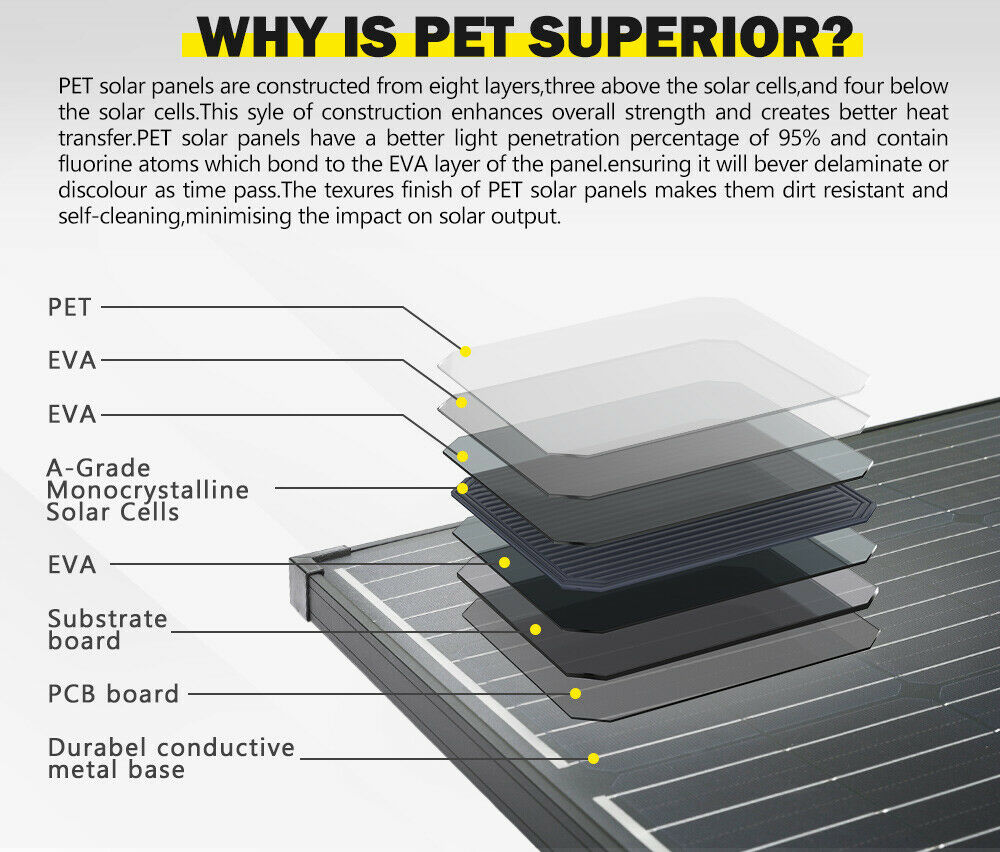 Complete 12v Portable Folding Solar Panel Kit for Camping - 200W Watt Portable Folding Solar Panel Kit with 120AH ECLIPSE Battery & Ardent Battery Box!
For When You Need The Perfect Portable Solar Solution!
This complete folding solar panel kit is perfect for many camping applications and those looking for a lighter portable solar panel option.

This portable solar panel kit is perfect for customers who want a versatile, reliable and popular portable solar panel, battery and box that will provide both convenience and dependability when venturing off the grid for camping power ! This is a complete plug and play solution and is the perfect kit to suit any application!
This Ardent Super Thin 12V 200W Solar Panel is a high quality 12V portable bi-fold folding solar panel constructed from A-Grade Monocrystalline Solar Cells. Built with a strong, lightweight frame, this panel gives users exceptional performance making this the best folding bi-fold 200W solar panel in our range...... and at 14KG, this is a slimline, highly durable, heavy-duty portable camping solar panel that is perfect for camping and designed to travel Australia with you!
When you're away from mains power, you need a way to keep your essential electronics running. Instead of a costly and noisy generator, a portable folding solar kit is a great solution for camping to provide you with all the clean, silent, and free energy to run all your goodies. Ideal for camping, this complete folding solar kit is perfect to run your portable fridges, lights and small electronics (with an inverter). Designed for the tough Australian conditions, everything in this solar kit is built to high standards and backed by a great warranty. Best of all, this entire solar kit is a simple plug and play setup to avoid any mucking around, just plug it in and you're ready to go on your next adventure. Portable solar panels are a great addition to any camping adventure, as they allow you to bring more gear with you and provide a higher level of independence. We have designed this solar panel kit to not only survive in the harsh Australian conditions but thrive in them. Our built tough components ensure this complete solar kit can handle the rigours of being folded and unfolded many times as you travel across rough and tumble tracks and trails throughout Australia.
A-Grade Folding Solar Panel Kit Monocrystalline 200W
No glass design,light weighted series

High module conversion efficiency

Ultra High Shade Tolerance

Top grade Mono-Crystalline Cells

Heavy Duty Frame with Corner Protectors

Comfortable Carry Handle

Stable Legs

Premium PWM Solar Regulator

Supplied with 7M Long Cables with Anderson Style Plugs

Alligator Clip Adaptor

Over charging,short circuit and overload protection

Reverse polarity and reverse discharging protection

Under Voltage Protection
The Ardent 200W Slimline Solar Panel is perfect for solar power for Camping, Caravan, Camper Vans, Camper Trailers, Motorhomes, Marine, 4WDs, RV's & Off-Grid Solar. This lightweight and super strong bifold solar panel is designed as a tough portable solar panel for the roughest of Aussie tracks. Designed to be 100% weatherproof, including the pre-wired (and by passable) PWM solar controller mounted on the back of the panel, you can leave these panels out no matter what the weather is doing.
These Ardent Power 200W slim-line black folding solar panels use the latest top grade Mono crystalline cells, thus have a maximum 24.5% high module conversion efficiency. Also, these panels are designed with ultra high shade tolerance,this will minimize power drop caused by partial shading and ensure excellent performance. Not the least, the Ardent Slim Line Solar series adopt PET coating technology to replace conventional heavy and fragile glass, this improvement has reduced the solar panels weight by 50% without any compromise to efficiency ! Ardent Power quality assurance means that you can be assured that this solar panel is reliable and trusted for unrivalled performance all the time!
When you need a lightweight (14KG) and super-efficient 200W folding solar panel, a ARDENT 200W Slim Line Panel is a portable simple to set up, pack down, and carry around solution to get power for all camping setups and other emergency situations!
ARDENT 200W Slim Line Solar Panel Feature:
Waterproof Solar Regulator (IP66 Rating)

High-Quality Hail Proof Panels

Pre Wired Nothing to Buy

Easy to use portable Solar Power System
What can I power with this solar panel?
LED-lights

Phone & laptop chargers

Fridges bigger than 80L

Maintenance chargers

Inverters up to 1000W

Much, much, more.....
Solar Panel Inclusions
Folding Solar Panel - (Pre Wired and Ready To Go)

Waterproof 20A Solar Regulator (IP66 Rating)

Heavy-Duty Cable With Anderson plug

Operation Manual
Browse from the Aussie Batteries range of high quality Battery and Solar products for Expert Advice Freecall 1800 853 315 - We offer AUSTRALIA WIDE SHIPPING and the best range of battery and solar camping setups.
Reviews
---
200W Complete Foldable Solar Kit with Ardent Battery Box + 120AH Eclipse Battery has a rating of 5.00/5 based on 1 reviews.
Very happy with the quality of this Kit and Great
Great service and price. . One month of use and the batteries are performing as to expectations.

Paul

on 27 September 2021
Write a product review
Specifications
---
Slim Line 200w 12V Portable Solar Panel
Max Power:
200W
Power Tolerance:
-1%~+3%
Max Power Voltage:
17.99V
Max Power Current:
11.14A
Open-Circuit Voltage:
22.19V
Short-Circuit Current:
12.20A
Maximum System Voltage:
1000
Dimensions:
Folded: 710mm x 1010mm x 42mm
Opened: 1380mm x 1010mm x 21mm
Weight:
Approx. 14kg
Test Condition:
1000W/m2, AM1.5, 25°C
Eclipse Power 12V 120AH AGM Deep Cycle Battery
Nominal Voltage
12V
Nominal Capacity (20HR)
120.0 AH
Dimension
Length: 330 ±3mm
Width: 173 ±2mm
Total Height (with Terminal): 222 ±2mm
Approx Weight
Approx 29.0 Kg
Terminal
F12
Container Material
ABS
Rated Capacity
120.0 AH/6.50A (20hr,1.80V/cell,25°C)
Max. Discharge Current
1000A (5s)
Internal Resistance
Approx 5mΩ
Operating Temp.Range
Discharge : -20 ~ 60oC (-4 ~ 140oF)
Charge : 0 ~ 50oC (32 ~ 122oF )
Storage : -20 ~ 60oC (-4 ~ 140oF)
Nominal Operating Temp. Range
25 ± 5°C (77 ± 9°F )
Bulk Charge
Initial Charging Current less than 30A.
Voltage 14.5V @ 25oC
Temp. Coefficient -30mV/oC
Float Charge
No limit on Initial Charging Current
Voltage 13.5V @ 25oC
Temp. Coefficient -20mV/oC
Capacity affected by Temperature
40oC (104oF) 103%
25oC ( 77oF ) 100%
0oC ( 32oF ) 86%
Self Discharge
Eclipse Power Deep Cycle AGM batteries may be stored for up to 6 months at 25oC(77oF) and then a freshening charge is required. For higher temperatures the time interval will be shorter.
Ardent Heavy Duty Battery Box Specifications & Features
Suitable Battery Types
Lithium, AGM, Calcium, Wet, Gel
Body Materials
ABS plastic (meets UL 94V-0 standard)
Charge method
via Anderson plug input
Port
1x Dual USB output
2x Cigarette plug outputs
4x 50A Anderson plug inputs/outputs
1x 175A Anderson plug output
Max Battery Size
330mm (L) x 175mm (W) x 220mm (H)
Max Battery Weight
35kg
Box Dimensions
455mm (L) x 240mm (W) x 330mm (H)
Warranty
---


For more information, please read our full warranty policy