Inverters - Battery Systems 12v to 240v Inverters
Inverter and Battery Systems - 12v to 240v Inverters with Australia Wide Shipping.
For the best prices on Inverters for Caravans & Camping, 12V Power Inverters, or Inverters for Off Grid Solar - Speak to the experts at Aussie Batteries & Solar. We provide inverters for powering up your favourite household appliances while on the move in your caravan, camping or wherever you are that there is no access to the grid for power. We stock a range of high quality inverters that use the latest advanced technology to produce clean and reliable mobile 12v to 240v that means you get 240V AC power just like your powerpoints at home.
An Inverter or Solar Inverter has two functions – the first is to convert DC battery or solar panel voltage into mains type AC power. Inverters do this by providing an alternating current (AC) voltage rather than the direct current (DC) available from the battery. The second is to raise the voltage up to an average of 240V. Aussie Batteries are experts in battery and solar setups and can help you find the right inverter for any application. We specialise in Solar Inverters for all module types, including grid-connection and feeding into stand-alone grids, for small house systems or commercial systems in the megawatt range. Our range of Pure Sinewave inverter chargers are a best choice inverter and offer outstanding value thanks to their superior quality and large range of features and extras. Our range of inverter/chargers are designed for off-grid and backup power applications. We also offer reliable modified sine wave power and adjustable multistage battery charging at a very affordable price.
There are two main types of Power Inverters:
Pure Sine Wave Inverters - Pure Sine Wave Inverters are more expensive, and necessary for any sensitive electronic equipment such as computers or television. For regular use and critical applications, you cannot go past a high quality pure sine wave inverter.

Modified Sine Wave Inverters - Modified Sine Wave Inverters are cheaper to produce, can run simple electronics, but may damage or not run more sensitive items.
In many circumstances, choosing the most suitable inverter will depend on the application, frequency of use, and your budget. You may be wondering about the further cost of purchasing a high quality inverter over a general purpose unit. Why spend more ? Well, remember when choosing a power inverter that the wattage relates to the amount of power it can invert at any one time. For example a 300W unit is a sensible minimum for your most basic camping gear, however for high load items such as kettles you will likely need a 1500W - 2500W unit. When choosing an inverter, you should check the power rating on the back of your appliance and add 20% safety margin as a basic guide, but be aware that some items such as pumps and microwaves have extremely high start-up surges and will require a substantially oversized inverter. If in doubt, contact us and we can help you pick the correct power inverter for your needs.
For expert, tailored, no-obligation advice about Solar Inverters email or call our friendly team on 1800 853 315
Solar Inverters and 12v Inverters for Power Conversion.
Aussie Batteries are experts in Inverters for AC-DC Power Conversion. We also stock top quality 12v inverters, pure sine wave inverters and inverter/chargers & solar inverter technology products at the best prices with Australia Wide Delivery. Purchasing a high-quality solar inverter over a general purpose unit will save you money in the long run. Because with regular use, and critical applications, a high-quality pure sine wave inverter offers excellent value for money thanks to their superior build technology and the large range of features and extras.
Aussie Batteries specialise in off grid and grid connect inverters with Australia Wide Delivery.
Call us today and speak to an expert about Solar Inverters for your Power Conversion needs - 1800 853 315
Read more
This category is empty! Please try another category or use our search function to find what you are looking for. If you require further assistance please contact us.
Blog Posts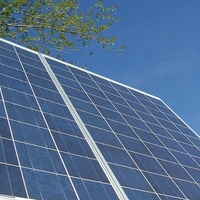 Choosing The Best Portable Solar Panels and Portable Solar Panels for Camping with Solar. Learn all about 12V Solar Panels & Solar Panel Setups. ... read more
View more posts
Free eBook
Learn everything you need to know about
Deep cycle batteries
Solar panels
Portable fridges
Inverters
and more!
Download now