What is the Best Deep Cycle Battery For 4WD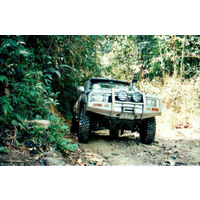 What is the Best Deep Cycle Battery For 4WD or Camper Trailer - How to get the Best Deep Cycle Battery and Solar Setup for your 4WD & Camper Trailer Camping Adventures
When it comes to getting the best deep cycle battery setup for your 4WD or camper trailer, we know from experience that reliability, durability and dependability matter! We know that when you want to go camping in the middle of nowhere reliable 12V power makes life a whole lot better; as you will be able to pull out an ice-cold drink while watching a gorgeous sunset after a long day of 4WD fun.
Two of the most frequent questions our experts here at Aussie Batteries and Solar get asked is "What is the best deep cycle battery for my 4WD or Camper trailer?" and "What is the best Dual Battery Setup for my 4WD or Camper Trailer?"
What Is the Best Deep Cycle Battery for 4WDs?
Deep Cycle Batteries are often best for 4WD and 4x4.
Deep Cycle Batteries offer different performance that usually makes them more suitable for second-battery for use in 4x4 and camping situations.
Rather than needing to smack a starter motor with a jolt of power, AGM Batteries and DeepCycle Batteries are designed to provide you with power over a substantially longer period of time.
Deep Cycle Batteries can provide 4WDS with more power than starting batteries without permanent damage.
In other words, they can be cycled deeper – hence the name Deep Cycle Battery!
The deep cycle capability is due, in part, to thicker internal plates that don't degrade as quickly when being used for 4x4 camping and repeated deep cycling (discharging) of the battery.
Also, Deep Cycle Batteries tolerate starting duties a lot better than starter batteries tolerate deep cycling.
To get the best Deep Cycle Battery for Your 4WD you should look to understand the different plate technology within the battery (different brand batteries use different materials and construction techniques ).
Buying a quality AGM Battery from a supplier like Aussie Batteries means your can increase performance of both your starter and 4WD deep cycle batteries.
The best deep cycle battery for gettting 12Volt Power in your 4WD is usually an AGM Battery. AGM batteries will hold the electrolyte (acid) in a layer of fibreglass matting between the plates. During manufacture, these plates are pressed together with the glass mat to create a very strong internal construction before the batteries electrolyte is introduced and the battery sealed.
For expert, tailored, no-obligation advice on getting the best Deep Cycle Battery for your 4WD or Camper Trailer or best battery for off-road vehicles EMAIL or call our friendly team on 1800 853 315
Generally, the first question we ask the customer is; "What equipment do you want to power?" as this will determine what the bestdeep cycle battery will be for your individual 4WD camping setup. For most people this might be a 12V Fridge, lights and some other accessories. The different equipment you would like to run and the needs of the 4WD vehicle itself, mean there are may be a few different types of batteries will be designed and constructed for different tasks.
From our experience the typical 4WD enthusiast has a portable 12V fridge in the back, filled with beer and food. Failure to keep beer at the right temperature is annoying, but failing to keep food at the right temperature can be health-threatening. So, the most cost effective and efficient way to ensure your fridge will run overnight, when the 4WD engine isn't operating, is with a good quality deep cycle battery. If your 12V Fridge is connected to a deep cycle battery setup, it will give you power as long as the battery has sufficient charge. This is why many 4WD enthusiasts like to look at a 'Dual Battery and Solar System Kits" as they are designed to ensure that the deep-cycle battery is charged, without the chance of the vehicle's starting battery being discharged.
Or speak to our dedicated 12V Battery and Solar team who are waiting to speak to you and help you get the best Deep Cycle Battery for your 4WD or Camper Trailer email or call our friendly team on 1800 853 315 or Shop Online with Australia Wide Delivery
February 9, 2020 | By Aussie Batteries | Comments