120AH 12V Eclipse AGM Deep Cycle Battery
SKU:

EP12V120
Buy now, pay later

Interest free instalments
Four equal payments of $87.25/fortnight, with instant approval online. Learn more
Enjoy your gear now, and pay for it later! We're happy to provide the opportunity for our customers to shop with us using popular pay later options.


How it works
Buy what you want today, pay for it over four equal fortnightly instalments. Use your debit or credit card, get approved instantly.

Ordering online
Add the products you want to your cart, and select Afterpay as a payment option during checkout.
After your order is processed, you can log in to your Afterpay account to view your order, make payments and manage account details.
Note: Afterpay is only available on orders under $1000 value.
For terms and conditions, please refer to the Afterpay website
ALSO AVAILABLE

How it works
Buy now and pay later, with 6 months interest free. You pay over time weekly, fortnightly or monthly, whichever suits you best. Applications are quick, and get a decision in real-time.

Ordering online
Add the products you want to your cart, and select Zip as a payment option during checkout.

Ordering over the phone
Call us on 1800 853 315 and place your order with our friendly staff. Ask to pay using Zip.
Note: ZipMoney is only available on orders between $1000 and $10,000 value.
For terms and conditions, please refer to the Zip website
Overview
---
120AH Deep Cycle AGM Battery - Eclipse 12 Volt Deep Cycle Battery with Australia Wide Shipping
CHECK OUT OUR NEWEST STOCK GIANT POWER 120AH AGM DEEP CYCLE BATTERY WITH FREE SHIPPING
Get more power from our 120AH 12V AGM Eclipse Deep Cycle Batteries. Aussie Batteries 120AH Deep Cycle Eclipse range of AGM Deep Cycle Batteries are a great mid-range option suitable for running 12v appliances when camping away from power, using with a solar panel for charging, running in a dual battery system in a vehicle, or providing safe power on a boat. These Deep Cycle Batteries can be mounted on their side or end to suit any space or environment. Our range of AGM batteries do not need to be in a sealed box vented to the outside as they have an in-built safety valve to keep you and your family safe by ensuring full battery sealing and preventing any possible battery explosion. AGM Batteries can be discharged much deeper than conventional deep cycle batteries. Because of their unique design, Eclipse 120AH AGM Deep Cycle Batteries can be recharged up to 5 times faster than a regular wet cell battery.
This 120AH 12V AGM Deep Cycle Battery is perfect for applications that require either frequent cycling or renewable power storage. Common uses include;
Eclipse AGM batteries are completely sealed against leakage and classed as spill proof.
Because they have low internal resistance, they can be fully recharged at a lower voltage and accept a larger current (amps)
When using a standard car, 4WD or truck alternator they will recharge very quickly (2-3 hours) compared to a deep cycle wet cell battery that can take 8-12 hours to achieve only 70% to 80% of its potential charge.
Eclipse 120A/H AGM Deep Cycle Batteries are designed and built tough, and will take an enormous pounding. They are designed to withstand shock and vibration better than any standard battery.
120AH 12V AGM Deep Cycle Battery Eclipse Features:

Sealed Construction (VRLA) means you can store our batteries at any angle. (All our AGM Batteries are completely sealed this means they can be stored at any angle)

Maintenance Free operation this means no more refilling cells with water simply purchase and reap the benefits of a high quality AGM Battery.

High Vibration Resistance means our batteries can withstand the toughest 4x4 conditions.

Non-Spillable and Non-Gassing with an in-built safety valve to keep you and your family safe by ensuring your battery is fully sealed and preventing any possible battery explosions.

Durable AGM Plates: High purity, thick lead-calcium alloy plates ensure a long design lifespan of 12 years (for infrequent discharge @20°C).

Corrosion Resistant: Lead-calcium grids maintain a low self-discharge rate of approximately 3% of capacity per month.

Quality Copper-Silver Terminals means small contact resistance and high corrosion resistance.
*** Note this 120AH Deep Cycle Battery : includes bolts for threaded battery terminals.
Eclipse 120AH Deep Cycle Batteries come with Australia Wide Delivery and are one of our top selling deep cycle batteries. Get Advice on Deep Cycle Batteries Freecall Now - 1800 853 315
►If you're looking for a higher-end and superior battery you may want to look at our Giant Power 130ah Deep Cycle Battery There is no question of quality between these two batteries. The difference is in the available cycles/service life. So take the time to look at cycle graphs underneath the main photo of each battery on our website, you will see the different values.
The Giant has 1650 cycles at 30% depth of discharge vs 1250 cycles for the Eclipse at 30% depth of discharge. Cycled every day you get 4.3 years' service life from the Giant and 3.2 years from the Eclipse.
The Giant also has an added 4-Year Pro Rata Warranty on top of the First Year Full Replacement, whereas the Eclipse has the first year full replacement only.
Aussie Batteries and Solar stock the best known and trusted brands of Deep Cycle Batteries. We stand by our products with exceptional warranties and set the standard for top quality Deep Cycle Batteries for your Caravans, RV, Scooters, Golf Carts, Floor Scrubbers, Electric Outboard Motors, Solar, 4WD,Marine Power.
We specialise in Deep Cycle Batteries and believe in supplying the hardiest, most suitable products that are built to handle Australia's harsh environmental conditions. We only stock quality deep cycle batteries that will last the distance, and back them above and beyond with exceptional warranties.

A high turnover of battery stock ensures our customers are always getting the freshest battery

Not the exact Battery Setup or Battery Kit you're looking for ? BROWSE OUR FULL RANGE OF DEEP CYCLE BATTERIES With AUSTRALIA WIDE SHIPPING AVAILABLE - Need Expert Advice - Freecall Now - 1800 853 315
Video Overview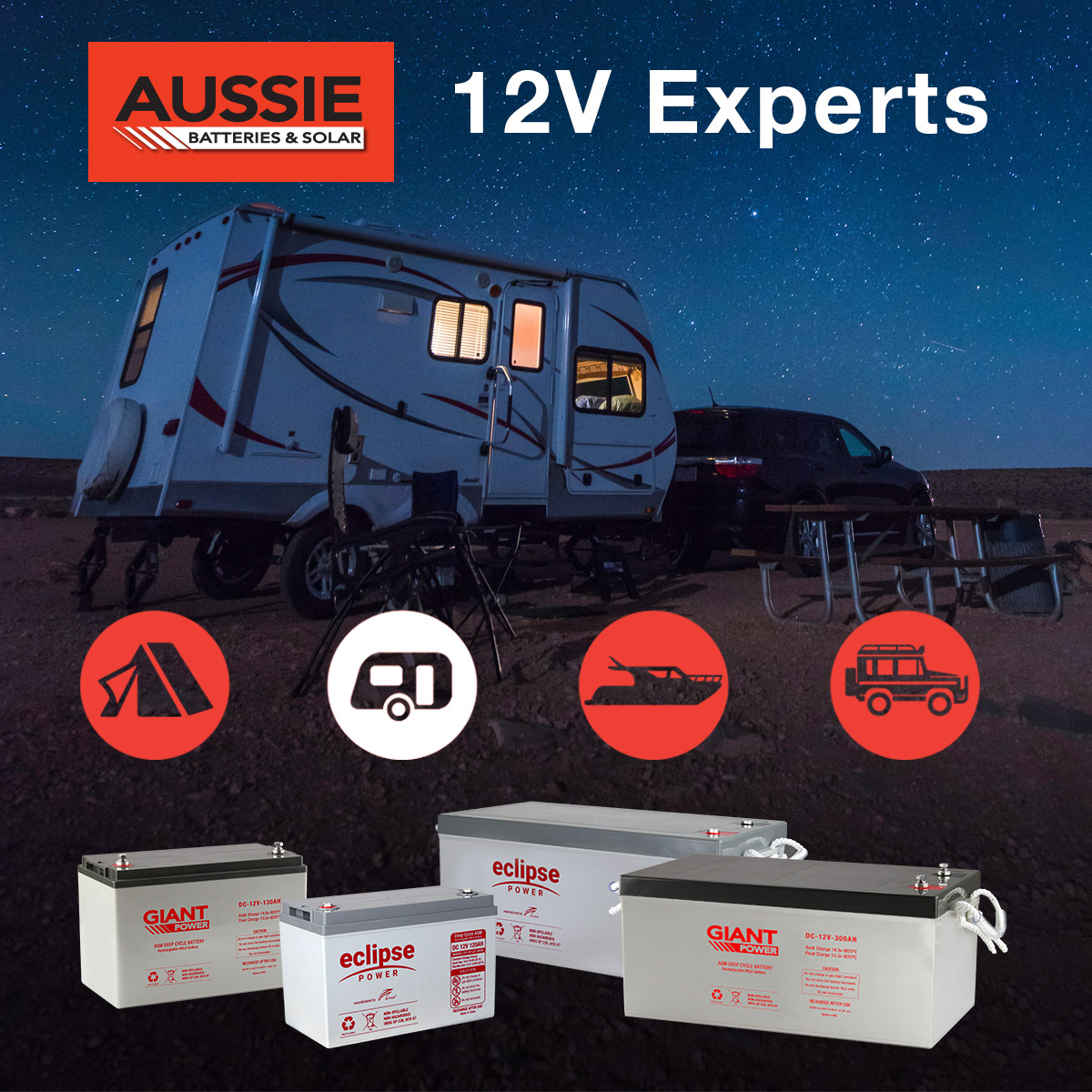 Reviews
---
120AH 12V Eclipse AGM Deep Cycle Battery has a rating of 4.67/5 based on 3 reviews.
120AH 12V Eclipse AGM Deep Cycle Battery
Have a battery backup system at home that uses a smart charger to keep the battery topped up and a 300W pure sine wave inverter to provide power for a few essentials during a blackout. Previously used car batteries for this purpose but they required regular maintenance. Decided to replace with something decent this time and found this site and a battery that would meet my needs. It switched into my system easily (if you don't count the grunts as I lifted it ;-)) and has, so far, met my expectations. Also, these guys move quick! The battery was at my front door the day after I ordered it!

Steve

on 9 August 2017
DC eclipse battery
Quick deliver good price

troy d

on 2 August 2017
AGM Eclipse 120AH Battery
Arrived on time good value and true to description

John Gardiner

on 26 July 2017
Specifications
---
Eclipse Power 12V 120AH AGM Deep Cycle Battery
Nominal Voltage
12V
Nominal Capacity (20HR)
120.0 AH
Dimension
Length: 305 ±3mm
Width: 173 ±2mm
Total Height (with Terminal): 222 ±2mm
Approx Weight
Approx 30.0 Kg
Terminal
F12
Container Material
ABS
Rated Capacity
120.0 AH/6.00A (20hr,1.80V/cell,25°C)
Max. Discharge Current
1000A (5s)
Internal Resistance
Approx 5mΩ
Operating Temp.Range
Discharge : -20 ~ 60oC (-4 ~ 140oF)
Charge : 0 ~ 50oC (32 ~ 122oF )
Storage : -20 ~ 60oC (-4 ~ 140oF)
Nominal Operating Temp. Range
25 ± 5°C (77 ± 9°F )
Bulk Charge
Initial Charging Current less than 30A.
Voltage 14.5V @ 25oC
Temp. Coefficient -30mV/oC
Float Charge
No limit on Initial Charging Current
Voltage 13.5V @ 25oC
Temp. Coefficient -20mV/oC
Capacity affected by Temperature
40oC (104oF) 103%
25oC ( 77oF ) 100%
0oC ( 32oF ) 86%
Self Discharge
Eclipse Power Deep Cycle AGM batteries may be stored for up to 6 months at 25oC(77oF) and then a freshening charge is required. For higher temperatures the time interval will be shorter.
Warranty
---

For more information, please read our full warranty policy