130AH 12V Deep Cycle AGM Powered Battery Box Combo
SKU:

DCK-12V-125PBOX
Overview
---
130AH Deep Cycle AGM 12V Battery Kit - Including 130AH AGM Battery & Battery Box. Great value Portable 12V Battery Power for Camping with Australia Wide Delivery.
SAVE $$$$$ with our Fantastic 130AH Deep Cycle Battery Kit & Battery Box Combination Packages that will convert your

deep cycle battery into a convenient and user friendly power station!
We have created these high quality Deep Cycle Battery and Battery Box Kits to give you the best value 12V power solution. This is a great value battery pack kit for those who are looking for an easy plug and play, portable power solution for adding a battery to your camping setup, vehicle, trailer, boat, 4wd or caravan.
This Deep Cycle Battery Kit incudes : 130AH Battery and Battery Box Package Deal:
This battery box combo includes a 130AH 12V AGM Deep Cycle Battery and a Projecta Powered Battery Box. This kit will make your deep cycle batteries highly funtional in a range of situations and are perfect for those who want both battery protection and more functionality from your Deep Cycle Batteries when camping, caravanning or boating. These Deep Cycle Battery kits give you reliable 12V Power for all your camping and outdoor activities.

Included is our Top Selling 130AH Deep Cycle Battery and a Projecta Powered Battery Box .
The Projecta Battery Box turns an ordinary deep cycle battery into a convenient and user friendly power station. Simply fit your Deep Cycle battery into the pre-wired box and you are ready to go. LED display to show battery voltage. Perfect for mounting second battery in the cargo area of a wagon / SUV /4WD or Boat. These Battery Boxes include the following sockets and features:
2x 12V Anderson Plug Input/Output
1x Cigarette Socket
1x Merit Socket (** The Merit Socket is the best choice if you are going to run a portable fridge or similar accessories - Merit sockets are high quality heavy duty connections that are ideal for high current draw accessories)
LED Battery Voltmeter
External Connection Terminals
Resettable Circuit Breaker
Supplied with webbing strap
Suits AGM deep cycle batteries from 105AH to 130AH
SAVE $$$ with our 130AH Deep Cycle Battery and Projecta Battery Box combination kit.
If you need expert, tailored, no-obligation advice on Deep Cycle Batteries email or call our friendly team on 1800 853 315 or download and print our battery Power Estimator to help you work out the best Deep Cycle Battery for your application.

A high turnover of battery stock ensures our customers are always getting the freshest battery

Not the exact Battery Setup or Battery Kit you're looking for ? BROWSE OUR FULL RANGE OF DEEP CYCLE BATTERIES With AUSTRALIA WIDE SHIPPING AVAILABLE - Need Expert Advice - Freecall Now - 1800 853 315
Video Overview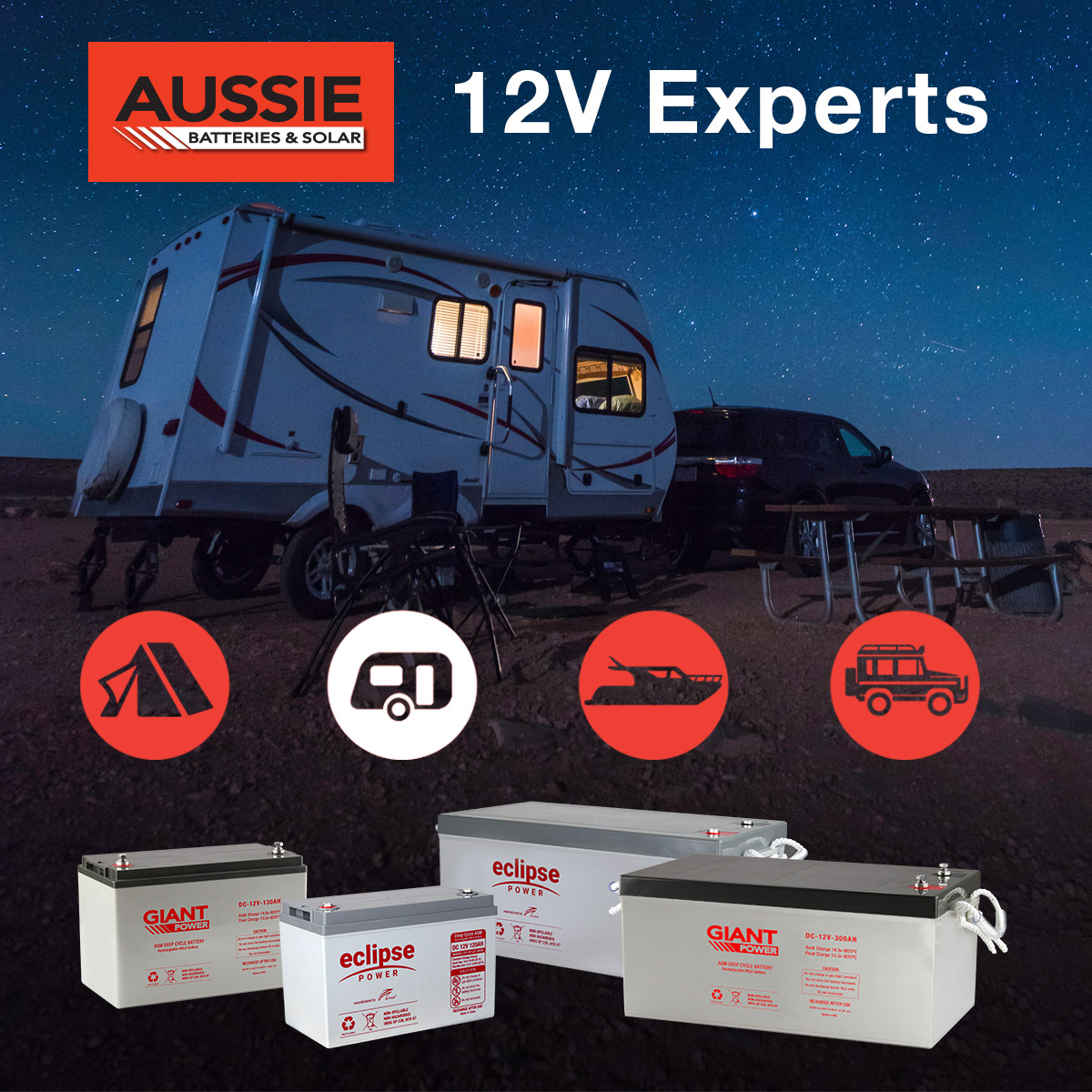 Reviews
---
130AH 12V Deep Cycle AGM Powered Battery Box Combo has a rating of 4.86/5 based on 21 reviews.
Great item
Have have using the combo box and battery continuously for the last 3+ weeks. Its been an excellent product. Only down side was the dust cap/cover for the merit socket, this broke off after the first use. Otherwise excellent. Shipping was very quick as well. Thanks again.

Steven F

on 29 November 2017
Get service and product
All went well with the prompt delivery Installed in caravan and working well Intend to buy another for a dual setup

25 November 2017
Box Combo
Stable self monitoring power-supply. It's a Faultless product.

Steve

on 8 November 2017
130amp battery combo
Hi just wanted to say what a great product the 130ah agm battery box combo is.I am running a 40lt fridge freezer just off the battery and i am very impressed.I love that there are so many options to plug into and the value for money is awesome,I looked around and there is not much on the market that offers what you guys and gals have put together in the battery box combo.Very impressed with level of service from you and will be doing more business in the future. Cheers Steve.

Steve W

on 14 October 2017
Camp setup
130 amp battery box combo works great with my 120 amp solar delivers within 3 days excellent company

Kelvin M

on 4 October 2017
awesome product
Hey guys and gals at Aussie batteries and solar,i just wanted to say what a pleasure it was doing business with you.The battery box combo i ordered from you exceeded my expectations,it is everything i was looking for and so reasonably priced. even better was the level of service and communication i received. I was very impressed with how quickly it was delivered. I look forward to doing more business with you in the future and will be referring you to others. Thank you Steve W.

28 September 2017
review for 130AH 12V Deep Cycle AGM Powered Batter
I like the simplicity of the box and it works well. Would have liked it to be a little thicker with some kind of lugs or rail to use for tieing down.But apart from that a great product for the price.Just completed a trip around Australia with out any problems with out the battery going flat so that was great.

Leonard C

on 17 September 2017
Happy Customer - Purchase of 130 AH 12 V Deep Cycl
I wish to share that, I am very happy with my investment. The "Battery Combo" was used to power my Bushman Fridge and shower set up over a three day period, with out solar backup. The battery had a drop in power to "Medium" 11.9 to 12.6 volts over that period. On returning home it was recharge to its floating charge of 13.4 V. A few days later on a second trip, I paired the "Combo Deal" up with a 250 V Solar Panel with great results. The combination of various power outlets available (Anderson Plugs & Cig outlets) on the "Battery Combo" box provided, quick solutions to power various external attachment including a solar panel. A second 12.5 AH 12V Deep Cycle AGM Battery, purchased from your company was installed in my Jaco Van with great results once again. Happy with both products. Your service on line and delivery from Queensland to Newcastle (Free Delivery) was outstanding. I highly recommend your Company and services to others, seeking a quality product, competitive pricing and outstanding delivery service. Improvement to current "Combo Offer" - I believe that customers would be prepared to pay extra for an upgrade for a heavy duty battery box, handles and heavy duty strap combination to hold the unit and its weight safely. IN CLOSING - A GREAT PRODUCT

Stewart B

on 30 July 2017
Specifications
---
Giant Power 12V 130AH AGM Deep Cycle Battery
Nominal Voltage
12V
Nominal Capacity (20HR)
130.0 AH
Dimension
Length: 330 ±3mm (12.99 inches)
Width: 173 ±2mm (6.81 inches)
Container Height: 212 ±2mm (8.35 inches)
Total Height (with Terminal): 220 ±2mm (8.66 inches)
Approx Weight
Approx 31.2 Kg
Terminal
T11
Container Material
ABS
Rated Capacity
130.0 AH/6.5A (20hr,1.80V/cell,25°C)
Max. Discharge Current
1200A (5s)
Internal Resistance
Approx 4.9mΩ
Operating Temp.Range
Discharge : -15 ~ 50oC (5 ~ 122oF)
Charge : 0 ~ 40oC (32 ~ 104oF )
Storage : -15 ~ 40oC (5 ~ 104oF)
Nominal Operating Temp. Range
25 ± 3°C (77 ± 5°F )
Bulk Charge
Initial Charging Current less than 30A.
Voltage 14.5V @ 25oC
Temp. Coefficient -30mV/oC
Float Charge
No limit on Initial Charging Current
Voltage 13.5V @ 25oC
Temp. Coefficient -20mV/oC
Capacity affected by Temperature
40oC (104oF) 103%
25oC ( 77oF ) 100%
0oC ( 32oF ) 86%
Self Discharge
Giant Power Deep Cycle AGM batteries may be stored for up to 6 months at 25oC(77oF) and then a freshening charge is required. For higher temperatures the time interval will be shorter.
Projecta Battery Box
Suits battery sizes
N70Z size batteries, 100-130AH batteries
Internal size
H: 200mm W: 190mm L: 330mm
External size
H: 280mm W: 220mm L: 390mm
Material
Polypropylene
Accessory Socket
20A circuit breaker
Cigarette Socket
10A circuit breaker
Warranty
---


For more information, please read our full warranty policy