Giant Power 130AH 12V GEL Deep Cycle Battery
SKU:

GB-12V-130AH
Buy now, pay later
Interest free instalments
Four equal payments of $107.25/fortnight, with instant approval online. Learn more
Enjoy your gear now, and pay for it later! We're happy to provide the opportunity for our customers to shop with us using popular pay later options.


How it works
Buy what you want today, pay for it over four equal fortnightly instalments. Use your debit or credit card, get approved instantly.

Ordering online
Add the products you want to your cart, and select Afterpay as a payment option during checkout.
After your order is processed, you can log in to your Afterpay account to view your order, make payments and manage account details.
Note: Afterpay is only available on orders under $2000 value.
For terms and conditions, please refer to the Afterpay website
ALSO AVAILABLE

How it works
Buy now and pay later, with 6 months interest free. You pay over time weekly, fortnightly or monthly, whichever suits you best. Applications are quick, and get a decision in real-time.

Ordering online
Add the products you want to your cart, and select Zip as a payment option during checkout.

Ordering over the phone
Call us on 1800 853 315 and place your order with our friendly staff. Ask to pay using Zip.
Note: ZipPay is only available on orders under $1000 value, while ZipMoney is available on orders up to $10,000 value.
For terms and conditions, please refer to the Zip website
Overview
---
130AH Deep Cycle Gel Battery - Giant Power 130AH Deep Cycle Battery with Australia Wide Delivery - Enter your Post Code above to see if you qualify For FREE SHIPPING !
130AH Giant Deep Cycle Gel Batteries utilise gel electrolyte technology, which holds the battery plates securely in an immobilised gel. This design makes Giant 130AH Power Deep Cycle Gel batteries extremely robust and resistant to spillage if accidentally tipped upside-down.
What is the difference between our regular 130AH AGM Deep Cycle Battery and a GEL Deep Cycle ?
The core of this battery is a 130AH, GEL, 12 Volt – a 1650 cycle, five year warrantied quality battery. The advantage of Gel is that you can safely draw down till 10.8 Volts without causing damage to this robust battery! This gives you access to 50% more power than the 12 volt limit of regular deep cycle batteries = more power for your camping adventures!
The GEL Deep Cycle range is completely maintenance free, requiring no topping-up of liquid electrolyte, whilst the valve-regulated sealed design enables installation in hard to reach locations.
This 130AH 12V Gel Deep Cycle Battery is a high quality Deep Cycle Gel Battery that is suitable for Saltwater/Marine applications, Caravans, Motor Homes and Camper Trailers. These are ideal ancillary batteries to fit into your caravan, 4x4 vehicle or camper-van. Our range of Gel Deep Cycle Batteries have outstanding deep discharge recovery with high oxygen-recombination efficiency that ensures no loss of electrolytes, giving the batteries exceptional deep discharge recovery performance just in case you accidentally discharge your batteries a little too much! This also guarantees you will never need to replace electrolytes during the course of the batteries life. A gel battery (also known as a "gel cell") is a sealed, valve regulated lead-acid deep cycle battery and has a gel electrolyte. Unlike flooded lead-acid (wet cell) batteries, these batteries do not need to be kept upright. Gel cells virtually eliminate evaporation of the electrolyte, spillage (and subsequent corrosion issues) common to the flooded lead acid battery, and boast greater resistance to extreme temperatures, shock, and vibration.
* These 130AH Deep Cycle Gel batteries keep the electrolyte suspended in a gel-like paste. Like AGM batteries, Gels do not require a battery tray as they are considered non-spillable. We still recommend an upright position unless specified otherwise by the manufacturer.
130AH Gel Deep Cycle Batteries will recover exceptionally well from deep discharges. To get the most out of Gels it is still best to charge them up as soon as possible. The cycle life of Gel batteries by far exceeds that of Flooded or AGM batteries if properly treated.
130AH Deep Cycle Gel Battery Features
Industry leading Deep Cycle (Gel) Battery with a 12 Year Build Life
Industry leading 5 Year Warranty, rated to cycle more than 1650 times
Dimensions: 170 x 330 x 230H inc terminals
130AH Gel Cell Technology can safely be taken down to 10.8 volts – without causing damage to this robust battery - this gives you an extra 50% depth over standard AGM deep cycle batteries.
This 130AH Gel Deep Cycle Battery is specifically designed for camping and utility caravanning use. It is a Deep Cycle Gel battery, and therefore is not ideal for Crank starting (jump starting) vehicles.
Can I connect more than one together?
Yes, you can even connect two of these Deep Cycle Batteries together in parallel, to double the capacity running your appliances!
We suggest adding a Battery Heat Shield for best results.

This 130AH 12V Gel Deep Cycle Battery is perfect for applications that require either frequent cycling or renewable power storage. Common uses include;
Running appliances when camping away from power.
Perfect for powering your 12V fridges, high powered inverters, lights or any other 12V appliances.
Excellent for use with a solar panel for charging.
Perfect for running in a dual battery system in a vehicle.
Superb for use in 4x4 and Marine Conditions.
Designed Service Life 12 years
Ideal for frequent cyclic discharge
Exceptional deep discharge recovery performance
Low self-discharge characteristic
Why not add a high quality battery box that will last for decades without aging or deforming and will keep your battery looking and functioning like brand new.
A high turnover of battery stock ensures our customers are always getting the freshest battery
VIP *** Gel Cell Batteries must be recharged correctly or the battery will suffer premature failure and you will void your warranty. The battery charger being used to recharge the battery(s) must be designed or adjustable for Gel Cell Batteries. If you are using an alternator to recharge a true Gel Cell a special regulator must be installed.
Any standard 240v Deep Cycle battery charger can be used to charge a 130AH GEL Deep Cycle. It just needs to be set to Gel (most battery chargers have 3 settings, Gel / AGM / Flooded). Just ensure it is set to the right setting – to avoid damaging the battery.
You can also charge whilst travelling, powered from your alternator, by connecting the battery up to your vehicle with a good quality DC/DC charger. We recommend Victron, Enerdrive or Intervolt chargers – as they all have Gel charging settings on their DC/DC chargers.
It is not a cranking battery – so it does not replace your under the hood engine jump start battery.
If you are unsure which battery or charger is best for your application, please call or email our tech people for help making the correct selection.
Not the exact Battery you're looking for ? BROWSE OUR FULL RANGE OF DEEP CYCLE BATTERIES With AUSTRALIA WIDE SHIPPING AVAILABLE - Need Expert Advice - Freecall Now - 1800 853 315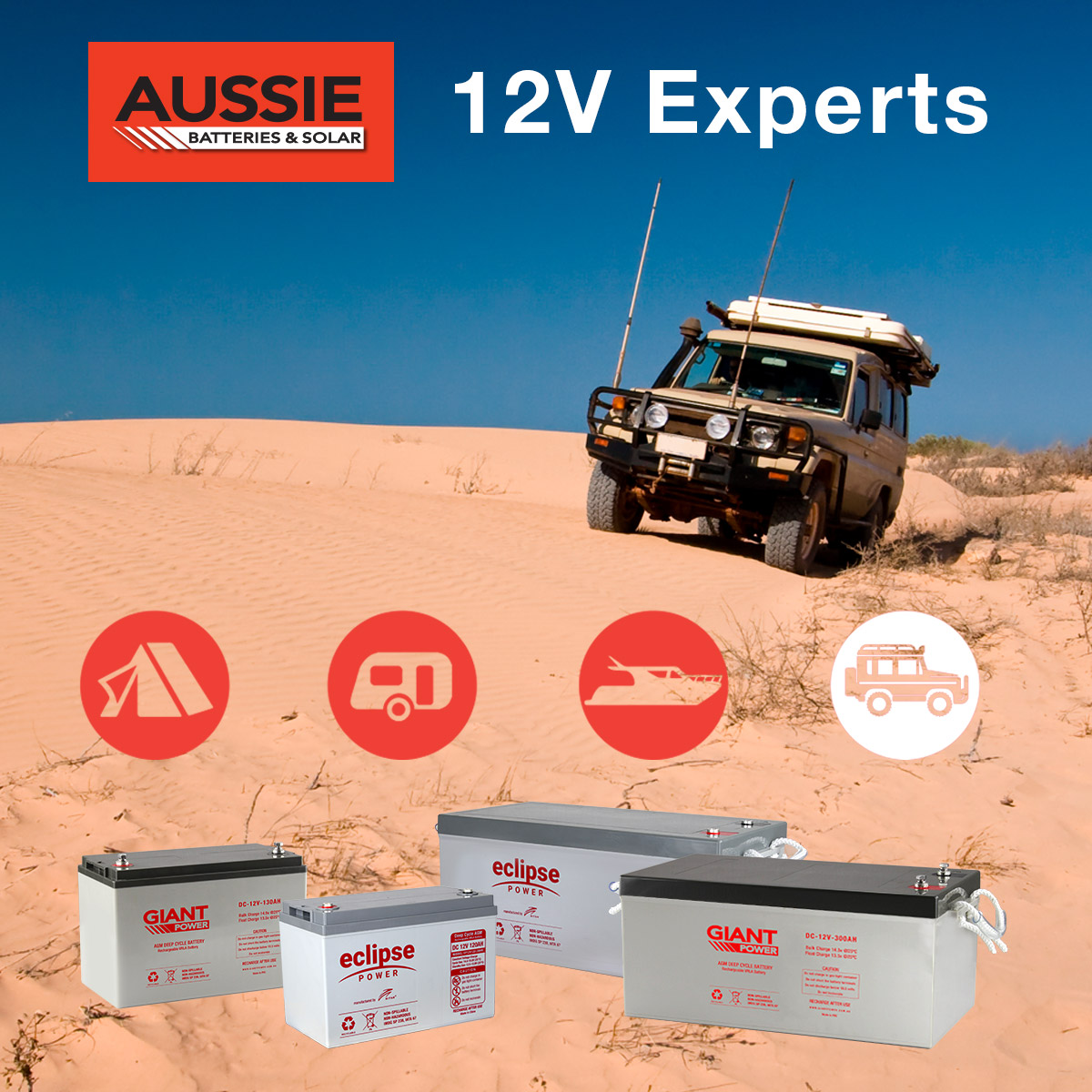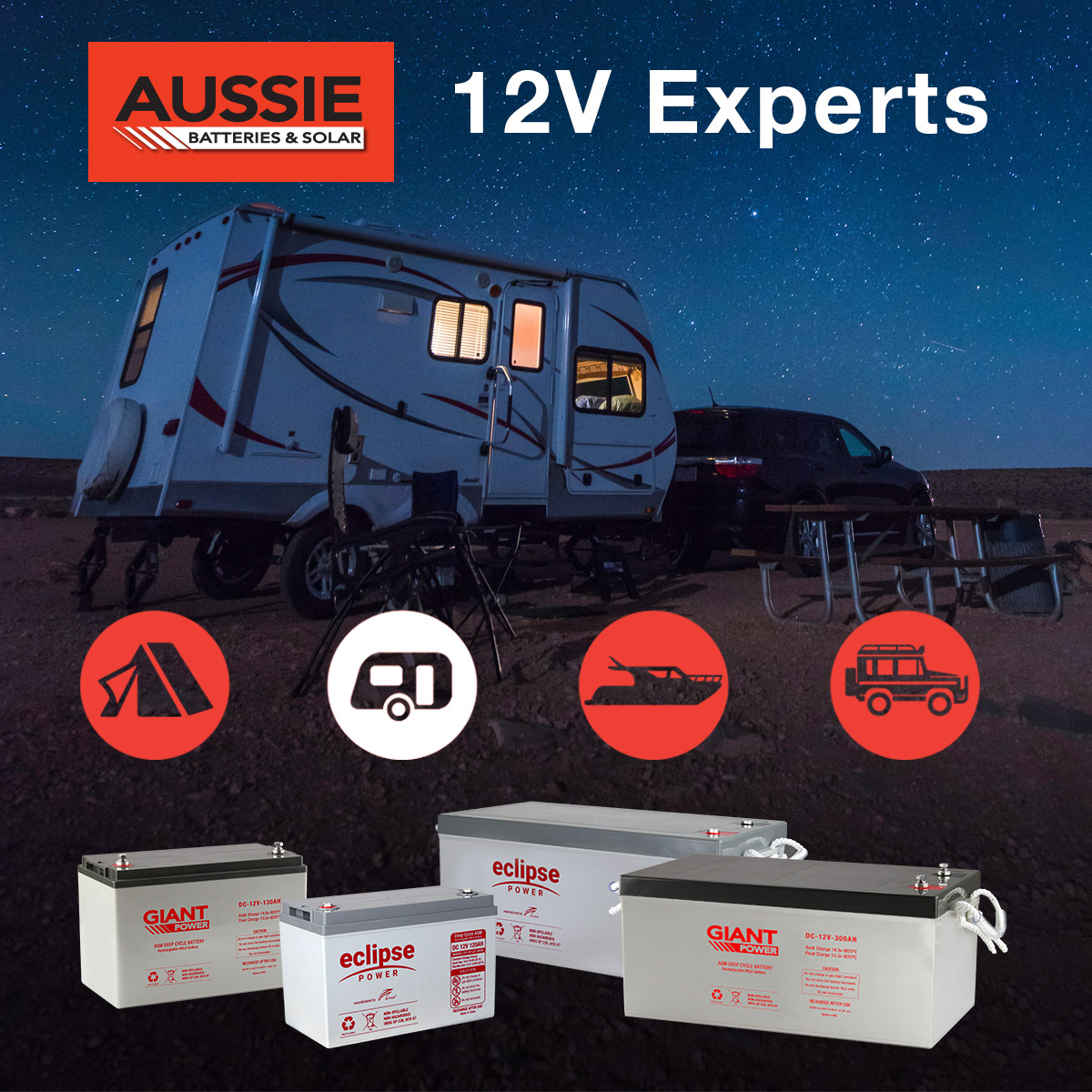 Reviews
---
Giant Power 130AH 12V GEL Deep Cycle Battery has a rating of 4.74/5 based on 46 reviews.
A+++
One of the best buys I've made! 110% happy with it! Long lasting,

Joel I

on 15 January 2020
Gel battery
Fitted well in place of old one. Packed well and delivered promptly.

George Falzon

on 13 January 2020
12 V battery
I had no issues with the product. The service I received was excellent

Greg H

on 7 January 2020
Warranty Claim (Unbelievable Top Service) 6******
The battery started dying within the 12 month period after I purchased it. I contacted the office and let them know what was going on with my battery, within minutes I received instructions via email on how to move forward to satisfy a claim, once I sent the information back, which included a report from another battery reseller, It was immediately replaced under warranty quickly without issue, and at no cost to me, delivered. I am going to purchase my 3rd battery from them for another project, well done Aussie Batteries, a proud Australian Business.

Roger C

on 31 December 2019
Excellent Warranty Procedures
The battery started dying 9 months after I purchased it. It was immediately replaced under warranty quickly without issue.

Noel K

on 18 December 2019
Write a product review
Specifications
---
Giant Power 12V 130AH GEL Deep Cycle Battery
Nominal Voltage
12V
Nominal Capacity (20HR)
130.0 AH
Dimension

170x330 x 230H inc terminals

Length: 330 ±3mm Width: 170 ±2mm
Container Height: 230 ±2mm (INCLUDING TERMINALS)
Total Height (with Terminal): 230 ±2mm (8.66 inches)

Approx Weight
Approx 31.2 Kg
Terminal
T11
Container Material
ABS
Rated Capacity
130.0 AH/6.5A (20hr,1.80V/cell,25°C)
Max. Discharge Current
1200A (5s)
Internal Resistance
Approx 4.9mΩ
Operating Temp.Range
Discharge : -15 ~ 50oC (5 ~ 122oF)
Charge : 0 ~ 40oC (32 ~ 104oF )
Storage : -15 ~ 40oC (5 ~ 104oF)
Nominal Operating Temp. Range
25 ± 3°C (77 ± 5°F )
Bulk Charge
Initial Charging Current less than 30A.
Voltage 14.5V @ 25oC
Temp. Coefficient -30mV/oC
Float Charge
No limit on Initial Charging Current
Voltage 13.5V @ 25oC
Temp. Coefficient -20mV/oC
Capacity affected by Temperature
40oC (104oF) 103%
25oC ( 77oF ) 100%
0oC ( 32oF ) 86%
Self Discharge
Giant Power Deep Cycle GEL batteries may be stored for up to 6 months at 25oC(77oF) and then a freshening charge is required. For higher temperatures the time interval will be shorter.
Warranty
---

For more information, please read our full warranty policy