2x 130AH 12V AGM Deep Cycle Battery
SKU:

DCK-12V-130AH-X2
Buy now, pay later

Interest free instalments
Four equal payments of $138.50/fortnight, with instant approval online. Learn more
Enjoy your gear now, and pay for it later! We're happy to provide the opportunity for our customers to shop with us using popular pay later options.


How it works
Buy what you want today, pay for it over four equal fortnightly instalments. Use your debit or credit card, get approved instantly.

Ordering online
Add the products you want to your cart, and select Afterpay as a payment option during checkout.
After your order is processed, you can log in to your Afterpay account to view your order, make payments and manage account details.
Note: Afterpay is only available on orders under $1000 value.
For terms and conditions, please refer to the Afterpay website
ALSO AVAILABLE

How it works
Buy now and pay later, with 6 months interest free. You pay over time weekly, fortnightly or monthly, whichever suits you best. Applications are quick, and get a decision in real-time.

Ordering online
Add the products you want to your cart, and select ZipMoney as a payment option during checkout.

Ordering over the phone
Call us on 1800 853 315 and place your order with our friendly staff. Ask to pay using ZipMoney.
Note: ZipMoney is only available on orders between $1000 and $10,000 value.
For terms and conditions, please refer to the ZipMoney website
Overview
---
Dual Battery - 2 X 130AH Dual Battery Kit for Camping, 4WD, Boating, Caravans & Off Grid Solar Kits
Save With Our Dual Battery Kit -You get 2 x Giant Power 130AH Deep Cycle Batteries and Cables & Australia Wide Delivery
These two 130AH 12V AGM Deep Cycle Batteries are high quality Deep Cycle AGM Batteries that are suitable for Camping, Saltwater/Marine applications, Caravans, Motor Homes and Camper Trailers. They are ideal ancillary batteries to fit into your caravan, 4x4 vehicle or camper-van. Our range of AGM Batteries have outstanding deep discharge recovery with high oxygen-recombination efficiency that ensures no loss of electrolytes, giving the batteries exceptional deep discharge recovery performance just in case you accidentally discharge your batteries a little too much! This also guarantees you will never need to replace electrolytes during the course of the batteries life.
This Package Features 2 X 130AH Batteries and the correct cables to link them up. You can link them in parallel giving you a whooping total of 260AH at 12V. Also if you wish you can hook up in series for a 24V bank with 130AH of storage. This kit is great value for those of you looking for bigger battery storage options. Need Expert Advice On Dual Battery Setups ? Freecall Now - 1800 853 315

This 130AH 12V AGM Deep Cycle Battery Set is perfect for applications that require either frequent cycling or renewable power storage. Common uses include;
Running appliances when camping away from power.
Perfect for powering your 12V fridges, high powered inverters, lights or any other 12V appliances.
Excellent for use with a solar panel for charging.
Perfect for running in a dual battery system in a vehicle.
Superb for use in 4x4 and Marine Conditions.
Designed Service Life 12 years
Ideal for frequent cyclic discharge
Exceptional deep discharge recovery performance
Low self-discharge characteristic
130AH 12V AGM Deep Cycle Battery Set Features:

Sealed Construction (VRLA) means you can store our batteries at any angle. (All our AGM Batteries are completely sealed this means they can be stored at any angle)

Maintenance Free operation this means no more refilling cells with water simply purchase and reap the benefits of a high quality AGM Battery.

High Vibration Resistance means our batteries can withstand the toughest 4x4 conditions.

Non-Spillable and Non-Gassing with an in-built safety valve to keep you and your family safe by ensuring your battery is fully sealed and preventing any possible battery explosions.

Durable AGM Plates: High purity, thick lead-calcium alloy plates ensure a long design lifespan of 12 years (for infrequent discharge @20°C).

Corrosion Resistant: Lead-calcium grids maintain a low self-discharge rate of approximately 3% of capacity per month.

Quality Copper-Silver Terminals means small contact resistance and high corrosion resistance.
AGM Batteries use glass mat technology within the battery to absorb the acid, as opposed to standard flooded batteries where the acid is free flowing. This provides several key advantages over standard batteries, they are also 100% sealed, non-gassing and maintenance free (this means your batteries will never leak acid, even if damaged), and they will provide a significantly longer service and cyclic life (up to 2-3x longer than standard batteries).
Why not add a high quality battery box that will last for decades without aging or deforming and will keep your battery looking and functioning like brand new.
A high turnover of battery stock ensures our customers are always getting the freshest battery
Not the exact Battery you're looking for ? BROWSE OUR FULL RANGE OF DEEP CYCLE BATTERIES With AUSTRALIA WIDE SHIPPING AVAILABLE - Need Expert Advice - Freecall Now - 1800 853 315
Video Overview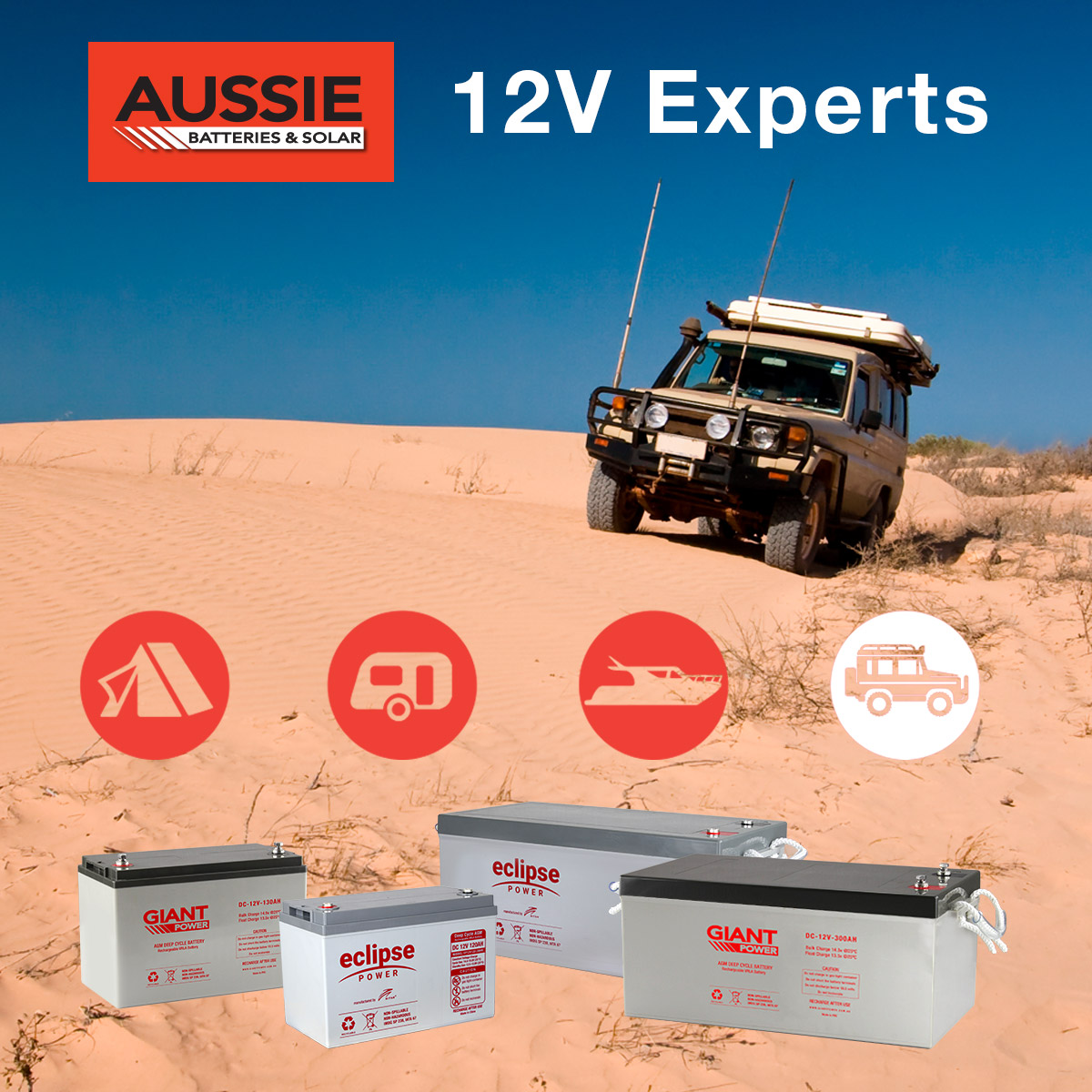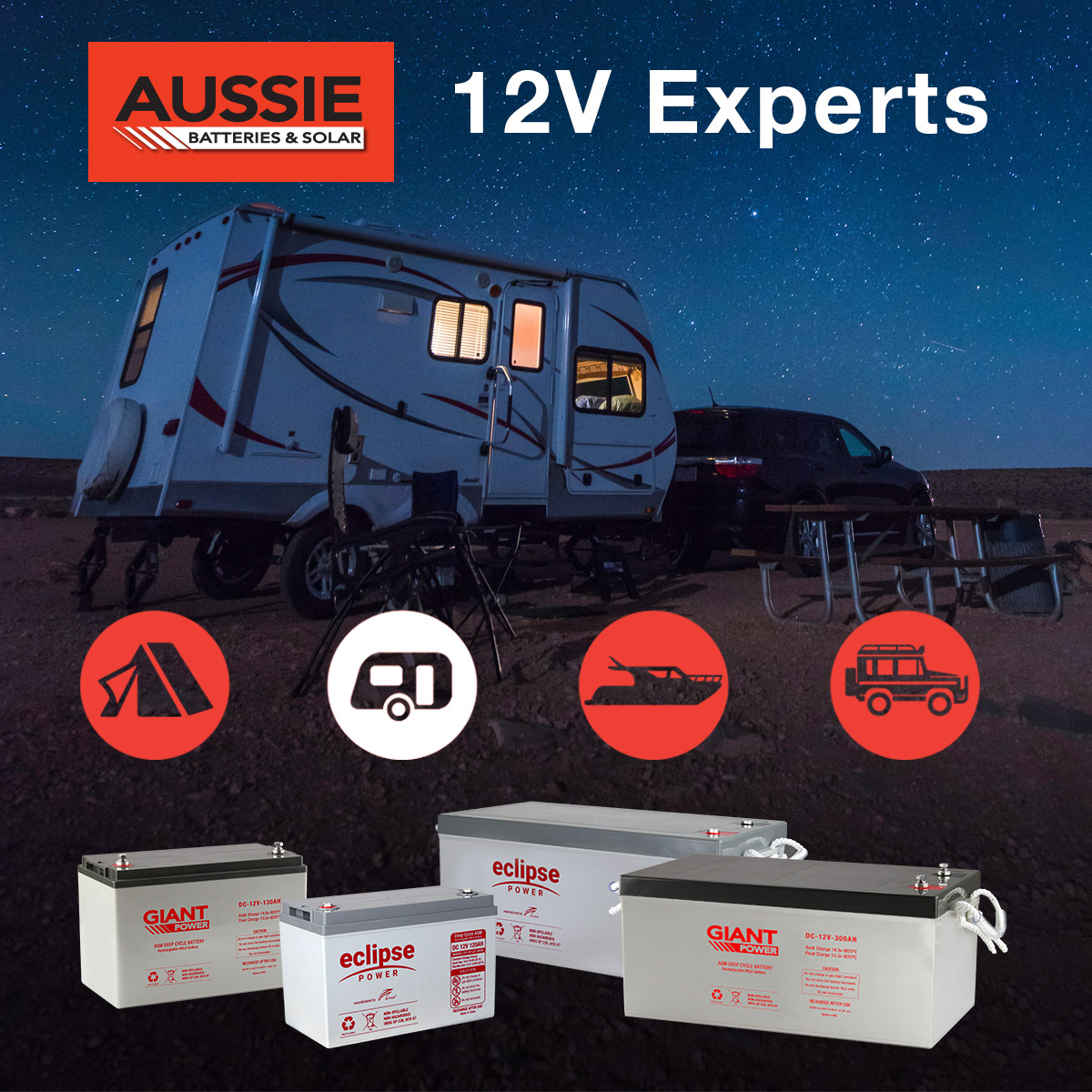 Reviews
---
2x 130AH 12V AGM Deep Cycle Battery has a rating of 4.72/5 based on 18 reviews.
Deep Cycle Batteries
Batteries work well in our caravan using a 240w solar panel for charging. I run 12v for most things and use an inverter for 240v if needed. Very Happy with the Batteries.

robert p

on 15 February 2018
Value for Money
Purchased two 135aph batteries to replace the two 120aph in our 21foot caravan. One of the 120aph batteries had failed and had started to distort the case. Ordered my batteries online and arrived within a week. During replacement i found that the previous van owner had wired the batteries incorrectly and this had probably been the cause of the failure. Spoke to tech line and got info on how to wire new batteries and also maintenance tips. So far batteries have been great. Price was outstanding for battery size. Very happy so far.

Paul S

on 14 February 2018
Twin 130 amp/hour batteries
Great product. Prompt delivery. Installed and working well.

Robert Redfern

on 12 February 2018
130AH AGM Batteries
Have these installed in my van for 3 weeks now. I am running a Redarc Battery Manager 30, Have it in storage mode and batteries are maintaining 12.9v. Field test end of May 2018

Jeff L

on 11 February 2018
Deep cycle batteries
Excellent service cannot fault delivery, Batteries are great so far, prices are fantastic.

Debra M

on 8 February 2018
New replacement batteries
Very helpfull staff. Even got a longer connecting cable for between batteries. Have used these batteries before, this is why i didn't hesitate to replace batteries with aussie batteries in our new Caravan. Used them in our old camper and never had a problem in the three years we had the camper

Anthony Finn

on 7 February 2018
Best service
Very happy with the best service, very happy customer

John H

on 7 February 2018
Great Product
Great product at a very competitive price. Delivery was timely and will consider dealings with again.

Brett D

on 2 February 2018
Specifications
---
Giant Power 12V 130AH AGM Deep Cycle Battery
Nominal Voltage
12V
Nominal Capacity (20HR)
130.0 AH
Dimension
Length: 330 ±3mm (12.99 inches)
Width: 173 ±2mm (6.81 inches)
Container Height: 212 ±2mm (8.35 inches)
Total Height (with Terminal): 220 ±2mm (8.66 inches)
Approx Weight
Approx 31.2 Kg
Terminal
T11
Container Material
ABS
Rated Capacity
130.0 AH/6.5A (20hr,1.80V/cell,25°C)
Max. Discharge Current
1200A (5s)
Internal Resistance
Approx 4.9mΩ
Operating Temp.Range
Discharge : -15 ~ 50oC (5 ~ 122oF)
Charge : 0 ~ 40oC (32 ~ 104oF )
Storage : -15 ~ 40oC (5 ~ 104oF)
Nominal Operating Temp. Range
25 ± 3°C (77 ± 5°F )
Bulk Charge
Initial Charging Current less than 30A.
Voltage 14.5V @ 25oC
Temp. Coefficient -30mV/oC
Float Charge
No limit on Initial Charging Current
Voltage 13.5V @ 25oC
Temp. Coefficient -20mV/oC
Capacity affected by Temperature
40oC (104oF) 103%
25oC ( 77oF ) 100%
0oC ( 32oF ) 86%
Self Discharge
Giant Power Deep Cycle AGM batteries may be stored for up to 6 months at 25oC(77oF) and then a freshening charge is required. For higher temperatures the time interval will be shorter.
Warranty
---

For more information, please read our full warranty policy