Deep Cycle Batteries & AGM Deep Cycle Batteries
AGM Batteries & Deep Cycle Batteries for Camping, Caravan, Camper Vans, Camper Trailers, Motorhomes, Marine, 4WDs & Off Grid Solar. We stock a large range of AGM Batteries, 12V Batteries & AGM Deep Cycle Batteries for all your 12 Volt Power needs! With Australia Wide Fast and Direct Delivery!
Deep cycle batteries are the best energy storage units. There are many different types of deep cycle batteries such as flooded batteries, gel batteries and AGM Deep Cycle batteries (AGM = Absorbed Glass Mat). Talk to the experts at Aussie Batteries and Solar and get the best Deep Cycle Battery prices and right size battery for your power needs. We stock a range of Deep Cycle Batteries Online with Australia Wide Delivery. Our 12 Volt Deep Cycle Batteries and AGM Deep Cycle Battery range give superior deep cycling performance for many different recreational and industrial applications.
To get the best deep cycle battery set-up, the size and type of battery accessory that you select should be dependent on the application and operating conditions. It is important to make sure that there is sufficient battery capacity (Amp Hours) to power the equipment you intend to use or download and print our battery Power Estimator For Deep Cycle Setups to help you work out the best Deep Cycle Battery for your application.
Aussie Batteries and Solar stock a large range of high quality 12V AGM Deep Cycle Batteries, Flooded Deep Cycle Batteries, Gel Deep Cycle Batteries and Slimline Deep Cycle Batteries including Batteries for Solar & Battery Acessories with the best deep cycle battery prices in Australia!
BUY DEEP CYCLE BATTERIES ONLINE WITH AUSTRALIA WIDE DIRECT DELIVERY TO YOUR DOOR OR CONTACT OUR 12VOLT & DEEP CYCLE BATTERY EXPERTS ON 1800 853 315 or EMAIL

Aussie Batteries and Solar are experts in AGM Deep Cycle Batteries and Dual Battery Setups; we make sure that you get the best power solution.
Our range of AGM Deep Cycle Batteries and Accessories are a popular choice for those who are looking for dependable power for 12V systems. Our products are specifically designed for running a range of applicances including your portable fridge, 12V light kits, use with inverters and many more 12V applications. You also get one of the best battery warranties on the market with our 5 Year Pro Rata Battery Warranty.
Learn more about the Benefits of AGM Deep Cycle Batteries - AGM Battery Power - AGM Batteries and Deep Cycle Power - 12V Power Setups for Camping and Caravans.
Deep Cycle AGM Batteries have all the advantages of Gel Batteries, but they are designed to take much more cyclic and voltage abuse than the standard 12V Battery. Deep Cycle is a great way to go when it comes to auxiliary batteries, but for many people AGM Batteries (Absorbed Glass Mat) will have huge advantages over the conventional wet cell deep cycle battery. Our AGM battery range provide superior power for your 12V fridges, high powered inverters, lights or any other 12V appliances and much more.
Absorbent Glass Mat (AGM) Battery Information
Absorbent glass mat (AGM) is a class of lead-acid deep cycle battery in which the electrolyte is absorbed into a fiberglass mat. These batteries have a valve which will activate when the battery is recharged at high voltage. Valve activation allows some of the active material to escape thus decreasing the overall capacity of the battery. The lids /vents typically have gas diffusers built into them that allow safe dispersal of any excess hydrogen that may be produced during charging. They are maintenance free; and they can often be oriented in any manner, unlike normal lead-acid batteries which must be kept upright to avoid acid spills and to ensure the plates are sitting in the electrolyte. The plates in an AGM battery may be flat like wet cell lead-acid battery, or they may be wound in a tight spiral. The internal resistance of AGM batteries is lower than traditional cells, they can handle higher temperatures, and self discharge more slowly.
AGM batteries are totally sealed and are easy and safe to transport
They never need topping up with water
They can be safely mounted inside a boat, car, caravan, motorhome etc
AGM batteries only need to be vented to atmosphere, they do not need to be in a sealed box vented to the outside like wet batteries, and can be mounted on their sides or ends if needed.
Due to their very low internal resistance AGM batteries will fully charge at a lower voltage, and accept a much larger charge current, so when charging from a standard car/truck alternator these batteries will all but fully charge, and they will charge quickly, in about 3 hours!
AGM batteries can be discharged deeper than conventional deep cycle batteries without major damage.
AGM batteries only self discharge at the rate of up to 3% per month, and even after 12 months sitting idle can be recharged and put back into full service without any major damage. (A standard deep cycle battery if treated the same way will have destroyed itself, it will no longer hold a good charge)
AGM batteries were originally developed for the military, they are very robust.
If your main source of charging is from your vehicles alternator, or you need to place your batteries in spaces that are less than ideal, then you should consider using Deep Cycle AGM Batteries as they are totally sealed and spill proof. Other advantages include;
Longer service life (approx. 2-3 times life expectancy of a Flooded Lead Acid Battery)
Completely Sealed and Maintenance Free
Low Deep Cycle Discharge Failure
Low self-discharge rate (typically 1%-2% per month)
No gassing off, so they can be safely used inside an enclosed area
Can be used in saltwater and marine applications
Higher resistance to vibration
Higher bulk charge acceptance rate (which means a shorter recharge time)
Perfect for 12v/24v Appliances
Our 12 Volt Deep Cycle AGM Batteries give superior deep cycling performance for recreational and industrial applications including:

4WDs

Wheel Chairs

Mobility Scooters

Marine Systems

Dual-Battery Systems

Recreational Vehicles

Golf Carts

Scrubbers and Sweepers

Aerial Work Platforms

Industrial Equipment
Why you should NOT use an AGM Deep Cycle Battery under the Bonnet as a starting battery in your car: Oil, fuel and other engine lubricants may cause damage to battery casing materials. We strongly recommended that you avoid fitting Deep Cycle Gel Batteries under the bonnet of your vehicle as this will void the warranty the best for under the bonnet are sealed lead acid batteries such as an Exide Batteries we can supply these in our store located in Warana, QLD. We do not ship lead-acid car batteries due to their volatility. For expert, tailored, no-obligation advice on Deep Cycle Batteries email or call our friendly team on 1800 853 315
AGM Deep Cycle Battery - Superior Deep Cycle Performance. Giant Power Deep Cycle AGM batteries are the ultimate in deep cycle technology and performance.
What is an AGM Deep Cycle Battery: Absorbed Glass Mat (AGM) technology works by suspending a free electrolyte within highly porous glass fiber mat separators. AGM mats work to eliminate the hazards associated with acid spills or leaks, and also have a sealed maintenance free design that avoids the need for regular topping-up of electrolyte, saving you time.
Giant Deep Cycle AGM batteries utilize the following :

Low internal resistance and low self-discharge rates.

Fast recharge and long battery shelf life.
When fully charged, Giant Power AGM Batteries can be stored for extended periods of time and recharged using a range of AGM compatible battery chargers with temperature compensation needed if installed in a high heat environment.
For more detailed AGM Battery specifications, please refer to the AGM Battery specification sheets shown below and also on each of our AGM Batteries.
Our range AGM Batteries are ideal for use in applications where fast recharge, improved vibration resistance, and superior deep cycle performance is needed for maximum power.
AGM Battery Under Bonnet Fitment Advice
Please remember that oil, fuel and other engine lubricants can cause damage to your battery casing. We strongly recommended that you avoid fitting AGM Deep Cycle batteries under the bonnet of your vehicle as this will void the warranty.
Need help to find the right AGM Battery for your Caravan, Boat, Motor Home, Camper Trailer or Battery Systems email or call our friendly team on 1800 853 315 or shop for AGM Batteries Online with Australia Wide Delivery.
Our 12V Deep Cycle Batteries Are Built for Any Environment - AGM Batteries that will last the distance!
We stock a wide range of Flooded Deep Cycle, AGM Batteries and Gel Deep Cycle Batteries at the best prices! Aussie Batteries & Solar are proudly Australian. We specialise in solar and batteries and believe in supplying the hardiest and most suitable products that are built to handle Australia's harsh environmental conditions. See our superior range of Deep Cyle Batteries in a range of battery sizes 100AH,120AH,130AH,150AH.
VIEW MORE DEEP CYCLE BATTERY INFORMATION or CHOOSING THE RIGHT AGM BATTERY
Learn more about AGM Batteries from the Battery University
Deep Cycle Batteries Online with Australia Wide Shipping - Deep Cycle Batteries - AGM Batteries for QLD, NSW, ACT, VIC, WA, NT, TAS, SA - FIND OUT IF YOU QUALIFY FOR FREE DEEP CYCLE BATTERY SHIPPING ! OR CALL US 1800 853 315
Deep Cycle Batteries Queensland
Deep Cycle Batteries Brisbane
Deep Cycle Batteries New South Wales
Deep Cycle Batteries Sydney
Deep Cycle Batteries Western Australia
Deep Cycle Batteries Perth
Deep Cycle Batteries Victoria
Deep Cycle Batteries Melbourne
Deep Cycle Batteries ACT
Deep Cycle Batteries Adelaide
Deep Cycle Batteries Darwin and everywhere inbetween!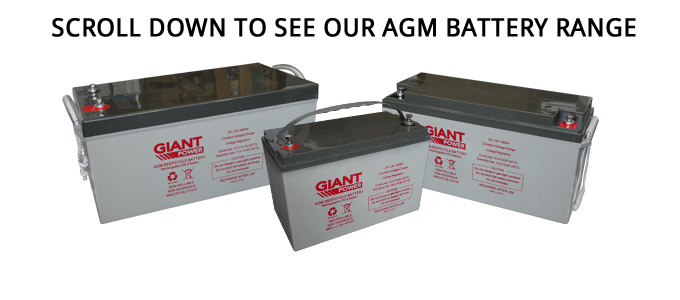 Read more
Watch our video on Deep Cycle AGM Batteries
Nominal Battery Voltage
12V