What Is a Battery Cycle and How Do They Affect Battery Life?
Battery cycles are one of the most (if not the most) important specifications on a deep cycle battery, but many people don't understand what they are. In our latest Q&A video, one of our battery experts explains what a battery cycle is and how they affect battery life. With the knowledge in this video you'll be able to make sure your battery has a long and healthy life, as well as easily compare different batteries.
December 4, 2014 | Comments
Blog Posts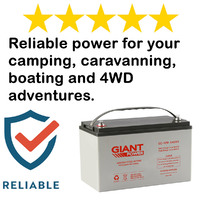 How to get the best Battery Boxes and Portable Power for Camping including Battery Power Packs for Camping - A guide to using a Battery Box for Camping and 12 Volt Battery Box Setups for Camping - Everything you ... read more
View more posts
Free eBook
Learn everything you need to know about
Deep cycle batteries
Solar panels
Portable fridges
Inverters
and more!
Download now