50L Portable Fridge/Freezer - Travel Series
SKU:

GP-B-50P
Buy now, pay later
Interest free instalments
Four equal payments of $203.75/fortnight, with instant approval online. Learn more
Enjoy your gear now, and pay for it later! We're happy to provide the opportunity for our customers to shop with us using popular pay later options.


How it works
Buy what you want today, pay for it over four equal fortnightly instalments. Use your debit or credit card, get approved instantly.

Ordering online
Add the products you want to your cart, and select Afterpay as a payment option during checkout.
After your order is processed, you can log in to your Afterpay account to view your order, make payments and manage account details.
Note: Afterpay is only available on orders under $2000 value.
For terms and conditions, please refer to the Afterpay website
ALSO AVAILABLE

How it works
Buy now and pay later, with 6 months interest free. You pay over time weekly, fortnightly or monthly, whichever suits you best. Applications are quick, and get a decision in real-time.

Ordering online
Add the products you want to your cart, and select Zip as a payment option during checkout.

Ordering over the phone
Call us on 1800 853 315 and place your order with our friendly staff. Ask to pay using Zip.
Note: ZipPay is only available on orders under $1000 value, while ZipMoney is available on orders up to $10,000 value.
For terms and conditions, please refer to the Zip website
Overview
---
Portable Camping & Car Fridges - 50L Portable Fridge/Freezer - Travel Series
When you're going away on your next adventure, a common problem is food storage without mains power. Our range of portable fridge/freezers solve this problem by providing efficient refrigeration with low power usage, allowing you to easily run them from a 12v battery or from your vehicle's cigarette socket. With the energy efficient Danfoss compressor, our fridges provide superior cooling and low power usage.
Cooled by the industry leading Danfoss compressor and polyurethane insulation, our fridges can maintain freezing cold temperatures no matter what the ambient temperature is like outside, and all with little noise. Best of all, you can monitor and control the temperature with an easy to use digital display.
Features
Dual compartments for easy storage
Industry leading Danfoss compressor provides quiet, efficient cooling
Thick polyurethane foam insulation keeps your fridge cold with minimal power usage
Easy to use digital control panel and display
3 stage battery protection
Heavy duty carry handles
Interior lighting
Runs from either 12V, 24V or 240V
Fridge includes
Protective insulation cover bag
Removable fridge baskets
12V Cigarette plug power cable
240V Cigarette socket power adaptor
Instruction Manual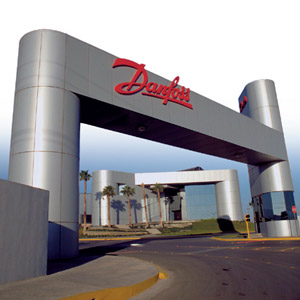 About Danfoss
Since its foundation in 1933, the Danfoss Group has based its work on the fundamental respect for efficient use of Nature's resources. The philosophy behind the first Danfoss products was to make optimum use of energy while minimizing waste, in the best way possible. Today Danfoss operates 58 factories in 18 countries, employing over 23,000 people globally.
Danfoss compressors are used in numerous applications such as white goods, mobile refrigeration, light commercial refrigeration, commercial refrigeration and air conditioning.
Reviews
---
50L Portable Fridge/Freezer - Travel Series has a rating of 4.75/5 based on 4 reviews.
4months and going strong
Went halves with a mate in Nov. We've both been using it for 4 months with a battery and solar panel. Wish we got a larger panel to perform better when overcast however everything has been great. May upgrade to dual zone when Hector leaves Oz.

geoff

on 8 March 2020
50L fridge freezer
gave the fridge a test run down to Coffs Harbour recently and it performed faultlessly. Technical specifications appeared to be close to advertised claimed information. So far so good.

Robert Christison

on 14 December 2017
Cold "Drinks" in the snow.
Great fridge, even when you're caught out unexpectedly by snow. Enjoy.

Steve

on 8 November 2017
50L Portable Fridge/Freezer - Travel Series
Although I have only used it once on the road this product could not be faulted. I managed to get 3 days of constant use off my AGM battery until I required a charge. Probably could have gotten another day but wasn't taking any chances. This just shows me that the fridge uses minimal power to keep food cold and fresh. Easy to read and monitor from the control panel. It now sits in my home as a beer fridge until my next trip away.

Murray L

on 4 November 2017
Write a product review
Specifications
---
Giant Power 50L Portable Fridge/Freezer
Capacity
50 Litres (Aprrox 40L and 10L compartments)
Approval
GS, CE, E-MARK, ROHS, SAA
Cooling performance
-18oC to +10oC
Climate
10oC to 43oC
Input Voltage
DC12V/24V, AC240V (by AC/DC adaptor)
Power consumption
54W (when compressor running)
Approx. 1.0-1.5A/hr at 5oC (running on 12V, 32oC ambient)
Approx. 1.5-2.0A/hr at -16oC (running on 12V, 32oC ambient)
Cooling unit
Danfoss SECOP PBC 2.0 compressor
Refrigerant
R134a
Insulation
60mm Polyurethane Foaming
Product size
723mm x 375mm x 512mm (L-W-H)
Warranty
---


For more information, please read our full warranty policy