Portable Solar Panel Kits for Camping | 12 Volt Solar Panel Kits | Camping Solar Panels
Portable Solar Panel Kits for Camping, Caravans, Camper Trailers, 4WDS, RVS, Boats. Best Prices on 12Volt Complete Portable Solar & Battery Kits for Camping with Solar Power with AUSTRALIA WIDE DELIVERY.
Aussie Batteries & Solar are experts in Camping Solar Panels & Complete 12Volt Solar Kits for Camping. For those who want to get the best solar setup for camping we have made it easy and have created a great range of solar kits. Our solar camping packages include portable solar panels for camping, these panels are perfect for camping in any location or situation around Australia. Our range of complete solar kits are packages that come with portable solar panels and deep cycle batteries and are available in a variety of solar panel setups to suit a range of uses so you can go camping with solar power anytime.

Aussie Batteries & Solar have designed these high quality and complete Solar Kits for Camping that are ready to go with deep cycle batteries, battery box and various portable solar panel systems such as folding solar panel mats and bi and tri-fold solar panels all chosen for a range of different camping setups. Our range of camping solar power panels are some of the best in Australia. Browse our range of Solar Kits for Camping below.
These Solar Panel Kits are the perfect companion for camping, caravans, camper trailers, boats, RV's and 4WD's they have everything you will need to get reliable 12Volt Power and will provide easy to use solar power when you're off on your camping adventures. Everything in these Solar Kits is plug and play, including Camping Solar Panels with Anderson Plug, Deep Cycle Batteries and Battery Boxes. The inclusion of Giant Power custom battery boxes means you will be provided with a hassle-free connection to your battery through a wide variety of 12V plugs and terminals. You won't need to bring any extra gear to make sure your battery is staying charged; because we also provide an inbuilt battery voltage monitor right on the battery box. Ideal for running 12V Fridges, Camp Lights, and other 12V Appliances, consider adding a solar inverter to your Solar Kit if you'd like to run a 240V appliance in your camping setup.
Camping with a 12V Portable Solar Panel Kit allows you to get a dependable source of solar power during your Camping, Caravan and 4WD adventures. Our range of Camping Solar Panels are perfect for all of your outdoor & camping activites and come with Australian Wide Delivery and Industry Leading Warranties.
If you need expert, tailored, no-obligation advice on Portable Solar Panel Kits for Camping email or freecall our friendly team on 1800 853 315 we have a dedicated 12 Volt Battery & Solar Team just waiting to help. Shop Online with Australia Wide Delivery by browsing our range of Solar Kits and Camping Solar Panels below or Visit Us Instore.
Camping with Solar Power
Planning how your going to get power, especially during long camping trips is an import consideration. Camping with Solar Power allows you to use a range of Camping Solar Panels with a good dual battery setup, solar kits are by far the best way to get power while away camping.
Camping Solar Panels & Solar Panels for Camping - How to get the best Solar Panel Setups for Camping Australia.
If you don't want to use a noisy generator, you will need to look at getting reliable power by using solar panels for camping and batteries for solar storage. You can use the power of the sun to keep your batteries charged, and there are some notable pros to using solar panels for camping. For example, one significant advantage of camping with solar power is that 12v solar is reliable and straightforward to use, the other advantage is that you can get power day and night without having to rely on a noisy generator or fuel.
Want to know more about choosing the best 12V Portable Solar Panel for Camping read our blog or email or call our friendly team on 1800 853 315 we love to help our customers get the best Solar Panels for Camping & specialise in 12Volt Solar Panel Camping Kits. Shop for Camping Solar Panels Online with Australian direct shipping to your door, we make camping with solar easy and affordable!
Read more
Watch our video on Portable Solar Kits
nominal solar voltage
12v
Blog Posts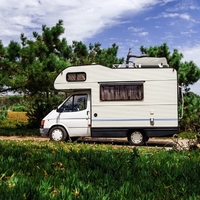 Motorhome, RV & Caravan Batteries - What are the most popular Batteries for Caravans, RV's & Motorhomes ? Let's look at your options when it comes to getting the best power solutions and w... read more
View more posts
Free eBook
Learn everything you need to know about
Deep cycle batteries
Solar panels
Portable fridges
Inverters
and more!
Download now