200W 12V Complete DIY Solar Kit (2x100W) with Kyocera Japanese Cells
SKU:

DIY-KYO-12V-200W2
Buy now, pay later
Interest free instalments
Four equal payments of $123.80/fortnight, with instant approval online. Learn more
Enjoy your gear now, and pay for it later! We're happy to provide the opportunity for our customers to shop with us using popular pay later options.


How it works
Buy what you want today, pay for it over four equal fortnightly instalments. Use your debit or credit card, get approved instantly.

Ordering online
Add the products you want to your cart, and select Afterpay as a payment option during checkout.
After your order is processed, you can log in to your Afterpay account to view your order, make payments and manage account details.
Note: Afterpay is only available on orders under $1000 value.
For terms and conditions, please refer to the Afterpay website
ALSO AVAILABLE

How it works
Buy now and pay later, with 6 months interest free. You pay over time weekly, fortnightly or monthly, whichever suits you best. Applications are quick, and get a decision in real-time.

Ordering online
Add the products you want to your cart, and select Zip as a payment option during checkout.

Ordering over the phone
Call us on 1800 853 315 and place your order with our friendly staff. Ask to pay using Zip.
Note: ZipPay is only available on orders under $1000 value, while ZipMoney is available on orders up to $10,000 value.
For terms and conditions, please refer to the Zip website
Overview
---
Save time and money with a complete DIY solar kit including everything you need to set up your own solar system. Our experts have designed these kits with the same items and components that we use ourselves when installing our solar systems, so there's no need to waste time shopping for all the bits and pieces - with our complete DIY solar kits, everything is ready to go right out of the box with full instructions provided.
This complete solar kit is perfect for installing solar power on caravans, boats, 4wds, and small holiday shacks. To install the kit, only a few basic tools are required; pliers for twisting/crimping wire, a drill with screwdriver attachment for screwing mounting brackets to panels, silicone gun for applying adhesive, wirecutters for trimming cables to length, and a crimping tool (if your pliers cannot crimp).
Kit Inclusions
2x 100W Solar Panels with Kyocera Japanese Cells
20AH 12/24V Auto Work PWM Solar Charge Controller
8x Solar panel corner mounting brackets
1x Dual Entry Cable Block
1 Pair MC4 Connectors
1 Pair MC4 T Branch Connectors
7m 6mm twin Solar Cable
2m Conduit
10x P clamps
1 tube high strength mounting adhesive
2m Ring to Pin Battery Cable with Inline Fuse Holder
Need a different setup?
We can custom build a system for you to meet your requirements perfectly - give us a call to speak to our expert staff.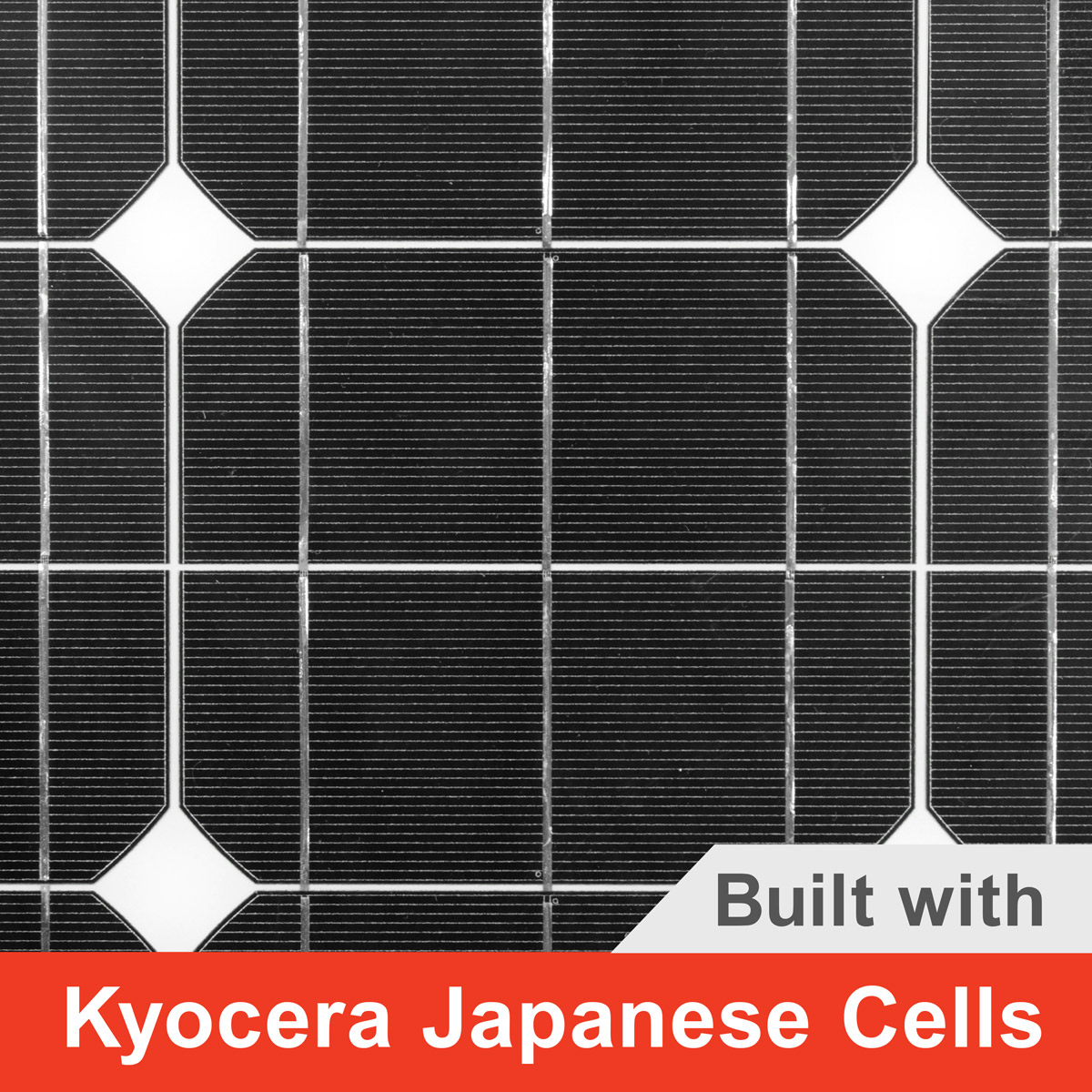 Kyocera Solar Cells
The right choice matters! When you want quality, reliability and performance, choose Kyocera Solar Cells. Kyocera is respected worldwide for quality and long-term commitment to customers satisfaction.
These panels built with Kyocera Monocrystalline solar cells offer impressive features including:
New enhanced monocrystalline technology provides a superior 18.6% cell efficiency
Strong cell stability, durable wafers quality, and an optimum attenuation degree offer a decisive advantage for the solar panel's life
Real world proven history of performance
Reviews
---
200W 12V Complete DIY Solar Kit (2x100W) with Kyocera Japanese Cells has a rating of 4.67/5 based on 3 reviews.
Solar kit
I am very pleased with my kit easy to follow instructions and all fittings are of quality.

Robert B

on 5 June 2020
Solar Panel Power
Already have some of these panels on the caravan and adding more, will have total 500w with 2 controllers and 4 batteries, all working great. As before these are a good reliable product at the right price.

Allan S

on 5 December 2018
My Solar
The recent addition of an extra 200w solar kit has increased my caravan roof solar power to 400w. All working perfectly with my 4 batteries. The system is divided into 2 parts with 200w solar panel 2 batteries and controller and same for the other 200w solar panel batteries and controller. Excellent setup.

Allan S

on 12 September 2018
Write a product review
Specifications
---
100W Solar Panel with Kyocera Japanese Cells
Max Power:
100W
Power Tolerance:
±3%
Max Power Voltage:
17.99V
Max Power Current:
5.57A
Open-Circuit Voltage:
22.19V
Short-Circuit Current:
6.1A
Maximum System Voltage:
1000
Dimensions:
1010mm x 670mm x 35mm
Weight:
Approx. 9kg
Test Condition:
1000W/m2, AM1.5, 25°C
Warranty
---


For more information, please read our full warranty policy