Giant Power 50L Complete Solar Fridge Kit - Travel Series
SKU:

FRK-GPO-B50P
Overview
---
50L Complete Solar and Car Fridge Kit includes: 12V 50L Car Fridge, Battery, Solar Panel, Giant Power Battery Box, Solar Watt Meter, and Anderson Plugs - everything you need to get the best Camping Solar Fridge in Australia.
Take the guesswork out of selecting a portable fridge system with solar panels and batteries. This new Complete Solar Fridge Kit 50L Travel Series is expertly selected so that you can enjoy optimal system performance while on the road. With our combination packages, you can avoid any hassle in figuring out the best panel or battery pack to run your Camping Fridge.
This 50L Portable Fridge Freezer Kit from the GIant Power Travel Series has everything you need to store your food or freeze your catch when you're away from mains power, with easy to use plug and play setup. Designed for the harsh Australian conditions, everything in this complete solar fridge kit is built to last; portable fridge/freezer with heavy duty handles, sealed maintenance free battery and battery box, easy to carry foldable solar mat with waterproof solar regulator, and solar watt meter with anderson plugs.
The Australian designed Portable Fridge/Freezer included in this kit comes with 100% Australian Warranties and is a high-tech and superior quality 50 L Portable Fridge/freezer that works great as a Camping Fridge, Caravan and Car Fridge.
Our range of portable fridge/freezers provide the most efficient refrigeration with low power usage. Cooled by the industry leading Danfoss compressor and polyurethane insulation, our fridges can maintain freezing cold temperatures no matter what the ambient temperature is like outside, and all with little noise. Best of all, you can monitor and control the temperature with an easy to use digital display.
Kit Inclusions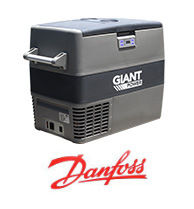 Dual compartments for easy storage
Industry leading Danfoss compressor provides quiet, efficient cooling
Thick polyurethane foam insulation keeps your fridge cold with minimal power usage
Easy to use digital control panel and display
3 stage battery protection
Heavy duty carry handles
Interior lighting
Runs from either 12V, 24V or 240V
This Portable Fridge/Freezer includes:
Protective insulation cover bag
Removable fridge baskets
12V Cigarette plug power cable
240V Cigarette socket power adaptor
Instruction Manual

125W Folding Solar Mat with Anderson Plug Connection
10A Waterproof Solar Regulator with Plug & Play Anderson Connections for Solar and Battery
5M Extension Cable (Anderson Plug to Anderson Plug)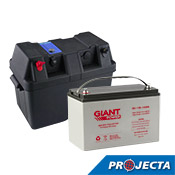 Sealed & maintenance free operation (Non-Spillable, Non-Gassing)
Designed Service Life of 10 years, ideal for frequent cyclic discharge
Exceptional deep discharge recovery performance
Low self-discharge characteristic
2x 12V Anderson Plug Input/Output
1x Cigarette Socket
1x Merit Socket
LED Battery Voltmeter
External Connection Terminals
Resettable Circuit Breaker
Supplied with webbing strap
Suits AGM deep cycle batteries from 105AH to 130AH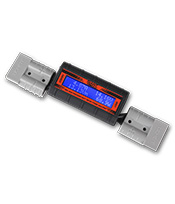 Current (Amps/A) at the present moment
Voltage (Volts/V) at the present moment
Power (Watts/W) at the present moment
Total Amps (Amp hours/Ah) since device initialised
Total Power (Watt hours/Wh) since device initialised
Highest Voltage Maximum (Vm) since device initialised
Highest Power Peak (Watt Peak/Wp) since device initialised
Highest Current Peak (Amp Peak/Ap) since device initialised
Reviews
---
No product reviews yet - be the first!
Specifications
---
Giant Power 50L Portable Fridge/Freezer
Capacity
50 Litres (Aprrox 40L and 10L compartments)
Approval
GS, CE, E-MARK, ROHS, SAA
Cooling performance
-18oC to +10oC
Climate
10oC to 43oC
Input Voltage
DC12V/24V, AC240V (by AC/DC adaptor)
Power consumption
54W (when compressor running)
Approx. 1.0-1.5A/hr at 5oC (running on 12V, 32oC ambient)
Approx. 1.5-2.0A/hr at -16oC (running on 12V, 32oC ambient)
Cooling unit
Danfoss SECOP PBC 2.0 compressor
Refrigerant
R134a
Insulation
60mm Polyurethane Foaming
Product size
723mm x 375mm x 512mm (L-W-H)
125W Foldable Solar Panel
Max Power:
125W
Converting Effeciency:
>17%
Max DC:
18V / 6.95A
Open-Circuit Voltage:
21.6V
Short-Circuit Current:
7.42A
Operating Temp:
-20°C - 50°C
Storage Temp:
-10°C - 30°C
Dimensions:
Folded: 375mm x 330mm x 65mm
Opened: 1870mm x 660mm x 5mm
Weight:
Approx 5.96 kg
Giant Power 12V 130AH AGM Deep Cycle Battery
Nominal Voltage
12V
Nominal Capacity (20HR)
130.0 AH
Dimension
Length: 330 ±3mm (12.99 inches)
Width: 173 ±2mm (6.81 inches)
Container Height: 212 ±2mm (8.35 inches)
Total Height (with Terminal): 220 ±2mm (8.66 inches)
Approx Weight
Approx 31.2 Kg
Terminal
T11
Container Material
ABS
Rated Capacity
130.0 AH/6.5A (20hr,1.80V/cell,25°C)
Max. Discharge Current
1200A (5s)
Internal Resistance
Approx 4.9mΩ
Operating Temp.Range
Discharge : -15 ~ 50oC (5 ~ 122oF)
Charge : 0 ~ 40oC (32 ~ 104oF )
Storage : -15 ~ 40oC (5 ~ 104oF)
Nominal Operating Temp. Range
25 ± 3°C (77 ± 5°F )
Bulk Charge
Initial Charging Current less than 30A.
Voltage 14.5V @ 25oC
Temp. Coefficient -30mV/oC
Float Charge
No limit on Initial Charging Current
Voltage 13.5V @ 25oC
Temp. Coefficient -20mV/oC
Capacity affected by Temperature
40oC (104oF) 103%
25oC ( 77oF ) 100%
0oC ( 32oF ) 86%
Self Discharge
Giant Power Deep Cycle AGM batteries may be stored for up to 6 months at 25oC(77oF) and then a freshening charge is required. For higher temperatures the time interval will be shorter.
Projecta Battery Box
Suits battery sizes
N70Z size batteries, 100-130AH batteries
Internal size
H: 200mm W: 190mm L: 330mm
External size
H: 280mm W: 220mm L: 390mm
Material
Polypropylene
Accessory Socket
20A circuit breaker
Cigarette Socket
10A circuit breaker
150A Solar Watt Meter Specifications
Safe Operating Voltage
0V - 60V
Safe Operating Current
0 - 100A Intermitten
50A Continuous
Note: this assumed the device's writes are in free air, and attached to connections at or below temperature of 35C with adequate air flow. 100A operation time depends on ambient and wiring temperatures.
Nominal Operating Conditions
0C - 50C ambient air temperature, non condensing humidity
Note: Max temperature must be reduced at max current rating.
Measurement Update Period
400 mS
Data Queue Sequence Time
2 seconds
In Circuit Resistance
0.001 Ohms
Operation Current
7mA
Auxiliary Power Voltage
4.8V - 60V
eg. from a receiver battery
Dimensions
Approx. 200mm L x 42mm W x 25mm D (including anderson plugs)
Approx. 85mmL x 42mmW x25mmD (only watt meter unit)
Weight
Approx 130g
Display Screen
16 Character x 2 row STN LCD
Solar Watt Meter Measurement Parameters
Voltage
0 - 60V, 0.01V Resolution
Note: 0V min. w/auxiliary power, eg. a receiver battery. Otherwise, 4.0V
Current
0 - 150A peak, 0.01A Resolution
Note: 65A continuous
Power
0 - 9000W, 0.1W Resolution
Charge
0 - 65AH, 0.001Ah
Energy
0 - 9000Wh, 0.1Wh Resolution
Warranty
---





For more information, please read our full warranty policy