Giant Power 120.0kWh 48V 2500AH Tubular Gel Battery Bank (2V cells)
SKU:

DCP-48V48-1250AH
Overview
---
With superior cyclic life compared to lead acid batteries, tubular gel batteries are some of the best batteries available for projects that require reliable, long lasting batteries.
Video Overview
Main Technical Advantages
Plate: Positive plate adopts tubular plate which can prevent active material falling, and adopts multi-component alloy frame. Fine corrosion-resisting performance and long service life. Negative plate adopts special radiated structure.
Separator: Special micro-pore PVC-SiO2 separator from European AMER-SIL Company. The separator has large porosity and low resistance.
Electrolyte: Germany gas silicon dioxide, electrolyte in Gel state in the battery, which inhibits any acid leakage.
Safety valve: Adopts German technology, accumulator case expansion, mitigating potential damage and electrolyte dry up can be avoided.
Applications
Solar energy, wind energy
Electric power, nuclear power
Communication
Ship, maritime affairs
UPS, medical facilities and emergency lighting
Situation with high environmental protection and energy-saving
Better safety performance and reliability
Designed service life of 20 years
Bank Inclusions
48x 1250AH 2V Tubular Gel Batteries
92x 2 B&S Series Cable 250mm length
4x 2 B&S Parallel Cable 350mm length
Please note: Wiring supplied with this bank is designed for a standard battery bank configuration. Other wiring configurations available upon request.
A high turnover of battery stock ensures our customers are always getting the freshest battery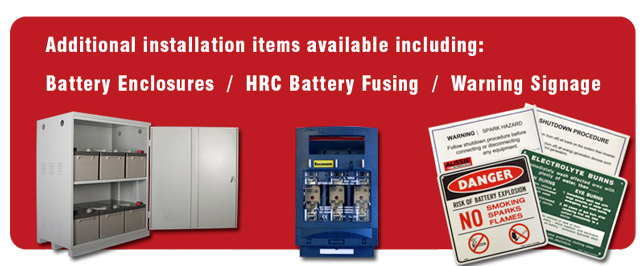 Reviews
---
No product reviews yet - be the first!
Specifications
---
Giant Power 2V 1250AH Tubular Gel
Nominal Voltage
2V
Capacity
1250.0Ah@100hr to 1.85V/cell
Dimension
Length: 233 +/-2mm (9.17 inches)
Width: 210 +/-3mm (8.27 inches)
Container Height: 646 +/-3mm (25.4 inches)
Total Height (with Terminal): 681 +/-3mm (26.8 inches)
Approx Weight
Approx 78.5 kg
Container Material
ABS
Rated Capacity
F.V=1.85VPC
C100 = 1250(Ahr)
C48 = 1225(Ahr)
C24 = 1113(Ahr)
C10 = 1000(Ahr)
Max. Discharge Current
3800A (5s)
Internal Resistance
Approx 0.27mΩ
Operating Temp.Range
Discharge : -20~55oC
Charge : 0~40oC
Storage : -20~50oC
Cycle Use / Bulk Charge
Initial Charging Current less than 200.0A
Voltage 2.37V~2.40V at 25oC
Temp. Coefficient -5mV/oC
Standby Use / Float Charge
No limit on Initial Charging Current
Voltage 2.25V~2.30V at 25oC
Temp. Coefficient -3mV/oC
Self-discharge
<2% per month @ 20oC
Warranty
---

For more information, please read our full warranty policy