21.1kWh 48V 440AH Flooded Battery Bank (12V cells)
SKU:

DCP-48V8-220AH
Overview
---
Please note: We can ship this item upon request, but due to this item being classified as dangerous goods for shipping purposes, it attracts higher shipping charges. Please contact us for delivery costs.
Eclipse Flooded Deep Cycle Batteries feature lead calcium expanded grids (Lead Calcium Technology) for improved resistance to corrosion, overcharging, gassing, water usage, self discharge and thermal runaway, all of which limit battery life in conventional lead acid batteries. The 220Ah is specifically for Deep Cycle purposes, but can also crank at 1200CCA. As with all of our batteries, they are completely sealed and maintenance free.
Features
Built in hydrometer – Indicates state of charge.
Factory-sealed – maintenance free.
Polypropylene case – Reinforced design for vibration resistance. This strong durable material combines light weight with high impact strength.
Liquid-gas separator area – Returns liquid to reservoir for longer life.
Integrated or rope handle – For ease of transport and installation.
Flame arrester – Safety system, prevents explosion from sparks outside the battery, minimises acid leakage, prevents inflow of dust.
Heat sealed covers – Helps prevent electrolyte contamination and increase case strength.
Centered cast on plate strap – Stronger than thinner gas-burned conventional connectors.
Low resistance envelope separators – Encapsulated negative plates help to prevent shorting / treeing between negative and positive plates as well as aid vibration durability.
Increased battery shelf life - Compared to conventional batteries, up to 12 months shelf life without charging due to the use of calcium / calcium grids.
Bank Inclusions
8x 220AH 12V Flooded Deep Cycle Battery
6x 2 B&S Series Cable 250mm length
2x 2 B&S Parallel Cable 600mm length
8x Battery Terminal Saddle Adaptor Pair
Please note: Wiring supplied with this bank is designed for a standard battery bank configuration. Other wiring configurations available upon request.
A high turnover of battery stock ensures our customers are always getting the freshest battery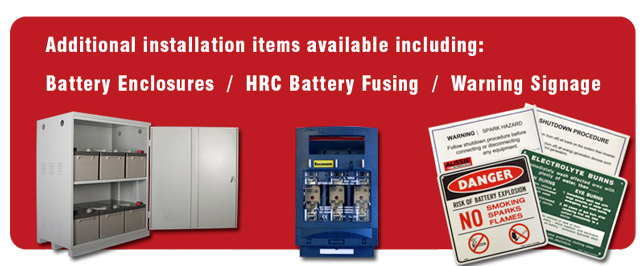 Reviews
---
No product reviews yet - be the first!
Specifications
---
Eclipse 12V 220AH Flooded Deep Cycle Battery
Nominal Voltage
12V
Nominal Capacity (20HR)
220.0 AH
Dimension
Length: 515mm
Width: 265mm
Height: 220mm
Approx Weight
Approx 55 Kg
Cranking Capacity
1200 CCA
Nominal Capacity
220AH
Nominal Voltage
12V
Warranty
---

For more information, please read our full warranty policy