49.9kWh 48V 1040AH AGM Battery Bank (6V cells)
SKU:

DCP-48V16-520AH
Overview
---
When you need batteries that can handle a bit of grunt, you need our heavy duty AGM power pack. Designed to handle a deeper discharge than our regular AGMs, this power pack comprises of eight of our 520AH 6V Deep Cycle AGMs connected in series for 24V. This heavy duty power pack is perfect for situations when you need to use large amounts of battery capacity before recharging.
Deep cycle AGM Batteries are perfect for applications that require either frequent cycling or renewable power storage. Common uses include running appliances when camping away from power, using with a solar panel for charging, running in a dual battery system in a vehicle, or providing safe power on a boat.
Features
Sealed construction (VRLA)
Maintenance free operation
Non-Spillable, Non-Gassing
Designed Service Life 12 years
Ideal for frequent cyclic discharge
Exceptional deep discharge recovery performance
Low self-discharge characteristic
Bank Inclusions
16x 520AH 6V AGM Deep Cycle Battery
14x 2 B&S Series Cable 250mm length
2x 2 B&S Parallel Cable 600mm length
Please note: Wiring supplied with this bank is designed for a standard battery bank configuration. Other wiring configurations available upon request.
A high turnover of battery stock ensures our customers are always getting the freshest battery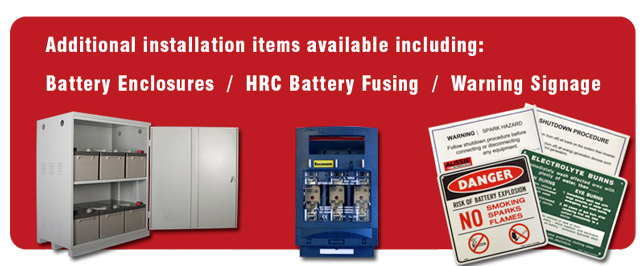 Reviews
---
No product reviews yet - be the first!
Specifications
---
Giant Power 6V 520AH AGM Deep Cycle Battery
Cells Per Unit
3
Voltage Per Unit
6
Nominal Capacity
520Ah@C100 to 1.75V per cell @25ºC
Dimension
Length: 295 ±2mm
Width: 178 ±2mm
Total Height (with Terminal): 425 ±2mm
Approx Weight
Approx 57.5 Kg (Tolerance ± 1.5%)
Max Discharge Current
4000A (5 Sec)
Internal Resistance
Approx 1.1mΩ
Operating Temp.Range
Discharge : -20 ~ 60oC
Charge : 0 ~ 50oC
Storage : -20 ~ 60oC
Nominal Operating Temp. Range
25°C ± 5°C
Float Charging Voltage
6.8 VDC/unit Average at 25oC
Max Charging Current Limit
120 A
Equalization and Cycle Service
7.3 (7.4 for equalization) VDC/unit Average at 25oC
Self Discharge
Giant Power batteries can be stored for more than 6 months at 25ºC. Self-discharge ratio less than 3% per month at 25ºC. Please charge batteries before using.
Terminal
Terminal F14/F22
Container Material
A.B.S UL94-HB, UL94-V0 Optional
Warranty
---

For more information, please read our full warranty policy