Giant Power 7.2kWh 12V 600AH AGM Battery Bank (12V cells)
SKU:

DCP-12V2-300AH
Buy now, pay later
Interest free instalments
Four equal payments of $317.77/fortnight, with instant approval online. Learn more
Enjoy your gear now, and pay for it later! We're happy to provide the opportunity for our customers to shop with us using popular pay later options.


How it works
Buy what you want today, pay for it over four equal fortnightly instalments. Use your debit or credit card, get approved instantly.

Ordering online
Add the products you want to your cart, and select Afterpay as a payment option during checkout.
After your order is processed, you can log in to your Afterpay account to view your order, make payments and manage account details.
Note: Afterpay is only available on orders under $2000 value.
For terms and conditions, please refer to the Afterpay website
ALSO AVAILABLE

How it works
Buy now and pay later, with 6 months interest free. You pay over time weekly, fortnightly or monthly, whichever suits you best. Applications are quick, and get a decision in real-time.

Ordering online
Add the products you want to your cart, and select Zip as a payment option during checkout.

Ordering over the phone
Call us on 1800 853 315 and place your order with our friendly staff. Ask to pay using Zip.
Note: ZipPay is only available on orders under $1000 value, while ZipMoney is available on orders up to $10,000 value.
For terms and conditions, please refer to the Zip website
Overview
---
When you need a long lasting battery that can withstand the tough Australian conditions, deep cycle AGM batteries are a great choice. AGM Batteries use glass mat technology within the battery to absorb the acid, as opposed to standard flooded batteries where the acid is free flowing. This provides several key advantages over standard batteries, such as allowing the batteries to be 100% sealed, non-gassing and maintenance free (batteries will never leak acid, even if damaged), and providing a significantly longer service and cyclic life (up to 2-3x longer than standard batteries).
Deep cycle AGM Batteries are perfect for applications that require either frequent cycling or renewable power storage. Common uses include running appliances when camping away from power, using with a solar panel for charging, running in a dual battery system in a vehicle, or providing safe power on a boat.
Features
Sealed construction (VRLA)
Maintenance free operation
Non-Spillable, Non-Gassing
Designed Service Life 12 years
Ideal for frequent cyclic discharge
Exceptional deep discharge recovery performance
Low self-discharge characteristic
Bank Inclusions
2x 300AH AGM Deep Cycle Battery
2x 2 B&S Parallel Cable 600mm length
Please note: Wiring supplied with this bank is designed for a standard battery bank configuration. Other wiring configurations available upon request.
A high turnover of battery stock ensures our customers are always getting the freshest battery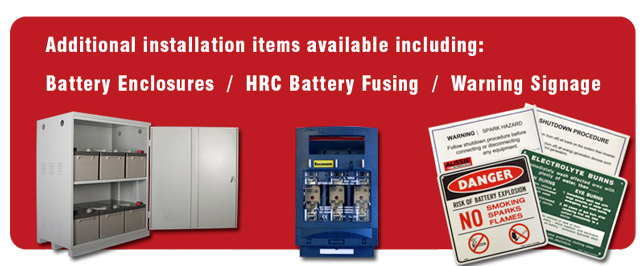 Reviews
---
No product reviews yet - be the first!
Specifications
---
Giant Power 12V 300AH AGM Deep Cycle Battery
Nominal Voltage
12V
Nominal Capacity (20HR)
300AH
Dimension
Length: 522 ±3mm (20.55 inches)
Width: 268 ±2mm (10.55inches)
Container Height: 220 ±2mm (8.66 inches)
Total Height (with Terminal): 226 ±2mm (8.90 inches)
Approx Weight
Approx 73.0 Kg
Terminal
T11
Container Material
ABS
Rated Capacity
300.0 AH/15.0A (20hr,1.80V/cell,25°C)
Max. Discharge Current
2500A (5s)
Internal Resistance
Approx 2.5m?
Operating Temp.Range
Discharge : -15 ~ 50oC (5 ~ 122oF)
Charge : 0 ~ 40oC (32 ~ 104oF )
Storage : -15 ~ 40oC (5 ~ 104oF)
Nominal Operating Temp. Range
25 ± 3°C (77 ± 5°F )
Bulk Charge
Initial Charging Current less than 75A.
Voltage 14.5V @ 25oC
Temp. Coefficient -30mV/oC
Float Charge
No limit on Initial Charging Current
Voltage 13.5V @ 25oC
Temp. Coefficient -20mV/oC
Capacity affected by Temperature
40oC (104oF) 103%
25oC ( 77oF ) 100%
0oC ( 32oF ) 86%
Self Discharge
Giant Power Deep Cycle AGM batteries may be stored for up to 6 months at 25oC(77oF) and then a freshening charge is required. For higher temperatures the time interval will be shorter.
Warranty
---


For more information, please read our full warranty policy