Off Grid System - Medium House 21.6kWh AGM
SKU:

OFFG-PS216A
Key Features
---

AGM Battery Storage
With up to a 12 year designed service life and over 2200 cycles at 30% DOD, AGM batteries are an ideal mix of performance and value. Perfect for providing reliable medium-long term power storage, AGMs won't let you down.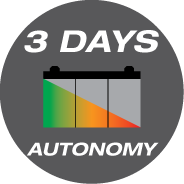 3 Days Autonomy
Don't worry about extended bad weather conditions or emergencies leaving you without power generation. Our system will run for up to three days without power input, giving you peace of mind to weather the storm.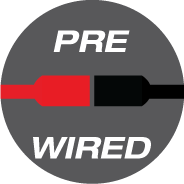 Pre-wired, tested, and ready to go
Our off grid systems are pre-wired in our factory, with full testing done on key components to ensure everything is functional and ready to go. Installation on-site is simple – just connect the battery bank and solar.

Modular and expandable
Start with what you need now, while having the confidence that adding extra components down the track will be intuitive and easy. Our off grid systems ensure you are ready for the future if your needs change.

Auto-Start Generator Functionality
Simply connect a compatible generator and set up when you want it to engage. If the batteries are getting too low or inverter is being overloaded, our system will automatically switch the generator on/off as required.

Clean Energy Council Approved
Our off grid systems are built with components certified by the Clean Energy Council, allowing you to claim back solar credits for the installation of your system. Most systems receive thousands of dollars back!
Overview
---
Whether you live in a rural location without reliable grid access, or simply want a more sustainable lifestyle, our off grid systems provide the perfect power solution. Ideal for small dwellings such as shacks, cottages, and holiday retreats, this off grid system is designed for applications with a daily power usage of 4-8kWh.
Built as a relocatable all-in-one unit, our off grid systems are self contained in a durable steel cabinet. This complete cabinet solution houses all core components, with a slimline design ideal for situating against the wall of a garage.

Full installation by CEC Accredited Installers available, please enquire for details.
Specifications
---
System Inclusions
21.6kWh AGM Battery Bank
8x 450AH 6V AGM Deep Cycle Batteries. 2200 cycles at 30% DOD, 7-10 year average lifespan, 12 year chemistry life.
Battery Cabinet with Venting
Durable steel cabinet with vermin mesh covered ventilation. Lockable lower doors, forklift skids for transport or relocation.
Prewired System Board for SMA Inverter
Internal electrical board prewired for an SMA inverter, cabling, breakers, fusing, and all other electrical components.
Note: inverter not included
kW Hour Meter
The kW hour meter measures the power that comes out of the system to enable you to keep track of how much power the system is producing. This is helpful in understanding the effectiveness of the installation, and is very beneficial in discovering issues and problems.
Generator Input Plug
The generator input brings 240V from any external lead into a plug like you see in caravans. You can attach any external generator (petrol, diesel, or even coal fired) to charge the batteries and supply power to the leads.
Change-over Switch
In the event of emergency system failure, the change-over switch allows you to bypass the inverter and provide power directly via generator or grid connection.
Minimum Recommended Solar Array
| Tier 1 | Tier 2 | Tier 3 | Max Array |
| --- | --- | --- | --- |
| 2.25 kW | 3 kW | 4.5 kW | 6 kW |
Please note: solar array not included, due to different solar requirements per customer.
Refer to the map below for the appropriate tier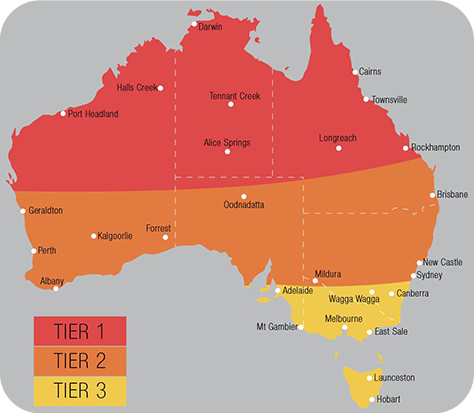 Specifications and Data Sheets
Warranty
---
Designed for ultra-reliability, all components in our systems have a real world history of performance. Core system components are tested prior to being systems being sent, avoiding faulty components upon delivery. Backed by Australian warranties and support, you can rest assured your off grid system will last the distance.


For more information, please read our full warranty policy