155W Solar Panel with Kyocera Japanese Cells
SKU:

MS-KYO-155WM
Overview
---
Features
High Performance Solar Panel
High Quality A Grade Kyocera Monocrystalline Cells
Low Reflection of Sunlight
High Light Absorption
Anodised Aluminium Frame (guaranteed no rust)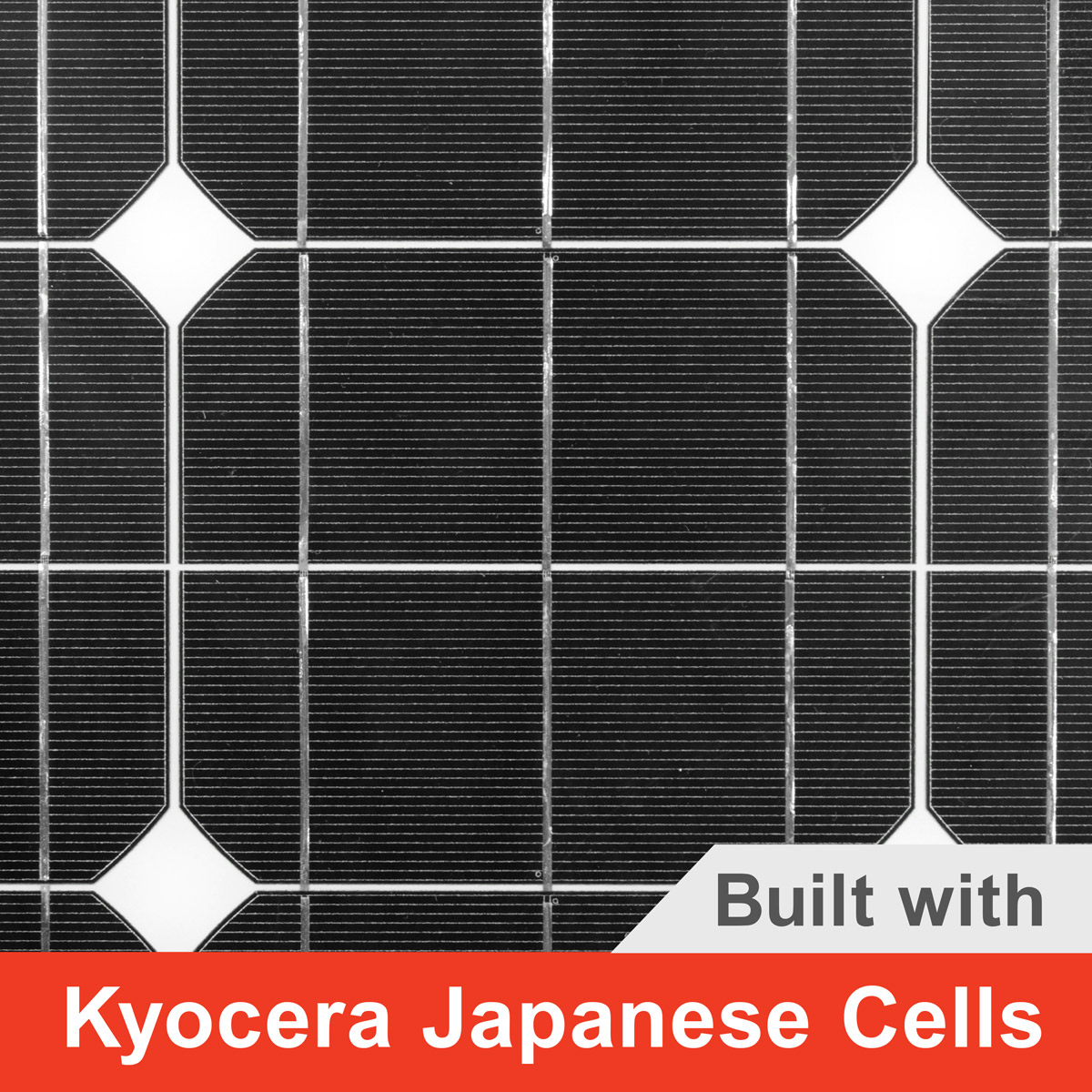 Kyocera Solar Cells
The right choice matters! When you want quality, reliability and performance, choose Kyocera Solar Cells. Kyocera is respected worldwide for quality and long-term commitment to customers satisfaction.
These panels built with Kyocera Monocrystalline solar cells offer impressive features including:
New enhanced monocrystalline technology provides a superior 18.6% cell efficiency
Strong cell stability, durable wafers quality, and an optimum attenuation degree offer a decisive advantage for the solar panel's life
Real world proven history of performance
Reviews
---
155W Solar Panel with Kyocera Japanese Cells has a rating of 5.00/5 based on 1 reviews.
155W Solar Panel
Installed panel on my caravan and tested by moving van from my shed after installation, input was observed to be around 7-7.5 ah on a part cloudy day, very happy with panel performance, all worked as expected, excellent product.

Denis O

on 24 September 2017
Specifications
---
155W Solar Panel with Kyocera Japanese Cells
Max Power:
155W
Power Tolerance:
+3%
Max Power Voltage:
18.6V
Max Power Current:
8.35A
Open-Circuit Voltage:
23.5V
Short-Circuit Current:
8.7A
Maximum System Voltage:
1000V
Dimensions:
1482mm x 660mm x 35mm
Weight:
Approx. 11.7kg
Test Condition:
1000W/m2, AM1.5, 25°C
Warranty
---


For more information, please read our full warranty policy