DC to DC Battery Chargers for Dual Battery Systems | DC to DC Battery Charger Kits Australia
DC to DC Battery Chargers 12V
Aussie Batteries stock the best brands in DC to DC Chargers and 12V DC-DC Battery Chargers for Dual Battery Systems. If you are looking for a DC-DC solar charging solution for your Caravan or Camping setup including accessories, we can help. We stock a range of DC-DC charger brands including, Projecta DC-DC Chargers and Thunder DC-DC Battery Chargers and provide an Australia Wide delivery service.
A DC to DC charger is the best battery charger for any 12V battery power system. DC to DC Battery Chargers work by isolating your main 12V battery system from the alternator so that your vehicle's computer management system sees it as more like a set of camping lights. The DC to DC charger then boosts the charge at the main battery from as little as 9V back up to 14.4V (or higher) this will maximise the charging capacity, and deliver it in a more stepped form, this means that you can get a possible 100per cent charge after a day's driving. A DC to DC Battery Charger will not interfere with starter battery charging, this is the massive benefit of DC to DC Charging for camper trailers, 4WDs, Caravans, Trucks and Motor Homes as it can be located close to your 12V Battery Setup allowing you to overcome an inevitable voltage drop, high-grade and well sized cable will still be needed to avoid energy loss and we recommend using quality battery (twin core) cable for optimum results.
Most DC to DC chargers can also act as solar regulators like maximum power point trackers (MPPT) to optimise your solar panels' performance. Also, DC to DC Chargers generally draw a higher rate of amperage from the alternator, in some cases, this may be up to 40A or more per hour, which will quickly replenish your main 12V battery setup. DC to DC chargers increase the chance of your 12V batteries always being at close to a full charge. Correctly using a DC to DC Battery Charger means you will minimise damage to your 12V battery system by preventing over discharging.

Aussie Batteries and Solar have helped thousands of Australians get the best DC to DC Charging solutions for their campers, caravans and boats. If you would like to know more why not read our buying guide on DC to DC Charging or If you need expert, tailored, no-obligation advice on DC to DC battery Chargers email or call our friendly team on 1800 853 315.
Blog Posts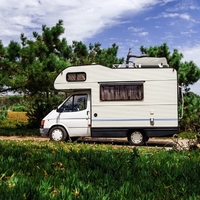 Motorhome, RV & Caravan Batteries - What are the most popular Batteries for Caravans, RV's & Motorhomes ? Let's look at your options when it comes to getting the best power solutions and w... read more
View more posts
Free eBook
Learn everything you need to know about
Deep cycle batteries
Solar panels
Portable fridges
Inverters
and more!
Download now