Dual Battery Kits | Dual Battery Kit Systems & Wiring Kits
Dual Battery Kits & Dual Battery Systems for Camping, Caravan, 4WD, Boats & Off Grid Solar - we stock a range of Dual Battery Systems & Dual Battery Kit Wiring &
Dual Battery Setups
for all power applications.
Need a Dual Battery Kit or Dual Battery Systems including wiring for a range of solar power applications. Regardless of where you want to install your second battery, Aussie Batteries & Solar has a Dual Battery Kit or Dual Battery System for every use. A dual battery setup is perfect for anyone who wants their vehicle to run an electrical load and not be left with a dead battery. Dual battery setups are great for four-wheel drives, caravans or camper trailers that have been set up for camping or exploring the great outdoors where a 12V Fridge needs to be run. Installation is easier than you may think and only requires a few small modifications to your car or four-wheel drive. If you need expert, tailored, no-obligation advice on Dual Battery Kits email or call our friendly team on 1800 853 315 or download and print our battery Power Estimator to help you work out the best Deep Cycle Battery or Dual Battery System for your application.
Dual Battery Systems & Dual Battery Kits are a great option for your vehicle if you often use your deep cycle battery to run appliances or electronics. The benefits are twofold - the additional dual battery provides extra power storage and can also be a battery more suited to power usage such as a Deep Cycle AGM Battery, to also protect your starter battery from being run flat from power draw. Our Dual Battery Systems and Dual Battery Kits are the top of the line options available in the market today, chosen for their ease of use and reliability. Contact our team today to get the best dual battery setup for your needs. Enter your postcode to see if you qualify for FREE SHIPPING on our best selling Dual Battery Kits & Dual battery Systems!
Nominal Battery Voltage
12V
Blog Posts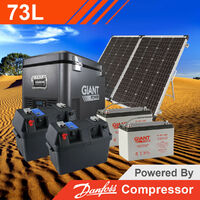 HOW TO GET THE BEST SOLAR POWER SETUPS FOR REMOTE CAMPING - The ultimate guide on how to get the best Solar for Camping and Solar Panel Camping Setups. Solar Power for Camping Explained:... read more
View more posts
Free eBook
Learn everything you need to know about
Deep cycle batteries
Solar panels
Portable fridges
Inverters
and more!
Download now