Portable Solar Panels | Portable Folding Solar Panels | Portable 12V Solar Panels Australia
Portable Solar Panels & Portable Folding 12 Volt Solar Panels for Camping, Caravans & Fridges With Australia Wide Delivery.
Get the Best Portable Solar Panel Setups for Camping, Caravans, Camper Trailers, Recreational Vehicles, Motorhomes, 4WDS, Boats & Off Grid Living.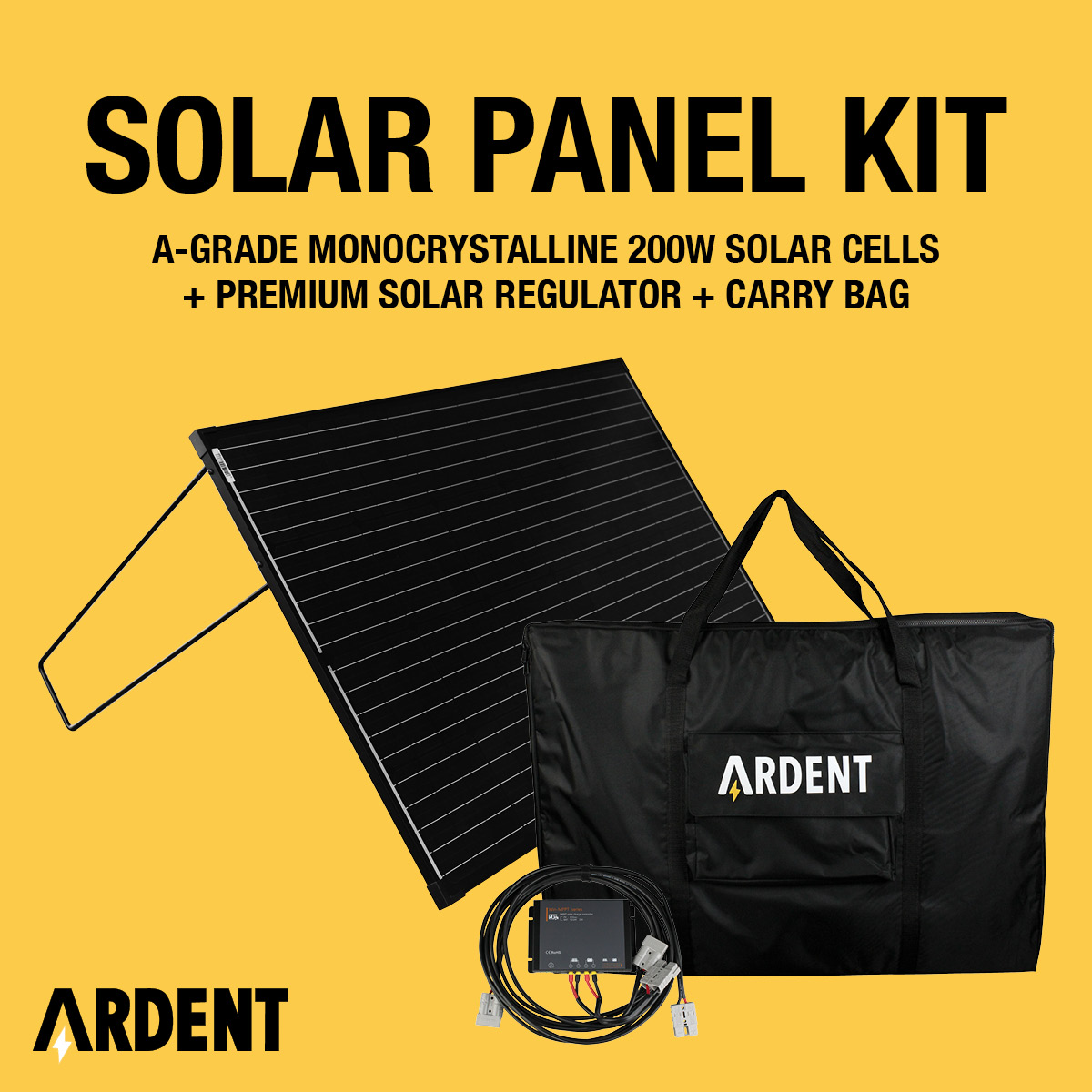 Our range of Slim Line Portable Solar Panels are a fantastic option for all Solar Camping as they allow you to take the conveniences of home with you when you head outdoors in your caravan, camper trailer or camping setup. When you are camping, or on your caravan and 4WD adventures, you need a source of portable solar power panel that is reliable and highly efficient. Our range of slim line solar panels are perfect to run your portable fridges, lights and small electronics items. Aussie Batteries stock a range of solar power options for camping and 4WD off-roading including portable and foldable solar kits. Aussie Batteries range of portable solar panels are high quality, efficient, easy-to-store and use, backed by an Aussie Warranty!

Save $$ with our Complete 12V Solar Panel Kits for Camping.
If you need no-obligation advice on a portable solar panels or a portable 12V/24V camping solar setup or solar accessories EMAIL or call our friendly team on 1800 853 315 our experts can help you to get the best Portable Solar Panels for Camping & specialise in Portable 12 Volt Solar Panel Camping Systems. Shop Online for Portable Solar Panels with Australian Direct Delivery and Shipping to your door, we make it easy!
Our range of high power yielding solar panels giving you a portable solar solution that will suit all of your deep cycle battery charging and energy needs.
When you buy a portable solar panel from
Aussie Batteries
, you can rest easy knowing the portable solar system you bought has been
built by hand in Australia
at our factory in QLD. We stock a range of solar power options for camping and 4WD off-roading including
portable and folding solar kits.
and we build every portable solar panel using the finest domestic and imported parts to ensure that you will always get the best quality Australian portable solar panel on the market! There is a growing range of cheap portable solar panels and many new portable solar options are built with the focus on reducing costs and quality to remain cheap.
Buy 12v Portable Folding Solar Panels for Camping - Online!
Aussie Batteries and Solar focus on portable solar panel products that use the best and smartest solar technology, not the cheapest and this means that we can offer our customers an exceptional range of high-quality and user friendly portable solar panels for camping. We stock portable solar setups in various sizes for Recreational Vehicles, Caravans, Motorhomes, 4WDS and Camper Trailers. We have some of the best prices online for top of the range portable solar panels with Australia Wide delivery direct to your door!
We know the joy in hooking up the caravan, camper trailer or just packing the 4WD and taking off for a few days in the outback. We also know that the only real problem is getting the power you need! While you can take a generator with you, a portable solar panel will be a better choice - there are many good reasons, from free electricity to saving the environment. When you use a portable solar panel, you will always have power when you need it, with no need to fire up a noisy generator, burning petrol and polluting the air around you. Aussie Batteries and Solar are focused only on top quality portable solar panels that will go the distance. We use the best Solar Cell technology from brands like JA Solar, Kyocera, Panasonic and Sharp because we are focused on creating the Best Portable Solar for Camping, Caravans & Off Grid Solar Living!
12V Portable Solar Panels provide excellent Emergency Power for Camping and Home Use
No one ever wants to think an emergency situation could arise which would leave you without power. But as long as you have a portable solar panel to power your most important needs, you will survive until the power comes back on. While you may not be able to power your home with a portable solar panel, you can buy a portable solar panel large enough to provide the power to charge your mobile phones, run a small cooler, and keep the batteries charged in your caravan.
Read more
Watch our video on Portable Solar Panels
nominal solar voltage
12v
More information about Portable Solar Panels
Portable Camping Solar Panels & Portable Solar Panels
The affordability of remote area power sources using a battery system and portable solar panel used to be out of reach of many Australian campers. The times have most certainly changed, and so has the availability of many camping solar kits. Batteries and Portable Solar Panels have changed the way that many Aussie campers are looking at setting up their camping power systems.
Shop our popular range of 12 Volt Portable Folding Solar Panels for Camping - Online! Browse our range of glass portable solar panels, portable solar blankets, aluminium, flexible and folding solar panels, camping solar panels & folding 12v Solar Panels. Aussie Batteries are leaders in the battery and solar industry providing expert advice & top quality products with exceptional warranties. Because Portable Solar Panel options now are affordable and provide a lot of energy you can now get reliable solar energy using a battery and portable solar panel for entire camping systems for those who are camping, touring or in mobile van setups, why not make the most of cost-effective portable 12 volt solar panel systems. Portable solar panels are not only silent they also are cost-free to operate, and unlike other remote area power sources, a portable solar panel and battery can be used in your camping setup without fumes or potential chemical leaks. Designs like the newer portable solar blanket range can even be placed under the seat, so you save money, on the cost of a powered sight with a reliable portable solar power system. Using portable solar panels means that you can harness the free power of the sun and keep your deep cycle battery and 12v System charged. This means that the fridge is running ice-cold! We have experts available to help you with the best decisions on portable solar panels, and you can choose from folding portable solar panels, fixed solar panels or blanket-type solar panels, that are portable folding solar panels also we have heaps of accessories to make the most of your portable solar panel setup.

Portable Solar Panels work by absorbing the sun rays and using a science principal called photovoltaics (or abbreviated PhotoVoltaic PV), so you may sometimes hear a portable solar system called a 'PV System'. This means your portable solar panel will take solar energy emitted by the sun and convert it to electrical energy; then, you regulate this power to provide the most effective energy output - generally, you send it to your deep cycle battery.

Our range of Portable Solar Panels are simple to use and compact; they are also perfect for camping in areas where generators are prohibited. Our range of portable solar panels are designed to withstand Australia's harsh conditions, and all our folding monocrystalline solar panels are supported by a strong, double channel aluminium frame. This means you can have peace of mind that our portable solar panels won't flex or twist on your camping and off-road travels.
Whilst all portable solar panels work in the same way; they will achieve results in different ways. For example, Aussie Batteries range of portable solar panels are made using a thin film of silicone that has all of its grains aligned, and this is known as a monolithic crystal structure. This means your portable solar panels are absorbing light in a uniform way, and this will provide the end-user with the most effective and efficient portable solar system. All Aussie Batteries Portable Solar panels use Monocrystalline silicone cell construction techniques which give users of our portable solar range the most efficient solar panel design that is lightweight and compact whilst still giving the most effective power for use anywhere and anytime!
Aussie Batteries and Solar are experts in supplying functional portable solar and camping setups, and we offer some of the most affordable portable solar and battery setups available on the Australian market! Portable Solar panels are an effective method of generating reliable electricity when off-grid, With unbelievable prices and portable solar gear delivered directly to your door, shop with us online and get your hands on the best battery and solar setups.
When you're on your next camping or 4WD adventure, you need a deep cycle battery and solar charging system that is simple to pack away, portable and will fit among all your other gear then a portable flexible solar panel or portable folding solar blanket can be used and packed down to become flat, compact and lightweight, and the best portable solar options can be placed wherever you have room in your caravan, car, camper van or trailer.
Blog Posts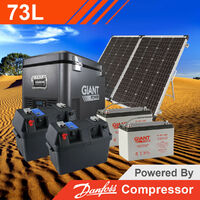 HOW TO GET THE BEST SOLAR POWER SETUPS FOR REMOTE CAMPING - The ultimate guide on how to get the best Solar for Camping and Solar Panel Camping Setups. Solar Power for Camping Explained:... read more
View more posts
Free eBook
Learn everything you need to know about
Deep cycle batteries
Solar panels
Portable fridges
Inverters
and more!
Download now