Customer Testimonials
Deep Cycle Battery Reviews - Our Customer Deep Cycle Battery Reviews are 5 Star - Learn More About Our Top 3 AGM Deep Cycle Batteries! Below is a quick comparison of Aussie Batteries Top 3 bestselling Deep Cycle AGM Batteries!
Read our Deep Cycle Battery Reviews and find out what our customers have to say about the best deep cycle battery they have purchased from Aussie Batteries. Below is a comparison of the Top 3 Deep Cycle AGM batteries we tend to recommend to our customers who ask - What is the best Deep Cycle Battery ?
Aussie Batteries - Agm Deep Cycle Battery Comparison​
1) Our Number 1 Bestselling AGM Battery is the 140AH Giant Power Deep Cycle Battery. Giant Power batteries are the best of the best!! Use them for many applications Camping, Marine, 4WD, Caravans and Solar, you won't be disappointed. 5 year pro-rata warranty!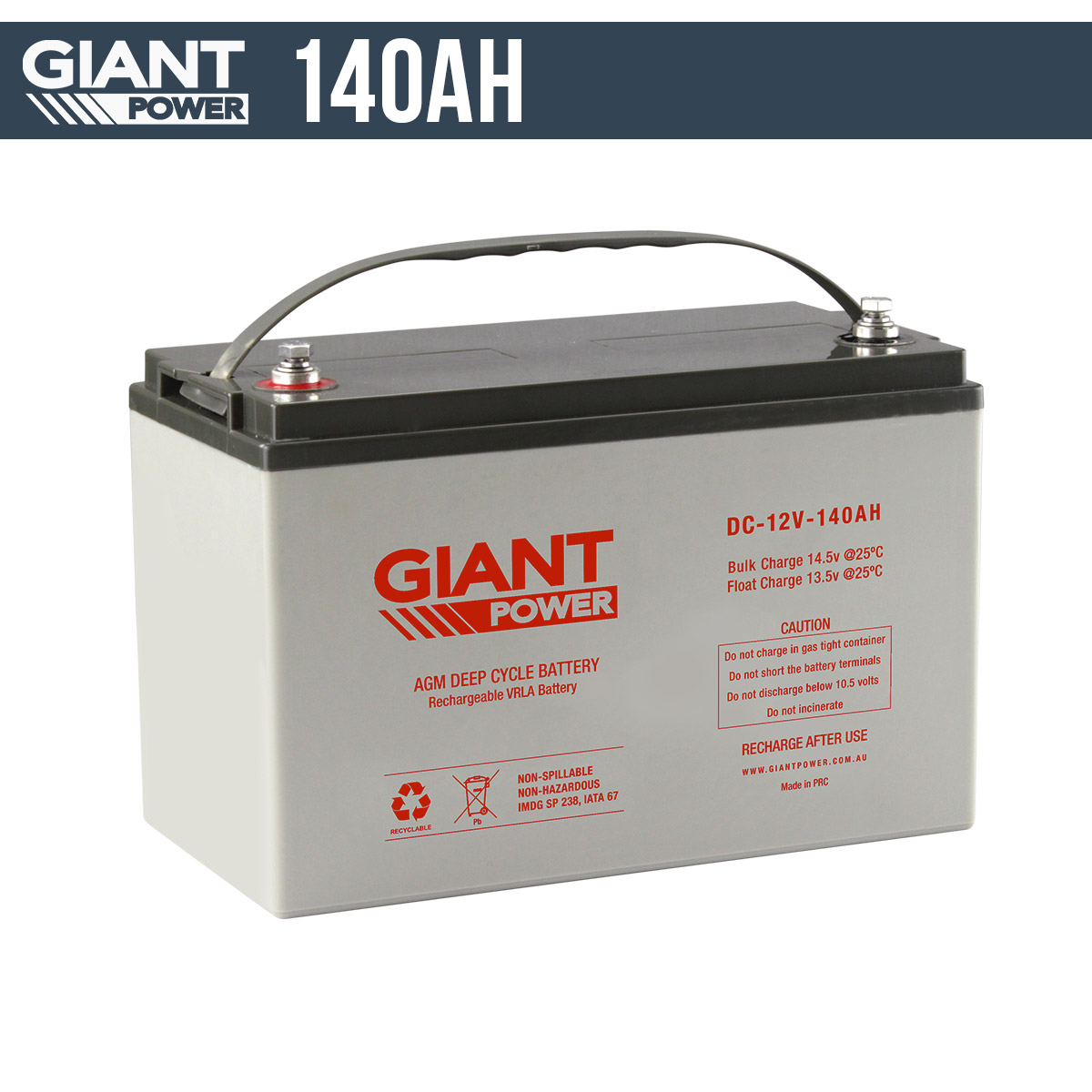 140AH 12V AGM Deep Cycle Battery - FREE SHIPPING to most areas in Australia !
The Giant Power 140AH 12V AGM Deep Cycle Battery is a high quality Deep Cycle AGM Battery that is suitable for Saltwater/Marine applications, Caravans, Motor Homes and Camper Trailers and most other applications. The GIANT 140AH AGM BATTERY is designed to FIT ALL MAJOR BATTERY BOXES!
2) Our Number 2 Bestselling AGM Battery is the Eclipse Deep Cycle Battery Series. Our close second recommendation goes to the Eclipse (Deep Cycle) Battery Series. Eclipse Deep Cycle batteries are great all-rounders. With a high AH capacity, VO (heat resistant) rated case and CCA rating, they are the best battery for those who want a built in voltmeter and 7 year pro-rata warranty.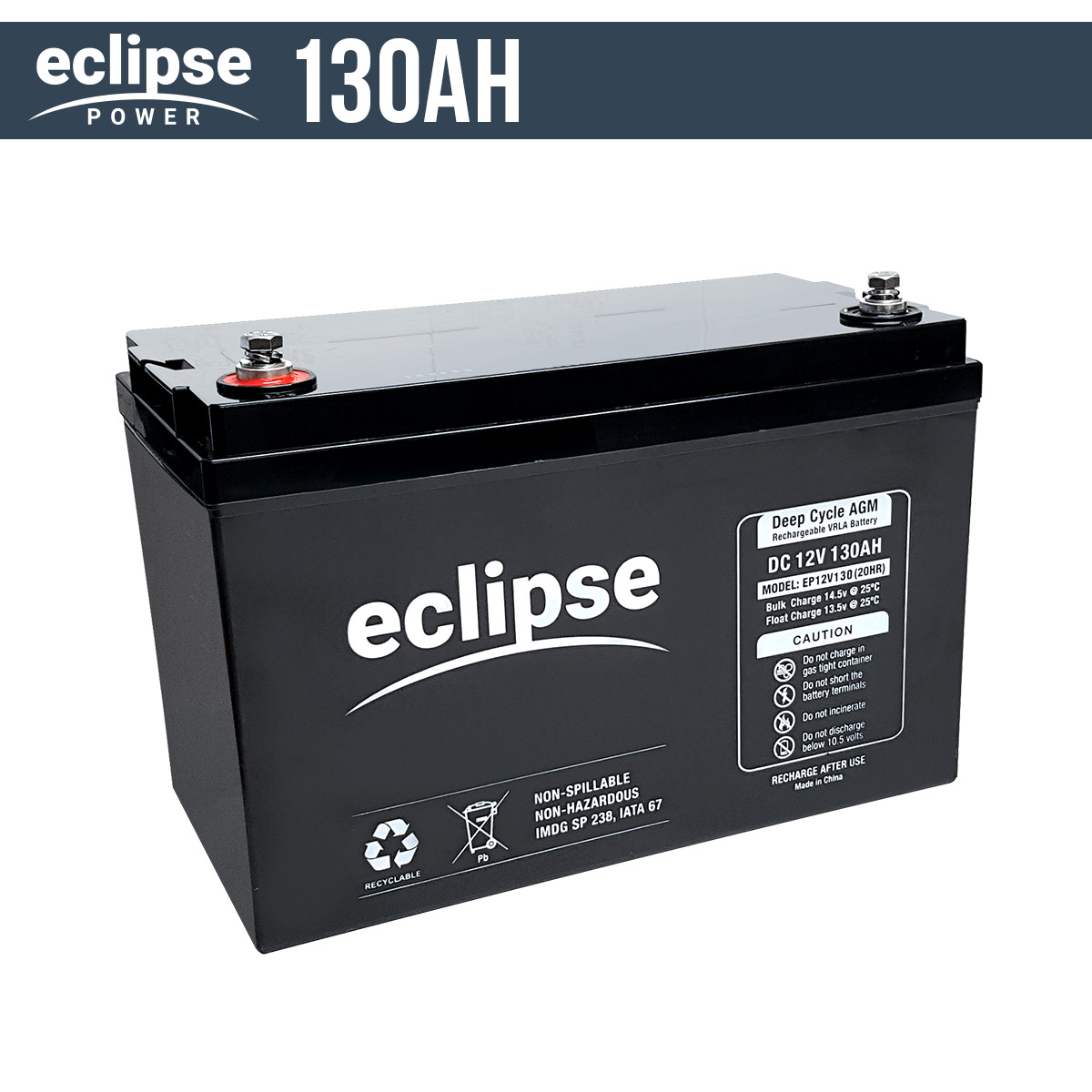 130AH 12V AGM Deep Cycle Battery - FREE SHIPPING to most areas in Australia !
Eclipse AGM Batteries have a voltage meter BUILT IN !! That's right you can now monitor your battery voltage with ease! The inbuilt functionality of a voltage meter allows you the ability keeps track of how much power your battery has left! The Eclipse130AH AGM BATTERY is designed to FIT ALL MAJOR BATTERY BOXES!
3) Our Number 3 Bestselling AGM Battery is the 120AH Giant Power Deep Cycle Battery. Giant Power 120AH AGM batteries have outstanding deep discharge recovery with high oxygen-recombination efficiency that ensures no loss of electrolytes, giving these batteries exceptional deep discharge recovery performance just in case you accidentally discharge your batteries a little too much! This also guarantees you will never need to replace electrolytes during the course of the batteries life.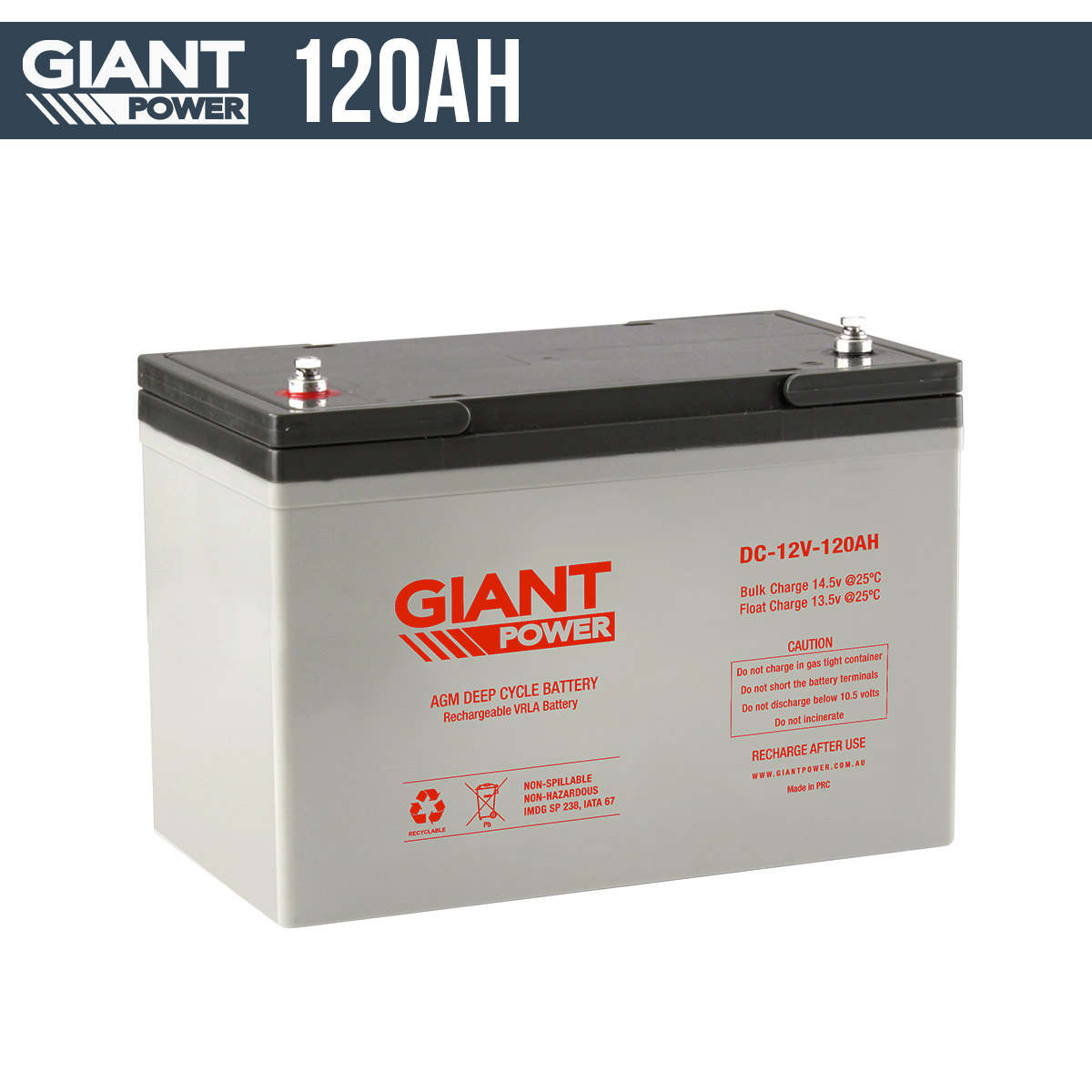 120AH 12V AGM Deep Cycle Battery - FREE SHIPPING to most areas in Australia !
This 120AH 12V AGM Deep Cycle Battery is a high quality Deep Cycle AGM Battery that is suitable for Saltwater/Marine applications, Caravans, Motor Homes and Camper Trailers. These are ideal ancillary batteries to fit into your caravan, 4x4 vehicle or camper-van.
Here at Aussie Batteries, we stock the largest range of the best value Tier 1 top quality AGM Batteries in Australia. Aussie Batteries is Australian owned and operated and totally independent! Below is a comparison of customer feedback, deep cycle battery reviews and testimonials about our best-selling and highest reviewed Deep Cycle AGM Batteries . Here are some of the recent testimonials we've received from our customers. We understand that getting the best batteries and solar can be very confusing and also quite expensive if you get it wrong! That is why we choose to put our customers solar and battery reviews at the forefront of what we do. We believe these reviews show the quality of our products, service and ongoing commitment to dependable power solutions.
BROWSE OUR FULL RANGE OF DEEP CYCLE BATTERIES With AUSTRALIA WIDE SHIPPING AVAILABLE - Need Expert Battery Advice? FREECALL our Deep Cycle Battery specialists today on 1800 853 315 they will provide deep cycle power advice and can talk you through your deep cycle battery setup or can provide an Obligation Free Quote
Battery
Informative and excellent service

Phillip Sullivan

on 25 September 2019
130 a/ h agm x3
Omg. First big trip away Free camping 2 x Engel freezers running camping lights and a tv only being charged via a smart alternator on the d-max or 200 watts of solar on roof. 4 days so far no stress about power

Todd brown

on 9 July 2019
Great Product
Great product and service. Used as main house battery in my Winnebago. Highly recommend.

Richard R

on 9 April 2020
2 x 14 Ah batteries
Fast reliable service, this is the second time I have used Aussie Batteries & Solar. Keep up the good work.

Anonymous

on 9 April 2020
Good service.
Thanks for your service, though the 3 new House Batteries are still new & only a few weeks old, now that they are fully charged & holding their charge with plenty of battery power left in them in the morning on average, still with 12.5 12.8 volts in them, so far I'm very happy! thanks again. regards Bob, aka Bushy Peach

Bob Braithwaite

on 19 March 2020
150A Solar Watt Meter
Well worth the money for the peace of mind of knowing how much charge is going into your battery or but simply swapping to the load side being able to see how much is being taken out. Well worth purchasing 2 to maintain a constant comparison. I am thankful that I took the sales advice when I purchased my battery box combo.

KEN W

on 28 February 2020
SOLAR METER
EXCELLANT PRODUCT GREAT DISPLAY

ROSS S

on 11 February 2020
solar meter
already had one on my camper, bought this one for my boat so i dont have to keep unplugging , great meter highly recommended

John C

on 8 February 2020
Great product
Fast delivery and great quality. Cheers

Haydon C

on 5 February 2020
150amp solar watt meter
Handy device for checking the status of my batteries,solar panels and fridge. Easy to read and install in line. A must have for anyone using solar for camping etc. Good product.

Murray L

on 2 February 2020
130Ah deep cycle battery
Great unit keeps everything going so glad I got this before the world went mad

Steven W

on 8 April 2020
Aussie bstteties
Very good to deal with

Yvonne D

on 7 April 2020
Battery
Great so far good service

Nick S

on 8 April 2020
RE: 2 x 140 AH Deep cycle batteries
Very happy with Aussie Batteries I'm afraid Toll let the side down. I wont go over it again as you would be well aware of my problem with Toll. Thanks again for the Watt meter you gave me as a good will gesture. I also enjoy getting your hints and tips re batteries and solar keep them coming. Regards Ken Daly.

Ken Daly

on 8 April 2020
120AH 12V AGM Deep Cycle Battery & Heat Shield
To date this 120 AH battery has been performing very well. The heat shield is stopping the engine heat & maintaining good temperture control to ensure long battery life. It is powering my Waeco 65 litre fridge & after about 2 days it still has about 80% charge left. Very happy with this product & its prompt delivery.

Mel Warner

on 7 April 2020
Very pleased
From website to delivery to the quality of product, 100% pleased. Highly recommend.

Luke B

on 2 April 2020
AGM 300ah 12v
Hi want to wait to do a review so I know how they preform I bought a set of AGM 300ah 12v and they have been working great at first i didn't have enough solar panels to bring them up during the day but do now and haven't had to touch them for over 2 years and looking like they will continue for a long time. NOTE they aren't getting drained more then 20% each day then full charge again except rainy days coming down to 30-40% but charger is turned on to fill them, thanks Aussie Batteries

Tony Dowling

on 17 September 2019
300 amp AMG
A good strong set Of 4 service excellence

Norm R

on 2 August 2019
Monitoring
Good to have to see the battery is at correct capacity. Tho I find the cycle Of information to be a tad fast at 1 second instead of 1.5 or 2 seconds

Philip H

on 1 February 2020
battery watt meter
meter and power analyzer

Peter D

on 27 September 2019
Watt Meter x 2?
All Seems OK. Good looking and appears well made Maybe you should offer an adapter cable set ( X 2 as a kit) to allow interconnection between test sources, I finished up purchasing 2 units because I wanted install one permanently into my battery box (hence the lug model) so I purchased the lug model. I then noticed the Allen plug unit on another W/site which would have solved my problem first up and is multi purpose. I now have a more universal unit after making adaptor cables with alligator clips and Allen plugs which surely would have been a cheaper result.

Drew Wilson

on 16 August 2019
Battery Watt Meter
Item was promptly delivered and is performing as advertised. No issues with installation or function.

Carol K

on 8 August 2019
Useful, but could be better
Provides everything you might want to know about a battery powered circuit, but missing a few features that would make it even better: 1. LCD display is only readable in a very narrow range of angles, surely they could use a better display. 2. There is no way to reset the accumulated values without shutting the circuit down (and everything plugged into it). Would be nice to have a reset switch. 3. Only measures current in one direction (discharge or charge) if you want to measure both you would need two of these

Alastair B

on 29 June 2019
battery meter
great addition to 130ah battery

Mick O

on 18 June 2019
Exactly what we needed
Arrived quickly, in perfect condition. Fits the battery like a glove, and has a useful combination of connections.

Grace M

on 27 December 2018
battery box with 130 AGM deep cycle battery
love the included Anderson plugs on box, makes connecting to solar easy

clarrie v

on 16 October 2018
Agm 130 ah battery
I purchased this a month ago and could not be happier. I expected it to last about 3 days and twice now I've got about 5-6 days , running my 40 Ltre waeco fridge! Very happy...

Amanda

on 4 October 2018
130AH 12V Deep Cycle AGM Powered Battery Box Combo
I bought this battery to pair with my 250v solar panel on my slide on camper and I have had 3 off grid camping weekends and I`ve had no problem. The battery box is great and I think is a must when it is inside your camper.

Sonia s

on 30 August 2018
130ah12v deep cycle battery.
So far so good! Powers the new 12v fridge happy days.

katreina g

on 22 August 2018
130 ah AGM BATTERY AND BOX COMBO
This was a great deal. The battery box exceeded expectations and the battery is working a treat. Prompt delivery for SWQ. Very happy with the service and intend buying from Aussie Batteries & Solar again.

Mark E

on 8 August 2018
Great tool
Very handy indeed I'd use this every time camping great product

Anonymous

on 12 March 2020
quality multi tool
Great little tool for the car. I've found the hammer and also the axe quite useful

NEIL R

on 17 February 2020
Multi Tool
Great accessory for road trips and camping

Reginald C

on 7 February 2020
Gallant Hammer-Axe Multi Tool 8-in-1
This was an extra when I bought AGM eclipse battery of these guys absolutely love it so happy with it works like a treat good camping tool.

Stewart H

on 4 February 2020
Awaome
Great quality

Shane W

on 4 February 2020
Awaome
Great quality

Shane W

on 4 February 2020
280 amp gel battery
Good quality

KARL R

on 1 April 2020
Awesome
I bought two 280 ah deep cycle batteries in December 2019. Firstly, even though Christmas was close there was no delay in delivery, 4 business days was all it took for an interstate delivery! Secondly, I'm into the third month of our full time life in the road off grid, powering 2 fridges & 2 separate freezers, a 72 inch flat screen tv most nights, assorted lights & rechargers operating constantly, with occasionally, on a low setting, our portable air conditioner, hair straighteners & hair dryers.. 600 watts of solar each day run into a 30 amp MPPT Tracer then to our 2 batteries, to our 3300 inverter, all bought through Aussie Batteries & not once have we been found short of power! Not once. I asked for & was given all the advice I wanted & some I needed lol. I'm so happy & now with the quite serious situation regarding covid-19, we are isolating on a massive beach overlooking the Indian Ocean. We couldn't have done this without Aussie Batteries help I honestly believe. From the solar to MPPT to inverter to batteries, everything was & is a great product. Seriously Thankyou guys for the products, the advice & the security we now feel being reliant on your products. Andrew & Kerry Stewart.

Andrew Stewart

on 28 March 2020
Parallel Cable
Great product speedie post

Byron L

on 25 October 2019
.
Good for service, product feels and looks good. Time will tell the quality of it.

Ranjan A

on 30 March 2020
140 AH battery and battery box combo
Very good service all the way very happy

Wayne D

on 26 March 2020
good service
looks like a good product. Delivered in time, product looks good, time will tell the quality.

Anonymous

on 21 March 2020
Excellent service
Received it within a couple of days, great value and prompt delivery

Christopher K

on 18 March 2020
Strop
Great product. No problems on our first trip away. I expect no problems for many years to come. Thanks Aussie Batteries for your service.

IAN S

on 12 March 2020
Battery and Box
Great battery and box combo. Works a treat. Excellent value. Cheers guys!!

Dom

on 10 March 2020
130amp
great service and support

James W

on 27 January 2019
Review
2 130amp batteries turned up fast. Installed and looks good. Not used yet but can't wait.

William B

on 19 December 2018
A+++
One of the best buys I've made! 110% happy with it! Long lasting,

Joel I

on 15 January 2020
Gel battery
Fitted well in place of old one. Packed well and delivered promptly.

George Falzon

on 13 January 2020
New Batteries
I got hold of these three 160 ah rated batteries, to replace the older three 150 ah rated, that I use in my off road caravan as house batteries. they seem to be performing well just a couple of months out, but I guess that time will tell. I did get great service from the team at Aussie Batteries; thank you!

Roy S

on 21 November 2018
Very happy with this product.
Really happy with how this battery has performed! we have had it for over 12 months and it has not missed a beat. Thanks for your expert help - happy to recommend your company for excellent products and service. Thanks

Peter

on 18 July 2018
BBQ multi tol
Should be quite handy when camping and quite good quality

Val Y

on 26 October 2019
The bbq tool
Perfect for the bbq great tool for camping love it

Phil B

on 24 October 2019
Great Gift
Just like to say thank you for this wonderful gift which I received as part of a battery purchase. Service was excellent and I was kept up to date along the purchase process.

Alan W

on 24 October 2019
BBQ Tool
An extremely handy device - perfect for camping

Jeremy N

on 24 October 2019
Gallant Barbeque Multi Tool 5-in-1
It was a freebie, and who doesn't love a freebie, but it's gimmicky thing and not really functional.

Warren W

on 17 October 2019
Compact BBB tool
Great all in one bbq tool ideal for caravanning or camping.

Ron C

on 17 October 2019
Three 120 AH AGM Batteries
Exceptional customer service re product and delivery to my door and a great battery to boot!!

Richard Field

on 3 January 2019
Camping battery
Great value for money, a real deep cycle battery

Grant L

on 10 October 2018
Happy Sparky
I recently purchased a 330Ah AGM. Info before purchase was great, purchasing was easy along with pickup. Very happy so far with the product. I also purchased 2x 140Ah batteries. Again I got the same great help and information. These were delivered safely and quickly as described and am very happy with the product so far.

NATHAN W

on 7 April 2020
Highly Recommend
We recently purchased 3 x 330ah batteries and are extremely happy with the quality and service we received. Highly recommend and thank you for such a great product at a good price and for great customer service

Adrienne B

on 4 April 2020
Deep cycle battery
We got what we ordered real quick

John E

on 19 March 2020
130 AH Batteries x2
Great batteries, hold charge for long periods. Also super fast free shipping was a bonus. Highly recommended aussie batteries and solar.

Steven R

on 19 March 2020
Perfect for caravan
Purchased the 190ah battery for our caravan.with its slim fit it fits neatly under van seats. lighter than two 120 ah and takes up only 1/4 of their space. With two solar panels gives heaps of power including running Engel all night . Highly recommend

David W

on 7 April 2020
190AH 12V AGM DEEP CYCLE FRONT TERMINAL BATTERY
Undoubtedly the best battery I've ever put in my system. My vehicle carries 500AH of battery power and this battery has been the easiest to fit into the limited space. It's heavy but it's compact and stands on its end against the cargo barrier, no spilling, no bulky battery box taking extra room, just slim, flat and out of the way and awesome power on tap. I'll never but another wet cell battery again.

PHIL J

on 4 April 2020
IT Manager for South Australian Aviation Museum In
Batteries arrived in good condition and reasonably well packed. Check on charge condition was good.

BARRY W

on 5 March 2020
Dual Battery Setup 2015 Nissan NP300
Perfect size battery to fit behind the rear seat in a dualcab NP300. Combined with DC/DC charger and a solar blanket there isn't much that this battery won't power. Great product

Nathan C

on 15 February 2020
Gallant Multi Tool
Very useful tool. Keep it in the car for quick retrieval if needed.

Rita S

on 14 July 2019
Very handy tool
Excellent tool, stays in car within easy reach.

Aaron M

on 3 July 2019
Multi tool
Very cool thanks

Warren G

on 2 June 2019
Great tool top quality. Thank you
Great tool top quality. Thank you.

Michael S

on 2 June 2019
Gallant Multi tool
Great tool especially the locking blades

John D

on 17 January 2019
Excellent
Multipurpose tool is very handy. Thanks for the present guys.

Mike A

on 16 January 2019
Emergency culter
Very great gift and is of good quality. Thanks

Peter T

on 1 November 2019
Great service
I recently bought 2 batterys from Aussie Batteries and solar which was a awesome deal and fantastic service then unknown to me they sent a bonus multi tool later on and this was of excellent quality the same as the batterys well done team and thank you from Scott at Cairns

Scott W

on 31 October 2019
Emergency Multi Tool
Well I never thought I'd make use of one of these rather useful gadgets. The Gallant tool certainly is a nice piece of kit although I had a wee bit of difficulty opening up the blades but once opened once they were no problem after that. Certainly is a useful kit for those odd moments so it's kept handy now in the SUV in case it's really needed for an emergency as intended. It's got plenty of features and was a surprise when it arrived as a gift. Battery also of great quality if I can mention it. Thanks to Aussie Batteries once again, it's nice product of outstanding build quality. Feeling like McGiver... lol

Ken M

on 31 October 2019
Multitool review
Absolutely love it. Top quality; every camper should have one.

Bernard C

on 31 October 2019
Multi tool
Great addition to my existing tools

Marvin F

on 20 July 2019
Multi tool
An OK tool

Colin Lindsay

on 7 July 2019
Parexcelance
Exceptional products. Would help if we were reminded that they are made for flat surface. If you have a curved roof like my camper you will not to use extra packing

Robert C

on 18 February 2020
solar panel corner brackets
the product suited my needs

Malcolm N

on 20 June 2018
Solar Mount brackets
Mount brackets are very good quality but are very bulky and large, you need to know mount brackets sizes before purchasing so that solar panel width and mounts will fit on caravan roof properly.

christine f

on 16 May 2018
Battery cover
Great product

David N

on 29 February 2020
Battery Heat Shield
Never used one before a couple of weeks ago, so to be fair I don't know how it's doing, but it looks the part!!

Mark R

on 26 November 2019
Very good quality
The first on was so good so I bought another one for my pump house.

Paul F

on 18 February 2020
20A Tracer MTTP Solar Charge
Very happy

Errol Taylor

on 13 August 2019
Solar charge controller regulator
So far so good. Testing at home. Haven't gone camping yet but am sure will be a huge improvement to what I have now. Thank you for your prompt delivery

Minke K

on 6 September 2017
BATTERY CONTROLLER
I UPGRADED MY OLDER VERSION OF SOLAR CONTROLLER TO MPPT. THE DIFFERENCE WAS VERY NOTICABLE IN A SHORT PERIOD OF TIME. VERY HAPPY WITH THE RESULTS. THANKYOU. DAVE RICHARDS

David R

on 31 May 2017
Great Batt
Works a treat would buy again

Rian P

on 1 April 2020
Sweet as
No complaints whatsoever. I've had my 130AH battery running for three weeks, no dramas. Runs well with my dual battery and a solar panel when needed. Keeps those beers ice cold! Small hassle with delivery and Aussie Solar sorted it out no worries. Very happy with product would recommend.

Grant C

on 17 March 2020
Great Deal
Happy with Aussie, staff answered my query on using deep cycle for jump starting in emergency, the price, product and delivery, all good, no hassles.

Wayne C

on 17 March 2020
Great product fast delivery to port fairy victoria
Just came today the 11/3/2020 fully charged and ready to go the battery box is great but think I'll customize fixing the lid more secure. But really great product will buy again 100 %.

Anonymous

on 11 March 2020
eclipse deep cycle and battery box
good heavy battery ,arrived promptly and fully charged.battery box excellent.

Bruce Kneebone

on 7 March 2020
Battery and box
Battery and box are very good, not had them for a long time, but the service and delivery to Bowen were very good...

Andy B

on 4 March 2020
45ah 12v Gel type Deep Cycle Battery
Very pleased again with the product and prompt delivery. Thank you

Alan W

on 14 February 2018
45 amp AGM Giant battery
The battery has been a great addition to the power needs in my 4WD. Running night time lights and a fridge it is my standby battery if the main Giant 80 amp AGM becomes overworked due to hot temperatures or a longer stay than anticipated. The 45 amp was used to provide another day of battery power a number of times as temps were 33 degrees on my last trip. Pricing was competitive and this was my second purchase of a Giant AGM battery as I have been happy with the performance of my 80 amp after 3 years of travel over dusty corrugated roads.

Anthony C

on 27 August 2017
Great team service
The team were great to arrange and deliver on time no damages to the batteries.The batteries are working great. Thanks everyone

George G

on 15 August 2018
2v 200amp tubular gel battery
Great

Brett H

on 21 February 2018
Love the product.
If you have the space and you can pick up 60kg then this is the battery for you. It solved my battery issues. Looks after my 45L fridge,TV/DVD, shower and all my little power drawing devices. Excellent price and a 7 year warranty. You will be more than happy with the item.

Matthew L

on 30 November 2019
Amazing
I brought this to go off grid in caravan and it runs my fridge 24/7 and I have power always

Belinda+ C

on 6 July 2019
6v batteries
work and perform well good product for the price

Neville C

on 24 April 2019
Great MPPT that stood the test of time
I have been seeing great reviews about the EPEver Tracer range for over 3 years and finally got this 30A one. This has not dissapointed - solid performance. Easy to install and to use!

Stephan Lindeque

on 6 April 2020
Great service!
Quite shocked actually.. I recieved a call from you seeking NOT that I purchase more product but simply following through on whether I'd received the product & also if I wanted any advice on maximising the potential of my purchase. I will at a later date lol. Three days after ordering my purchases arrived by courier - 1500 kilometres in three days is good in my books. Looking forward to a couple more items then my full time retirement travelling with zero electricity bills. Thankyou for your customer service.. Andrew Stewart

Andrew S

on 5 November 2019
Battery request
Good service still waiting to fit batteries

PETE M

on 15 February 2020
THANKS
Great gear quick post

Chris S

on 14 December 2019
140 giant deep cycle battery and battery box
Only had a couple of days set it unlocks good battery very heavy which is a good sign a bit concerned with the battery box it looks good but no instruction of how to woke it ie which anderson plays for in and out of source and load or do both of them do the same. Will connect up to fridge and solar and see what happens. Should have instructions with case. Delivery service excellent could not ask for more will keep you informed John drak

John.drake

on 6 February 2020
Projecta Powered Battery Box
Projecta Powered Battery Box

Colin Bilston

on 22 November 2019
Battery box
The service was excellent when purchasing the battery box, there was some confusion with delivery costs but this was quickly cleared up after talking to the customer service staff. Upon receipt of the battery box I fitted our 130 amp battery quite easily. The box features a number of different ways to access power from the battery which make it ideal for camping, with the many and varied components that need charging. The price and quality of the battery box is excellent. I am happy with my purchase

Robert L

on 21 February 2018
Projecta Powered Battery Box
Protects, provides charge levels ar a push of a button, has plenty of auxiliary connections, competively priced, ordering and delivery was easy, delivery was timely

Todd Nelson

on 17 May 2017
Battery purchase
Battery purchase

Peter M

on 25 February 2020
Pairing cables
Great cables. Perfect length. Perfect thickness. Perfect strength.

Mark A

on 22 February 2020
Worth the coin
I initially only purchased one set of these as i wanted to see the quality diffrence between a few other sets i had about.. needless to say i will be buying a few more of these in the near furure. Great product and well made 10/10

Aaron S

on 8 February 2020
new batteries
quick delivery from order payment right to our door , very good value when compared with other brands particularly the guarantee , would recommend these batteries to anyone ,can't comment on draw down time as yet as haven't been away to test them .

Alan A

on 28 January 2020
cables
will be a great help when solar panels are set up

Arthur M

on 4 January 2020
2bns battery cables.
Well made and finished off heavy duty cables.

Craig D

on 12 December 2019
Charge controlled
Has served me well so far however the readout is a little confusing. Maybe a little more explanation in the manual would help with the battery level readings.

Mr Paul F

on 27 June 2018
Awesome piece of kit
I've just built a stand-alone PV-battery-inverter system; totally separated from the house supply, and it is powering my laptop, radio and stand lamps right now. 1K PV (4 panels), 40A MPPT Tracer, 2 of 200AH gel batteries and 1kW Redarc sine inverter. Works like a dream. I think we need a blog site to share ideas on this topic.

David B

on 12 January 2018
looks the part
You have timed this badly as I am currently waiting for a recharge from a full discharge and it is now the third day. I will admit that it is only early on the third day and sunshine was scarce yesterday however the first day was full sunshine all day with 500W of solar panels how come I only gained 20%

Mr Paul F

on 17 March 2017
Solar roof mount
Good

David W

on 27 February 2019
Solar Panel cable entry block
Just what I needed. Simple to utilise and fix in place

Norman B

on 27 June 2018
Double entry cable block
Good product received within a couple days of ordering

peter thompson

on 11 January 2018
What a gem
This battery is just amazing. We went to Somerset dam for a week recently and we were running a 95L fridge, lights and charging phones and the battery never dipped below 65%. Paired with solar panels it charged very effectively. We were never left wanting any power to ensure our camp was running effectively. I am recommending this battery to everyone I know. All I can say is fantastic fantastic fantastic!!!!!

Anthony Mare

on 12 October 2019
Value for money
Great delivery and so far so good. Running 60ltr Engel plus camping lights. Only downside is no off the shelve battery tray holder will suite this battery.

Sean H

on 13 August 2019
Solar charger
Works a treat

Kevin H

on 15 October 2019
Charger
Great product easy to use

Alastair N

on 7 October 2019
Battery charger
Put the charger to the test with a recent trip to cairns and was quite impressed. Kept my second battery completely charged during the trip

Marvin F

on 20 July 2019
recent purchase
once toll eventually delivered the battery , it worked fine on the camp trip, Anita was really helpfully chasing Toll up for me. I think you should switch to Australia Post for deliveries, better tracking system and more reliable and deliveries can be left at local post office for collection. Thanks Gary

Gary M

on 6 January 2020
Battery Pack
Well couldn't be happier at the moment. As soon as my auto lec saw what I purchased he was impressed. Now I'm impressed since it has been fitted in the tub and is cranking like a beauty. Performing to expectations and now may even add a solar to the situation once I get a little bit more cashflow happening. Nice work on the deal fellas.

Gary Mccarthy

on 7 November 2019
120ah
Very happy with performance and charge life

Peter T

on 3 October 2019
Battery Powered
Purchased this combo unit to power my waeco fridge instead of running it off my stop/start battery. So far it has done the job perfectly without any problems Staff at Aussie Batteries were extremely helpful and knowledgeable. Product arrived quickly and in good condition, and freight free Wouldn't hesitate to recommend them for all your battery requirements, top service

Warren C

on 28 August 2019
Battery an box
It is exactly what i wanted and works very well

Christine L

on 26 July 2019
120AH Battery and Battery box
Very quick shipping...this combo runs my 2 fridges, lighting, with no problems.. I have a 250w solar panel so plenty of power going to battery...Congratulations guys/girls...keep up the good work.. easy people to deal with, they are experts in giving advice on solar set ups...highly recommend this company

Ivor Evans

on 3 May 2019
2 x Giant Power Fridges (73L and 95L)
I have had my 2 fridges for over 12 months now, I have a family of six going away self sufficient for up to 3 weeks at a time. Using both fridges and freezer modes during this time on solar system. I just returned one for a slight electrical problem. 100% satisfied with the repair under warranty. I cannot recommend these fridges more to anyone wanting reliability. And yes they provided my Jayco camper trailer setup as well. Thank you guys for the complete package.

Derek Overs

on 2 April 2019
73 l Fridge/freezer
Great product so far.well made. Works really well

Peter L

on 6 February 2019
Awesome product
Had the older model to this one and it did really well.

Sam

on 23 November 2018
Giant 73L portable fridge/freezer
Delivered on time, and works well

ANDREW J

on 4 April 2018
Cold stamina
I bought and installed the Giant 73L fridge with separate freezer into my van conversion. It is only sitting on the floor unsecured as I bounce along dirt roads in National parks. I've had it 1 year through the cold of winter and heatwaves with the van locked up all day. Must have been at least 50c inside van. It is great to return to the van after a hot bushwalk knowing there are cold drinks waiting for me and steaks in the freezer.

Chris

on 13 March 2018
Works great and is built strong.
Love this fridge - it worked great over our last trip and I can use it for shopping or around the house as well as camping trips. We have been really happy with its performance. Dual zones is a nice feature as well. Thanks to the guys on the phones for their help the quick delivery was good.

Lisa

on 1 November 2017
*
The battery arrived promptly and has performed perfectly, as expected, since then.

DAVE J

on 21 March 2020
Battery
Great product very happy

David N

on 29 February 2020
The batteries appear to be all you say.
TNT were shocking. The pallet was smashed the delivery was five days after they had notified me it was going to be delivered,though the person who delivered it was fine. Satisfied with the product. Also good to be able contact supplier for technical information.

Ronald Porter

on 28 November 2018
300 amp hour battery
A excellent product delivered on time and in good condition. Performs as described.

DEREK T

on 27 September 2018
85AH AGM Deep cycle battery
Battery delivered as promised. All is good so far.

Robert S

on 13 February 2019
85AH Giant Battery
Great battery at a great price!

Nicholas F

on 9 January 2019
Solar batteries
Just had them installed and are going great

sandra turnbull

on 29 July 2019
130 AMP AGM Battery
Great. Had it for bout 9 months now. Just finished 4wk central Aus trip & across the Simpson. Run 2 fridges 1 as fridge 1 as freezer + lights phones Ipads 12v power tools etc. Excellent pre-purchase advice. More than happy with it

Graeme Scriven

on 13 July 2018
130w solar
Happy with product

Steve S

on 25 September 2019
130w 12v Portable Solar Panel with Kyocera Japanes
Excellent product, easy to set up.

Robert G

on 14 April 2018
Kyocera 130w portable solar panel
The Kyocera 130w portable solar panel worked well and maintained good voltage in 120 AHr AGM battery running 65L fridge/freezer and 4XLED lightbars (4 hrs/night). Conditions; late winter, cloudless days and moved panels to maximise exposure to the sun. Small mounting screw missing from PWM controller.

James C

on 27 September 2017
2 years on
Purchased 8 of these (2 strings of 4) for our domestic off-grid home nearly 2 years ago. They are living up to our expectations and doing their job faultlessly. Have checked them for 'balance' 6 mths ago...all perfect. Haven't had a blackout or power bill for 2 yrs. Would buy these again in a heart beat.

Matt Cole

on 31 October 2018
Great
After having gear failure I looked to Aussie batteries and I'm very pleased with the service and the product

Gregory C

on 29 December 2019
Great
After having gear failure I looked to Aussie batteries and I'm very pleased with the service and the product

Gregory C

on 28 December 2019
Giant Brand Batteries
This is my second purchase of Giant batteries from Aussie. The first lot are still going strong after many years in a stand alone system running a complete house full of electrical items, including coffee machines, washing machine, big screen tv, large refrigerator, air con etc. all in daily use. The second lot of batteries arrived almost before I ordered them, they were so quick with delivery. These are set up as a backup system on a grid connected house full of all the usual items including air con. We suffer from many blackouts. They have not been in use long enough to say much about their capability but they are performing extremely well to date. I can dazzle most with technical details but it will only be a few who will understand, or want to know them. The first lot of batteries were each 280Ah @ 12V the second lot were each 130Ah @ 12V. The included cables were of such quality that I did not have to make my own, that was a pleasant surprise.

Stephen W

on 18 October 2018
4x 130 battery bank with connectors
Used giant before. Bought the battery solar pack ages ago. 240w panels with the two 135amp hr battery's and boxes. The unit has never missed a beat. Ran heaps of stuff of it , fridge freezer , lights. Just purchased the 130 amp hr bank of 4. Will run all my stuff in my 12 x 12 shed , tools fridge, lights. Great product, wouldn't buy anything else.

Troy K

on 5 September 2018
Solar Panel Power
Already have some of these panels on the caravan and adding more, will have total 500w with 2 controllers and 4 batteries, all working great. As before these are a good reliable product at the right price.

Allan S

on 5 December 2018
My Solar
The recent addition of an extra 200w solar kit has increased my caravan roof solar power to 400w. All working perfectly with my 4 batteries. The system is divided into 2 parts with 200w solar panel 2 batteries and controller and same for the other 200w solar panel batteries and controller. Excellent setup.

Allan S

on 12 September 2018
Couldn't be happier
Fantastic system. Very easy to use. We can now camp wherever without having to worry about power. Only issue we now need to purchase a slide for fridge/freezer. Might be a good idea to have the kit have that as an optional extra.

Andrea

on 15 February 2018
Happy apart from shipping...
Awesome product, impressed with the quality.. Very disappointed with the shipping company you used (Toll), who didn't deliver the package on the day they were booked too... Said if I wanted it, I'd have to collect it myself.. This annoyed me, as I paid extra to have it express shipped..

Daniel H

on 7 February 2018
Fridge kit
This kit is bigger than what I thought I needed for one person but I have found it excellent. I have been camping in National parks and driving on some rough, dusty fire trails. The solar cells charge the batteries well and the two compartment fridge means I can have a fridge and freezer. The battery cases have lots of useful connectors. My only small problem is not being able to have taller bottles like milk standing up with the basket in place and sometimes they leak a bit on their sides. A little hole or fold away section at the bottom of the basket would be excellent to allow the tops of bottles to poke through. In fact I am going to make that change when I get back to home base.

Phillip W

on 10 January 2018
73 L complete solar fridge kitt , owner
so far so good , great assistance from suppler , with great value

Geoff Carroll

on 28 June 2017
Solar Charger Review
Fitted up, only a week old, appears to work well, good readout of what is happening with the battery bank. Time will tell

EDWARD F

on 7 February 2018
Battery's
Thank you works very good thanks

Christopher S

on 9 April 2020
2x 120 ah 12v AGM deep cycle batteries
great service, prompt delivery and excellent phone enquiry advice. Thank You!

DENNIS K

on 5 April 2020
Fux All
This product is very good and I have used it before. Bonds strongly when used as directed and reasonably quickly.

Shane M

on 2 April 2020
4months and going strong
Went halves with a mate in Nov. We've both been using it for 4 months with a battery and solar panel. Wish we got a larger panel to perform better when overcast however everything has been great. May upgrade to dual zone when Hector leaves Oz.

geoff

on 8 March 2020
50L fridge freezer
gave the fridge a test run down to Coffs Harbour recently and it performed faultlessly. Technical specifications appeared to be close to advertised claimed information. So far so good.

Robert Christison

on 14 December 2017
Cold "Drinks" in the snow.
Great fridge, even when you're caught out unexpectedly by snow. Enjoy.

Steve

on 8 November 2017
50L Portable Fridge/Freezer - Travel Series
Although I have only used it once on the road this product could not be faulted. I managed to get 3 days of constant use off my AGM battery until I required a charge. Probably could have gotten another day but wasn't taking any chances. This just shows me that the fridge uses minimal power to keep food cold and fresh. Easy to read and monitor from the control panel. It now sits in my home as a beer fridge until my next trip away.

Murray L

on 4 November 2017
solar
very good solar equipment and battery runs my fridge above my expectations

Mark H

on 9 January 2019
30A Viewstar 12/24Vk PWM Solar Charger Controller
Verry Happy With this Solar Charger work will

Richard D

on 24 April 2019
awesome
works great

Stephen S

on 13 June 2018
200watt solar panel
Works well, good output. I think I may have paid too much for this item, as after purchasing it I found a virtually identical product for sale at my local 12v shop for $400. Hopefully this product is truly better quality as it is claimed on the website!

Clinton W

on 21 October 2019
330 ah agm
Pleased with these batteries they are doing the job well

JACK H

on 7 April 2020
Good product
Value for money. Effective batteries

Claris G

on 13 November 2019
deep cycle batteries
Great deal for big batteries, free delivery, all good.

John M

on 21 March 2020
130amp agm
I would highly recommend these batteries as I Have recently purchased 3 ×130 amph batteries for my boat for a 36 volt set up for a minkota electric motor an are very happy with the battery life

Rod W

on 24 December 2019
Projecta 12v 21A 6 Stage Battery Charger
Very happy with the product, it gets daily use charging a 140 w/hr 12v battery that drives a 3 Kw inverter for 6 hours every day. I especially like the 6 stages of charging feature and also that it stops charging when it detects the battery has full charge. This means I can leave it permanently connected to the battery and run it unattended on a timer overnight when electricity is cheaper. I must say in all fairness the first one failed within the warranty period, HOWEVER one 5 min phone call to Brooke @ Aussie was all it took to for them to send a replacement SAME DAY, few questions asked! They even included a return paid postage label for the faulty unit. Replacement arrived within 2 business days! You can't say any fairer that that! Delighted with the service and I genuinely feel fully confident shopping at Aussie Batteries. The replacement unit hasn't missed a beat so far, (touch wood.)

Adrian T

on 12 March 2020
21 Amp 6 stage battery charger
Excellent customer service - 6 Stars ******

Adrian T

on 4 March 2020
21A 6 Stage battery charger
Very happy

Adrian T

on 4 March 2020
agm charger
I use this Projecta to manage the health and use of my two AGM batteries. It is trouble free and the best for this task. Love it.

Kevin D

on 4 December 2019
The complete travellers power kit
The 125 watt foldable solar kit and battery pack are a great addition to my backup power solution. Quick and Easy to set up and gives plenty of options when out and about travelling and free camping. Would recommend to anyone looking for extra portable power.

Allan S

on 23 February 2019
Solar/Battery kit
Product was great

Gerard H

on 24 November 2018
Awesome Kit
Very happy with this kits performance and great price with fast delivery thanks

Sam

on 6 September 2018
Awesome Kit
Very happy with this kits performance and great price with fast delivery thanks

Sam

on 6 September 2018
PC800 Pro-Charge Range
Got the PC800 8A projecta charger delivered other day and it's an excellent unit, can't go wrong with this range makes life easy, cheers.

DAVID

on 13 February 2019
Excellent charger
Great charger! Easy to use and makes charging any battery a breeze, I leave my AGM batteries connected while not in use, knowing that they won't be over charged and there kept in the best condition possible

Anonymous

on 9 June 2017
My Aussie Battery Experience
The experience from you has been exceptional with BJ being most helpful & courteous. The order arrived promptly too.

Rosy T

on 21 February 2020
6 volt agm 550 amp
Happy with the batteries and service thankyou

Brett Lloyd

on 23 January 2020
My Aussie Battery Experience
My experience was very pleasant as usual & certainly prompt. Thank you again.

Rosy T

on 12 March 2020
My Aussie Battery Experience
It was pleasant as usual, with prompt delivery.

Rosy Taylor

on 26 February 2020
130AH 12V Eclipse AGM Deep Cycle Battery
Recently installed and yet to test in the outback while prospecting but all seems to be operating effectively in the van. The main test is yet to be conducted in the field and will update review on completion of trip in September 2020,

TREVOR S

on 19 March 2020
House bank for my Boat
Batteries installed. Made a huge difference. Plenty of power now.

Darryl S

on 17 March 2020
Brilliant Fridge
This fridge is amazing I've had it for over 2 years, take it everywhere. It was dispatched quickly and has done everything promised.

John Jackman

on 24 September 2019
Giant 140 AH Deep Cycle Battery & Powered Battery
I am very happy with the quality of both these products however the height specification given on your website for this combination is incorrect (primarily because of the physical height of the 140 AH Giant battery) & consequently they will not fit in my vehicle in the intended space. I have fitted the batteries without the boxes & will be returning the boxes for a refund.

William Hitchcock

on 20 March 2019
Very happy with price and performance of these 2 X
Very happy with price and performance of these batteries and the boxes - wish I just bought the boxes years ago. Thanks

Sammy

on 2 December 2018
2x140 amp
Very pleased with the service and delivery time. Toll were very helpful keeping me informed of the ETA. I have only had these for a month so a bit early to tell yet. The battery boxes look to be a quality product and I like the status display. I would definitely recommend Aussie batteries

Terry D

on 25 January 2018
Batterys and boxes
They are great very easy to install.

David F

on 18 January 2018
Projecta automatic battery charger
An excellent charger, does everything advertised.

Ronald Bloxham

on 3 April 2020
Good charger
Great product, fast delivery. Everything working as expected.

Lincoln S

on 21 March 2018
Review for 265W 12V Complete Custom DIY Solar Kit
Exactly as specified. Very happy with this purchase. Would highly recommend to anyone looking to add a solar solution to setup.

Chris A

on 22 July 2019
Diy solor
Awesome kit came with everything. So simple to set up

Clint N

on 9 January 2019
Review 13.2kWh 24V 550AH AGM Battery Bank (6V cell
Hi, Purchased these batteries online and was completely happy with the delivery time and product. Have them operating in an off grid house and performing very well. Will be back, Regards

Greg T

on 20 February 2020
Mr
Very happy with my batteries they do the job perfectly running everything I need and they are still at 80percent in the morning

JOHN Byrne

on 9 February 2020
160 watt solar panels
High quality panels and excellent after sales service, my second purchase from Aussie batteries, I wouldn't buy from anywhere else.

Gary

on 18 January 2020
160w 12v Portable Solar Panel with Kyocera Japanes
Good quality and easy to set up. Bit hard to fold back up as there is no hanger for the cable when it is rolled up.

DAVID M

on 8 January 2020
power pack
have these in a mobile home and have used them less than I wish I had. they have proven to be solid and reliable so far.

Mr Paul F

on 27 June 2018
so far so good
the service is all that they say it will be. as to the life of the batteries it is to early to say after one year of low usage

Mr Paul F

on 17 March 2017
Fan's
Great fans

Shaun B

on 17 March 2020
Bus batteries
Good service and so far all's well. Working great.

Shaun B

on 15 March 2020
12v Batteries (190amp slimline)
These would have to be the best option going for caravan/camping solar system. Can get them into confined spaces and easy to handle. You can even lay them on their side. Recommend to travelers wanting reliable 12v power for fridges/freezers and lighting.

Bruce L

on 20 March 2020
Solar Satisfaction
I've been using the 315 watt solar panel for a year now and it is great. Charges my 230A/H AGM battery even under cloud although at a reduced rate of course. I didn't clean it for a few months but it still charged at a reasonable rate. When I finally got around to climbing up the ladder, I found the panel was quite dirty and had a few bird droppings and dead insects on it. Also the glue they supplied with the panel worked well but you must prepare the roof surface well and scour the surface of the brackets well to give a long lasting grip. Follow the instructions to the letter.

Chris

on 12 March 2018
95 litre fridge freezer review
I had purchased this fridge for remote work and to travel around Australia. Best thing ever, practical easy to programme and suited our needs. It had been in storage. I went to go on a trip with the boys so I best get the fridge ready in the truck as per previous set up. Two weeks prior to goin away worked like a charm, the week end prior to setting off it was reading different readings, mmmm checked the manual all good. So I called Aussie batteries and solar , no disrespect but I had the runnaround for a few days. They were very helpful and advised I was to be sent a new fridge, to this date I can not fault the fridge or Aussie batteries and solar and I recommend the company and it's services to all. Keep up the great customer service

Craig B

on 18 October 2019
95L Portable Fridge Frezzer
Awesome car fridge had mine over 2 years now still works like new after many camping trips, Beach Trips

Micheal Gilmour

on 16 February 2019
Fantastic performance
Have used with our Jayco setup for 2 years now. We have 2 of these fridges running off our Jayco custom battery system from Aussie batteries. Very efficient setup. Never let's us down. Easy to use.

Derko

on 3 October 2018
I like Giant Power 95L Portable Fridge/Freezer
It's really useful

Sullivan

on 23 January 2018
wonderful!
Delivered quickly, well packaged. Good instructions for diy install and all items required were included in the kit. Had it installed and working in an afternoon. very happy!

Peter J

on 10 September 2019
Great system
We have been on the road for 6weeks out in the channel country fishing and camping running fridge lights and shower batteries always full of charge by 11am 95litre fridge freezer perfect size by the way freezer se at -11 fridge set at-1 thanks jay after sales service great you can give anyone my number if they want my opinion cheers

Geoff lyson

on 12 September 2017
Excellent company with great products!
What a great kit this is! So simple and easy to use, Aussie batteries has taken all the guess work out of choosing size of batteries and solar panals, high quality products, excellent price and great company to deal with, ask for Jay and he will look after everything giving you expert advice if you don't no anything about a product or what you need! Will recommend Aussie batteries to all my mates

Anonymous

on 9 June 2017
Great service and great batteries
transaction was easy and the batteries are great

dean m

on 29 April 2018
5 stars
Fantastic company to deal with. Really helpful, great quality battery and box. Easy to install, works perfectly and delivered to Western Sydney in less than 24 hours. I highly recommend and will definitely buy from again!!

Mathew A

on 22 April 2018
Great batteries for a great price!
We are an eco-village in New Zealand. The batteries in NZ are very expensive so we looked at importing them from Aussie. We searched the web and arrived at Aussie Batteries who were willing to ship the batteries for us at a good price. We are very happy with the batteries. They require no maintenance which is a relief compared to our old ones. I can highly recommend Aussie batteries! Thanks from NZ.

Stephan M

on 20 February 2020
12.3kWh 12V 1025AH Tubular Gel Battery Bank
So far they are living up to expectations ... great service getting the batteries to my farm but then had problems getting a connector replaced .. 3 attempts to get the correct replacement (lenght and style) in the end I gave up and used the best of the replacement connectors ( still not the correct lenght ) you sent ... I dont understand how something so simple could be so hard to get the right piece sent first time ???? anyway

Murray Q

on 16 July 2017
50L Fridge Solar Kit
The products themselves I am very happy with. I did however have a faulty regulator and the fridge came with no handles. Once I made contact the handles were delivered along with a replacement regulator. Once I received the items I then went to use the solar panels to try the new regulator which were now not functioning. I did call to fault find and was then told I had to get the panels back to the store myself to have them checked or replaced which has been problematic as I reside in Toowoomba. I would of like a few options to get the panels back for replacement. The service however has been very good so far. The fridge and battery have performed very well on the last camping trip even without the panels functioning correctly.

Timothy

on 26 June 2017
275W solar kit
Good service and speedy delivery. Excellent advice over the phone very helpful and appreciated.

BRIAN S

on 7 February 2020
carbon lead batteries
I have just purchased the carbon lead battery bank and since connecting it all 2 weeks ago I must say it is exceeding all my expectations on speed of getting up to full charge and providing all the power I need . It has been overcast for 10 of the last 14 days but I have had a full charge every day and thats with just 6 x 250 watt solar panels. I highly recommend these batteries which are by far the best I have used { compared to AGM and flooded batteries ]

BRENDAN T

on 7 March 2020
For the buy battery
Currently I used 5kw 48vdc hybrid Invater but daily I need to used 2 kw power. Can I know how much I need to battery bank neededt thanks

Bapan Bihary

on 5 May 2019
I fitted my solar panels and wired the kit up on the weekend. It took me two afternoons to install the solar panels and wire it all up. All good so far. I feel as if I've entered the 21st century being able to flick a switch and have lights out on the farm. This has been one of the most rewarding steps in our build progress. I finished wiring etc at about 7 pm on Saturday. It was cloudy and the sun was about to set so I didn't expect to see any input from the solar panels, but they immediately began to charge the batteries with about 100 watts.

I must say, thank you very much for the service you're offering. After all the rediculous qoutes I received, I thought the only option I had was to get a system together on my own through trial and error. Experimenting with different products and set ups would have cost me a lot in time and money. Your ready-to-go off-grid kits were a perfect fit for me. If I did it again I'd probably have gone directly to one of your bigger kits, instead of starting small and upgrading, but I was cautious at first, thinking your offer seemed too good to be true.

Kevin Lester, NSW
I'm just sending this email to say thanks for a great product and service you guys provide. I bought 3x130W panels, 2x150Ah batteries and the rest of the kit from you and integrated into my camper trailer I was building. So far I spent the last 15 days driving from Melbourne to Darwin and still haven't had to use mains power to charge the batteries, all solar the whole time. Thats running a 60L freezer, 40L fridge, all LED strip lights, stereo, inverter, waterpump and 12V outlets. I've made the trailer so that I could have the panels charging while driving which definitely helped.

Anyway, thanks again for a great product and prompted delivery, I've already referred some mates to your company who are looking to get some solar themselves.

All the best,
Rob

Rob, Victoria
It is rare to receive such personal, caring , and efficient service these days, congratulations, you have restored my faith in dealing with online purchasing, I wish there were more people out there with such good business ethics and people skills. I have been ill for several months with depression, however after speaking with you my spirits were greatly uplifted. Thankyou Suzanne.

I have spoken to a number of people about the service that I am receiving from yourself and your Company and I will recommend to anyone to make purchases from you. My words are from the heart as I don't believe in patronizing people, however, I do believe in giving merit and praise when it is earned and deserved.. Kind Regards Lester.

Lester, South Australia
Dear Mr. Gathercole,

We are writing to you regarding recent dealings we have had with your company.

We called to discuss having Solar fitted to our van and were greeted by a very friendly receptionist who called a staff member to assist us, Lachlan gave us a great insight into what we would need as we were lacking knowledge about solar, we were given quotations to go and study before making our decision.

After deciding what was needed, we returned and finished up having it fitted last Thursday, the standard of workmanship was excellent, and the care taken second to none.

We wish to congratulate you and would you please pass on our appreciation to your staff who dealt with us, it is so wonderful to receive good genuine honest service when dealing with something you have no idea about.

In our traveling we will have no hesitation in recommending you to those who ask "where we had it done",

Once again thank you

Mel & Chris Jones, Queensland
I have no hesitation in recommending Aussie Batteries. Although I purchased only one solar panel, I was treated as their most important customer. It was a pleasure to do business with a friendly, efficient company and the delivery was exceptionally fast.

Andrew, South Australia
I recently purchased a deep cycle battery and some solar panels from Aussie Batteries. I placed the order online and the goods were dispatched the following day.

However the courier only delivered the battery. I then phoned Aussie Batteries and explained to Suzanne that the solar panels weren't delivered with the battery.

Suzanne could not have been more understanding or accommodating. She immediately phoned the courier company then returned my call within 15 min, explaining that the courier company expected the solar panels to arrive the following day as they were most probably packed onto separate trucks.

The next day failed to see the arrival of the solar panels so I phoned Suzanne once more. Again Suzanne acted promptly and professionally, she re-contacted the courier company and was advised by them that the parcel was lost. Suzanne then phoned me, explained what had happened and assured me that she would replace the solar panels, without any additional costs being incurred, and apologised for any inconvenience.

Aussie Batteries were in no way responsible for the loss of the solar panels, yet they happily replaced them, acted in good faith and were totally professional and courteous in their dealings with me. Even though I have never dealt with Aussie Batteries before I was made to feel a valued customer throughout the whole proceedings.

I look forward to doing business with Aussie Batteries again, not only do they behave in a business like and professional manner, but provide friendly, courteous and personal service.

Peter Clifton, Cundletown NSW
When I was looking for a solar solution for my camper trailer and boat, I was looking for a portable solar product that would survive the tough Pilbara conditions but also give me value for money with the right advice.

When dealing with the team from Aussie Batteries & Solar, I received the right advice, great personalised service and a great solar set up that keeps the fridge running and the cans cold day after day!

Thank you Aussie Batteries & Solar for a great product and excellent personal service!

It's nice to deal with an Aussie business that still values it's customers.

Chris Gillingham, Port Hedland WA
I would like to congratulate you on your excellent customer service.

I found your website easy to use, delivery of the 80W solar battery charger was made to my home address in NSW was within two working days.

Online payment option was easy, and your phone staff were excellent.

I have made two purchases recently and will recommend your service to others.

Mr. K. Wade, Lake Cathie NSW
I have just purchased a 240W Tri-panel from you. clearly a quality product. I just wanted to say thank for the excellent service. Whilst the panel was slightly damaged in transit by the courier company (who I understand you have now sacked) you responded quickly to my email and had no hesitation in sending the replacement corner protectors on the panels. Peter called me when the office said he would and was very friendly answering my technical questions clearly and succinctly. Well done Peter! How refreshing to have an Aussie company that understands and cares for the customer and serves them well, which clearly came out in my conversation with Peter.

I will tell as many of my 4 x 4 mates as I can that they should call your company first and to stop wasting time hunting all over the internet for the best deal on batteries and solar, Quality and service is King! A wise old man told me once that people remember the quality long after they have forgotten the price. Your service is great and in this case the price was very fair as well. I will be back!

Keith Blakely