Customer Testimonials
Deep Cycle Battery Reviews - Our Customer Deep Cycle Battery Reviews are 5 Star - Learn More About Our Top 3 AGM Deep Cycle Batteries! Below is a quick comparison of Aussie Batteries Top 3 bestselling Deep Cycle AGM Batteries!
Read our Deep Cycle Battery Reviews and find out what our customers have to say about the best deep cycle battery they have purchased from Aussie Batteries. Below is a comparison of the Top 3 Deep Cycle AGM batteries we tend to recommend to our customers who ask - What is the best Deep Cycle Battery ?
Aussie Batteries - Agm Deep Cycle Battery Comparison​
1) Our Number 1 Bestselling AGM Battery is the 140AH Giant Power Deep Cycle Battery. Giant Power batteries are the best of the best!! Use them for many applications Camping, Marine, 4WD, Caravans and Solar, you won't be disappointed. 5 year pro-rata warranty!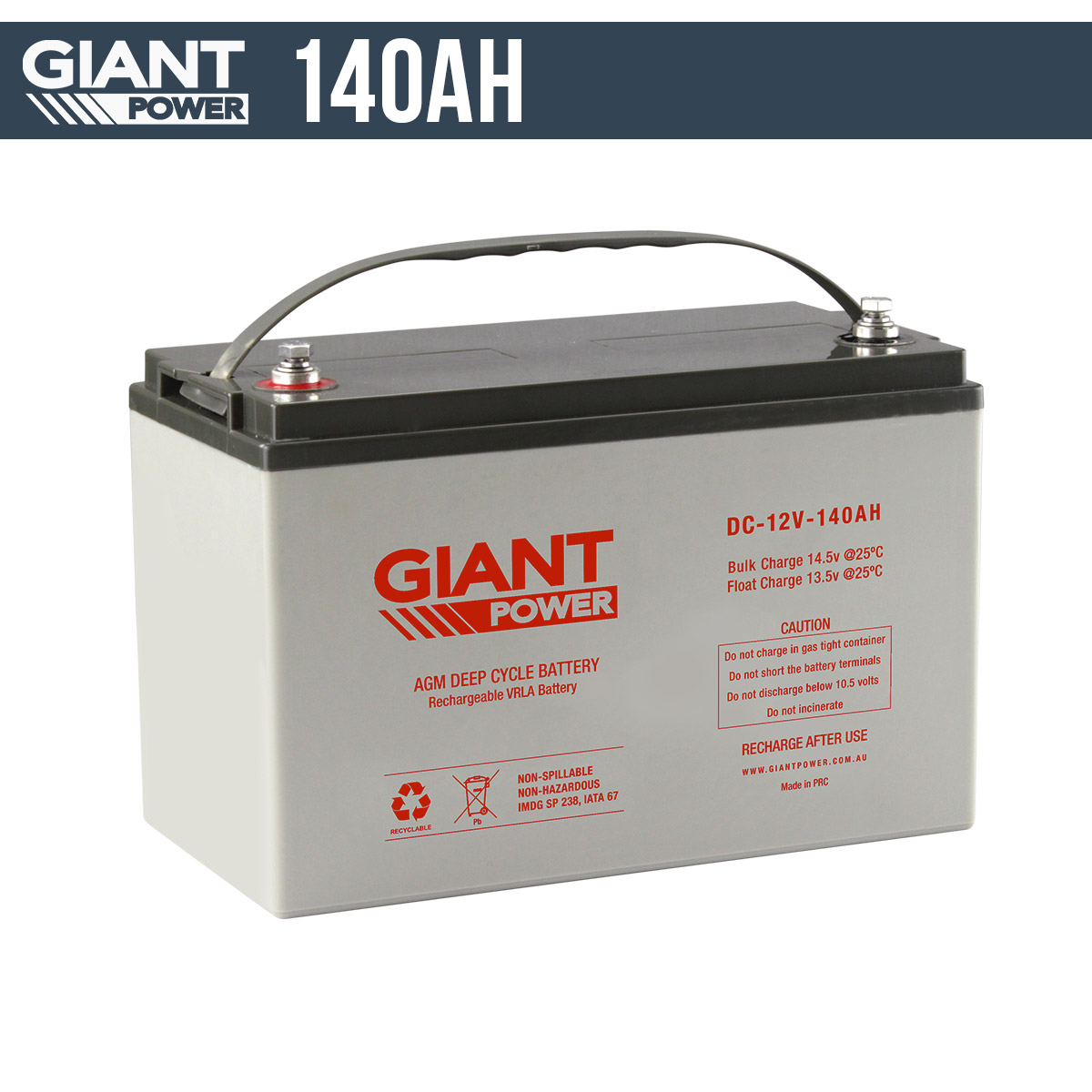 140AH 12V AGM Deep Cycle Battery - FREE SHIPPING to most areas in Australia !
The Giant Power 140AH 12V AGM Deep Cycle Battery is a high quality Deep Cycle AGM Battery that is suitable for Saltwater/Marine applications, Caravans, Motor Homes and Camper Trailers and most other applications. The GIANT 140AH AGM BATTERY is designed to FIT ALL MAJOR BATTERY BOXES!
2) Our Number 2 Bestselling AGM Battery is the Eclipse Deep Cycle Battery Series. Our close second recommendation goes to the Eclipse (Deep Cycle) Battery Series. Eclipse Deep Cycle batteries are great all-rounders. With a high AH capacity, VO (heat resistant) rated case and CCA rating, they are the best battery for those who want a built in voltmeter and 7 year pro-rata warranty.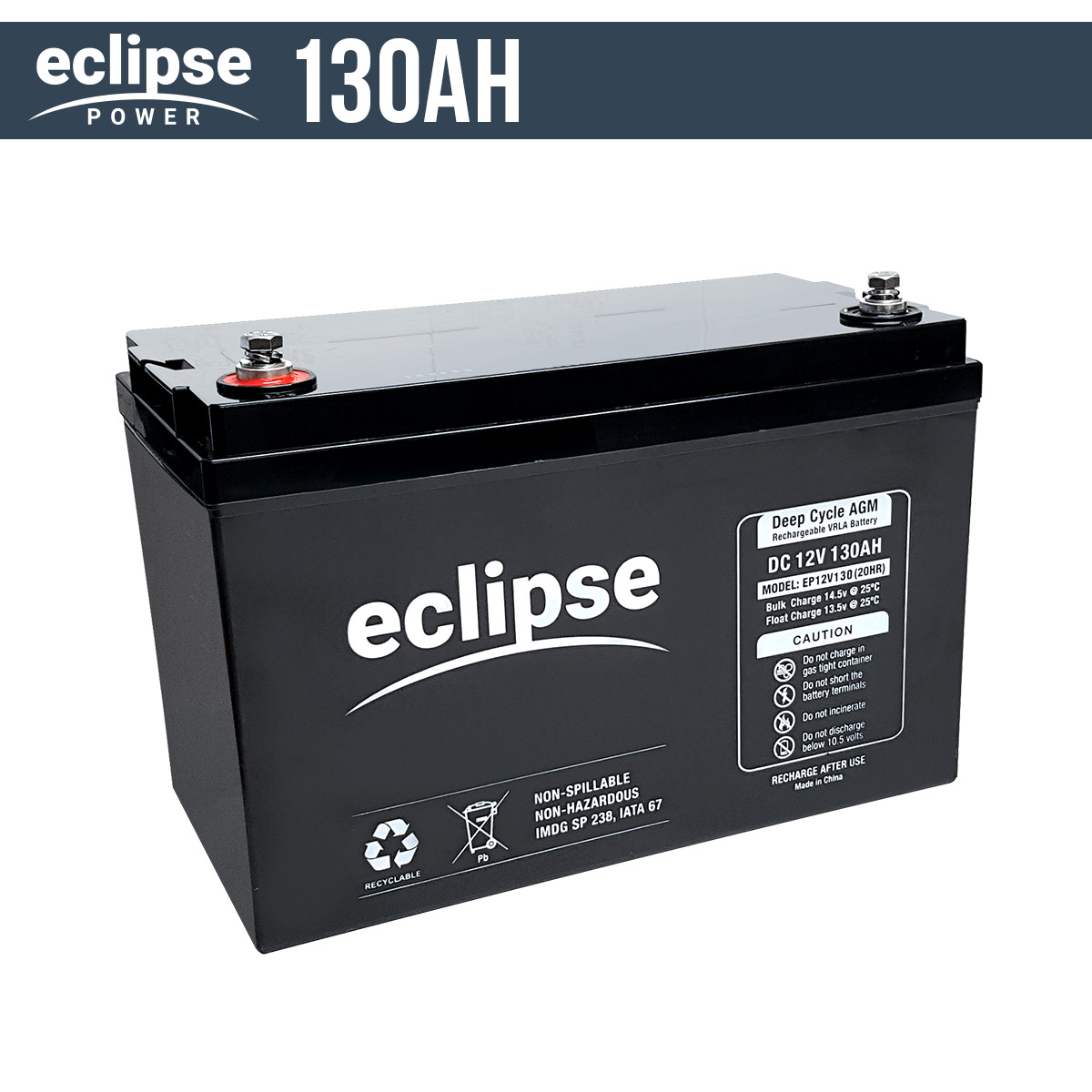 130AH 12V AGM Deep Cycle Battery - FREE SHIPPING to most areas in Australia !
Eclipse AGM Batteries have a voltage meter BUILT IN !! That's right you can now monitor your battery voltage with ease! The inbuilt functionality of a voltage meter allows you the ability keeps track of how much power your battery has left! The Eclipse130AH AGM BATTERY is designed to FIT ALL MAJOR BATTERY BOXES!
3) Our Number 3 Bestselling AGM Battery is the 120AH Giant Power Deep Cycle Battery. Giant Power 120AH AGM batteries have outstanding deep discharge recovery with high oxygen-recombination efficiency that ensures no loss of electrolytes, giving these batteries exceptional deep discharge recovery performance just in case you accidentally discharge your batteries a little too much! This also guarantees you will never need to replace electrolytes during the course of the batteries life.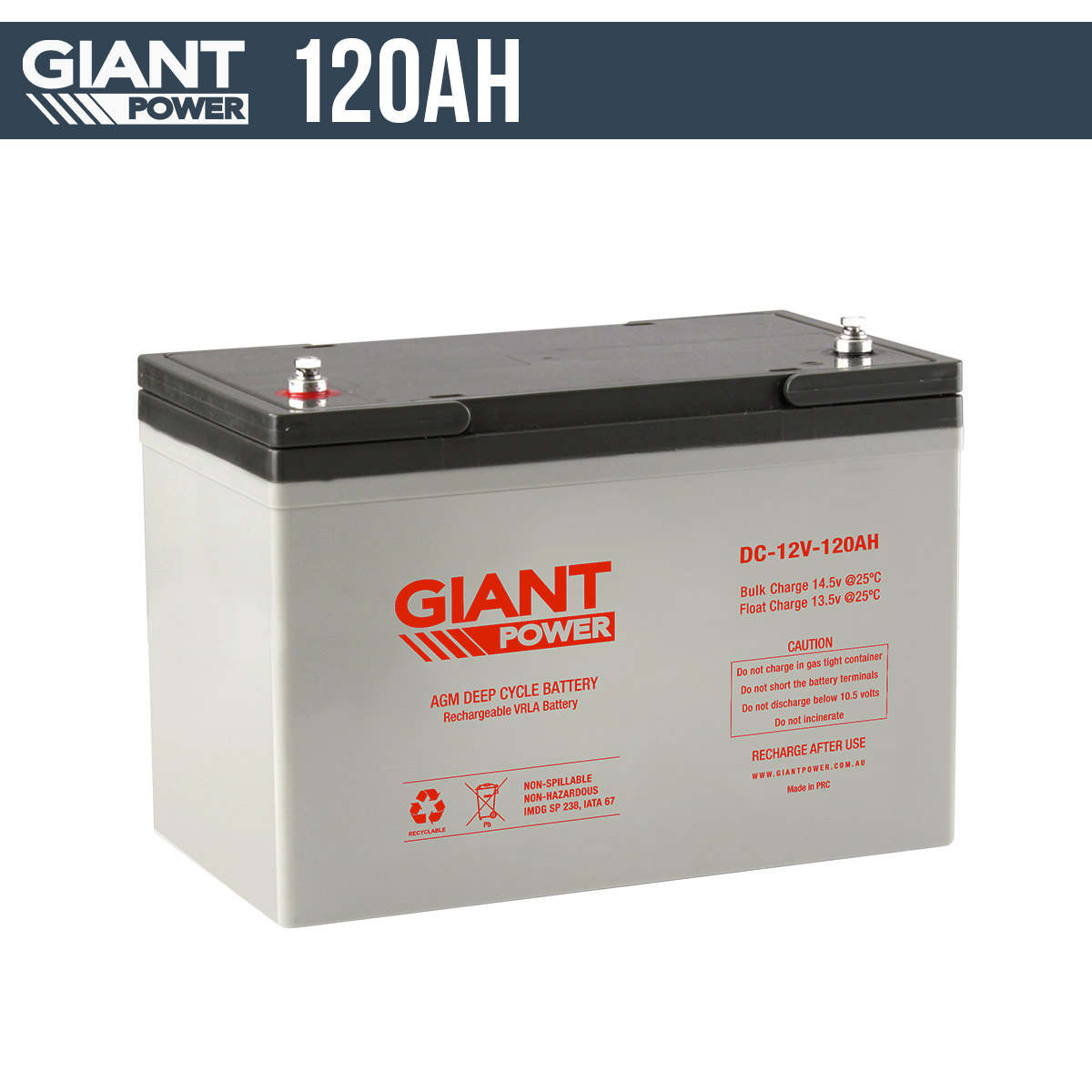 120AH 12V AGM Deep Cycle Battery - FREE SHIPPING to most areas in Australia !
This 120AH 12V AGM Deep Cycle Battery is a high quality Deep Cycle AGM Battery that is suitable for Saltwater/Marine applications, Caravans, Motor Homes and Camper Trailers. These are ideal ancillary batteries to fit into your caravan, 4x4 vehicle or camper-van.
Here at Aussie Batteries, we stock the largest range of the best value Tier 1 top quality AGM Batteries in Australia. Aussie Batteries is Australian owned and operated and totally independent! Below is a comparison of customer feedback, deep cycle battery reviews and testimonials about our best-selling and highest reviewed Deep Cycle AGM Batteries . Here are some of the recent testimonials we've received from our customers. We understand that getting the best batteries and solar can be very confusing and also quite expensive if you get it wrong! That is why we choose to put our customers solar and battery reviews at the forefront of what we do. We believe these reviews show the quality of our products, service and ongoing commitment to dependable power solutions.
BROWSE OUR FULL RANGE OF DEEP CYCLE BATTERIES With AUSTRALIA WIDE SHIPPING AVAILABLE - Need Expert Battery Advice? FREECALL our Deep Cycle Battery specialists today on 1800 853 315 they will provide deep cycle power advice and can talk you through your deep cycle battery setup or can provide an Obligation Free Quote
AGH
Battery arrived in good order and condition. Should power my little freezer, and a light or two for quite a while when the wind stops blowing and Victoria's lights go out!

Allan H

on 6 August 2022
Purchase of Giant 140 ah agm battery
We were so satisfied with our previous Giant agm battery several years ago , and still going strong, so we decided to purchase another from Aussiebatteries !

Patrick R

on 17 July 2022
Deep Cycle Battery
Fast delivery. Working Ok with good warranty period and price.

Mark Baart

on 8 July 2022
Battery review.
Hi we are very happy with our batteries , could not believe the deliver time "free" of about 28 hours to Mackay . Many thanks.

Stephen H

on 6 July 2022
Batteries
Service was excellent, sent straight away, working fine. Would recommend these guys A++++++++++

Lorraine Brown

on 26 January 2022
140AH Giant AGMs
Got these 2 batteries to replace the cheap ones that came with the camper that were on their way out, plus to upgrade from 2 X 100s to 2 X 140s. Ordered them 2 days before Xmas, and they arrived at my place Just after New year. Great service and prompt delivery on behalf of Aussie batteries and solar. Have been using the same Giant battery as dual battery in my 4B for approx 4 years now and still can't fault it. Thats why I got these ones for the camper. They go the distance if you look after them properly.

Graeme S

on 8 December 2021
Good investment
Very handy to see what my system is doing without a multi meter. just buy it. Staff are on the ball.I emailed with issue and they actually rang me to sort out... great customer service.

Anonymous

on 4 March 2022
Battery
Great service an quick delivery

Lyndal W

on 4 February 2022
Solar watt meter
Easy little gadget, easy to use and read. With the rain and poor weather, keeping an eye on power use and generation has been a big help. For an extra few dollars, buying this one from Aussie batteries rather than ebay or similar places I know it has a genuine warrantee and is backed by a real business.

Lyndissi E

on 5 January 2022
Lloyd
The meter was but one of my purchases and like the remainder, was true to form and specs. The absolute best thing Aussie Batteries and Solar is the service, if you have any issue, email them and they will be back to you immediately and at times by phone to sort any delivery issue out in person. That is not a service that is widely available, and it was the service that was outstanding as the products. I highly recommend them.

Lloyd C

on 4 January 2022
Watt meter
It does everything they say it does, it's a handy little bit of kit

Daniel S

on 3 December 2021
Happy with the battery
Very happy with the battery but disappointed with the courier service text to say that will be delivering in the afternoon .No show followed by a text say there was no one home had to wait another 5 days

Andrew M

on 2 December 2021
Amazing customer service
Excellent service Delivered earlier than expected

David L

on 30 June 2022
2Bns Parallel Cables
Installed Batteries /Connected Using These Cables ----All Fitted And Are Going Excellently

Trevor R

on 27 June 2022
Great Product
Great product Excellent support and service

Wayne H

on 26 June 2022
Lithium Batteries
Extremely happy with the service and the product, thankyou

Dean S

on 23 June 2022
Great to talk to answered all my questions.
The batteries arrived on time and in good order. No hassle great people to deal with.

Robert H

on 12 May 2022
Great company, good batteries and leads
Fast delivery, couldn't be happier with my batteries and made leads

Blake C

on 9 May 2022
What a Great Product
Bought an Ardent HD battery box to suit my 100ah LiFePO4 battery. It was delivered quickly and well packaged. For the last 3 days the battery box with the Lithium battery has been powering my car fridge 24 hours a day with the fridge set at 0 degrees. So far there has been no noticeable drop in the battery charge on the Box LCD screen. I am most impressed and would recommend to everyone.

Jeff

on 13 June 2022
Awesome product
Recently purchased the ardent battery box with a 125ah lithium battery. It was delivered fast and the product quality was great. The ardent batter box is packed with features. The wiring in box was great with decent size cable used.

Justin W

on 25 May 2022
Great Battery
I bought this battery to go camping over Easter. It was only powering lights, a water pump & phone chargers, but it held 13.1v for the whole 5 days without any recharging. The delivery time was amazing. I received it in SA within a few days of ordering. I would definitely buy the same again

Jim M

on 12 May 2022
First impression
Just finished a 2 week trip first time we've used the Ardent battery fox first impressions are very good a very good piece of kit

Neil T

on 11 May 2022
Great Value
I bought this over a month ago and used it twice already. easy to read display and the box itself is not heavy at all. Great value !! and a great product !

Robert N

on 11 May 2022
Great service
Team helped me out. Sent all relevant indie to me to assist then sent me all the gear to my door. Absolutely amazing service highly recommend! Product is great

Josh B

on 7 May 2022
batteries
Very happy with the batteries

David G

on 24 June 2022
550 AH Batteries
I purchased a set of 550 AH batteries for our off grid solar system about a month ago. I purchased them after a recommendation from a friend. I am extremely happy with the batteries and even more so with the service from Aussie Batteries. Friendly staff and prompt service. I felt they valued and appreciated my business. I was short 2 terminal covers which sent out immediately express post (thank you Freya!).

Col Reynolds

on 11 June 2022
48 volt 550 ah
Batteries are working great so far been in since 24 December only done 3 cycles thanks so much.

Wayne W

on 26 January 2022
Happy Customer
Worked a treat no problems with instillation

Peter B

on 19 August 2021
BATTERY CABLE
EXCELLENT PRODUCT AND SERVICE

BOB S

on 1 July 2021
2 BnS Series Cable
Neat, well made and easy to attach. Also easy to keep clean.

RICHARD R

on 21 July 2020
great service
fast delivery and working well,thankyou so much.

Kris Winstanley

on 16 July 2022
120 amp hr deep cycle battery
Great product, great service.turnaround time was less than 36 hrs.

Mathieu A

on 22 June 2022
330AH AGM giant batteries
Extremely happy with these batteries. I purchased 2 of the 330ah for my solar set up. I am completely off grid using gas for stove, hot water and fridge. These batteries with my panels give me all the electricity I need plus some.

Kerry M

on 9 June 2022
Excellence !
Aussie Batteries excelled again !! 6 x 330AH AGM batteries, delivered to Fremantle, 5 days after my order was placed !!! And … a day earlier than expected !! Great Batteries, Great Service, no fuss!! Have dealt with these guys before and will do so again - regardless of where I am !!

John F

on 5 May 2022
150A Battery Watt Meter
The meter does exactly what was advertised and works very well. Delivery was also prompt, a few days to get to Regional Victoria. My only additional feature request would be for a load data reset switch, to reset the monitor after charging the battery.

Max L

on 16 December 2021
Watt meter joy
I have only used this in basic testing but found it works as advertised. Rubberized housing is nice and it feels rugged. Display is easy to read. Mine came with Anderson plug on one side and lugs on the other. I have replaced the lugs with another Anderson plug as that meets my needs better. Would be nice if we were given a choice when purchasing. Not sure but I think the ad photo may have shown dual Anderson plugs.

Leopold S

on 13 October 2021
Staying in control
The battery watt meter is awesome keeps me in control at a glance

GREGORYL C

on 24 September 2021
150A Battery Watt Meter
Are happy with our purchase from Aussie Batteries.

Christine W

on 3 September 2021
Dick in Caloundra
Item works as advertised, installed easily

Richard P

on 18 August 2021
150a battery wattmeter
excellent tells me the the power I am using

John W

on 5 February 2021
AWESOME 140AH 12V Deep Cycle AGM and Powered Batte
Once again Aussie Batteries have come to the party with their great advice and speedy service! This is my 3rd purchase of one of these batteries, because I believe they're simply the best battery on the market. Have never had a problem with any of them, from the 1st one in the 4WD to the last 2 I installed in my last two caravans. Great value for money; great battery performance. Battery box great value as well. Terrific combo!

Sueanne L

on 9 June 2022
Fantastic product and quick delivery
The product is exactly a you see it and is good quality material. The delivery time was fantastic. Great company to deal with.

John M

on 21 October 2021
Battery review
Best battery I have ever bought, still going strong over 12 months use, battery box is perfect to plug in and charge everything and run my fridge and still room to plug in solar charging

Chris P

on 20 May 2021
140ah battery
Love this battery and battery box I would highly recommend this product

Jade S

on 8 March 2021
Battery
It is a fantastic battery. Thank you

Lyn G

on 3 February 2021
Easy, quick and effective
Easy to purchase and delivery was quick and effective even with potential Covid delays. Very happy with purchase process and battery is perfect.

Simon R

on 29 January 2021
175 amp lithium
Absolutely fantastic product performance is spot

Drew A

on 6 August 2022
175 Ah lithium batteries
I have been monitoring the amp/hour discharge and the batteries so far appear close to specs. These batteries hold a lot of energy for there size and are exceptionally well priced at around $400 per kw/h. Very happy so far

Steve H

on 10 July 2022
Set up for a family in need.
I support several families doing it rough. One of my friends put the ideas together and I paid for the equipment to create an off-grid solar set-up. They now have constant power for their fridge, freezer, washing machine, lights, etc. As much as possible we buy in Australia for our supplies. It was a good break to get our battery bank a lot cheaper than we expected. The guy who put it all together was happy with the quality of what we purchased. You guys will definitely be our first port of call for our next project. Cheers

MARGARET O

on 7 April 2022
Plenty of grunt
I purchased four of these 550AH, 6v batteries to put in series for my 24V system 6 weeks ago, so far I'm very happy with this bank. I live off grid (alone) with most of my power needs being low voltage (24v), lighting, fridg/freezer, fans ect, but i do use 240v for washing machine, stereo, vacuum and the like, so far I have not drawn down more than 4% even following 2 days of minimal sun, will be interesting to see how they perform in the winter. could not be happier with the service and prompt delivery these guys gave.

GLENN L

on 10 March 2022
Quality product
This is a really nice solid battery box. I particularly like how the Anderson sockets don't have exposed cables on the outside of the box, but are recessed/hidden, unlike some cheaper boxes on the market. Easy to set up, just place the battery inside, strap it down with supplied strap, connect the cables with the supplied bolts, and it's ready to go!

Martin V

on 18 May 2022
Ardent battery box with 175ah battery &1200w inver
This is an excellent product and i am 100% happy with my purchase.

Geoffrey R

on 26 April 2022
Awesome power solution
I bought the Atlas 140ah lifepo4 and the Ardent heavy duty battery box with the inverter. Brilliant bit of kit that is not just for camping but backup power at home. Solidly built, great quality and well priced. Best value for money combo battery box and battery on the Australian market. There is nothing that comes close.

Craig H

on 14 April 2022
No battery
Haven't received the battery yet

David G

on 5 March 2022
Great Product & Fits A Niche Nicely
I bought this box for my wife to use when she camps out in the horse float with the horses. I love it because it's built-in inverter is the biggest available in battery boxes at 1200W (that I could find). It makes it great to use with our multi adjustable induction cooktop the Newave Flex, has plenty of Anderson outlets as well as ciggy sockets and USB. 1 complaint I have is that it has multiple ciggy sockets and only 1 USB socket, in today's day and age should be the other way round. Another suggestion would be for a cable entry point.

Troy L

on 25 February 2022
Great purchase
Very fast dispatch and delivery. Ardent battery box with 1200W inverter works well. Very happy.

Henna K

on 15 February 2022
Atlas 135AH 12v Lithium
I purchased 2x135Ah a little over a month ago now for camping. I'm running them in parallel through a ctek d250se DCDC charger with a 160w solar panel. I ran my 70l Dometic for one week straight and the 135AH constantly kept 13.4v So I'm more than impressed with these batteries and would recommend them to anybody looking to upgrade from the heavy old AGM to lithium. Thanks heaps Aussie batteries and solar

Jarrod B

on 16 July 2022
Avan Adelaide
Arrived very quickly, very easy to deal with, great customer service. Thanks Justin love your work.

Jamie

on 30 June 2022
Wardy
excelent battery so far I do like the BMS connection via smart phone to monitor charge

Michael Ward

on 1 July 2022
Giant 170ah lithium battery
Works a treat, installed in our van along with a Victron AC charger and solar regulator.

Chris W

on 24 June 2022
Battery Heat Shield
Excellent product, does what It is designed to do. Brilliant. Very happy:):):):):)

Darren S

on 18 May 2022
battery and heat shield
great product and service was fantastic

Steven T

on 5 May 2022
Giant 130ah lithium
Even better than I expected. We had four days of no sun and it ran our fridge,lights and pump and we still had over 60% of charge left.

Richard A

on 9 July 2022
Lithium battery
Excellent product, happy with same

Steven S

on 6 July 2022
Batteries and corners
Both very good and great service

MURRAY E

on 2 July 2021
Mounts Solar panel
Worked great mounting my solar panel on horse float great service thanks

David G

on 30 May 2020
Parexcelance
Exceptional products. Would help if we were reminded that they are made for flat surface. If you have a curved roof like my camper you will not to use extra packing

Robert C

on 18 February 2020
solar panel corner brackets
the product suited my needs

Malcolm N

on 20 June 2018
Solar Mount brackets
Mount brackets are very good quality but are very bulky and large, you need to know mount brackets sizes before purchasing so that solar panel width and mounts will fit on caravan roof properly.

christine f

on 16 May 2018
Awesome panel's
These panels certainly worked as expected

Anonymous

on 2 March 2022
All Good.
Excellent service and excellent product I was very happy with service from your staff and the sola panels are working well.

Ken W

on 23 February 2022
Solar panels
Happy with this product

Troy P

on 15 February 2022
Well built panel
I bought 2x 200W panels, happy to see they were well constructed and punch out a good output.

Anonymous

on 22 January 2022
Power of the sun.
Purchased a 200 watt solar panel in addition to the existing 145 amp panel I had on my RV. The extra feed has been enough to keep the newly purchased and installed Atlas 2X140AH Lithium batteries almost fully charged under load even on overcast dull days. The C-tek dual pass dc-dc charger does its job while driving & the Enerdrive 240v 40 amp charger keeps the batteries up when not in use. Very happy with the size and robust slimline construction of the panel. very unobtrusive on the vehicle.

Derek H

on 20 July 2021
Seems like a good panel
Panel appears to be working as advertised (not like the cheap eBay ripoffs). Have had the panel for about 2 weeks now and the battery has not discharged below 12.8v (that's because of night time). Panel is connected to Redarc dcdc 1225d charger, which supports a continually running 74 lt fridge connected to a giant 140ah battery.

Ben

on 23 June 2021
140AH Deep Cycle Batteries.
I purchased 3 Batteries. They are working perfectly and true to form. Absolutely great Batteries, highly recommend.

TONY B

on 23 April 2021
140 AGM batteries
Recently purchased 3 x 140 AGM batteries for our caravan. Service and delivery was great. Batteries installed and now just waiting to get away. Overall a great service and great product.

TREVOR C

on 14 January 2021
Great battery
Follow the start up instructions and enjoy effortless efficient battery power. Early days but first impressions are great. Great battery.

Brendon K

on 3 July 2022
Customer Service and Delivery
Very happy with both the customer service, a quick call to confirm product ordered and not a fraudulent transaction on my card. Delivery was prompt (within a week) which I think is great for a large item from Queensland to South Australia, especially at the times of the floods.

Elliot B

on 16 June 2022
340AH 12V Lithium
Great Battery. Had little use so far but have used it with a 2000w inverter for cooking with an induction cooker and cooking toast with an electric toaster, running a 12v fridge and a seperate 12v freezer. Does away of the need for gas cooking etc.

Al D

on 2 July 2022
340 ah
Been installed 3weeks and really like the ability to monitor the BMS and see where the battery SOC is. The SOC runs down to about 80% and fully charged by mid morning. Running fridge TV Fox Box and lights and water pump

John H

on 2 June 2022
Performs well
Sturdy box at a good price. Does the job well

Ray Goldberg

on 26 January 2021
Battery
Very pleased with our purchases. Happy customer

MAREE T

on 22 November 2020
Projecta powered battery box
Awesome product

Mark B

on 30 June 2020
Projecta powered battery box
Awesome product

Mark B

on 30 June 2020
Battery box
All good arrived ON TIME

Garry D

on 23 April 2020
140 giant deep cycle battery and battery box
Only had a couple of days set it unlocks good battery very heavy which is a good sign a bit concerned with the battery box it looks good but no instruction of how to woke it ie which anderson plays for in and out of source and load or do both of them do the same. Will connect up to fridge and solar and see what happens. Should have instructions with case. Delivery service excellent could not ask for more will keep you informed John drak

John.drake

on 6 February 2020
very reliable
Great controller ive lived on the 30amp one with 260 watts solar an 105 ah battery, I've been stunned at 5he difference this makes compared to a pwm controller of same specs almost double!!! 3 years later I'm very happy with it an about to buy a second 1 to expand my system, great for anyone looking for reliability an efficient power charging from only a few panels, 10/10 would recommend.

B.dachs

on 13 June 2022
MPPT Controller.
Decided to go for the Maximum Power Point Tracking Controller to give my battery that bit more in the charging department. Time to test it out on that trip. Thanks Aussie Batteries and Solar.

Rick S

on 16 March 2022
Good quality regulator
Have 3 of the 20 amp models very good units easy to in stall and easy to setup one in my RV set up on a 340 amp lithium battery and a 250 watt panel One in the RV shed on 2 agm 130 batteries also on 250 watt panel and a third will be set up on my RV car trailer for added boost for the RV when in tow also on a 250 watt panel. Would recommend to anyone how would like good reliable solar system .

Doug Evans

on 14 September 2021
MPPT Solar Charge Controller
Does everything it said it would do - satisfied customer.

Adrian T

on 1 December 2020
regulator
Seems like a good product but need more input on best way to set up as I have little idea how solar works best

Edward G

on 29 September 2020
No problems with purchase,tried to purchase 5m tem
as above

JOHN H

on 2 June 2020
Upgrade anderson plug to alligator clips
Happy with product, wiring was good thickness and clips heavy duty. Easy to order with quick delivery

Harry K

on 19 August 2020
P Clamp 9.5mm Plastic
Looked for and reviewed extensively before settling on Assie Batteries P clamp. Top bit of gear.

DAVE M

on 31 August 2021
Solar regulator
So far so good, I've seen no fault with this solar regulator and like it's digital layout. I've ordered the remote meter, and I'll connect that, but top ratings for this product

Kevin B

on 6 June 2020
Great MPPT that stood the test of time
I have been seeing great reviews about the EPEver Tracer range for over 3 years and finally got this 30A one. This has not dissapointed - solid performance. Easy to install and to use!

Stephan Lindeque

on 6 April 2020
Great service!
Quite shocked actually.. I recieved a call from you seeking NOT that I purchase more product but simply following through on whether I'd received the product & also if I wanted any advice on maximising the potential of my purchase. I will at a later date lol. Three days after ordering my purchases arrived by courier - 1500 kilometres in three days is good in my books. Looking forward to a couple more items then my full time retirement travelling with zero electricity bills. Thankyou for your customer service.. Andrew Stewart

Andrew S

on 5 November 2019
Very Happy with the product
Worked fine straight away and the app is perfect

Michael G

on 26 May 2022
Victron Charger
In one word: Sensational charger with the blue tooth connection to my iPhone.

Gerard E

on 25 May 2022
Best Charger Ever!
Love this charger. Bought to maintain new lithium battery install in 4X4, amongst other charging duties. Well worth the money and very versatile. Didn't know I needed Bluetooth in a battery charger till I had it. Very customizable for tuning battery voltages, charging profiles and as a benchtop power supply. Been running flat out since it arrived with no issues. Victron does it again.

Kris H

on 26 April 2022
review
Great charger with plenty of go. Plugged it in and installed new batteries. No more issues. Runs very well on 40m of extension lead with a small silenced geni.

Steven S

on 16 March 2022
Battery Charger
Great unit, easy to use, best charger for my new LIPO battery

Graham B

on 15 March 2022
New era of chargers
First decent charger I have had.

B A

on 9 March 2022
Cesare
Great service and product, will be using these guys in the future

Cesare R

on 1 July 2022
Game Changer
I upgraded from a 135AH AGM battery to this 140AH Lithium battery in the back of my Ranger to power my Bushmans fridge. Normally, my fridge would start to not hold its temperature after a few days and I would need to be constantly monitoring it. With the new lithium, that is no longer an issue with it still sitting at 80%+ after 3 days. The BMS lets me monitor its charge on my phone taking all the worry away.. absolute gamer changer which will only get better once I have wired it in to my car.

Paul M

on 1 July 2022
Giant batteries
they are excellent.

Brian Steere

on 30 January 2022
Review Giant Power 4x 140AH 12V AGM Deep Cycle Bat
Product good. I have bought quite a few things from Aussie. Good people to deal with. Trustworthy, and I will be back.

Ray

on 5 August 2021
Fast charger
Charges my 170ah Lithium Battery in no time at all. Modern technology for a modern battery at a great price

Batts

on 5 July 2022
Ardent 20A charger
Works as advertised

Corey E

on 1 July 2022
Battery charger
The charger works well n conjunction with the 175amp lithium battery and Ardent battery box

Bruce A

on 12 April 2022
20 amp Ardent Lithium Charger
This is a good charger. The fan is quite loud though,at least you know when it shuts down.

David E

on 9 April 2022
Ardent 12v 20Amp Lithium Battery Charger
Works as described, and charges the Lithium 120amp deep cycle battery to full charge also purchased from Aussie battery's, only negative comment I could make is that the instructions that come with the charger are not very well worded but your website covers all queries and questions. This is early days with both products and only time will tell but so far you get 5 *****

Michael Dalzell

on 16 March 2022
Great product very happy with the quality of this
works great on my 140Ah lithium battery thanks

Jase

on 16 February 2022
So far so good
Spent 8 days in the bush with just this battery charging cameras,phones,lights and running a fridge and electric blanket at night ! Had zero issues with power and charging off of a 200w solar blanket.

Phillip D

on 17 June 2022
Battery's
Excellent battery

Frank D

on 15 June 2022
Solar controller
Simple to install great product

Anonymous

on 24 February 2022
Tracer
Hi. We are extremely happy with the purchase of the tracer controller purchased from Aussie batteries and solar. I just wish I had done it months before. Janet A

Janet A

on 1 October 2021
Charge controlled
Has served me well so far however the readout is a little confusing. Maybe a little more explanation in the manual would help with the battery level readings.

Mr Paul F

on 27 June 2018
Awesome piece of kit
I've just built a stand-alone PV-battery-inverter system; totally separated from the house supply, and it is powering my laptop, radio and stand lamps right now. 1K PV (4 panels), 40A MPPT Tracer, 2 of 200AH gel batteries and 1kW Redarc sine inverter. Works like a dream. I think we need a blog site to share ideas on this topic.

David B

on 12 January 2018
looks the part
You have timed this badly as I am currently waiting for a recharge from a full discharge and it is now the third day. I will admit that it is only early on the third day and sunshine was scarce yesterday however the first day was full sunshine all day with 500W of solar panels how come I only gained 20%

Mr Paul F

on 17 March 2017
Warranty
Had a problem with volt meter on battery box they sent me a replacement more than happy with service . Great work!!!!

Mick c

on 16 September 2021
Title
Absolutely great & the best on market

JACK A

on 10 June 2021
Dual battery.
Transaction couldn't have been easier, battery box is so easy to use with its plug & play anderson connectors, easy to read voltage meter.

KEVIN J

on 21 May 2021
Awesome Battery
Great set up and easy to use.

RICHARD G

on 8 April 2021
Great product
I installed it in the rear of my 2010 Colorado to run everkool fridge works great charges through car plus solar when camping

Richard L

on 7 March 2021
Fridge Battery
Great battery. Keeps my fridge going great

Michael B

on 4 March 2021
Caravan Double Entry Cable Block for Solar Panels
Solid piece of gear, highly recommended.

DAVE M

on 31 August 2021
Solar roof mount
Good

David W

on 27 February 2019
Solar Panel cable entry block
Just what I needed. Simple to utilise and fix in place

Norman B

on 27 June 2018
Double entry cable block
Good product received within a couple days of ordering

peter thompson

on 11 January 2018
Straight out of the box this is the best battery c
The Bluetooth functionality is very useful and well I achieved well over 12m of range. I haven't tested all the functions yet but so far so good. Quick postage and the excellent website interface makes purchasing a breeze.

Marco

on 30 October 2021
Atlas 330AH Lithium
Excellent price for a big battery. Battery arrived in good condition and within timeframe. Company easy to deal with and good communication by email. Very happy with my purchase.

Rodney C

on 15 July 2022
Atlas battery
It's been installed by auto electrician so far I'm very happy you're servicing was excellent thank you.

Dirk V

on 14 July 2022
Very happy
I bought two of the 105ah 12v Lithium batteries to power my 24v trolling motor on the boat. Weight was a major factor for me so it was a no brainer to go Lithium over agm not to mention the fact that you get to use the whole 105amps. I've also had the agm's in the giant and they're awesome!

Luke A

on 23 June 2022
Battery
Only put in a few weeks ago but uts running a dual zone fridge has not missed a beat

Kevin R

on 10 April 2022
Controller + battery.
Guys on phone great. Great advice.Battery and controller work well in front yard to get use to it. Off next month on trip. All good. 5 star so far. Watch this space.

KEVIN S

on 28 May 2021
30A Viewstar 12/24Vk PWM Solar Charger Controller
Verry Happy With this Solar Charger work will

Richard D

on 24 April 2019
awesome
works great

Stephen S

on 13 June 2018
Great
After having gear failure I looked to Aussie batteries and I'm very pleased with the service and the product

Gregory C

on 29 December 2019
Great
After having gear failure I looked to Aussie batteries and I'm very pleased with the service and the product

Gregory C

on 28 December 2019
Lead carbon batteries
The 420 ah lead carbon batteries have been perfect they run my 240v fridge all day every day with not problems

TONY D

on 10 July 2020
Fux All
This product is very good and I have used it before. Bonds strongly when used as directed and reasonably quickly.

Shane M

on 2 April 2020
Battery 140 AMP
Great batteries , work well , this is the second lot of batteries i have purchased.

Brett B

on 14 April 2021
needed cables
For those that are configuring there battery arrays into multiples of 12v systems, these are great cables at just the right length to jumper between batteries in either series or parallel.

Anthony M

on 4 June 2020
Cables
Good quality

Kevin W

on 1 May 2020
6 volt 550 ampere/hour batteries
From discussion and advice purchased 6 of the 6 volt 550 aHr batteries to go with initial 2 same batteries. Batteries were picked up as ordered. The staff were extremely helpful and pleasant to deal with. Batteries have been added to a solar off-grid system and have been performing better than expected. An excellent product and excellent service from Aussie Batteries And Solar.

BRUCE Roberts

on 24 July 2021
Exceptional value
These batteries are really very good and are better priced than other systems on the market , and as I had to watch my budget I was very conscious of price and these have not disappointed, great value and work well on my boat, never have to start the genny now

STEVE M

on 16 March 2021
Mal
These batteries are awesome

Mal Kays

on 5 May 2020
330 ah agm
Pleased with these batteries they are doing the job well

JACK H

on 7 April 2020
2 years on !!
@2years on, and still working fine, keeping a 130amp hr, Giant AGM battery from you guys , using a80 watt panel,in perfect charge. We use it to run the lights at night, stuff Ergon, and recharges the battery every day. Highly recommend.

Edward fay

on 25 May 2020
Solar Charger Review
Fitted up, only a week old, appears to work well, good readout of what is happening with the battery bank. Time will tell

EDWARD F

on 7 February 2018
Great service thanks.
Another good product and terrific service. Thanks again.

Stu T

on 6 August 2022
Off grid battery
The 260AH lithium battery is performing very well after up grading from an AGM battery 2 months ago.

PAUL P

on 4 July 2022
Battery Cables
Website was great and easy to navigate, product was sent and recieved quickly with tracking number to keep an eye on progress. Battery terminals were not crimped to cable and only slipped over cable which came appart straight away ☹

Tony P

on 6 August 2020
Great stuff
So far I've bought 2 batteries and linking cables from these guys, everything has been great so far no issues at all

John P

on 25 July 2020
Cable's
Perfect for the job

Jeff L

on 14 June 2020
12v Batteries (190amp slimline)
These would have to be the best option going for caravan/camping solar system. Can get them into confined spaces and easy to handle. You can even lay them on their side. Recommend to travelers wanting reliable 12v power for fridges/freezers and lighting.

Bruce L

on 20 March 2020
Battery purchase
Great service and delivery. quick considering I live in far North Queensland. Very happy with new batteries and the system is loving them! Thanks Aussie bateries

Jamey C

on 19 June 2020
Battery purchase
Great service and delivery. quick considering I live in far North Queensland. Very happy with new batteries and the system is loving them! Thanks Aussie bateries

Jamey C

on 18 June 2020
Highly recommended
Excellent battery set up for off grid living.

Kurt

on 22 April 2022
Great service.
Pleasure to do business with Aussie Batteries. Batteries arrived on time and well packaged. Thanks

ROGER H

on 24 April 2021
Great products and service
Awesome service by this company, even over the holiday season. Great products, husband is very happy.

Amanda G

on 26 January 2021
batteries & battery boxes
great products

Robert R

on 12 November 2020
Giant 140 AH Deep Cycle Battery & Powered Battery
I am very happy with the quality of both these products however the height specification given on your website for this combination is incorrect (primarily because of the physical height of the 140 AH Giant battery) & consequently they will not fit in my vehicle in the intended space. I have fitted the batteries without the boxes & will be returning the boxes for a refund.

William Hitchcock

on 20 March 2019
Very happy with price and performance of these 2 X
Very happy with price and performance of these batteries and the boxes - wish I just bought the boxes years ago. Thanks

Sammy

on 2 December 2018
2x140 amp
Very pleased with the service and delivery time. Toll were very helpful keeping me informed of the ETA. I have only had these for a month so a bit early to tell yet. The battery boxes look to be a quality product and I like the status display. I would definitely recommend Aussie batteries

Terry D

on 25 January 2018
Batterys and boxes
They are great very easy to install.

David F

on 18 January 2018
Excellent Product and Service
Happy with the solid box construction, recessed Anderson plugs, clear digital display and well connected internal wiring. I did a fair bit of research on these boxes and this is the best I came across with the built in inverter option. I've used this to charge my drone and laptop as well as usual phone devices. Very happy and thanks for the fast delivery.

Ron

on 6 March 2021
Lithium charger
Great low cost Lithium charger

Grahame J

on 6 May 2022
Battery & charger
Bought both of these products from aussie batteries and am very happy with the outcome. The charger fully charges the battery after every use. Very satisfied thank you.

Graham G

on 9 April 2022
Bought one for my 50Ah works great
happy with this charger works great on my 50Ah lithium battery thanks

Phil

on 16 February 2022
Review Giant Power 26.4kWh 48V 550AH AGM Battery B
The dealings I have had with Aussie Batteries have been excellant, everyone I spoke to went out of their way to organise the delivery on the date requested. The product was delivered in good condition and since installed has been opreating well. I am very happy with all aspects of this transaction.

Chris S

on 30 October 2021
550AH AGM Battery Bank(6V cells)
Bought 4 banks & is doing the job as required.

Garry

on 31 October 2020
Victron DC/DC Charger
Nice piece, staff are awesome, out of the three items I ordered, this one turned up with no dramas…

Edward J

on 28 April 2022
1100AH batteries.
The batteries have been in use now for several months and have performed very well. We are totally solar off grid and they cope with all our needs.

Marcus B

on 19 July 2021
6 v Battery cells.
Working very well

MARC D

on 6 November 2020
Great Value
Couldn't be happier with the quick dispatch, service or product. Would defiantly buy from these guys again.

Anonymous

on 15 July 2020
Great products and service
Great package, great price. Couriers in country areas unfortunately hopeless products left at local produce store, separated and no phone call. Just as well my wife wax buying chook food.

STEVE L

on 19 May 2020
275W solar kit
Good service and speedy delivery. Excellent advice over the phone very helpful and appreciated.

BRIAN S

on 7 February 2020
Victron SmartSolar MPPT 100/50 Bluetooth Solar Con
I love my victron equipment. I've done several solar systems but my current is all victron. It all works flawlessly and after you get it all figured out its easy to keep eye on everything. Only thing thats not perfect is Bluetooth distance but its no way a deal breaker.

Pete

on 13 November 2021
Excellent product and service
I was very happy with the product and very happy with the customer phone service

Rod C

on 11 July 2022
200w Portable Solar panels & 20A MPPT regulator
Have had this setup for 2 months and it is performing well with adequate charging even in cloudy conditions.

PAUL P

on 4 July 2022
Quality batteries
I really like these batteries, performance far better than old AGM set.

Shane T

on 28 November 2020
Super Impressed
Totally confident with purchase, staff are very friendly and knowledgeable, happy to answer questions and give advice when required. You will be hard pressed to find a better bunch of people to deal with if you're living off grid or wish to power up your mobile home

MIKE B

on 19 October 2020
Waterproof cable connector
No problems so far

Jeff K

on 7 May 2020
Excellent product, infinitely configurable
Forget the rest, the Victron App allows you to configure the charger to your specific requirements …. the others don't. Works perfectly, definitely recommend.

Philip G

on 24 February 2022
Fantastic batteries
Great friendly service, fast delivery very professional and a fantastic product would highly recommend this company.

Alex B

on 26 January 2021
Great product
This is another battery purchase from these guys making in total around 10-12 in the last couple of years all of which have absolutely performed as stated. Highly recommend their products and service

MARK T

on 30 November 2021
Thanks Aussie Batteries
This is a very good product for the Price and work very well in my Caravan Next i will buy a Inverter Thank you Aussie

Ray

on 17 September 2021
batterys
working well

Gary M

on 17 November 2021
Efficient & prompt
My experience was positive. I rang with some queries and got good answers quickly. The quote was quick. I picked up from the warehouse and that was also efficient and simple. So far (2 months) in the batteries are going well.

Wal Mayr

on 24 June 2020
Great product very happy with the quality of this
We had to replace our offroad caravan solar panels and these fitted the requirements. With a 5 year warranty as backing they are already out in the outback of Queensland providing us with the power we need. A good product.

George

on 16 November 2021
Great panel very happy with the quality of this pr
strong sturdy and well made. Fast service and postage. Great to deal with. Quality item at an affordable price. Highly recommend seller. AAA+++ Many thanks!

Tim

on 13 November 2021
Excellent Product and Service
Great quality, very easy to set up and we love all the power options including the USB is very useful

Tim

on 24 January 2022
Excellent product
Use the charger for 3 weeks charging my lithium batteries for my electric trolling motor, worked faultlessly in a very harsh climate

Michael Webster

on 4 May 2022
Best service and Products ever!!
Just amazing service and the products are the best!!

Cornelius C

on 19 April 2022
48v Totally off Grid system
We are not new to living off grid. Have been that way for 24 years and this is our third set of batteries (to an evolved system.) The previous batteries bank were lead acid, of a similar capacity, and have lasted 11 years. These batteries are physically smaller but provide similar output. Their main difference being they are AGM. This is allowing us to use more of the battery capacity before calling for a generator charge. We are very happy with their quality and performance to date (its only been about 6 weeks.) Installation (and configuration of the controller inverter) and was straight forward. We had an issue with the delivery in that the carrier suddenly would not deliver to our remote location but only as far as the nearest depot. We were refunded a fair portion of the shipping fee promptly. Support were very helpful in this regard.

Vincent B

on 27 October 2021
Let there be light
Great product, good service fast delivery

GEOFF C

on 31 December 2020
200 w solar kitBattery case,140amp battery
Unreal love it .Great service.

Paul Szabo

on 11 July 2021
Very happy with the quality of this Kit
Perfect kit it runs the fridge and keeps the battery charged, ran it for 7 days camping not any problems - missus loves it and the panel is high quality, happy customers. Thanks

Rob

on 9 April 2021
Very happy with the quality of this Kit and Great
Very happy, great product works well keeps my deep cycle battery fully charged and the solar panel is super solid! Don't need anything else - thanks for quick delivery!

Sam

on 1 April 2021
200W Solar Kit
The kit look very good when I opened it. I was very impressed. I have installed all the electronics in the van. There was no problems with that at all. The mounting brackets are all on the solar panels. I had to change the way the panels mounted so I needed some more corner brackets which you guys gave me free of charge. Thank you very much. I found the kit very easy to install and the instructions were excellent. Anyone wishing to put a solar panel on anything I would highly recommend these kits. They come with everything for the installation and very easy to follow instructions. Great kit. Thank you

KEN H

on 7 May 2021
solar panel kit
received my solar panel kit and fitted it to the van every thing fitted service was great will defiantly be using Aussie Batteries and Solar again

Kevin C

on 15 October 2020
Very happy with this kit
Great product works well with my purchased solar panel

Gerry

on 24 January 2022
Very happy with the quality of this Kit and Great
We used this for weeks camping on Fraser Island and simply remove your battery box from your vehicle if you don't need it taking up space, or if you want it to reach other appliances at your campsite. Everything worked well and we charged with a solar panel which plugged straight into the battery box.

Jason

on 6 August 2022
Very happy with the quality of this Ardent Battery
Good service and received product promptly.

Lee

on 18 September 2021
deep cycle battery
been buyiny these for a while never had a return or failure. good performance

Sam

on 23 September 2021
Excellent Product and Service
I bought this box for my wife to use when she camps out in the horse float with the horses. I love it because it's built-in inverter is the biggest available in battery boxes at 1200W (that I could find). It makes it great to use with our multi adjustable induction cooktop the Newave Flex, has plenty of Anderson outlets as well as ciggy sockets and USB. 1 complaint I have is that it has multiple ciggy sockets and only 1 USB socket, in today's day and age should be the other way round. Another suggestion would be for a cable entry point.

Tim

on 7 August 2022
very happy great customer service
Thanks very much for your help, service has been fantastic!

Andrew T

on 23 September 2021
Very happy with the quality of this Kit and Great
Great service and price. . One month of use and the batteries are performing as to expectations.

Paul

on 27 September 2021
Great kit very happy with the quality of this prod
This Lithium Battery Box kit really is an all-in-one solution and we have found it easy to setup and perfect for use in our 4wd canopy and also in our caravan & it charged perfectly from our 12v solar panels. We have also used it at camping picnics and a range of other camping trips.

Luke

on 6 August 2022
Very happy with the quality of this Combo Kit and
This is a really nice solid battery box. I particularly like how the Anderson sockets don't have exposed cables on the outside of the box, but are recessed/hidden, unlike some cheaper boxes on the market. Easy to set up, just place the battery inside, strap it down with supplied strap, connect the cables with the supplied bolts, and it's ready to go! Inverter at 1200W doesn't miss a beat and we used our coffee grinder charge the drone etc using 240V

Pete

on 7 August 2022
good battery
good batteries arrived quick no problems at all

Luke

on 23 September 2021
Great product very happy with the quality of this
I bought the Giant 140ah lifepo4 and the Ardent heavy duty battery box with the inverter. Brilliant bit of kit that is not just for camping but backup power at home. Solidly built, great quality and well priced. Best value for money combo battery box and battery on the Australian market. There is nothing that comes close.

Craig

on 7 August 2022
Very happy with the quality of this Combo Kit
Great all-in-one portable power solution. We just put our Giant 170ah battery in connected and used for weeks of camping plugged our solar in to charge the battery and it worked great.. I then also took it fishing and love how its portable so you can take the setup anywhere like a family bbq as well.

Mick

on 6 August 2022
I fitted my solar panels and wired the kit up on the weekend. It took me two afternoons to install the solar panels and wire it all up. All good so far. I feel as if I've entered the 21st century being able to flick a switch and have lights out on the farm. This has been one of the most rewarding steps in our build progress. I finished wiring etc at about 7 pm on Saturday. It was cloudy and the sun was about to set so I didn't expect to see any input from the solar panels, but they immediately began to charge the batteries with about 100 watts.

I must say, thank you very much for the service you're offering. After all the rediculous qoutes I received, I thought the only option I had was to get a system together on my own through trial and error. Experimenting with different products and set ups would have cost me a lot in time and money. Your ready-to-go off-grid kits were a perfect fit for me. If I did it again I'd probably have gone directly to one of your bigger kits, instead of starting small and upgrading, but I was cautious at first, thinking your offer seemed too good to be true.

Kevin Lester, NSW
I'm just sending this email to say thanks for a great product and service you guys provide. I bought 3x130W panels, 2x150Ah batteries and the rest of the kit from you and integrated into my camper trailer I was building. So far I spent the last 15 days driving from Melbourne to Darwin and still haven't had to use mains power to charge the batteries, all solar the whole time. Thats running a 60L freezer, 40L fridge, all LED strip lights, stereo, inverter, waterpump and 12V outlets. I've made the trailer so that I could have the panels charging while driving which definitely helped.

Anyway, thanks again for a great product and prompted delivery, I've already referred some mates to your company who are looking to get some solar themselves.

All the best,
Rob

Rob, Victoria
It is rare to receive such personal, caring , and efficient service these days, congratulations, you have restored my faith in dealing with online purchasing, I wish there were more people out there with such good business ethics and people skills. I have been ill for several months with depression, however after speaking with you my spirits were greatly uplifted. Thankyou Suzanne.

I have spoken to a number of people about the service that I am receiving from yourself and your Company and I will recommend to anyone to make purchases from you. My words are from the heart as I don't believe in patronizing people, however, I do believe in giving merit and praise when it is earned and deserved.. Kind Regards Lester.

Lester, South Australia
Dear Mr. Gathercole,

We are writing to you regarding recent dealings we have had with your company.

We called to discuss having Solar fitted to our van and were greeted by a very friendly receptionist who called a staff member to assist us, Lachlan gave us a great insight into what we would need as we were lacking knowledge about solar, we were given quotations to go and study before making our decision.

After deciding what was needed, we returned and finished up having it fitted last Thursday, the standard of workmanship was excellent, and the care taken second to none.

We wish to congratulate you and would you please pass on our appreciation to your staff who dealt with us, it is so wonderful to receive good genuine honest service when dealing with something you have no idea about.

In our traveling we will have no hesitation in recommending you to those who ask "where we had it done",

Once again thank you

Mel & Chris Jones, Queensland
I have no hesitation in recommending Aussie Batteries. Although I purchased only one solar panel, I was treated as their most important customer. It was a pleasure to do business with a friendly, efficient company and the delivery was exceptionally fast.

Andrew, South Australia
I recently purchased a deep cycle battery and some solar panels from Aussie Batteries. I placed the order online and the goods were dispatched the following day.

However the courier only delivered the battery. I then phoned Aussie Batteries and explained to Suzanne that the solar panels weren't delivered with the battery.

Suzanne could not have been more understanding or accommodating. She immediately phoned the courier company then returned my call within 15 min, explaining that the courier company expected the solar panels to arrive the following day as they were most probably packed onto separate trucks.

The next day failed to see the arrival of the solar panels so I phoned Suzanne once more. Again Suzanne acted promptly and professionally, she re-contacted the courier company and was advised by them that the parcel was lost. Suzanne then phoned me, explained what had happened and assured me that she would replace the solar panels, without any additional costs being incurred, and apologised for any inconvenience.

Aussie Batteries were in no way responsible for the loss of the solar panels, yet they happily replaced them, acted in good faith and were totally professional and courteous in their dealings with me. Even though I have never dealt with Aussie Batteries before I was made to feel a valued customer throughout the whole proceedings.

I look forward to doing business with Aussie Batteries again, not only do they behave in a business like and professional manner, but provide friendly, courteous and personal service.

Peter Clifton, Cundletown NSW
When I was looking for a solar solution for my camper trailer and boat, I was looking for a portable solar product that would survive the tough Pilbara conditions but also give me value for money with the right advice.

When dealing with the team from Aussie Batteries & Solar, I received the right advice, great personalised service and a great solar set up that keeps the fridge running and the cans cold day after day!

Thank you Aussie Batteries & Solar for a great product and excellent personal service!

It's nice to deal with an Aussie business that still values it's customers.

Chris Gillingham, Port Hedland WA
I would like to congratulate you on your excellent customer service.

I found your website easy to use, delivery of the 80W solar battery charger was made to my home address in NSW was within two working days.

Online payment option was easy, and your phone staff were excellent.

I have made two purchases recently and will recommend your service to others.

Mr. K. Wade, Lake Cathie NSW
I have just purchased a 240W Tri-panel from you. clearly a quality product. I just wanted to say thank for the excellent service. Whilst the panel was slightly damaged in transit by the courier company (who I understand you have now sacked) you responded quickly to my email and had no hesitation in sending the replacement corner protectors on the panels. Peter called me when the office said he would and was very friendly answering my technical questions clearly and succinctly. Well done Peter! How refreshing to have an Aussie company that understands and cares for the customer and serves them well, which clearly came out in my conversation with Peter.

I will tell as many of my 4 x 4 mates as I can that they should call your company first and to stop wasting time hunting all over the internet for the best deal on batteries and solar, Quality and service is King! A wise old man told me once that people remember the quality long after they have forgotten the price. Your service is great and in this case the price was very fair as well. I will be back!

Keith Blakely