Victron BMV-712 Smart Bluetooth Battery Monitor – Black (BAM030712200R)
SKU:

Victron-BAM030712200R
Buy now, pay later
Interest free instalments
Four equal payments of $99.75/fortnight, with instant approval online. Learn more
Enjoy your gear now, and pay for it later! We're happy to provide the opportunity for our customers to shop with us using popular pay later options.


How it works
Buy what you want today, pay for it over four equal fortnightly instalments. Use your debit or credit card, get approved instantly.

Ordering online
Add the products you want to your cart, and select Afterpay as a payment option during checkout.
After your order is processed, you can log in to your Afterpay account to view your order, make payments and manage account details.
Note: Afterpay is only available on orders under $2000 value.
For terms and conditions, please refer to the Afterpay website
ALSO AVAILABLE

How it works
Buy now and pay later, with 6 months interest free. You pay over time weekly, fortnightly or monthly, whichever suits you best. Applications are quick, and get a decision in real-time.

Ordering online
Add the products you want to your cart, and select Zip as a payment option during checkout.

Ordering over the phone
Call us on 1800 853 315 and place your order with our friendly staff. Ask to pay using Zip.
Note: ZipPay is only available on orders under $1000 value, while ZipMoney is available on orders up to $10,000 value.
For terms and conditions, please refer to the Zip website
Overview
---
Victron BMV-712 Smart Bluetooth Battery Monitor – Black (BAM030712200R)
The BMV-712 is a high precision battery monitor which is essential for calculating the Amp-Hours consumed and the state of charge of a battery by integrating the current flowing in or out of it.
Features
– Battery voltage, current, power, ampere-hours consumed and state of charge
– Remaining time at the current rate of discharge
– Programmable visual and audible alarm
– Programmable relay, to turn off non critical loads or to run a generator when needed
– 500 Amp quick connect shunt and connection kit
– Shunt selection capability up to 10,000 Amps
– VE.Direct communication port
– Stores a wide range of historical events, which can be used to evaluate usage patterns and battery health
– Wide input voltage range: 6.5 – 70V
– High current measurement resolution: 10 mA (0.01A)
– Low current consumption: 0.7Ah per month (1mA) @12V and 0.6Ah per month (0.8mA) @ 24V
For more information, please refer to the Product Datasheet.
Battery 'Fuel Gauge', Time-To-Go Indicator & Much More
The remaining battery capacity depends on the ampere-hours consumed, discharge current, temperature and the age of the battery. Complex software algorithms are needed to take all these variables into account. Next to the basic display options, such as voltage, current and ampere-hours consumed, the BMV-712 also displays state of charge, time to go, and power consumption in Watts. The BMV-712 features an additional input which can be programmed to measure the voltage (of a second battery), battery temperature or midpoint voltage (read below).
Bluetooth Smart
This battery monitor also has the added benefit of in-built Bluetooth without the need for an add-on dongle. With the Bluetooth app you can monitor your batteries on Apple or Android smartphones, tablets, macbooks and other devices. It allows you to customize settings, monitor all important data on a single screen, view historical data, and update the software on your Victron products when new features become available.
Easy To Install
All electrical connections are to the quick connect PCB on the current shunt. The shunt connects to the monitor with the included 10m long standard RJ12 telephone cable. A 2m battery cable with integrated fuse is also included; no other components are needed. Also included are a separate front bezel for a square or round display appearance, a securing ring for the rear mounting and screws for the front mounting.
Easy To Program
A quick install menu and a detailed setup menu with scrolling texts assist the user when going through the various settings. Alternatively, install the Bluetooth app for full accessibility.
Midpoint Voltage Monitoring
This feature, which is often used in industry to monitor large and expensive battery banks, is now for the first time made available at a low cost, to monitor any battery bank (string of series connected cells). The midpoint voltage is the voltage halfway along the string. Ideally, the midpoint voltage would be exactly half of the total voltage. In practice, however, deviations will be seen, that depend on many factors such as a different state of charge for new batteries or cells, different temperatures, internal leakage currents, capacities and much more. Large or increasing deviation of the midpoint voltage points to improper battery care or a failed battery or cell. Corrective action following a midpoint voltage alarm can prevent severe damage to an expensive battery.
PERFECT FOR USE IN A RANGE OF APPLICATIONS:





BUILT IN BLUETOOTH FOR EASE OF PROGRAMMING & MONITORING
Use a smartphone or other Bluetooth device
Customize Settings
Monitor all important data on single screen
View Historical Data
Victron BMV 712 battery monitor for two batteries with Bluetooth including shunt. Battery 1 volts, amps, amp-hours and Battery 2 volts.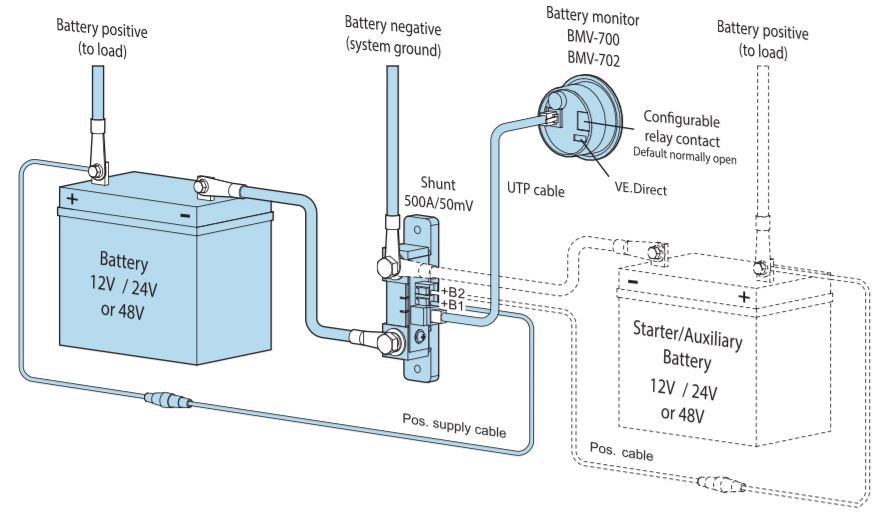 Victron Battery Monitor BMV-712 BLACK Smart Retail BAM030712200R
The BMV-712 is the latest high precision battery monitor from Victron. The BMV-712 monitors voltage and current of a single battery bank and calculates power, state-of-charge and time-to-go. It also features an additional voltage input that can be used to measure an auxiliary or starter battery voltage, midpoint voltage or temperature with the optional temperature sensor. Data can be transferred to smartphones or computers with the inbuilt bluetooth module and external alarms can be triggered with the relay contact.
Installation is simply a case of connecting the supplied shunt in the negative battery cable, mounting the monitor in a 52mm diameter hole and connecting the wires. An optional wall enclosure is available if surface mounting is preferred.
Bi-stable alarm relay- Prevents increased current draw in case of an alarm.
BMV - SMART READY DEVICE

With Bluetooth built-in, the BMV Smart is ready for the Internet of Things (IoT) era. With Bluetooth being implemented in most other Victron Energy products, wireless communication between products will simplify system installation and enhance performance. (Free programming guide attached in the download section)

ELECTRONIC PROTECTION

All electrical connections are to the quick connect PCB on the current shunt. The shunt connects to the monitor with a standard RJ12 telephone cable. Included: RJ 12 cable (10 m) and battery cable with fuse (2 m);no other components needed. Also included are a separate front bezel for a square or round display appearance, a securing ring for rear mounting and screws for front mounting.

COMPLETE VOLTAGE FUNCTIONALITY

Midpoint voltage monitoring- One bad cell or one bad battery can destroy a large, expensive battery bank. When batteries are connected in series, a timely warning can be generated by measuring the midpoint voltage. Please see the BMV manual, section 5.2, for more information. We recommend our Battery Balancer (BMS012201000) to maximize service life of series-connected lead-acid batteries.

EASY TO USE

Very low current draw from the battery- Current consumption: 0,7Ah per month (1mA) @12V and 0,6Ah per month (0,8mA) @ 24V. Especially Li-ion batteries have virtually no capacity left when discharged until low voltage shutdown. After shutdown due to low cell voltage, the capacity reserve of a Li-ion battery is approximately 1Ah per 100Ah battery capacity. The battery will be damaged if the remaining capacity reserve is drawn from the battery. A residual current of 10mA for example may damage a 200Ah battery if the system is left in discharged state during more than 8 days.
WATCH OUR VIDEOS TO LEARN MORE >
UPGRADE: COMPLETE BATTERY BOX KIT
Get the Bestselling 140AH AGM Heavy Duty Battery Box Combo for a Complete Portable 12V Setup.
View Now
Grab a Multi-Buy Discount
Get 2 x Giant Power 140AH Deep Cycle Batteries and FREE Cables. Buy a Second 140AH Battery & Get FREE CABLES RRP $30
View Now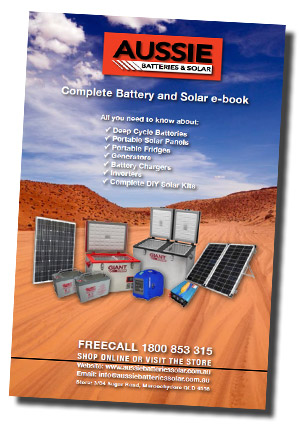 If you'd like to learn more about Deep Cycle Batteries and Solar, take a look at our free Complete Battery and Solar eBook. We've covered a lot of common questions and provided a bunch of good general knowledge information to help you make informed choices when purchasing.
ALL YOU NEED TO KNOW ABOUT
Deep Cycle Batteries
Portable Solar Panels
Portable Fridges
Generators
Battery Chargers
Inverters
Reviews
---
No product reviews yet - be the first!
Specifications
---