Choosing a Portable Generator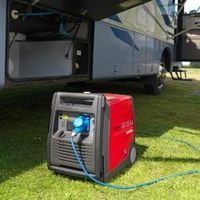 While many of us are switching to clean energy options like portable solar panels when camping, it's useful to have a generator handy in case of adverse weather conditions or emergency power needs. To help you find the best generator for your camping or boating trip, we've listed some important features to consider, as well as top tips from the Aussie Batteries & Solar experts.
Backup Power
Portable generators are great as a backup power source when using solar panels during periods of bad weather. Even if it's been too cloudy to charge your panels, as long as you remembered to refuel, you'll still be able to power your camping essentials.
Before selecting your generator, check its capacity for power generation matches what you'll be using it for. You can do this by adding up the watts rating needed to start the electrical appliances you plan to take on your trip. Remember that for sensitive equipment like phone chargers and laptops, you'll need an inverter to provide a stable flow of electricity.
While the HYUNDAI range of power generators are extremely quiet, it's still important to check your camping ground's rules on generators. Some sites prohibit the use of generators after a certain time in the evening while others ban them altogether.
Portable Power
Nowadays, most portable generators are lightweight and easily fit into your car or boat. The HYUNDAI models feature a compact body design and handle, and have been specifically tested for use in the Australian climate. Their keyless remote start also allows you to operate your generator without leaving the comfort of your camping chair.
Choosing a power generator with an inbuilt inverter system also limits the space and weight your equipment will be taking up, as well as letting you power 240 volt devices.
Fuel Efficiency
Even if you aren't planning to use your generator as the main source of power on your camping trip, fuel efficiency is still an important consideration. Check your generator's specifications and look out for features such as the inbuilt 'Econ-switch' on HYUNDAI's range of digital inverter generators.
May 6, 2014 | By Aussie Batteries | Comments