Off Grid Living in Australia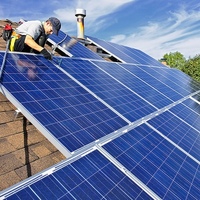 Thanks to spiralling energy costs and the draws of a self sufficient lifestyle, many Australians are choosing to power their homes through off grid solar energy generation. For others, living in a remote location means connecting to the grid simply isn't an option and generating power using the sun and wind becomes a necessity.
While nearly a million Australian households already use solar panels to offset their electricity bills, completely disconnecting from your power company and making an entirely self sufficient home is an undertaking that requires careful consideration. However after the initial set up costs, stand alone solar systems generate free, silent and clean power from the sun and require very little maintenance.
Making the move to living off grid can seem daunting but with the right system and a correct install, you can save money and cut your carbon footprint. Our guide to living off grid explores how solar panels generate energy and what to look for when choosing and installing a stand alone solar system. For more information on off grid living or a no-obligation quote for your home, give the Aussie Batteries & Solar off grid team a call on 1800 853 315.
How does off grid work?
In an off grid solar power system, panels are installed on the roof of your building to achieve optimal sunlight exposure. When sunlight hits the panel's solar cells, electricity is generated and used to supply your household load and top up the off grid battery bank which powers your night time power needs. A suitable stand alone solar system is designed with enough solar power to get you through winter weather and a battery bank to cover you for as much as three straight days of bad weather. An off grid inverter is used to run 240v household appliances such as laptops and televisions and also has the capability to charge your batteries from a generator or mains supply if needed.
Choosing a stand alone solar system
When putting together your stand alone solar system, it's crucial you size it correctly. The best way to do this is by contacting a Clean Energy Council accredited stand alone power system designer. They will be able to give an individually designed estimate for the cost of your solar system based on your power requirements and location. In some cases, a site inspection may also be required to ensure the system quote is as accurate as possible.
However you choose to size and source your stand alone solar system, the quality of the components used is an important consideration. Solar panels from Aussie Batteries & Solar come with a 25 year warranty on power generation and the entire system complies with all relevant Australian Standards. Alongside the panels, wiring and regulator, your stand alone solar system will need a high capacity battery bank for energy storage. The voltage and amps of your battery bank will depend on your daily power consumption but deep cycle AGM and tubular gel batteries are a popular choice due to their long chemistry life.
Installation
As you'll be relying on your off grid solar system for all of your energy needs, it's important to choose an experienced Clean Energy Council accredited technician to carry out the install. Before work begins, technicians may ask you to pay a deposit and sign a contract of installation or carry out an inspection of the property. When the installation is complete, make sure your technician thoroughly tests all components and explains how to use your new power system.
Life off the grid
Congratulations, you are now officially off the grid! But what changes will you need to make now you are no longer getting your energy from the power company? While it is possible to power your home entirely from solar, you will still need to limit your electricity use slightly. You may not be able to operate all your electronic devices at the same time and need to time manage when you use larger appliances, such as washing machines. However, these changes are minimal and will help you on your way to a more environmentally friendly lifestyle.
To find out more about off grid and stand alone solar, give one of the Aussie Batteries & Solar experts a call on 1800 853 315.
June 17, 2014 | By Aussie Batteries | Comments