Solar & Lithium Deep Cycle Batteries
Lithium Deep Cycle Batteries: Are Lithium Batteries Really The Best Deep Cycle Battery for You?
Looking for Lithium Batteries for Camping, Caravan, Camper Vans, Camper Trailers, Motorhomes, Marine, 4WDs, RV's & Off Grid Solar. We stock a large range of 6v, 12v, AGM & Deep Cell Batteries. Shop Australia's best range of Deep Cycle AGM Batteries, 12V Deep Cycle Batteries, Solar Batteries & Deep Cycle Battery Accessories for all your 12 Volt Power needs! With Australia Wide Deep Cycle Battery Shipping - Read on to learn more about Lithium Batteries Australia.
Lithium Deep Cycle Batteries what do you need to know ? "Lithium Ion" batteries refers to a type or "family of batteries". When talking Lithium Batteries there are many different "Lithium Ion" batteries within this battery type and they all use different internal materials for their cathode and anode construction. So Lithium Batteries all exhibit very different characteristics. Lithium Deep Cycle Batteries are the newest battery technology being offered up for power; apparently -"superior power" when Camping, 4WDing, Caravanning or in Solar and Marine applications. Lithium Deep Cycle Batteries are said to be able to offer the possibility of six times the battery life at less than a third of the weight of lead-acid batteries. However, the technology is still new and when it comes to long term testing in the Australian setting the results on any superiority are unclear. Also there are still some clear dangers being reported about lithium batteries and fires. Yes, Lithium Batteries are lightweight. However, we are yet to see full testing on how Lithium Deep Cycle Batteries can withstand extreme levels of vibrations and the shocks that come with camping in Australia.
Stability is a key question when it comes to deciding if Lithium Deep Cycle Batteries are best for you. Often lithium battery failure can include punctures, overheating, overcharging, short-circuiting, internal cell failures and manufacturing deficiencies, making them significantly less safe than AGM Batteries.

​
​Aussie Batteries experts believe that presently Lithium Deep Cycle Batteries are just an expensive alternative technology. Especially when compared to the trusted and tested longevity and performance of AGM (absorbed glass mat) Batteries - that are tested in Australian conditions. So yes when it comes to AGM VS LITHIUM customers will get more amp-hour (AH) ratings at a better price using AGM Deep Cycle Batteries.
When Aussie Batteries customers ask what the difference between Lithium Deep Cycle Batteries vs AGM Deep Cycle Batteries is?
We most often answer "at present lithium batteries for their cost won't give returns like an AGM Deep Cycle Battery in terms of the price vs power output." So, like all new technologies, we would rather wait until the customer is getting what they pay for in terms of power that is cost-effective and proven - if that makes sense?
It is the absolute worst experience to run out of power while you are away camping! That's why Aussie Batteries are dedicated to selling affordable, all‑in‑one Deep Cycle Battery Solutions that allow our customers to get the best power solutions for their needs, even if you are a first-time user (we are here to help)!
Aussie Batteries stock a large range of Deep Cycle Batteries for all your power applications.​ We specialise in high quality Tier One Deep Cycle Batteries and Absorbed Glass Mat (AGM) batteries that are constructed using the best quality robust internal lead parts and latest technological design features to deliver longer lasting, dependable power solutions. Need Expert Battery Advice? WHY NOT FREECALL our Aussie Deep Cycle Battery team on 1800 853 315 they will provide expert deep cycle power advice and can talk you through your deep cycle battery setup and provide an Obligation Free Quote - YOU CAN ALSO SHOP OUR DEEP CYCLE BATTERIES ONLINE BELOW !

Nominal Battery Voltage
12V
Blog Posts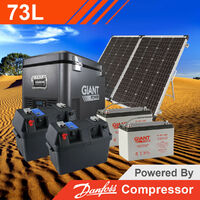 HOW TO GET THE BEST SOLAR POWER SETUPS FOR REMOTE CAMPING - The ultimate guide on how to get the best Solar for Camping and Solar Panel Camping Setups. Solar Power for Camping Explained:... read more
View more posts
Free eBook
Learn everything you need to know about
Deep cycle batteries
Solar panels
Portable fridges
Inverters
and more!
Download now