Giant Power
Australia's Most Trusted Brand of choice for 12v Batteries
Giant Power Batteries are designed for storage of energy with a minimum use of space, while retaining performance and safety. They give users lightweight and compact lithium battery power for caravans and camping. The Giant Power range offers outstanding performance being 50% lighter and 30% smaller than a lead battery of comparable size. With Giant Power there's no doubt that you get saved weight and superior performance.
Giant Power Batteries are uniquely tailored to suit Australian conditions, ensuring peak performance at higher ambient temperatures.
Proudly Australian Made. Built Tough for Australian Conditions
nominal solar voltage
12v
Blog Posts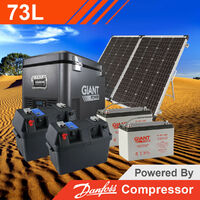 HOW TO GET THE BEST SOLAR POWER SETUPS FOR REMOTE CAMPING - The ultimate guide on how to get the best Solar for Camping and Solar Panel Camping Setups. Solar Power for Camping Explained:... read more
View more posts
Free eBook
Learn everything you need to know about
Deep cycle batteries
Solar panels
Portable fridges
Inverters
and more!
Download now