Solar Battery Storage - Deep Cycle Solar Battery Banks
Battery Banks - Deep Cycle Solar Battery Banks - Solar Battery Storage
Aussie Batteries and Solar are experts at designing deep cycle battery banks for solar. Let us help you get the best off grid solar battery bank setup and options. If you use a battery bank for your off-grid renewable energy power system, House, Shed, Recreational Vehicles, Boat or any number of other solar applications we can help you navigate the complicated and costly components in your installation by helping you get your battery and solar storage right, the first time.

If you need high capacity Solar Battery Storage, you will find that a solar battery bank is the logical answer. We provide solar power battery storage solutions for all scenarios.
If you need a quick prefabricated battery bank ready to go, or customised solar battery storage, we can create the best options to suit your needs perfectly. A battery bank may be composed of a single battery or multiple, interconnected deep cycle batteries that work together as one large battery at a required voltage and amp-hour capacity. Aussie batteries and solar stock a large range of 12V, 24V, or 48V or 120 Volt battery banks for use with most solar and off grid applications. Browse our battery bank packages or free call one of our expert battery and solar technicians.
For no-obligation advice on Deep Cycle Solar Battery Banks or Off Grid Battery Storage email or call our friendly team on 1800 853 315 . Our range of solar storage battery bank options are designed using a wide variety of batteries that are best for solar, depending on what voltage, amps and cyclic life you require. All of our solar battery banks are designed by Clean Energy Council licensed system designers. Our off grid solar power team can help design you a solar battery bank system.
Solar Battery Backup Setups
Solar Battery Banks Solar Systems
Battery Banks for Marine Applications
Battery bank sizing and configuration is often one of the more complex and important calculations in your solar and battery system design so speak to our experts for advice on Deep Cycle Solar Battery Banks or Off Grid Battery Storage email or call our friendly team on 1800 853 315
Read more
Watch our video on Battery Banks
Select battery bank voltage
120V
Select battery bank type
AGM
5-7 year average lifespan
1650 cycles at 30% DOD
2200 cycles for 6V cells
5 year warranty (pro-rata)
AGM Batteries use glass mat technology within the battery to absorb the acid, as opposed to standard flooded batteries where the acid is free flowing. This provides several key advantages over standard batteries, such as allowing the batteries to be 100% sealed, non-gassing and maintenance free.
Carbon Lead
15-20 year average lifespan
7000 cycles at 30% DOD
2 year warranty (pro-rata)
Carbon Lead Batteries are cost-effective and high-performance batteries, from the well known battery manufacturer Narada. Carbon lead are an attractive battery option for long term off grid solutions, providing a new level of performance for energy storage.
Flooded
2-5 year average lifespan
800 cycles at 30% DOD
2 year warranty (pro-rata)
Flooded Deep Cycle Batteries feature lead calcium expanded grids (Lead Calcium Technology) for improved resistance to corrosion, overcharging, gassing, water usage, self discharge and thermal runaway, all of which limit battery life in conventional lead acid batteries.
Blog Posts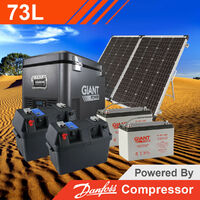 HOW TO GET THE BEST SOLAR POWER SETUPS FOR REMOTE CAMPING - The ultimate guide on how to get the best Solar for Camping and Solar Panel Camping Setups. Solar Power for Camping Explained:... read more
View more posts
Free eBook
Learn everything you need to know about
Deep cycle batteries
Solar panels
Portable fridges
Inverters
and more!
Download now