Giant Power 26.4kWh 48V 550AH AGM Battery Bank (6V cells)
SKU:

DCP-48V8-550AH-6V
Own it now, pay later
6 months interest free
Flexible repayments of $162.15/week, $324.31/fortnight, or $702.67/month. Learn more
Enjoy your gear now, and pay for it later! We're happy to provide the opportunity for our customers to shop with us using popular pay later options.


How it works
Buy now and pay later, with 6 months interest free. You pay over time weekly, fortnightly or monthly, whichever suits you best. Applications are quick, and get a decision in real-time.

Ordering online
Add the products you want to your cart, and select Zip as a payment option during checkout.

Ordering over the phone
Call us on 1800 853 315 and place your order with our friendly staff. Ask to pay using Zip.
Note: ZipPay is only available on orders under $1000 value, while ZipMoney is available on orders up to $10,000 value.
For terms and conditions, please refer to the Zip website
ALSO AVAILABLE

How it works
Buy what you want today, pay for it over four equal fortnightly instalments. Use your debit or credit card, get approved instantly.

Ordering online
Add the products you want to your cart, and select Afterpay as a payment option during checkout.
After your order is processed, you can log in to your Afterpay account to view your order, make payments and manage account details.
Note: Afterpay is only available on orders under $2000 value.
For terms and conditions, please refer to the Afterpay website
Overview
---
When you need batteries that can handle a bit of grunt, you need our heavy duty AGM battery bank. Designed to handle a deeper discharge than our regular AGMs, this battery bank comprises of 6V Deep Cycle AGMs connected together. This battery bank is perfect for situations when you need to use large amounts of battery capacity before recharging.
Deep cycle AGM Batteries are perfect for applications that require either frequent cycling or renewable power storage. Common uses include running appliances when camping away from power, using with a solar panel for charging, running in a dual battery system in a vehicle, or providing safe power on a boat.
Features
Sealed construction (VRLA)
Maintenance free operation
Non-Spillable, Non-Gassing
Designed Service Life 12 years
Ideal for frequent cyclic discharge
Exceptional deep discharge recovery performance
Low self-discharge characteristic
Bank Inclusions
8x 550AH 6V AGM Deep Cycle Battery
7x 2 B&S Series Cable 250mm length
Please note: Wiring supplied with this bank is designed for a standard battery bank configuration. Other wiring configurations available upon request.
A high turnover of battery stock ensures our customers are always getting the freshest battery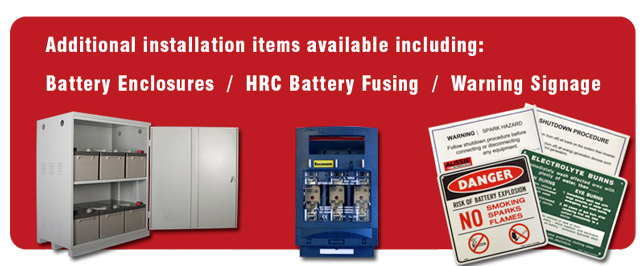 Reviews
---
Giant Power 26.4kWh 48V 550AH AGM Battery Bank (6V cells) has a rating of 4.86/5 based on 7 reviews.
Great quality products & very helpful staff!
I'm very pleased with the performance of my battery bank! The staff at Aussie batteries are very helpful and accommodating! I'll certainly continue to remain a customer of Aussie Batteries in the future and recommend others do the same!

Russell Arthurson

on 8 July 2020
Great product
I bought the 48v 550AH AGM 6v x8 batteries .They are working great ,Very happy with my purchase

Bruce C

on 2 July 2020
Giant Power 26.4kWh 48V 550AH AGM Battery Bank (6V
I got about 7-8 years from old battery bank; Of course the failures continued coming into winter 2020. This necisitated a new set / bank. This time I decided to go for 8 x 6 volt 550Ah (not 12 volt) = 48 volt to 240 volt setup. Obviously, the new batteries are working well; we seem to use 10-13% overnight and the voltage does not drop below 48.6 volts during the short sun days. (Haven't had too many overcast days to comments yet.) SO YES at this point in time Giant Power 6V 550 Ah batteries get my vote

Stephen F

on 2 July 2020
Great price at the moment. Great battery bank for
These batteries are in a different league to the older 450ah 6v. The 550ah feel twice as heavy and you can pump more charge into them safely. Our old ones were 450ah 6v 100amp max and these one are 550 6v 120amp max. Doesn't sound like a lot but makes a massive difference having that 20amp buffer. Quick install as a straight swap out. Came with a nice new set of leads which was handy. We noticed the difference straight away. They came fully charged as well was is a bonus on that rainy day and run the home with lots of power to spare after dark. Took just over a week to WA for delivery. Very heavy so make sure you have a good ute for pickup.

Lee C

on 25 June 2020
48 volt battery bank.
I recently purchased a 26.4kwh 550ah battery bank from Aussie batteries. They were a pre- order special, so there was a bit of a wait before delivery but it was well worth it. The price was great and everyone I dealt with were very helpful. The batteries arrived when they said they would and so far have been performing well. A quality product from a company that delivers.

SHANE P

on 18 June 2020
Write a product review
Specifications
---
Giant Power 6V 550AH AGM Deep Cycle Battery
Cells Per Unit
3
Voltage Per Unit
6
Nominal Capacity
550Ah@C100 to 1.75V per cell @25ºC
Dimension
Length: 295 ±2mm
Width: 178 ±2mm
Total Height (with Terminal): 425 ±2mm
Approx Weight
Approx 57.5 Kg (Tolerance ± 1.5%)
Max Discharge Current
4000A (5 Sec)
Internal Resistance
Approx 1.1mΩ
Operating Temp.Range
Discharge : -20 ~ 60oC
Charge : 0 ~ 50oC
Storage : -20 ~ 60oC
Nominal Operating Temp. Range
25°C ± 5°C
Float Charging Voltage
6.8 VDC/unit Average at 25oC
Max Charging Current Limit
120 A
Equalization and Cycle Service
7.3 (7.4 for equalization) VDC/unit Average at 25oC
Self Discharge
Giant Power batteries can be stored for more than 6 months at 25ºC. Self-discharge ratio less than 3% per month at 25ºC. Please charge batteries before using.
Terminal
Terminal F14/F22
Container Material
A.B.S UL94-HB, UL94-V0 Optional
Warranty
---

For more information, please read our full warranty policy