130AH 12V AGM Deep Cycle Battery
SKU:

DC-12V-130AH
Overview
---
Preorder Today! Due to massive popular demand we are waiting on new stock to arrive- You can preorder fresh stock at a great price! New stock ships 18/08/17 - Be sure to secure your 130AH Deep Cycle Battery and make a massive saving with our LIMITED PRE-ORDER BATTERY PRICE
130AH Deep Cycle Battery - Giant Power 130AH Deep Cycle Battery with Australia Wide Delivery
This 130AH 12V AGM Deep Cycle Battery is a high quality Deep Cycle AGM Battery that is suitable for Saltwater/Marine applications, Caravans, Motor Homes and Camper Trailers. These are ideal ancillary batteries to fit into your caravan, 4x4 vehicle or camper-van. Our range of AGM Batteries have outstanding deep discharge recovery with high oxygen-recombination efficiency that ensures no loss of electrolytes, giving the batteries exceptional deep discharge recovery performance just in case you accidentally discharge your batteries a little too much! This also guarantees you will never need to replace electrolytes during the course of the batteries life.

This 130AH 12V AGM Deep Cycle Battery is perfect for applications that require either frequent cycling or renewable power storage. Common uses include;
Running appliances when camping away from power.
Perfect for powering your 12V fridges, high powered inverters, lights or any other 12V appliances.
Excellent for use with a solar panel for charging.
Perfect for running in a dual battery system in a vehicle.
Superb for use in 4x4 and Marine Conditions.
Designed Service Life 12 years
Ideal for frequent cyclic discharge
Exceptional deep discharge recovery performance
Low self-discharge characteristic
130AH 12V AGM Deep Cycle Battery Features:

Sealed Construction (VRLA) means you can store our batteries at any angle. (All our AGM Batteries are completely sealed this means they can be stored at any angle)

Maintenance Free operation this means no more refilling cells with water simply purchase and reap the benefits of a high quality AGM Battery.

High Vibration Resistance means our batteries can withstand the toughest 4x4 conditions.

Non-Spillable and Non-Gassing with an in-built safety valve to keep you and your family safe by ensuring your battery is fully sealed and preventing any possible battery explosions.

Durable AGM Plates: High purity, thick lead-calcium alloy plates ensure a long design lifespan of 12 years (for infrequent discharge @20°C).

Corrosion Resistant: Lead-calcium grids maintain a low self-discharge rate of approximately 3% of capacity per month.

Quality Copper-Silver Terminals means small contact resistance and high corrosion resistance.
AGM Batteries use glass mat technology within the battery to absorb the acid, as opposed to standard flooded batteries where the acid is free flowing. This provides several key advantages over standard batteries, they are also 100% sealed, non-gassing and maintenance free (this means your batteries will never leak acid, even if damaged), and they will provide a significantly longer service and cyclic life (up to 2-3x longer than standard batteries).
Why not add a high quality battery box that will last for decades without aging or deforming and will keep your battery looking and functioning like brand new.
A high turnover of battery stock ensures our customers are always getting the freshest battery

Not the exact Battery you're looking for ? BROWSE OUR FULL RANGE OF DEEP CYCLE BATTERIES With AUSTRALIA WIDE SHIPPING AVAILABLE - Need Expert Advice - Freecall Now - 1800 853 315
Video Overview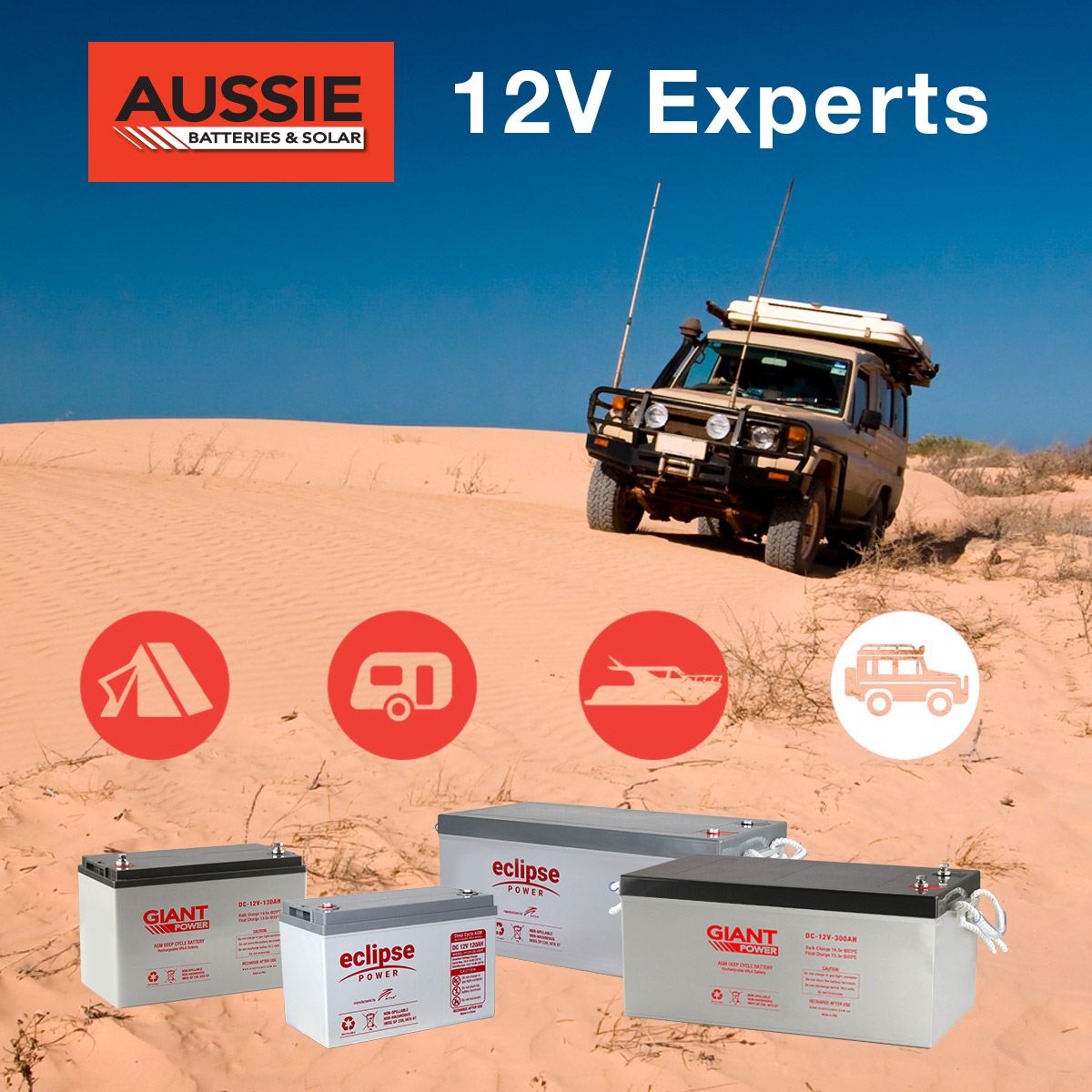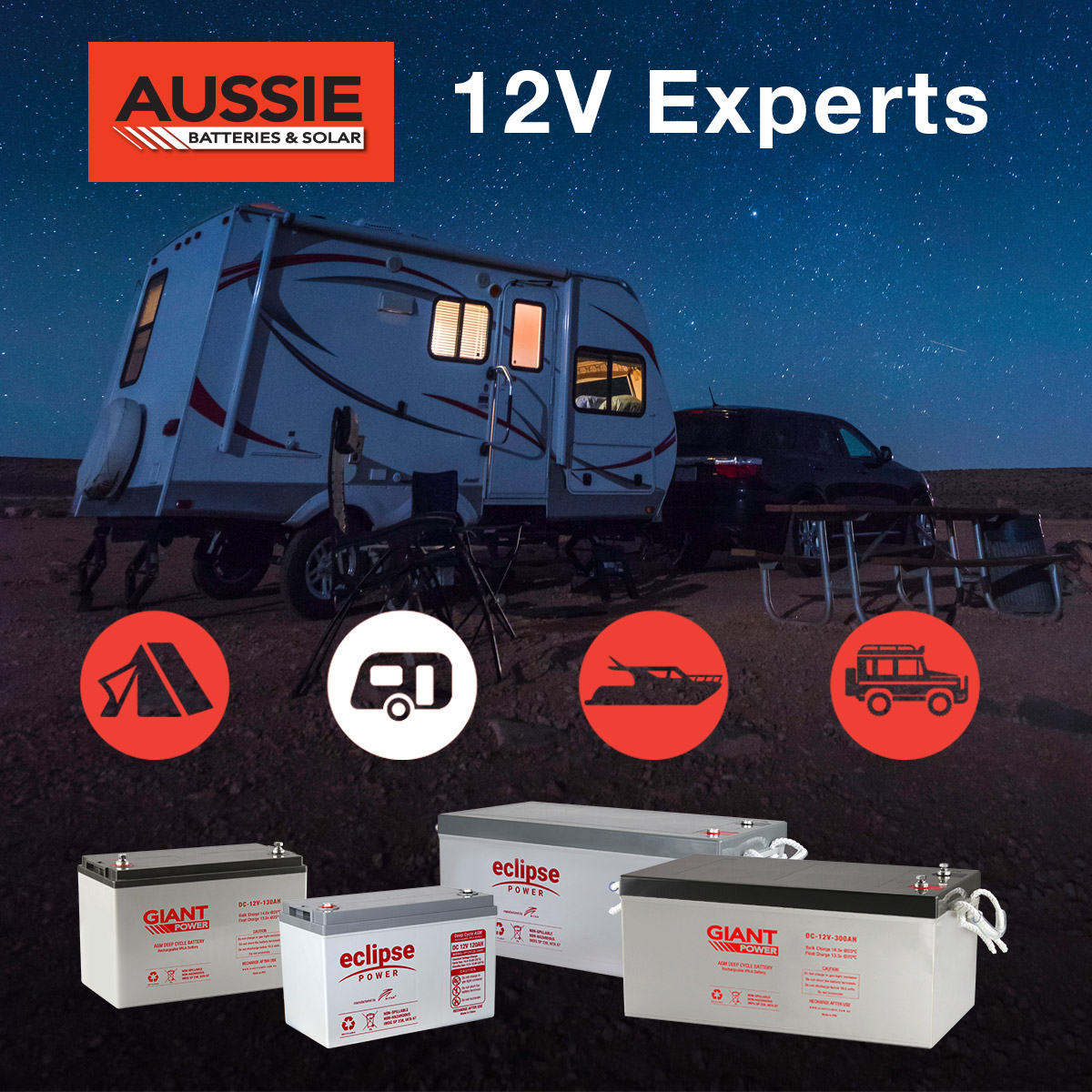 Reviews
---
130AH 12V AGM Deep Cycle Battery has a rating of 4.82/5 based on 34 reviews.
130 ah battery
So far all good but to early for a great review Cheers

Gino M

on 28 July 2017
My new agm Battery
The battery has gone in my caravan and is working perfectly its got loads of charge ,my solar panels charge it perfectly .My only critisism is its heavy cant help that

Malcolm S

on 26 July 2017
All good
So far batteries are working fine service great only complaint paid for express delivery but took a week in QLD

Edward G

on 26 July 2017
very good
awesome batteries , very good delivery.

Mario S

on 19 July 2017
130ah battery
Great battery

Sharon K

on 19 July 2017
Battery Assessment
Delivery was exceptionally prompt and although yet to be load tested, the battery seems to be well made

Russell Widin

on 19 July 2017
Great service
I recently purchased a deep cycle battery online from Aussie Batteries, great prompt service! Arrived on my doorstep a couple of days after ordering.

Gary Lee

on 15 July 2017
deep cycle battery
I am very happy with the battery, and also with the promptness with which you handled delivery, especially to my area which is classified as 'remote'. I would have no hesitation recommending your company to others.

HANS B

on 10 July 2017
Specifications
---
Giant Power 12V 130AH AGM Deep Cycle Battery
Nominal Voltage
12V
Nominal Capacity (20HR)
130.0 AH
Dimension
Length: 330 ±3mm (12.99 inches)
Width: 173 ±2mm (6.81 inches)
Container Height: 212 ±2mm (8.35 inches)
Total Height (with Terminal): 220 ±2mm (8.66 inches)
Approx Weight
Approx 30.0 Kg
Terminal
T11
Container Material
ABS
Rated Capacity
130.0 AH/6.5A (20hr,1.80V/cell,25°C)
Max. Discharge Current
1200A (5s)
Internal Resistance
Approx 4.9mΩ
Operating Temp.Range
Discharge : -15 ~ 50oC (5 ~ 122oF)
Charge : 0 ~ 40oC (32 ~ 104oF )
Storage : -15 ~ 40oC (5 ~ 104oF)
Nominal Operating Temp. Range
25 ± 3°C (77 ± 5°F )
Bulk Charge
Initial Charging Current less than 30A.
Voltage 14.5V @ 25oC
Temp. Coefficient -30mV/oC
Float Charge
No limit on Initial Charging Current
Voltage 13.5V @ 25oC
Temp. Coefficient -20mV/oC
Capacity affected by Temperature
40oC (104oF) 103%
25oC ( 77oF ) 100%
0oC ( 32oF ) 86%
Self Discharge
Giant Power Deep Cycle AGM batteries may be stored for up to 6 months at 25oC(77oF) and then a freshening charge is required. For higher temperatures the time interval will be shorter.
Warranty
---

For more information, please read our full warranty policy