Slimline 200w Portable Solar Panel & 20A MPPT Regulator
SKU:

PS-ARDENT-200WBF2Single
Buy now, pay later
Interest free instalments
Four equal payments of $132.25/fortnight, with instant approval online. Learn more
Enjoy your gear now, and pay for it later! We're happy to provide the opportunity for our customers to shop with us using popular pay later options.


How it works
Buy what you want today, pay for it over four equal fortnightly instalments. Use your debit or credit card, get approved instantly.

Ordering online
Add the products you want to your cart, and select Afterpay as a payment option during checkout.
After your order is processed, you can log in to your Afterpay account to view your order, make payments and manage account details.
Note: Afterpay is only available on orders under $2000 value.
For terms and conditions, please refer to the Afterpay website
ALSO AVAILABLE

How it works
Buy now and pay later, with 6 months interest free. You pay over time weekly, fortnightly or monthly, whichever suits you best. Applications are quick, and get a decision in real-time.

Ordering online
Add the products you want to your cart, and select Zip as a payment option during checkout.

Ordering over the phone
Call us on 1800 853 315 and place your order with our friendly staff. Ask to pay using Zip.
Note: ZipPay is only available on orders under $1000 value, while ZipMoney is available on orders up to $10,000 value.
For terms and conditions, please refer to the Zip website
Overview
---
ARDENT

200W Solar Panel Kit

SHIPPING

to most areas Australia Wide.
You get two Slimline 100W Solar Panels that work together to give 200W of Solid Solar Output
200W Portable Solar Panel kit featuring 2 X 100W solar panels, solar regulator, cables and accessories for perfect camp charging. Using the newest and most advanced solar cell technology on the market and a sleek black panel design this ARDENT 200W portable solar panel setup is perfect for customers who want a versatile, reliable, and lighweight solar panel kit that will provide convenience and dependability when venturing off the grid for camping power. An ARDENT 200Wsolar panel kit is an ultralight and strong setup. Constructed from A-Grade Monocrystalline Solar Cells and built with a robust and lightweight frame, this 200W panel kit gives users exceptional performance making this the best solar panel setup for camping adventures.
Weighing in at only 14KG, this slimline solar kit is a highly durable, heavy-duty portable camping solar panel setup that is perfect for camping and designed to travel Australia.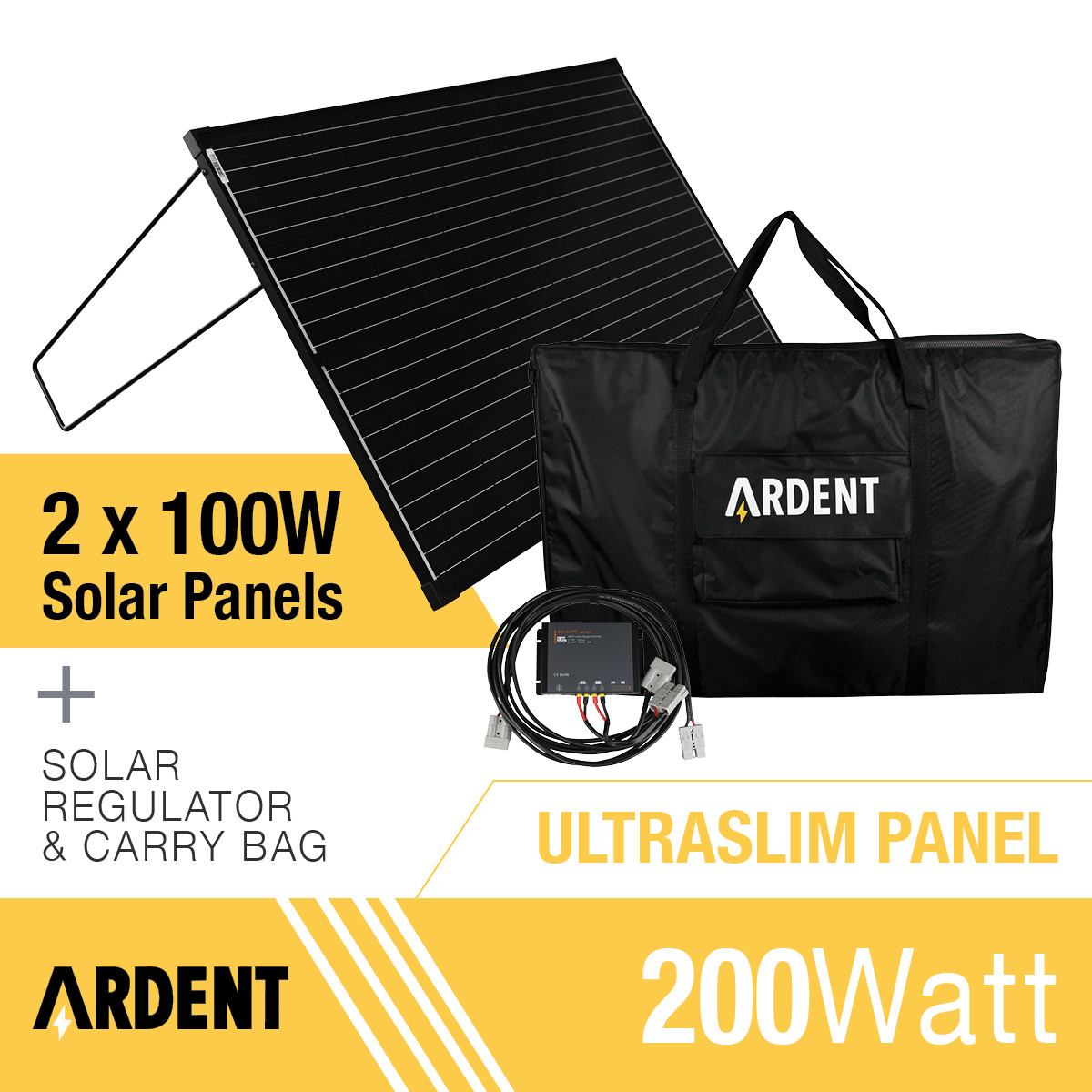 Compatible with a range of Deep Cycle Batteries and Battery Box Setups
- LEAD/ACID
- AGM
- GEL
- Lead Crystal
- Lithium (LiFePO4)*
ARDENT 200W SOLAR PANEL KIT
No glass design,light weighted series
High module conversion efficiency
Ultra high shade tolerance
Top grade Mono crystalline cells
Heavy duty aluminium alloy frame with corner protectors
Comfortable carry handle
Stable legs
Premium solar regulator
Supplied with Cables with Anderson style plugs (plug direct to a battery box such as the Ardent Battery Box)
Alligator clip adaptor
Over charging,short circuit and overload protection
Reverse polarity and reverse discharging protection
Under voltage protection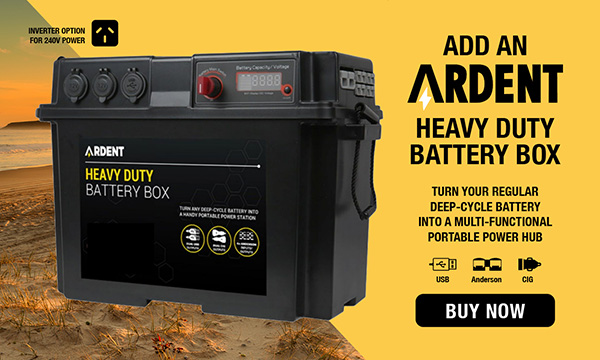 PERFECT FOR USE IN A RANGE OF APPLICATIONS:





Run appliances when camping away from power
Power 12V fridges, lights or any 12V appliances
Excellent for use with a solar panel for charging
Superb for use in 4x4 and marine conditions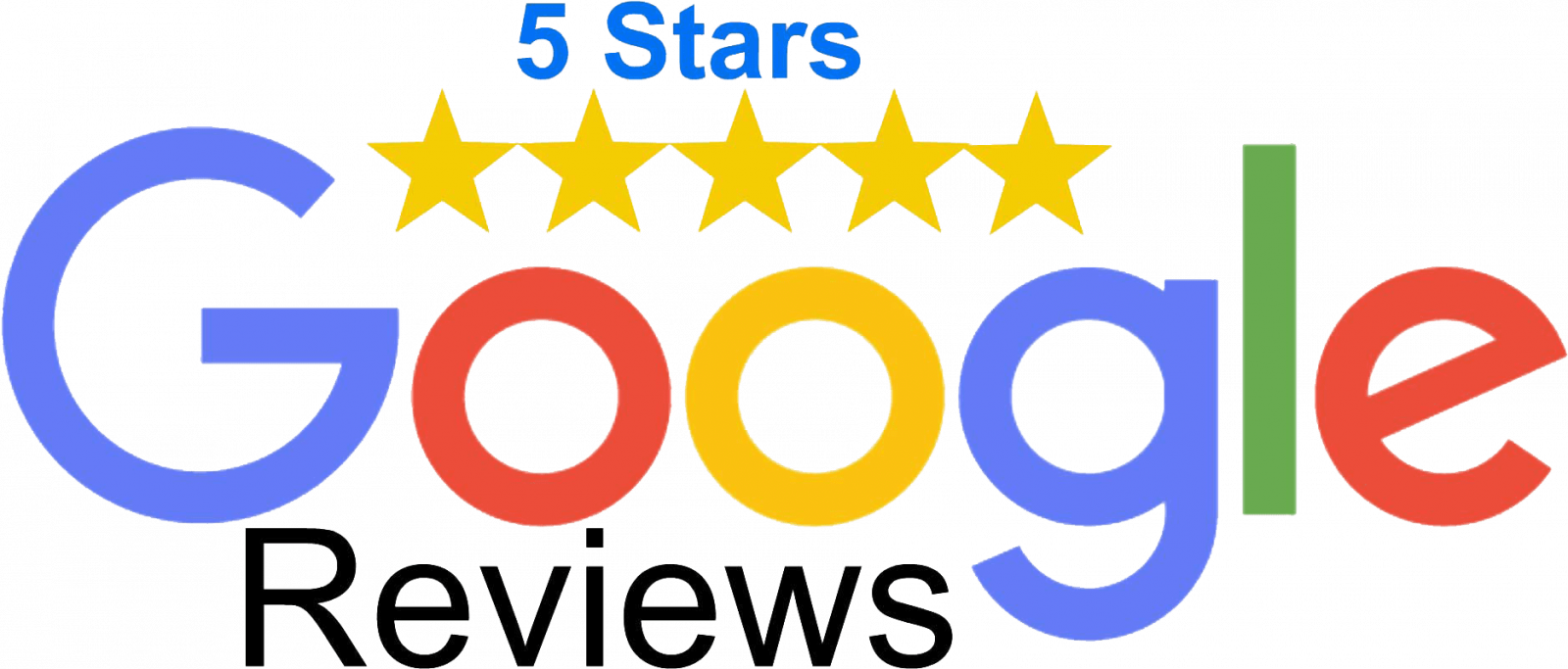 TESTED everyday by our highly valued Aussie customers who are traveling around Australia and camping in some of the most demanding outback and coastal terrain you can imagine!
We're here to help!


Freecall 1800 853 315
RELIABLE AUSTRALIA WIDE DELIVERY OPTIONS




CLICK TO CALL >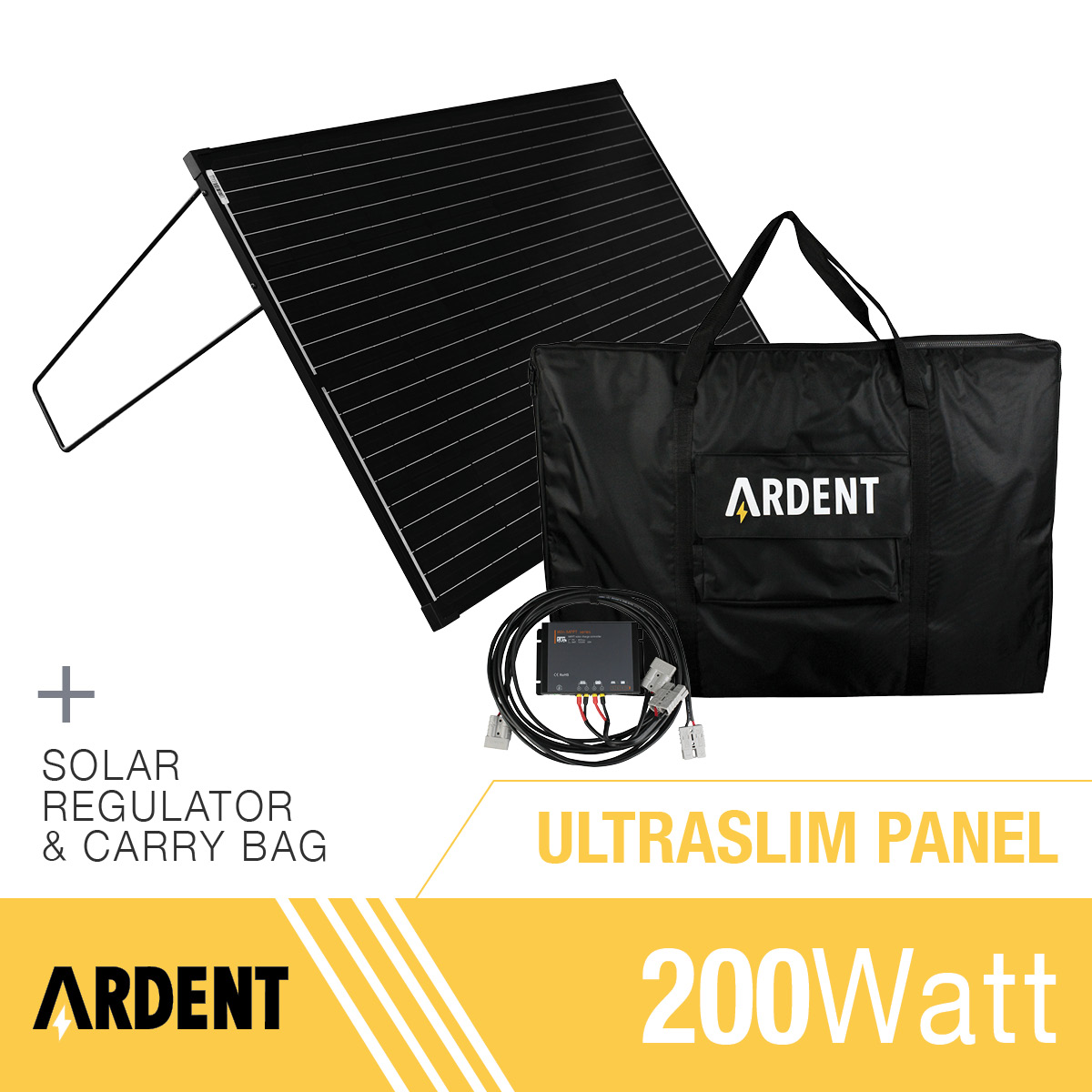 ARDENT Slimline 200w Portable Solar Panel Kit & 20A MPPT Regulator
The ARDENT 200 Watt Portable Solar Panel KIt features highly efficient Monocrystalline cells. With an adjustable lightweight leg design, these panels can be conveniently angled towards the sun.
HIGHEST QUALITY CONSTRUCTION = IMPROVED PERFORMANCE!
If you need a 200W solar setup that is the ideal system for camping and remote travels this monocrystalline portable camping solar panel is the perfect addition to any camping or off-road setup. This 200W solar panel tucks away neatly in the vehicle na dis completley portable so you can capture an effective amount of sun power to keep your gear charged and running. This ultra-lightweight, un-glazed panel ensures it is less fragile than many other folding solar panels and features an ETFE (ethylene tetrafluoroethylene) coating designed to protect the Monocrystalline solar cells from damage, as opposed to employing a traditional glass design like many other portable products.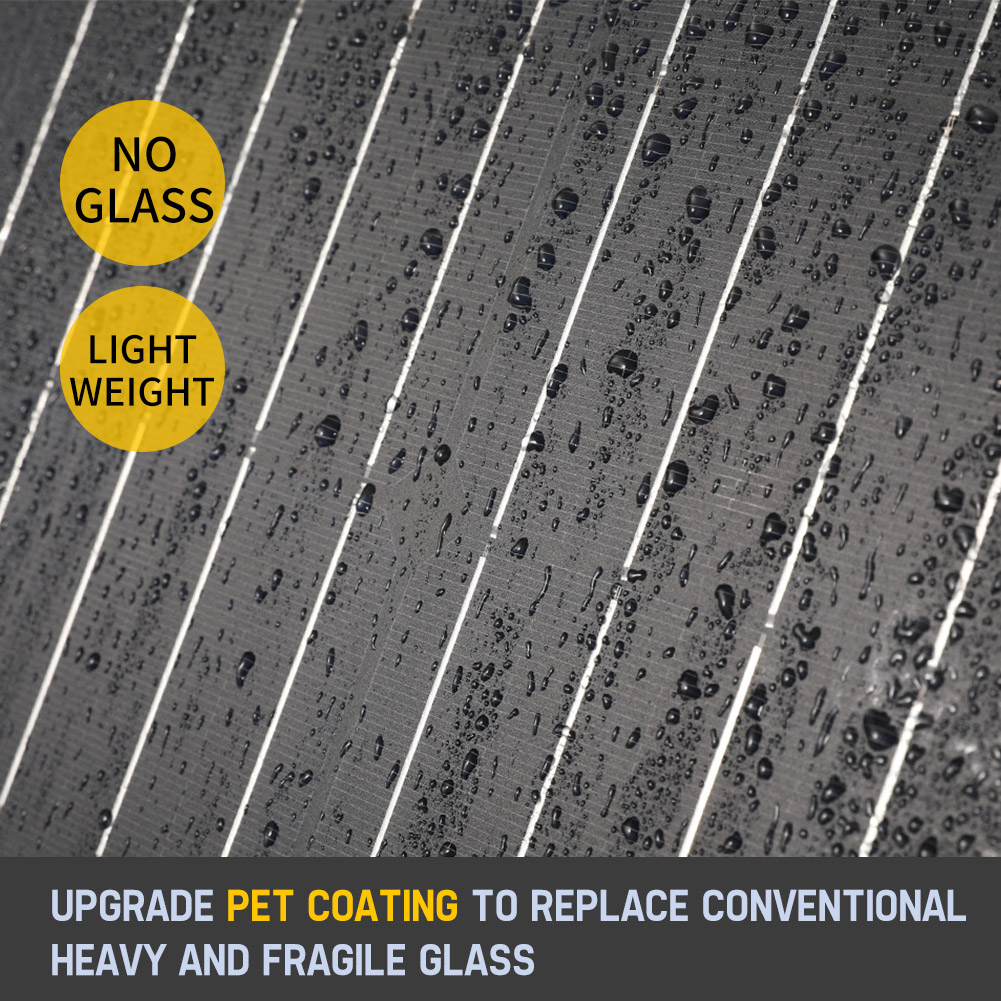 Benefits of ETFE coating:
• Withstands high temperatures
• Allows maximum amount of solar energy to penetrate the solar cell
• More flexible than standard coatings
THE PERFECT PORTABLE SOLAR SETUP
An Ardent 200W Solar Panel Setup has genuine industry standard Anderson™ SB™ 50 connectors for convenience of plug-and-play portability and includes a free protective carry bag.
• Withstands high temperatures
• Allows maximum amount of solar energy to penetrate the solar cell
• More flexible than standard coatings
Perfect to add charge via the sun to your in-vehicle battery charger or battery management system for extended stays or additional power to run 12v accessories.
This kit includes an ETFE (ethylene tetrafluoroethylene) coating folding solar panel, as well as the regular, cables and accessories you need to take off and stay charged.
A good flexible solar panel requires ETFE coating for protection. ETFE, or ethylene tetrafluoroethylene, is a fluorite-based plastic that can easily withstand high temperatures while promoting solar efficiency. This incredible coating is the ideal technology for solar panels because ethene, the basic molecule of the plastic, is very stable and able to withstand high levels of thermal stress and volatile chemicals. In addition, ETFE is totally permeable to UV rays, allowing the maximum amount of solar energy to penetrate the panels. ETFE is also stain-resistant and "self-cleaning." Since it has a non-adhesive surface, dust and grime that come into contact with the surface are easily washed away during rainfall. This means solar panels will require much less maintenance than non-ETFE panels as they don't need to be regularly cleaned to reach optimum performance.
WATCH OUR VIDEOS TO LEARN MORE >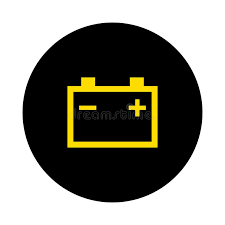 UPGRADE YOUR BATTERY SIZE
Get a bigger Lithium Battery Size for your Complete Portable 12V Setup.
View Now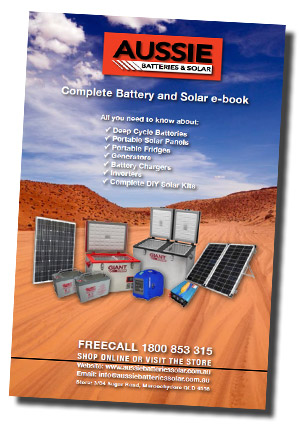 If you'd like to learn more about Deep Cycle Batteries and Solar, take a look at our free Complete Battery and Solar eBook. We've covered a lot of common questions and provided a bunch of good general knowledge information to help you make informed choices when purchasing.
ALL YOU NEED TO KNOW ABOUT
Deep Cycle Batteries
Portable Solar Panels
Portable Fridges
Generators
Battery Chargers
Inverters
Reviews
---
No product reviews yet - be the first!
Specifications
---
Slim Line 200w 12v Portable Solar Panel
Max Power:
200W
Power Tolerance:
-1%~+3%
Max Power Voltage:
17.99V
Max Power Current:
11.14A
Open-Circuit Voltage:
22.19V
Short-Circuit Current:
12.20A
Maximum System Voltage:
1000
Dimensions:
Folded: 710mm x 1010mm x 42mm
Opened: 1380mm x 1010mm x 21mm
Weight:
Approx. 14kg
Test Condition:
1000W/m2, AM1.5, 25°C
Warranty
---


For more information, please read our full warranty policy