What is the Best Portable Fridge Freezer to Buy for Camping, Car, 4WD, RV or Caravan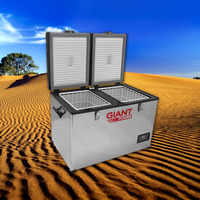 What is the Best Portable Fridge Freezer to Buy ?
What is the Best Portable Fridge Freezer to Buy for Camping, Car, 4WD, RV, Marine or Caravans.
Are you looking for the best portable fridge for your family or camping setup? One that can run from both your car battery and a normal electricity connection, or even off LP gas cylinder ? Summer's approaching quickly and you may have started planning your next camping or caravanning adventure. One question we get asked a lot is "What is the Best Portable Fridge Freezer to Buy?" today I am going to talk about your options to help you learn more about portable fridge/freezers.
One thing to consider before hitting the road is how you are going to store your food and drinks. An esky, may be your first answer. However, with an esky you'll need a constant supply of fresh ice which is not only inconvenient, but also decreases available storage for your food. Portable Fridges & Car Fridges can offer the perfect solution: the best portable fridge freezer to buy is one that will keep your supplies fresh for the duration of your trip and even allow you to freeze your items. You have probably found that portable fridges and camping fridges come in all different shapes and sizes, and with many different prices! So let's take a look at the options that you should look for in our guide to help you get the best portable fridge freezer or camping fridge for your needs.
Let's look at the options for what makes the best portable fridge/freezer for you and your situation. Types of Portable Fridges/Freezers that you can use for Camping, 4WDs, Cars, Trucks, RV's or around the home and or any other 12V Off Grid Solar applications.
There are three main types of portable fridges: 12V Compressor Fridges, Absorption Fridges & Thermoelectric Fridges.
Compressor (or two-way) 12V/24V Portable Fridges for Camping VS Absorption (or three-way) Fridges.
12V/24V Compressor Fridges operate in the same way as your fridge at home. They are easily run on a 12V Battery or from 240V AC mains electricity, usually by using an AC adaptor. Compressor Portable Fridges are most often the best option for most people, let's look at the reasons why Compressor Fridges have become so popular. Compressor Fridges have become the most popular type of camping fridge on the market. They run purely on compressor power of either 12V battery power, or 240V mains power. Solar Fridge Kits including a 12V Compressor Fridge, Batteries and Solar Panels can be an very economical way to get the best fridge setup for many camping applications. A Portable Compressor Fridge has an average use of approximately 30 amps per 24 hours with running temperatures between 0°C and 4°C. When using them as a freezer (-18°C), they'll use approximately 60 to 70 amps for the same period of time. Compressor fridges come in a wide variety of sizes ranging from 13L to 280L. All good portable compressor fridges will be constructed with thick levels of insulation to retain their temperature, so they'll work less and reduce power usage. They should also come with a protective insulation cover bag. This is the best way to protect your portable fridge from scrapes and knocks when camping, but also adds another level of insulation to assist in temperature stability.
3 Way Absortion Fridges (What is the Difference)
3Way Absorption Fridges use heat to provide the energy necessary for the cooling system which is generated by LPG gas, 12V power, or 240V power. These fridges run very efficiently on LPG gas making it the most popular method of powering. Disadvantages of three way absorption fridges are: their vulnerability to high ambient temperatures causing the fridge to struggle to keep cool, and their need for a lot of running power (between 120 and 200 amps per day when running on 12V).
If you're keen to connect to gas, a 3 Way absorption fridge model is the only choice - these fridges dont have a motor and this type of portabel fridge needs to sit level and have a heat source, which can be from a car battery, mains electricity or LP gas. For more information on these fridge types, we'd like to refer you to one of our previous blog posts 'How To Choose The Best Camping Fridge'.
For expert, tailored, no-obligation advice on getting the Best Portable Fridge Freezers - take the time to contact our 12V Camping Experts email or call our friendly team on 1800 853 315
What makes the Best Portable Fridge/Freezers - YES! The Size of your Fridge Matters
A common question when purchasing a camping fridge is: 'What size of fridge is perfect for our family?' The answer varies based on a few factors. Firstly, it depends on the length and type of your trip. The longer you're on the road or staying in remote areas, the larger your fridge needs to be. Secondly, the number of people going on the trip will have an impact too. Generally, a >40L fridge will suffice for two adults travelling for two or three days. A >60L fridge is recommended for the same journey when those two adults bring two young children along. Thirdly, it will depend on the space you have available in your vehicle to store the fridge, weight limits and power availability. Finally, you'll have to decide whether or not you want a fridge, a freezer, or both options at once. The smaller versions are often called Single Zone Fridges and are best for day trips in the car but will only allow you to use one option, thus either fridge or freezer. The Dual Zone Fridge Option (dual compartments in your fridge) that allow you to use both a Fridge and Freezer , however, automatically requires a bigger portable fridge size.
What makes the Best Portable Fridge/Freezers - New or Used Fridges ?
Maybe you're wondering whether it is best to buy a new or used portable fridge. Of course, this is a personal decision, but we may be able to assist you with this choice.
Buying a new portable fridge has several advantages. Usually, new fridges come with a manufacturer's warranty offering you an extra sense of security against failures or replacements. If you aim to use your camping fridge on a regular basis, a brand new buy is probably your best bet to ensure it will last the distance. However, new fridges generally come with a price and you often pay a lot just for the brand's name.
If you're purchasing a fridge with a strict budget, you may prefer to acquire a used or nearly new fridge. Often companies offer factory seconds or dented/refurbished models for a reduced price. When buying a used fridge from the internet or newspaper ads, be certain to ask the seller for as many details as possible, such as faults and damages, and frequent usage. Also check for any lingering smells from previous use.
Best Features To Look For in a Portable Fridge/Freezer - Power Consumption Matters !
It is advisable to consider the fridge's features for its longevity and convenience. For instance, does the fridge have low voltage cut out? This feature will protect the battery against over-discharge. Also check if the display is easy to use so that the temperature setting doesn't become a challenging task. Does the fridge allow you to monitor the inside temperature at a glance? This way, you won't end up having unwanted surprises of food items defrosting and going bad. Furthermore, removable fridge baskets make it easier to clean the fridge than bolted elements, and a detachable lid allows for better accessibility.
One Final Tip on Choosing the Best Portable Fridge For Your Needs
Once you've found the perfect camping fridge for you and your family, you may want to stock it a day or two before your trip while running it from the mains power. As such, your portable fridge will already have the right temperature once running on battery power or 12V power. Therefore, the fridge won't have to draw as much power from the battery and your favourite food and drinks will retain their cool temperature. Adding pre-frozen food items to the fridge will reduce its power usage even more effective.
For expert, tailored, no-obligation advice on getting the Best Portable Fridge Freezers - take the time to contact our 12V Camping Experts email or call our friendly team on 1800 853 315
SEE OUR GREAT RANGE OF PORTABLE FRIDGE/FREEZERS AND CAR FRIDGES ON SALE WITH AUSTRALIA WIDE DELIVERY - AND GET THE BEST PRICES & BEST PORTABLE FRIDGE FOR YOUR NEEDS.
October 15, 2014 | By Aussie Batteries | Comments