GIANT 48V 100AH Lithium Golf Cart Deep Cycle Battery
SKU:

GP-48V-100Ah-DC
Own it now, pay later
6 months interest free
Flexible repayments of $96.12/week, $192.23/fortnight, or $416.50/month. Learn more
Enjoy your gear now, and pay for it later! We're happy to provide the opportunity for our customers to shop with us using popular pay later options.


How it works
Buy now and pay later, with 6 months interest free. You pay over time weekly, fortnightly or monthly, whichever suits you best. Applications are quick, and get a decision in real-time.

Ordering online
Add the products you want to your cart, and select Zip as a payment option during checkout.

Ordering over the phone
Call us on 1800 853 315 and place your order with our friendly staff. Ask to pay using Zip.
Note: ZipPay is only available on orders under $1000 value, while ZipMoney is available on orders up to $10,000 value.
For terms and conditions, please refer to the Zip website
ALSO AVAILABLE

How it works
Buy what you want today, pay for it over four equal fortnightly instalments. Use your debit or credit card, get approved instantly.

Ordering online
Add the products you want to your cart, and select Afterpay as a payment option during checkout.
After your order is processed, you can log in to your Afterpay account to view your order, make payments and manage account details.
Note: Afterpay is only available on orders under $2000 value.
For terms and conditions, please refer to the Afterpay website
Giant Power 'Australian Made' GOLF CART BATTERY
48V 100AH Lithium Battery
Giant Power 'Australian Made' Lithium Batteries - Easy to Carry - Light-Weight - Reliable Power
** WITH FREE GIFT OFFER
48V 100AH Lithium LifePO4 battery is a top-of-the-line deep cycle battery that is built to withstand even the harshest conditions. Designed and engineered in Australia, this battery is made to handle the unique demands of the Australian climate. Whether using it for off-grid solar power systems, recreational vehicles, or backup power, the GIANT 48V 100AH Lithium LifePO4 battery is up to the task. One of the critical features of this battery is its robust construction. It is built to withstand deep discharge cycles and has a long service life, making it an excellent choice for various applications. The GIANT 48V 100AH Lithium LifePO4 battery is lightweight and compact, making it easy to install.
GUARANTEE
36 holes with battery reserve capacity or your money back
Add an additional battery in parallel and get 72 holes ++
Because 48V systems run at higher efficiency while using fewer amps, they can operate appliances more safely than lower voltage systems. A 48V system will not have to increase its amperage regularly to provide the same power level as a 12V or 24V system.
The golf cart market is evolving as more and more people are taking advantage of the versatile performance of lithium batteries in a golf cart setup. Deep-cycle flooded lead-acid batteries have been the most cost-effective means to power electric golf cars for decades. With the rise of lithium batteries in many high-power applications, GIANT 48V LiFePO4 batteries have many advantages.
48V 100AH Lithium Battery
540mm L x 310mm W x 250mm H
60kg (approx)
200AMP BMS
Energy: 5.12KWh
5 Year Warranty
Australia Made Deep Cycle Battery
**This battery is not designed for under-bonnet use or trolling motors where heat, fluids and other contaminants can damage the battery lifespan.
Watch Our Videos to Learn More
What is a 200AMP BMS 'Battery Management System'?
Most cheaper lithium battery competitors will only have a 50AMP BMS, which will not give Aussie customers the ideal battery use capacity. A high-quality BMS system should be rated 100AMP and above, and the BMS is essential to getting a quality lithium battery product and the key to its long-term performance. It's a classic case of paying for what you get; the best quality lithium battery brands are the ones that cost money and have a superior size BMS. Many of our customers' applications require Lithium Batteries with higher surge currents. Therefore be careful because low-level rated BMS systems will take this away from users and can be dangerous. Unfortunately, our customers are too often burnt by cheap Lithium battery failures exposing themselves and their assets to harm.
The Giant 48V Lithium Deep Cycle Battery is designed to replace deep-cycle AGM batteries. They weigh only half of their AGM counterparts. In an emergency, this Australian Made lithium battery can be safely discharged to 100% DOD (Depth of Discharge), delivering twice the energy with a superior 200AMP BMS for maximum discharge capacity. This deep cycle battery charges your appliances between 4-8 hours and can be used in various other applications such as power tools, medical devices, and security systems. Aside from recreational activities, Giant Lithium Batteries are perfect for storing at home for backup power.
AUSTRALIAN MADE LITHIUM BATTERIES
Charging your Lithium Battery
To charge your 48V 100AH Lithium Deep Cycle Battery you will need a

48v Lithium Charger
One of the main benefits of a 48V system is its increased energy efficiency. Higher voltage systems experience lower energy losses in the form of heat due to reduced current flow. With a 48V system, the current is one-fourth that of a 12V system, which significantly reduces energy loss.
We suggest adding an Ardent Lithium Charger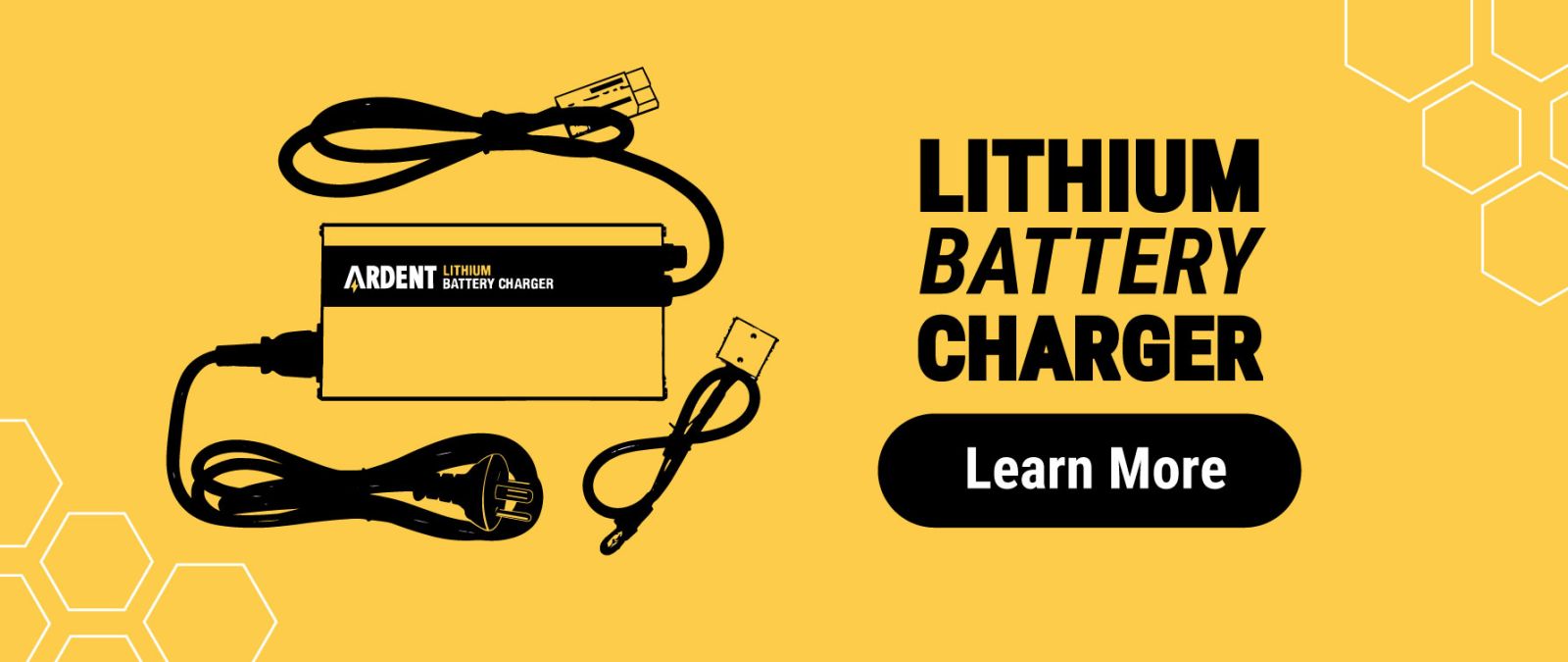 The 48V nominal voltage ensures low heat generation and high efficiency during high-power transmission. The modular design easily scales to meet a range of configurations—making it simple to tailor your energy requirements to specific projects. This battery meets the highest safety standards and has an exceptional lifecycle, optimized with proprietary manufacturing processes and cell architecture. The state-of-the-art battery management system (BMS) enables comprehensive protection features and real-time monitoring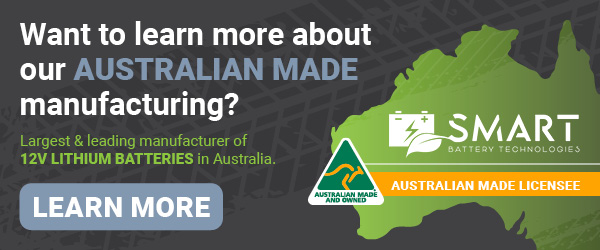 Giant POWER LiFePO4 batteries won't take up much space; yet give superior battery power in all applications. Giant 48V Lithium Batteries are Australian-made, providing users with the best, lightest, and most energy-efficient lithium deep cycle batteries at a great price. Their affordable price point and eco-friendly materials make Giant Power lithium batteries essential for all your Aussie travel and camping adventures.
Overload/Overcharge Protection
Zero Maintenance Required
Supports Parallel Connection
5000 charge cycles at 80% DoD
Grade-A Prismatic Lithium Cells
Damage-resistant heavy-duty case
Environmentally-friendly and non-toxic
Highest quality engineering
The ideal replacement for traditional AGM

If you want a 48V Lithium specific charger, add an

ARDENT CHARGER
Giant Power Batteries are perfect for Australian customers looking for a quality lithium deep cycle battery that is Australian-made and powerful enough to keep your campsite, 4WD, RV, Marine or Caravanning trip running perfectly. Giant Power lithium batteries can be charged with 240V chargers or solar panels, and these batteries give users up to two times more usable battery power. The Giant Power Range of Lithium Batteries is the best of the best in Australian Made Lithium batteries and one of the lightest and most energy-efficient lithium batteries on the Australian market.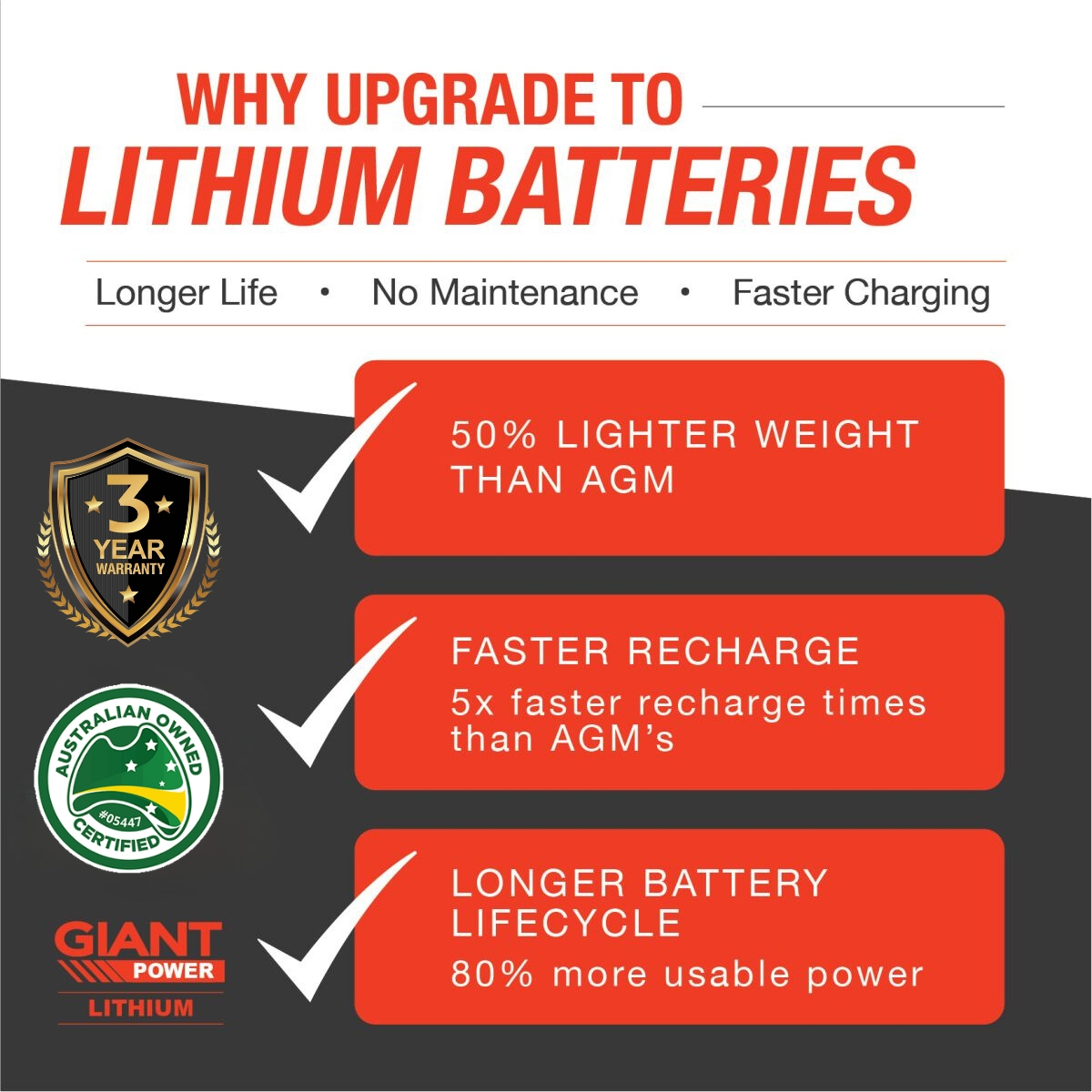 Upgrade AGM to Lithium Power
Giant Power Lithium Batteries are designed so that every cell is protected by the internal 200AMP Battery Management System (BMS), with the control board protecting the batteries from cell imbalance and high voltage situations, giving users a longer battery life. Giant Power batteries are the perfect choice for any application that requires a deep-cycle power supply. This high-quality lithium battery delivers reliable 48V power. It has been designed with heavy-duty use in mind, making it durable enough to power your camping adventures and other applications like caravans or camper trailers. Our battery depth of discharge is 100%. The BMS is not adjustable but in order to extend the life of the battery, it is recommended to discharge to maximum 80%, then recharge with a lithium specific charger. Giant Power has created an excellent reputation for quality-built batteries, making Giant Power one of the best lithium batteries for camper vans and camping.
48V Giant Power Lithium Prismatic LiFePO4
Giant Power Batteries are Australian Made lithium batteries with superior lithium prismatic cells that are perfect for larger capacity applications. Giant Power Lithium Batteries are designed to withstand Australia's harshest camping, caravan, 4WD and marine conditions. This battery is the perfect replacement or upgrades from a traditional AGM lead-acid battery.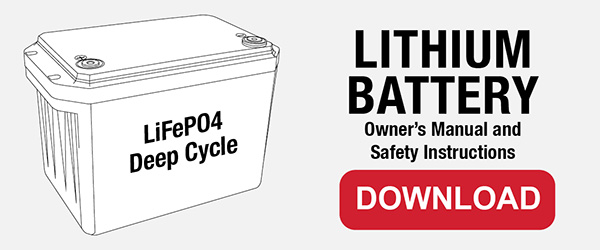 Perfect for Use in a Range of Power Applications
- Advanced Battery Management - Stronger and more Vibration Resistant. Giant Power 48V Lithium Deep Cycle Batteries are lightweight with huge power capacity. Giant POWER has a range of Lithium Deep Cycle Battery options that deliver long-lasting power and are built to survive and thrive in Australia's toughest conditions! Giant Lithium Deep Cycle Batteries allow you to power all your additional camping accessories like portable fridges, camping lights, and a range of other devices that you may take camping or when you hit the road in your 4WD, RV, camper, caravan, boat. The highest quality 200A Battery Management System protects this Giant Power 48V Lithium Battery.
5-Year Pro-Rata Warranty
50% lighter than Lead Acid and AGM Batteries.
For weight-sensitive and/or high-vibration
Easy Upgrade from AGM Deep Cycle Battery
Easy replace AGM with Giant Lithium
Saved weight; and increased usable power
Runs in Parallel Connection
Giant Lithium gives you over double the usable power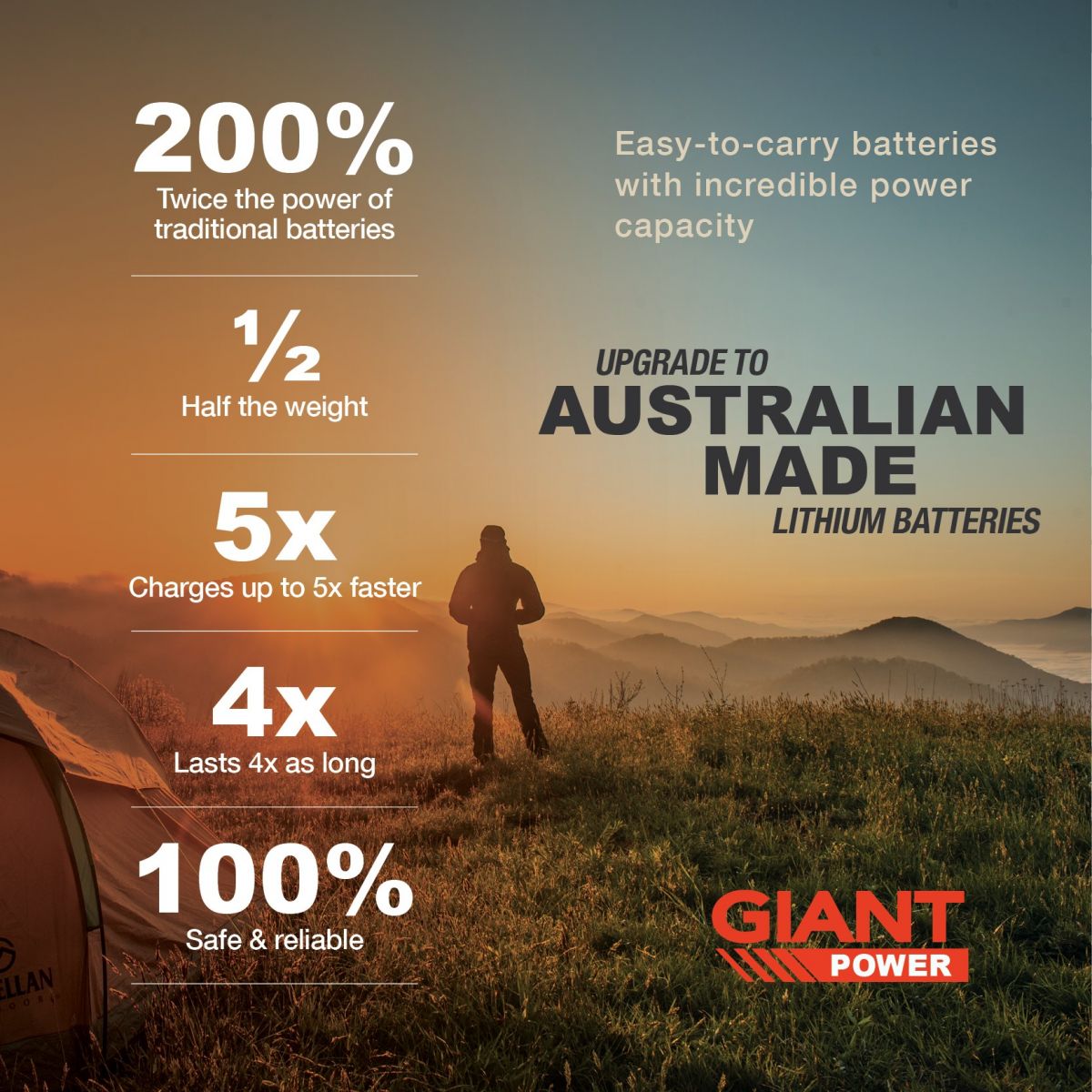 Giant Power Lithium Batteries Are the Perfect Upgrade for Your Setup
Giant 48V Lithium Batteries have a higher energy density, voltage capacity and lower self-discharge rate than other rechargeable batteries. This makes for better power efficiency. Giant LiFePO4 batteries store three to four times the electrical energy of conventional AGM batteries of similar size and weight. The other advantage of LiFePO4 batteries is they do not have any adverse health or environmental risks, as the cathode material is not hazardous. Unlike gel or lead-acid batteries, the Giant Power Range of Australian Made LiFePO4 batteries is exceptionally portable and has a longer shelf-life. Using forward-thinking technology that powers electric car giants like Tesla, the Giant LiFePO4 battery range is designed to withstand any damage without exploding, keeping you and your family and friends safe in any event when you're out exploring on your Aussie adventures!
Reliable Lithium Power
GIANT POWER 48V performance products are lithium batteries perfect for integrated golf cart battery systems. GIANT POWER performance golf cart batteries are designed to replace your lead-acid battery products so you can upgrade to lithium batteries quickly and easily for your golf cart battery system. GIANT POWER performance Lithium Batteries are a premium range of batteries with the highest quality LiFePO₄ composition. LiFePO₄ has been selected for the GIANT POWER performance range due to its convenient prismatic cell voltage, high energy density, high cycle life and, most notably because it is one of the safest Lithium technologies available.
They may look reasonably similar to AGM batteries, but internally the Giant Lithium is a different, next-generation concept. Giant lithium deep cycle batteries are made up of prismatic LiFePO4 cells, which are in mass production for many portable devices. The built-in internal battery management system (BMS) within each Giant Battery ensures all the battery cells are uniformly charged and discharged. It provides short circuit, over-current, and reverse polarity protection. This provides you with more protection than a traditional AGM deep-cycle battery.
Run Giant Lithium Batteries in Parallel
Giant Lithium batteries are used worldwide, and Aussie Batteries work closely with our customers to ensure our battery products are geared to meet your exact needs. You can parallel up to four Giant batteries for an incredible amount of energy. *Batteries must be paralleled with the same model.
**Lithium batteries are not recommended for cranking applications.
Highest Quality Engineering
Giant Lithium Deep Cycle Batteries are ideal ancillary batteries for your caravan, 4x4 vehicle, camper-van, RV or other camping setups. The Giant Lithium range of Deep Cycle Batteries has an exceptional deep discharge ability, and Giant LiFePO4 batteries are available in capacities ranging from 75AH to 400AH. Giant lithium batteries include an internal BMS (battery management system), enabling the batteries to be connected in parallel to increase capacity for even more energy storage.
Benefit From Proven Performance
Giant Lithium Deep Cycle Batteries are perfect for getting reliable power for Camping, Caravan, Camper Vans, Camper Trailers, Motorhomes, Marine, 4WDs, RVs & Off-Grid Solar. Giant Lithium (LiFePO4) batteries are fast charging, feature a long lifespan, are lightweight and have low maintenance. You'll spend less time thinking about your power and more time kicking back or exploring. Unlock a whole new world of free camping opportunities!
Australian Made Lithium Batteries

Designed for Off Road and Heavy Duty Applications
Perfect for use in caravans, marine, camping and home storage off grid applications. Solar, wind or battery charger compatible. Designed to handle the vibration when off road.

Run in Parallel
Run Giant lithium deep cycle batteries in parallel and boost the time they can run for before needing a recharge.

Portable Power Solutions
Giant batteries are lightweight, when compared to many other options, and have built in carry straps, which make moving around the campsite easy.

Quality Copper-Silver Terminals
Quality Copper-Silver Terminals means small contact resistance and high corrosion resistance.

48V 100AH Giant Power Lithium Prismatic LiFePO4 Battery
Get double the power in a compact, lightweight form with the Giant Australian Made 48V Lithium Battery LiFePO4 range. Aside from recreational activities, it's perfect for storing at home and backup in a power outage. Use this with a lithium battery charger to maximize usable capacity.
Download the Lithium Operating Manual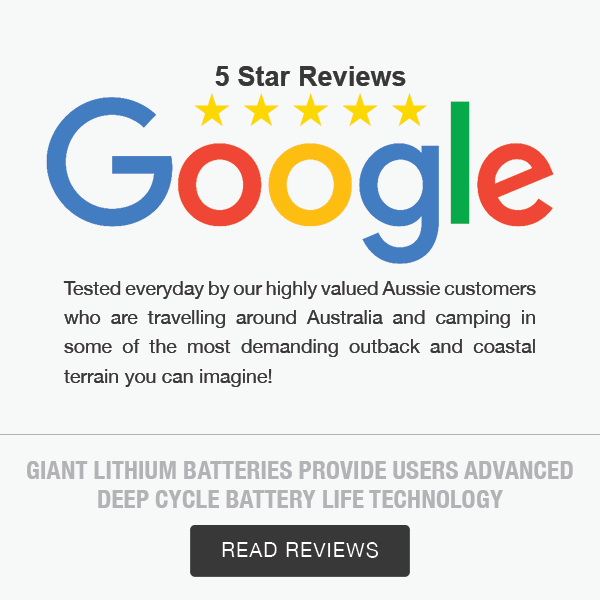 We're Here to Help!
For Expert Advice — CONTACT US
GIANT 48V 100AH Lithium Deep Cycle Battery
Nominal Voltage
48V 100AH
Nominal Capacity (20HR)
100 AH
Dimension

Length: 540mm (570 mm with Handles)

Width: 310mm

Container Height: 210mm ( 245mm with terminals)

Approx Weight
Approx 60 Kg
Terminal Bolt
T11
Container Material
Sealed Steel
Rated Capacity
100 ah/ 10.0A (10hr,1.80v/cell,25

°C)

Max. Discharge Current
200A (Continuous) 400A (5 seconds)
Operating Temp.Range
Discharge : -15 ~ 50oC (5 ~ 122oF)
Charge : 0 ~ 40oC (32 ~ 104oF )
Storage : -15 ~ 40oC (5 ~ 104oF)
Nominal Operating Temp. Range
25 ± 3°C (77 ± 5°F )
Bulk Charge
Initial Charging Current less than 25A.
Voltage 56.8V - 58.4V @ 25oC
Temp. Coefficient -30mV/oC
Float Charge
Charging Current 25A
Voltage 54.4V @ 25oC
Temp. Coefficient -20mV/oC
Capacity affected by Temperature
40oC (104oF) 103%
25oC ( 77oF ) 100%
0oC ( 32oF ) 86%
Self Discharge

Giant Power Deep Cycle Lithium batteries may be stored for up to 6 months at 25oC(77oF) and then a freshening charge is required. For higher temperatures the time interval will be shorter.
GIANT 48V 100AH Lithium Golf Cart Deep Cycle Battery has a rating of

4.75

/5 based on

4

reviews.
Mark H
I bought a GIANT 48v Lithium battery for my golf cart. I cannot recommend it highly enough. I easily removed the six old heavy Trojan wet cell batteries from my cart and easily connected the new lighter lithium. No more mucking about with topping up water levels and muck. The lithium is cleaner, lighter and more run time and power. It's a no brainer! Dealing with Aussie Batteries was great. Fast delivery too.

Mark H

on 2 November 2023
Golf cart lithium battery
Have installed 48v lithium battery in a EZGO golf cart have had eight rounds so far and only uses about 15% capacity each round played three rounds without charging still 55% capacity left I think you'd easily get 6 rounds out of it before charging . The ardent monitor has failed not showing soc % after 5 rounds battery seems to be good

Anonymous

on 7 June 2023
Geoff T
Batteries are terrific. Thanks

Anonymous

on 15 May 2023
An impressive transformation
We purchased a second hand electric cart to make it easier to complete our daily sanctuary activities but quickly realised that new batteries were needed. We were recommended Aussie Batterries and Solar by a friend and got in touch with the sales team there. They were really helpful and promptly answered any questions we had. The Giant 48V lithium battery arrived when they said it would, despite the ongoing transport and supply issues that everyone was experiencing. Installation was pretty easy after modifying the holder for the new single battery. And the transformation has been impressive! Removing the 6 lead acid batteries and replacing it with the single Giant 48V battery has reduced the cart's weight by 120 kilos and added extra power. It is quick, drives well and is easy to monitor via the Bluetooth connected app. We get at least a week of driving out of it and over 30km of range despite the steep hills we take it. We highly recommend the Giant 48V battery and the team at Aussie Batteries and Solar

Conmurra Wildlife Sanctuary

on 3 December 2022
Write a product review
Reactivating and charging a lithium battery that is inactive
Introduction: Unboxing & Care of your Battery
Selecting the Best Deep Cycle Batteries for Camping, Caravan, Marine, 4WDs and Off Grid Solar
Ardent Heavy Duty Battery Box & Deep Cycle Battery Box Kit