Aussie 12 Volt Shop
Aussie 12 Volt Shop Online with Australia Wide Shipping on 12 Volt Electronics & 12V Solar, 12V Batteries and 12V Camping and Caravan Accessories.
Shop Online from our 12V Shop with Direct Australian Shipping to your door! We make it easy with our range of high quality 12V Solar, 12V Batteries & 12 Volt Power Accessories. Shop the best 12V Products Direct from Aussie Batteries & Solar.
Aussie Batteries & Solar 12 Volt Shop supplies some of the best 12 Volt products online with affordable prices and Australia Wide Shipping. Our Aussie 12V Shop was created to allow you to get the best 12V gear for camping, caravans and off the grid living. We specialise in top quality 12V Batteries, 12V Solar and 12V Fridge/Freezers as well as a whole range of 12 Volt Electronic Accessories. We are leaders in 12V power supplies and 12V power systems for off the grid living with solar and batteries. If you need expert, tailored, no-obligation advice on 12V Products email or call our friendly team on 1800 853 315
Our 12 Volt Shop is focused on being an industry leader in the supply of off grid power and low voltage (12 V DC & 24 V DC) equipment throughout Australia and direct to the public from our online store. Our expertise covers a full spectrum of services including design, supply, installation and product support. We sell a large range of solar panels,( including Sharp,Panasonic, Kyocera), inverters (including SMA, Selectronics and Latronics), solar regulators, battery chargers and low voltage appliances (including 12 and 24 V DC refrigerators, solar and 12v batteries) Aussie 12 Volt Shop is a distributor for Honda, generators and we have the largest range of low voltage connectors in Australia, including plugs, sockets and low voltage accessories for a range of 12V/24V applications.
Shop for 12V Online and get Direct Australian shipping to your location in Australia. Need help getting the best 12V Products? email or call our friendly team on 1800 853 315 and let us help you get the best 12 Volt technology for Marine, RV, Camping and 4WDs. Aussie Batteries & Solar 12 volt superstore stocks Australia's largest range of 12v electronics including 12v batteries and 12V solar. Shop online and get the best price and setups for your 12V needs.
Nominal Battery Voltage
12V
Blog Posts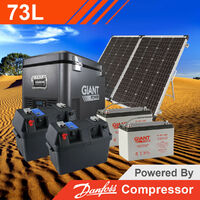 HOW TO GET THE BEST SOLAR POWER SETUPS FOR REMOTE CAMPING - The ultimate guide on how to get the best Solar for Camping and Solar Panel Camping Setups. Solar Power for Camping Explained:... read more
View more posts
Free eBook
Learn everything you need to know about
Deep cycle batteries
Solar panels
Portable fridges
Inverters
and more!
Download now