Solar Fridge Kits Australia-Camping Fridge Freezers
Solar Fridge Kits Australia - Camping Fridge Freezer & Portable Fridge Freezer Kits that include Solar Panels, AGM Batteries & are perfect for Camping, 4WDS, Boats, RVS, Caravans, Camper Trailers & Trucks.
Our Camping Fridge Freezer Kits come with Australia Wide Delivery. These Solar Fridge Kits come with a Portable Fridge Freezer & Complete Solar Panel and Battery Setup. Shop online for a great deal and the best prices on Camping Fridge Freezers, Solar Fridges & Complete Camping Fridge Freezer Kits. When you're off on your next camping adventure, why not keep your food fresh using clean solar energy from the sun? Using a Solar Panel & Battery setup to run your Portable Fridge/Freezer allows you the freedom of camping anywhere. Our complete Solar Fridge Kits for camping make it easier than ever to enjoy your favourite foods or freeze your catch for enjoying when you get back home. Everything in our Camping Fridge Freezer Kits is plug and play, so you don't have any hassle of wiring and unwiring terminals and cabling, you get solar panels and a battery setup that will not only run your Camping Fridge Freezer, it will also provide power to a whole range of camping accessories. Keeping an eye on battery voltage is also easy with our inbuilt battery voltage monitor located on the Battery Box, so you won't get any unwelcome surprises and have your food spoiled by a flat battery.

If you already have a Portable Fridge that you would like to run from Solar Panels take the time to look at our range of 12 Volt Portable Solar & Battery Setups that are designed to run a range of camping gear including your Portable Fridge.
Need help getting the best Solar Panels for your Portable Fridge/Freezer or need to know more about how to get the best complete 12V Solar Panel & Battery Setups for Camping Fridges, Lights & Solar Camping. Aussie Batteries & Solar have a team of experts waiting to talk to you about our complete Solar Fridge Kits & Camping Fridge Freezers. Our experts are waiting to speak to you with tailored, no-obligation advice on Solar Fridges, Camping Fridge Freezers, Solar Panels for Camping Fridges, Portable Fridge Freezers or any other solar & battery camping questions you may have so email or call our friendly team on 1800 853 315
Watch our video on Solar Fridge Kits
This category is empty! Please try another category or use our search function to find what you are looking for. If you require further assistance please contact us.
Blog Posts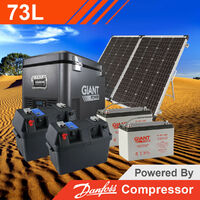 HOW TO GET THE BEST SOLAR POWER SETUPS FOR REMOTE CAMPING - The ultimate guide on how to get the best Solar for Camping and Solar Panel Camping Setups. Solar Power for Camping Explained:... read more
View more posts
Free eBook
Learn everything you need to know about
Deep cycle batteries
Solar panels
Portable fridges
Inverters
and more!
Download now