DIY Solar Power Kits for Caravans, Motorhome, 4WDS, Off Road, RV's, Camping or Shed
DIY Solar Kits - Solar Power Systems & Solar Power Kits for RV, Camping, Caravans, 4x4, Off Road, 12 Volt and 24V DIY Solar Kits with Australia Wide Shipping on our DIY Solar range.
A DIY Solar Kit is an ideal solution if you want to get the best solar panels for camping or solar panels for caravans, campers, RVs, motorhome, boat, 4WD, camper trailer or shed. Our complete DIY Solar Power Kits include everything you need to install and run your solar system, saving you time and money running around to buy all the hardware, cabling, mounting equipment and electronics. We've created these Solar Kits using the best components that wil serve our customers RV & Caravan Solar Panels installation needs. That is why included in all of our DIY Solar Panel Kits is an easy to follow, step by step instruction book. To install the solar kits for caravans or RV's, only a few basic tools are required; pliers for twisting/crimping wire, a drill with screwdriver attachment for screwing mounting brackets to panels, silicone gun for applying adhesive, wire cutters for trimming cables to length, and a crimping tool (if your pliers cannot crimp).

Need a different setup or looking for a complete solar kit that includes batteries. We would love to help you custom build a Solar System for your RV, Camping, Caravan, 4x4, Off Road requirements. Speak to our DIY Solar experts email or call our friendly team on 1800 853 315
If you need expert advice, please call our team and get the best DIY Solar Setup.
We specialise in compact and technically advanced Caravan Solar System and Complete Solar Power Kits for caravans, RVs and camping or living with complete off grid solar and battery power. Our systems can fit into smaller compartments and our DIY Solar Kits are perfect for a range of solar camping uses including; lighting up your campervan or caravan, charging your phones and other technologies, running a TV, and a DC pump. If you want portable solar setups made specifically for solar camping you should look at our Portable Solar Kits for Camping these include folding solar panels and battery setups.
We love to help our customers with choosing and installing the best 12V/24V Solar Panel Systems for any style of Caravan, Camper, 4WD or Camping Setup - Shop our DIY Solar Kits with best prices browse below or call us and let us help with your DIY Solar Setup.
Read more
Watch our video on DIY Solar Kits
nominal solar voltage
12v
Blog Posts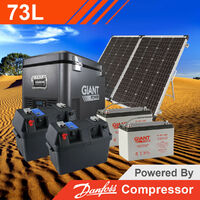 HOW TO GET THE BEST SOLAR POWER SETUPS FOR REMOTE CAMPING - The ultimate guide on how to get the best Solar for Camping and Solar Panel Camping Setups. Solar Power for Camping Explained:... read more
View more posts
Free eBook
Learn everything you need to know about
Deep cycle batteries
Solar panels
Portable fridges
Inverters
and more!
Download now