12V Fridge - 12V Portable Camping Fridges - 12v Car Fridges - 12v/24v Fridges
12V Fridges & 12V Camping Fridges - 12v Car Fridges & 12v/24v Portable Fridges for Camping, Campervans, Boating, RV's, 4WDs, Caravans, Camper Trailers & Solar Camping Fridge Kits with Australia Wide Delivery.
Get Australia Wide Delivery on all 12V Fridge Freezers & 12V Portable Camping Fridge Kits. Buy a 12V Fridge or Portable Camping Fridge that will last the distance!! - Shop Online from our range of high quality Portable 12V Fridges for Camping. All our Portable Camping Fridge/Freezers run on 12V, 24V, 240V making them the perfect portable fridges for camping, cars, caravans, campervans, RV's, motorhomes, 4WDS and as a backup for use at home. Aussie Batteries & Solar are 12V camping experts and can help you get the best quality Portable Camping Fridge, 12V Fridge or 12V Car Fridge, including Dual Zone 12V Portable Fridge Freezers or a complete 12V Camping Fridge setup for your Car, Caravan, 4WD, RV, Truck or Motorhome.

Portable Camping Fridges are a must for any serious camper or tourer as they give you the ability to keep your food and drinks cold or frozen in all camping situations.
A 12V Fridge will also run on power from your car, solar setup or mains power. This versatility is one of the many reasons that 12V Fridges are the most popular portable camping fridges in Australia. Our range of 12 Volt Camping Fridge/Freezers ensure that your food stays fresh for the duration of your trip, while also allowing you to freeze items. The Giant Power range of 12V Fridge and Portable Camping Fridges operate very efficiently, with low power usage, they are easily run from a 12V Battery or from your vehicle's cigarette socket and are cooled by the industry leading "Danfoss Compressor" and polyurethane insulation. The Giant Power range of 12V Portable Camping Fridge/Freezers are built tough using industry leading technology. All the 12V Dual Zone Fridges can maintain freezing cold temperatures no matter what the ambient temperature is like outside. Best of all, you can monitor and control the temperature with an easy to use digital display.

Aussie Batteries & Solar can help you to get the best 12V Fridge, Portable Camping Fridge or 12V Fridge/Freezer for your needs. We stock a large range of 12V Car Fridges, Portable Camping Fridge/Freezers and Solar Camping Fridge Kits that are ideal for a large range of camping & caravanning adventures. If you need expert advice contact our 12 Volt team via email or call on 1800 853 315. Shop 12V Fridges online below and get the best portable 12V camping fridge prices in Australia with Direct Shipping to your door, leading Warranty and a Nation Wide Service Network!
Portable Fridge : What you need to know about Portable Fridges for Camping.
We carry a wide range of portable camping fridges and can help you determine the best choice of portable fridge to suit your needs. Following is some terminology to help in your decisions about buying a portable fridge for camping.
3- Way Camping Fridges
3 Way Fridges - 3 Way Fridges or absorbtion fridges utilise some of the oldest, yet still very good fridge technology. Absorption Fridges are often referred to as 3 way fridges because they run off of Gas, 12v DC and 240v (mains power). This makes them a flexible and popular choice for those who are also living off the grid. They're ideal for a long camping holiday at Fraser Island or in your bush hut.
3-Way Fridges, however, do have some disadvantages that should be considered. They are very inefficient as a 12V Fridge usually this means they will require very thick cables run directly to the battery to be able to provide them with the necessary current. For this reason they cannot usually run from a 12V cigarette lighter outlet. So for someone looking for a fridge to go touring with a 3 way fridge is really not a good choice.
12V Portable Fridges For Camping, Caravans, Cars, 4WDS, Boats, Motorhomes, Caper Trailers and Solar Camping.
12v/24v Compressor Fridges - 12v/24v Fridges are found in many Camping Setups, 4WDs and Trucks throughout Australia. 12V Compressor Fridges are popular due to their great cooling capacity, low power draw and portability. Most portable compressor fridges feature the ability to run from 12v (cars) 24v (trucks) and 240v (mains) giving the users great flexibility when travelling.
12V Fridges For Cars and Camping - 12Volt Fridges with Australia Wide Delivery.
A Portable 12V Fridge is a must have for any serious touring - whether it be in a caravan, car, motorhome, camper trailer or truck. A Portable 12V Car Fridge will give you the ability to keep your food and drinks cold or frozen no matter where you go.
Most 12V Car fridges can operate as either a refrigerator or freezer. Some have multiple compartments, and some even have the ability to run what is called a dual zone fridge - this means one compartment can run as a fridge the other as a freezer.
Portable 12V /24V Compressor Fridges for Camping
A good quality 12 volt camping fridge uses a compressor for the cooling mechanism. This is the same compressor technology utilised in a regular household fridge. All our 12V Portable Fridges for Camping use the best Danfoss compressors. Since its foundation in 1933, the Danfoss Group has based its work on the fundamental respect for the efficient use of Nature's resources. The philosophy behind the first Danfoss products was to make optimum use of energy while minimising waste, in the best way possible. Today Danfoss operates 58 factories in 18 countries, employing over 23,000 people globally. Danfoss compressors are used in numerous applications such as white goods, mobile refrigeration, light commercial refrigeration, commercial refrigeration and air conditioning. Worldwide they are regarded as one of the best fridge compressors.
Camping Fridges - 12V Portable Camping Fridges- Portable Fridge Freezers
Camping Fridges (camping compressor fridges) are versatile, and you can use them as a split fridge and freezer at the same time or as a unit that can be run as a refrigerator or freezer only. Some units such as our EvaKool FridgeMate & Giant Power, camping fridges have the option to use as either a refrigerator or freezer or both. Our camping fridges come in a range of sizes and the price of the camping fridge you choose should be compatible with the number of people using it and also the space you have to transport your camping fridge setup. Aussie Batteries and Solar stock an extensive range of different camping fridges online and for any budget. Get Australia Wide Delivery on all our Camping Fridges, Portable Frdiges, Car Fridges and 12V Fridges.

When you start looking for a 12V Car Fridge or Portable Camping Fridge, you will come across a few different types:
3-way fridges were very popular in the past. However, they have been replaced in popularity by portable compressor fridges because these 12 Volt Fridges operate more efficiently than 3-way fridges in high heat. The reason for this is that 3-way fridges use a heat source (an element in the case of 12V or 240V, and a flame when running on gas) this heats a gas combination which then travels through pipework to extract heat from the cooling chamber. On the other hand, a compressor type fridge has a motor which runs the compressor. 12V Compressor Fridges run on Solar and Battery setups and can also be plugged into the back of your car or mains power at home, so they offer you real versatility.
Portable Fridges for Camping & 12 Volt Fridge/Freezers for Cars, Caravans, Motorhomes, Camper Trailers and Solar Camping.
Here at Aussie Batteries & Solar, we understand that buying a 12V Fridge or Portable Fridge is a significant investment. Your Portable Fridge is likely to be the most expensive item in your camping kit. When it comes to getting the best Portable Fridge, you may not need the most expensive fridge on the market. Make your decision to buy a portable camping fridge based on your individual requirements. Everyone has different needs for a portable refrigerator, and you will need to consider how you plan to use your camping fridge. For example, someone travelling around Australia will have very different needs to a couple on a long weekend getaway at a caravan park or who want a backup fridge to use around the home when guests come or for BBQ's and Picnics. When you take these factors into consideration, it will help you to make the best selection of the correct style of portable fridge for your camping situation.
Read our Blog on How to get the Best Portable Camping Fridge
We offer the highest quality and best priced range of 12V Fridges & Portable Camping Fridges in Australia.
As experts in 12V Camping & Solar and Battery setups we can offer you some of the the best deals, on portable fridges for camping with discounted shipping. Contact us for advice on the best Portable Camping Fridges or 12V Fridge email or call our friendly team on 1800 853 315 or shop online below.
Read more
Watch our video on Portable Fridge
Blog Posts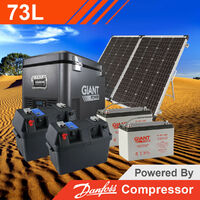 HOW TO GET THE BEST SOLAR POWER SETUPS FOR REMOTE CAMPING - The ultimate guide on how to get the best Solar for Camping and Solar Panel Camping Setups. Solar Power for Camping Explained:... read more
View more posts
Free eBook
Learn everything you need to know about
Deep cycle batteries
Solar panels
Portable fridges
Inverters
and more!
Download now