Ardent Heavy Duty Battery Box with 1200W Inverter
SKU:

A-BBOX-AC
Buy now, pay later
Interest free instalments
Four equal payments of $124.75/fortnight, with instant approval online. Learn more
Enjoy your gear now, and pay for it later! We're happy to provide the opportunity for our customers to shop with us using popular pay later options.


How it works
Buy what you want today, pay for it over four equal fortnightly instalments. Use your debit or credit card, get approved instantly.

Ordering online
Add the products you want to your cart, and select Afterpay as a payment option during checkout.
After your order is processed, you can log in to your Afterpay account to view your order, make payments and manage account details.
Note: Afterpay is only available on orders under $2000 value.
For terms and conditions, please refer to the Afterpay website
ALSO AVAILABLE

How it works
Buy now and pay later, with 6 months interest free. You pay over time weekly, fortnightly or monthly, whichever suits you best. Applications are quick, and get a decision in real-time.

Ordering online
Add the products you want to your cart, and select Zip as a payment option during checkout.

Ordering over the phone
Call us on 1800 853 315 and place your order with our friendly staff. Ask to pay using Zip.
Note: ZipPay is only available on orders under $1000 value, while ZipMoney is available on orders up to $10,000 value.
For terms and conditions, please refer to the Zip website
Key Features
---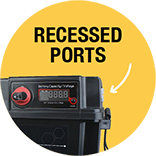 Recessed Ports
Unlike most other battery boxes on the market, all ports are recessed into the body to reduce likelihood of damage and the internal cabling uses the heaviest-gauge wire and quality connectors.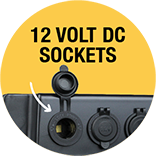 Run Fridges and Compressors
12 Volt DC accessory socket with 20A circuit breaker, perfect to run the compressor or portable fridge.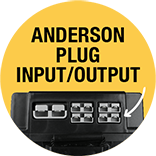 Anderson Plug Input/Output
Four 50A Anderson-style outlets that can be used as outputs or inputs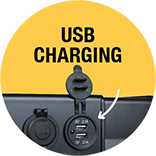 USB Charging
2 X USB outlet to charge all of your smaller devices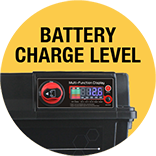 Battery Charge Level
The battery's charge status and voltage can be easily seen via the large digital display.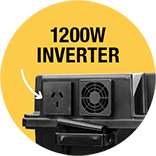 1200W Inverter works for most Deep Cycle Batteries
This 1200W Inverter battery box is perfect for most popular battery types AGM Batteries, Lithium, Wet, Gel and Calcium, and can handle batteries up to 330mm (l) x 175mm (w) x 220mm (h) in size
Overview
---
ARDENT

1200W Inverter Battery Box

with

FREE SHIPPING

to most areas Australia Wide.
Upgrade to a Heavy Duty Ardent Battery Box including a 1200W pure-sine wave inverter. This will instantly turn your AGM Battery or Lithium Deep Cycle Battery into a true portable power hub and the Ardent 1200W Inverter Battery Box gives you reliable 12V and 240V power options. The handy LCD screen makes it easy to see how much battery power you have left. This is a portable, reliable, durable and tough battery box for all your camping adventures! With tons of essential features, the Ardent 1200W Inverter Battery Box will keep your gear running smoothly and efficiently while you relax. The Ardent range of heavy duty battery boxes allows you to turn a regular deep-cycle battery into a convenient portable power station.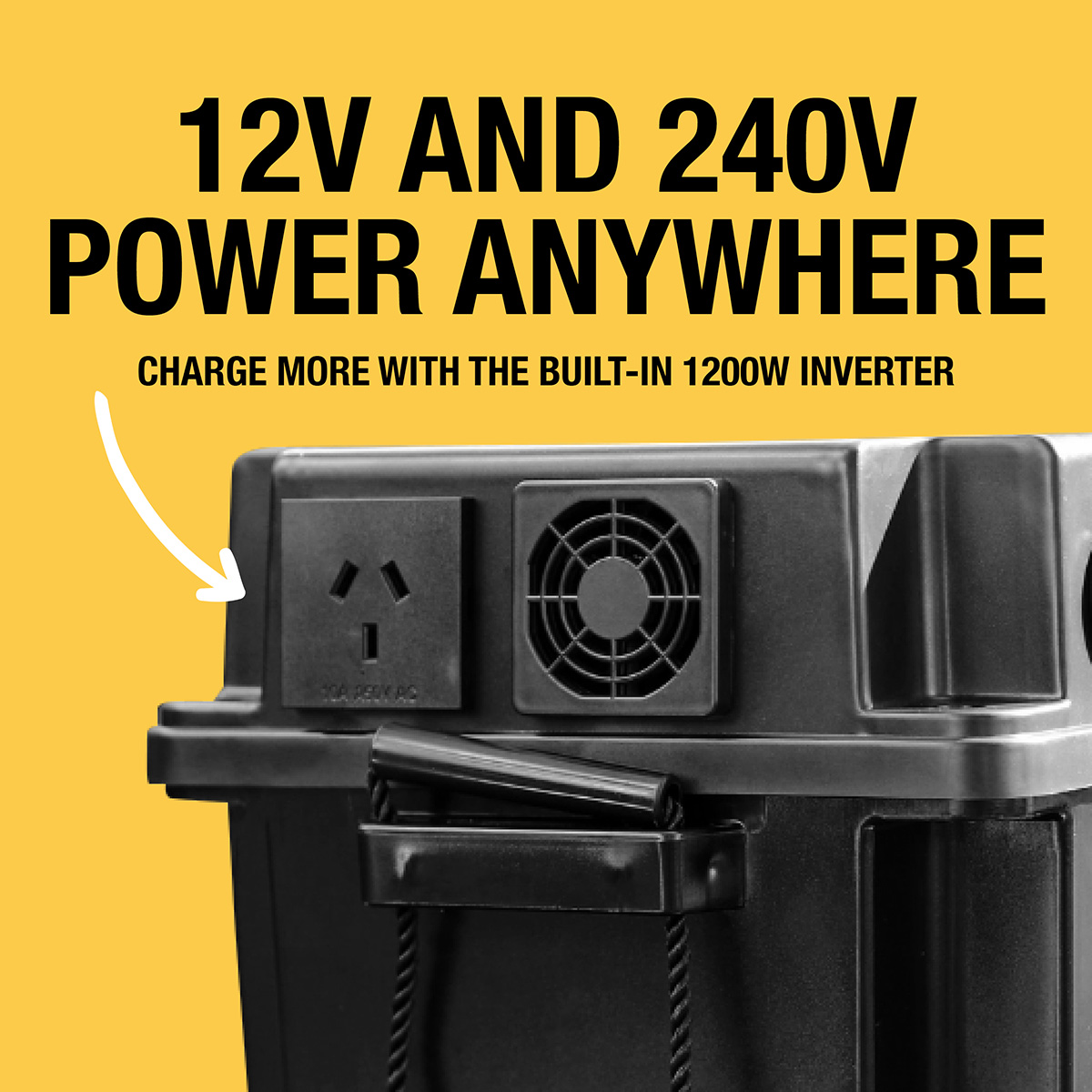 DOWNLOAD ARDENT BATTERY BOX BROCHURE >
EASILY UPGRADE YOUR SETUP WITH A RELIABLE BATTERY BOX INCLUDES A - 1200W BUILT-IN INVERTER SUITABLE FOR MOST DEEP CYCLE BATTERIES:
Dual Cigarette Output

Dual USB Output

4 x 50A Anderson Plugs

1 x 175A Anderson Output

2 Year Warranty

Digital Voltage Indicator

1200W Inverter gives you 12V & 240V power options.

Thermal, Overload & Short Circuit Protection

Low Voltage Shut Down
HEAVY DUTY BATTERY BOX TURNS 12V BATTERY to 24V POWER
This Ardent 1200W Inverter plug and play battery box is simple and easy to use you just place your deep cycle battery such as an AGM or Lithium Battery into the pre-wired Ardent Battery 1200W Inverter Box and you are ready to turn your 12Volt Battery into 240V power! Get power anywhere and anytime! Stuck in a blackout! No problems! Charge and run all your important devices!! This battery box works by safely turning your 12V Battery into 1200W of pure sine wave 240 Volt AC - So you can run all your home comforts off the grid - with added thermal, overload & short-circuit protection for safety!
Designed to handle batteries up to 330mm (l) x 175mm (w) x 220mm (h) in size.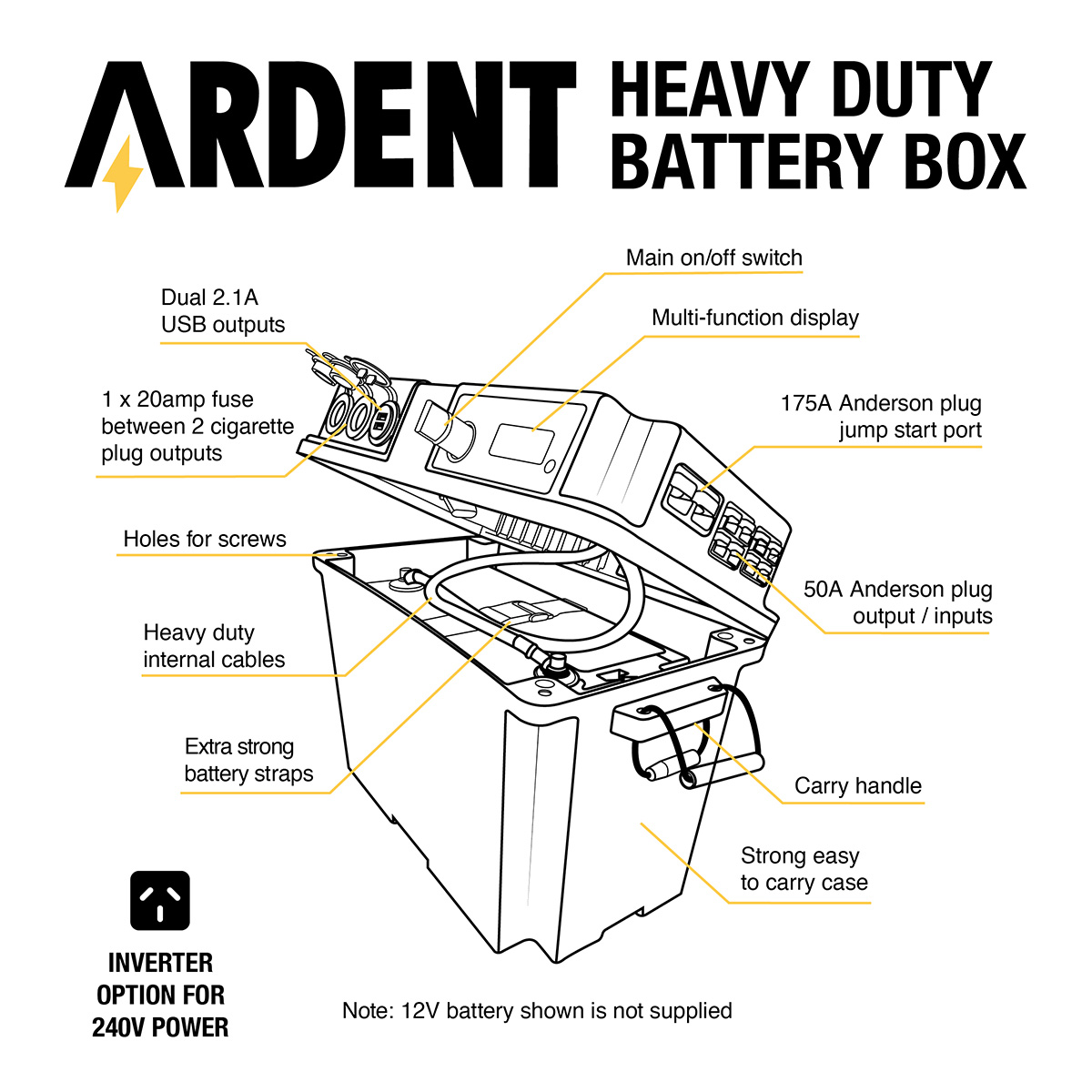 IF USING LITHUM BATTERIES YOU MUST USE A BMS (Battery Managment System) 100AMP or LARGER FOR THIS 1200W INVERTER TO WORK CORRECTLY - Aussie Batteries stock a range of compatible lithium battery options for this purpose.
Built in 1200W Inverter : Using an Ardent Battery Battery Box with a built in 1200W inverter means you can plug in anywhere around Australia and still get the same type of power you get at your home! Better yet, you can now run and recharge your most sensitive devices such as drones, cameras, studio gear, computers, laptops and even Bi-PAP/CPAP machines – giving you more freedom when away camping to stay connected and tour in safety!
Heavy Duty Ardent Deep Cycle Battery Box with 1200W Inverter - The Ardent Inverter Battery Box will give you the best value 12V & 240V power solution. This is a great value battery box and perfect for those who are looking for an easy plug and play, portable power solution. With this setup you get a complete power hub and you can also use this as backup power when stuck at home during a blackout! This is a multi-functional portable power solution that allows you to use your battery to get 12Volt or 24Volt power anytime, anywhere.
PERFECT FOR USE IN A RANGE OF APPLICATIONS:





Run appliances when camping away from power
Power 12V fridges, lights or any 12V appliances
Excellent for use with a solar panel for charging
Superb for use in 4x4 and marine conditions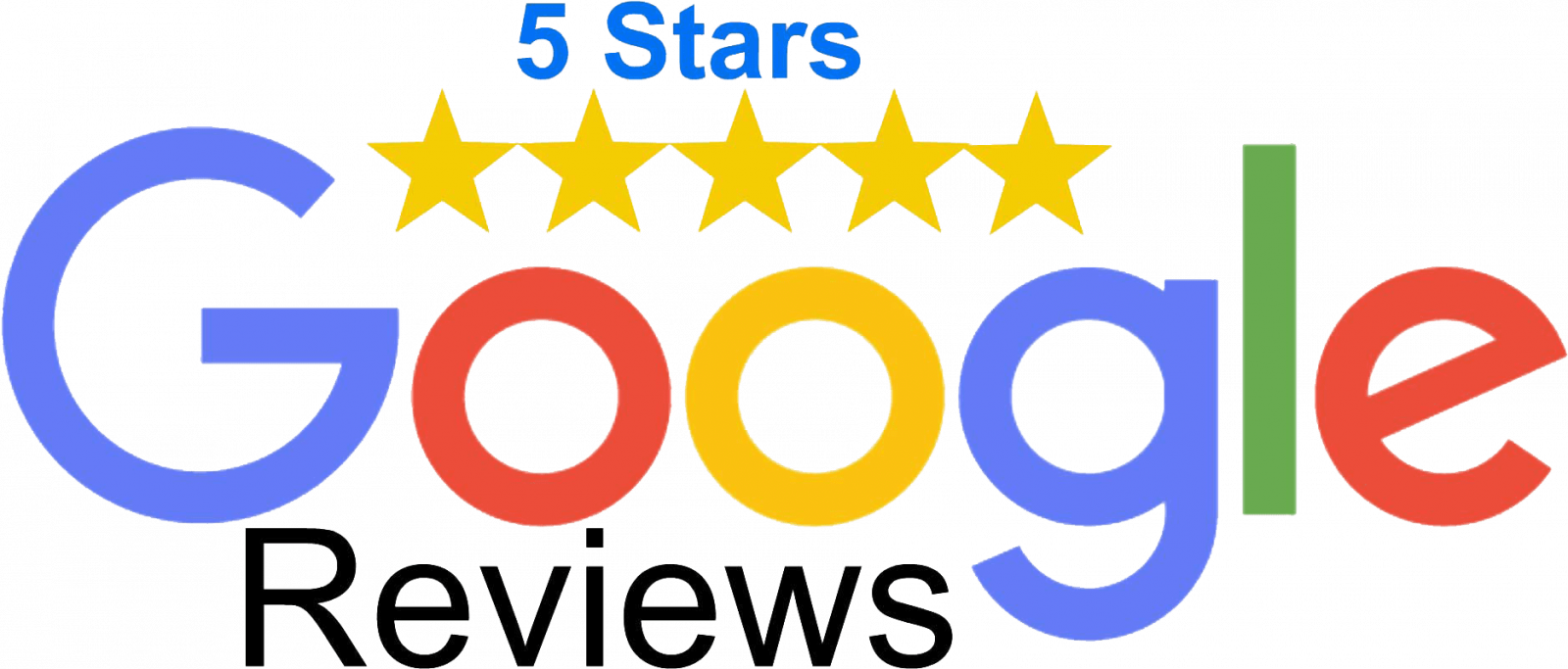 TESTED everyday by our highly valued Aussie customers who are traveling around Australia and camping in some of the most demanding outback and coastal terrain you can imagine!
We're here to help!


Freecall 1800 853 315
RELIABLE AUSTRALIA WIDE DELIVERY OPTIONS




CLICK TO CALL >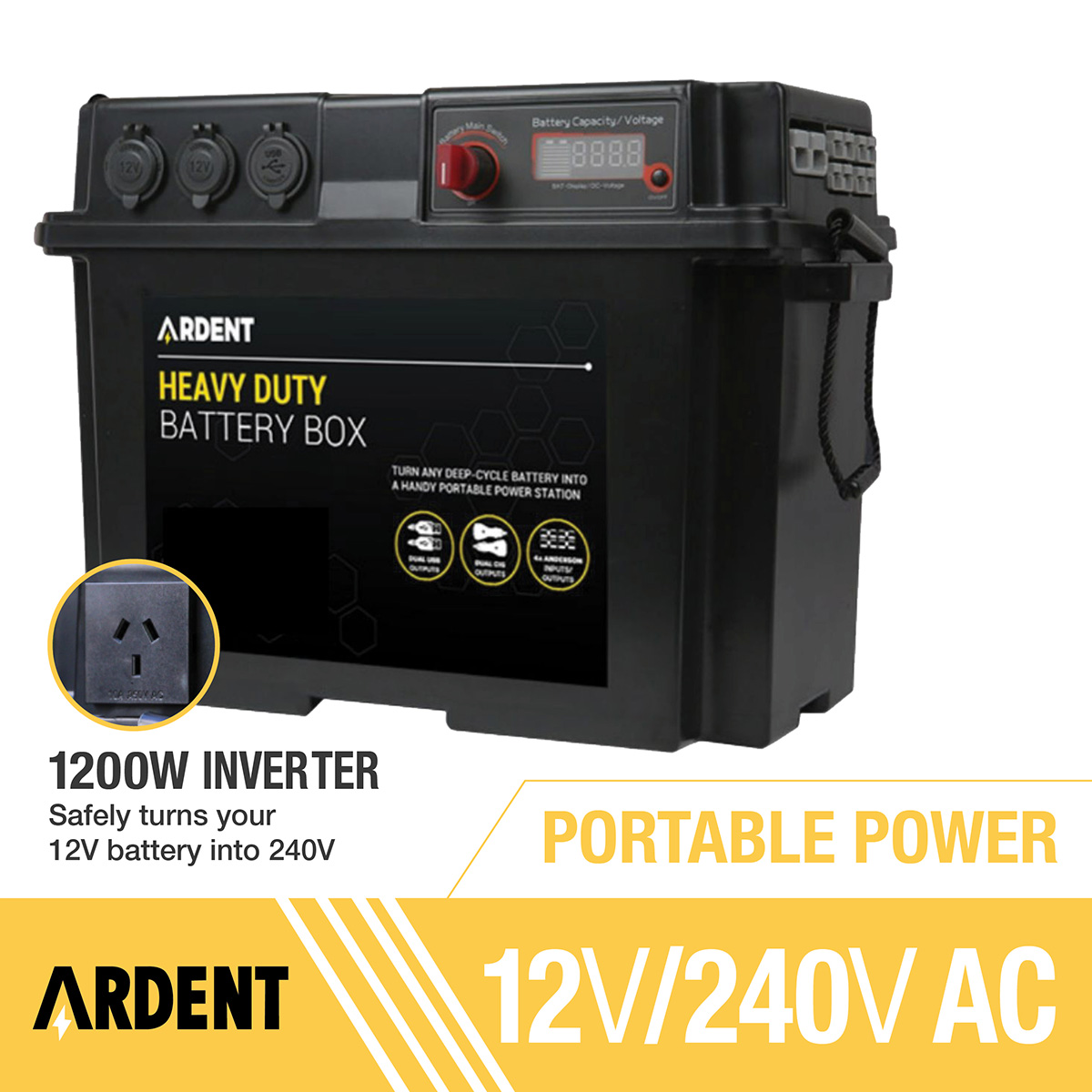 CHARGE MORE WITH A BATTERY BOX THAT INCLUDES A BUILT IN 1200W INVERTER FOR 240V AC POWER
The included 1200W Pure Sine Wave Inverter is critical for safely and efficiently powering 240V AC devices. You need a pure sine wave inverter box so that you do not damage sensitive electrical devices like laptops. The Ardent Battery Box 1200W Inverter model is strong enough to stand up to the toughest camping trips and includes alloy housing that keeps your battery protected. Also the mounting points make a solid custom power set-up easy. This Ardent Battery Box with 1200W Inverter kit is powerful enough to run large appliances including coffee machines or microwaves and even power tools! Plus it's ideal for your smaller items like camera or laptop chargers and TVs. (Best to Check the Energy Draw of Your Applicances)
HIGHEST QUALITY CONSTRUCTION = IMPROVED PERFORMANCE!
Need a new deep cycle battery to go with your battery box ? Check out our bestselling AGM Deep Cycle Batteries or Lithium Deep Cycle Batteries or save with our combo pricing. Getting a 1200W Inverter Battery Box will make your deep cycle batteries or lithium batteries highly functional in a range of situations and are perfect for those who want both battery protection and more functionality from your Deep Cycle Batteries when camping, caravanning or boating. Built for Aussie Adventure!
12V BATTERY POWER TO 240V ELECTRICITY
An Ardent Heavy Duty Deep Cycle Battery Box with built in inverter will give you reliable 12V/240V power for all your camping and outdoor activities and it turns an ordinary battery into a convenient and user-friendly power station.With this setup you simply fit any Deep Cycle Battery into the pre-wired Ardent Battery Box and you are ready to go.
***Perfect for mounting in the cargo area of a Wagon / SUV /4WD / Caravan or Boat.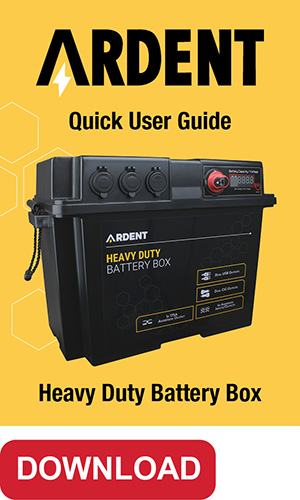 ARDENT BATTERY BOX SOLUTIONS FOR GETTING THE MOST FROM YOUR DEEP CYCLE BATTERY
This is a high quality Deep Cycle Battery Box that is suitable for Saltwater/Marine applications, Caravans, Motor Homes and Camper Trailers and most other power applications. The Ardent Battery Box range are high-grade multi-functional battery boxes that will provide you with the best battery box setup and allow you to get reliable and portable 12v or 24v power by turning your deep cycle battery into a truly functional portable power station that offers you an electrical power supply you can use anywhere! This Ardent Heavy Duty Battery Box with 1200W Pure Sine Wave Inverter allows you to run all of the luxuries and essentials of home on your next trip by converting the 12V DC power of your battery to 240V AC.
TRULY PORTABLE POWER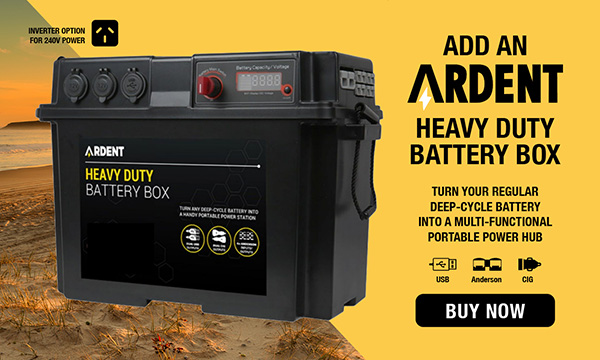 WATCH OUR VIDEOS TO LEARN MORE >
RELIABLE POWER SOLUTIONS USING ARDENT BATTERY BOXES
ARDENT 1200W Inverter Battery Box
Safely turns 12V battery power into 1200W of Pure Sine Wave 240 Volt AC. It allows you to run all your home comforts off the grid with Thermal, Overload & Short-Circuit protection for added safety.

FAQ's
Read our frequently asked questions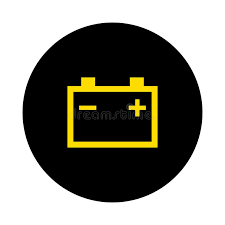 UPGRADE YOUR BATTERY SIZE
Get a bigger Lithium Battery Size for your Complete Portable 12V Setup.
View Now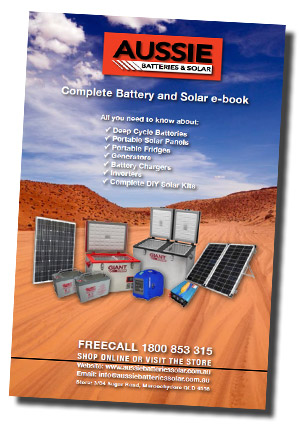 If you'd like to learn more about Deep Cycle Batteries and Solar, take a look at our free Complete Battery and Solar eBook. We've covered a lot of common questions and provided a bunch of good general knowledge information to help you make informed choices when purchasing.
ALL YOU NEED TO KNOW ABOUT
Deep Cycle Batteries
Portable Solar Panels
Portable Fridges
Generators
Battery Chargers
Inverters
Reviews
---
Ardent Heavy Duty Battery Box with 1200W Inverter has a rating of 4.95/5 based on 20 reviews.
Quality product
This is a really nice solid battery box. I particularly like how the Anderson sockets don't have exposed cables on the outside of the box, but are recessed/hidden, unlike some cheaper boxes on the market. Easy to set up, just place the battery inside, strap it down with supplied strap, connect the cables with the supplied bolts, and it's ready to go!

Martin V

on 18 May 2022
Ardent battery box with 175ah battery &1200w inver
This is an excellent product and i am 100% happy with my purchase.

Geoffrey R

on 26 April 2022
Awesome power solution
I bought the Atlas 140ah lifepo4 and the Ardent heavy duty battery box with the inverter. Brilliant bit of kit that is not just for camping but backup power at home. Solidly built, great quality and well priced. Best value for money combo battery box and battery on the Australian market. There is nothing that comes close.

Craig H

on 14 April 2022
No battery
Haven't received the battery yet

David G

on 5 March 2022
Great Product & Fits A Niche Nicely
I bought this box for my wife to use when she camps out in the horse float with the horses. I love it because it's built-in inverter is the biggest available in battery boxes at 1200W (that I could find). It makes it great to use with our multi adjustable induction cooktop the Newave Flex, has plenty of Anderson outlets as well as ciggy sockets and USB. 1 complaint I have is that it has multiple ciggy sockets and only 1 USB socket, in today's day and age should be the other way round. Another suggestion would be for a cable entry point.

Troy L

on 25 February 2022
Write a product review
Specifications
---
Ardent Heavy Duty Battery Box & 1200W Inverter Specifications & Features
Suitable Battery Types
Lithium, AGM, Calcium, Wet, Gel
Body Materials
ABS plastic (meets UL 94V-0 standard)
Charge method
via Anderson plug input
Port

1x Dual USB output
2x Cigarette plug outputs
4x 50A Anderson plug inputs/outputs
1x 175A Anderson plug output

1 X 1200W Inverter

Max Battery Size
330mm (L) x 175mm (W) x 230mm (H)
Max Battery Weight
35kg
Box Dimensions
455mm (L) x 240mm (W) x 330mm (H)
Warranty
---

For more information, please read our full warranty policy