12V Solar System - 12V Solar System Setup - 12 Volt Solar System Australia - 12V Solar Systems
12V Solar System - 12V Solar System Australia - 12V Solar Power Australia
Experts in 12 Volt Solar Systems Australia. We stock a large range of reliable 12V Solar Systems for every purpose and at the best prices. Need the best 12V Solar System ? Aussie Batteries stock a full range of 12V Deep Cycle Batteries for all your possible 12V Solar System applications. Call our 12V Solar System experts on 1800 853 315 or view our batteries & solar online ! Aussie Batteries & Solar supply a range of high quality 12V Solar System Setups.

Buy 12V Solar System Setups for Camping, Caravans Camper Trailers, Camper Vans, Motor-Homes, Marine, 4WDs & Off Grid Solar. Call the experts at Aussie Batteries and Solar for AGM Batteriess, 12V Deep Cycle Batteries & AGM Deep Cycle Batteries. WE DELIVER 12V SOLAR SYSTEMS - DIRECT TO YOUR DOOR!
There are a huge number of different types of 12V Solar Panel Systems that have been designed to help users harness and use solar energy from the sun. A 12V solar panel system creates a power output of 12 volts which is the most common used solar system setup used for caravans, marine and RV appliances, or for field communication radios and garden fittings like pond pumps or lights. While the output from a 12V solar panel system may not be large enough to power an entire household, 12 Volt Solar Systems are very effective for powering smaller electrical and electronic devices. The best 12V Solar System setup is also flexible and portable and very cost effective. IN 12V Solar System the solar panel converts sunlight into DC electricity to charge the deep cycle battery. This DC electricity is fed to the battery via a solar regulator which ensures the battery is charged properly and not damaged. DC appliances can be powered directly from the deep cycle battery, but AC appliances require an inverter to convert the DC electricity into 240 Volt AC power.
Learn more about why our Deep Cycle Batteries are one of Australias best selling AGM Batteries because of their high capacity, exceptional deep-cycle resistance and the highest levels of safety and operational reliability. If you need expert, tailored, no-obligation advice on 12 Volt Solar Systems EMAIL or phone our friendly team on 1800 853 315 or download and print our battery Power Estimator that will help you work out the best Deep Cycle Battery for your 12V Solar application. Need a Deep Cycle Battery Bank for Solar or looking for great deals on Solar for Camping or 12V Accessories.
BROWSE OUR FULL RANGE OF 12 VOLT BATTERIES & SOLAR PRODUCTS - AUSSIE BATTERIES & SOLAR
Blog Posts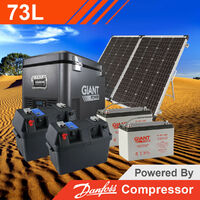 HOW TO GET THE BEST SOLAR POWER SETUPS FOR REMOTE CAMPING - The ultimate guide on how to get the best Solar for Camping and Solar Panel Camping Setups. Solar Power for Camping Explained:... read more
View more posts
Free eBook
Learn everything you need to know about
Deep cycle batteries
Solar panels
Portable fridges
Inverters
and more!
Download now