Sneak preview: Giant Power Narada carbon lead batteries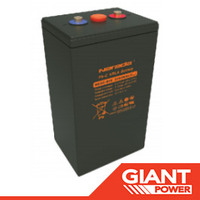 Soon to be launched, Giant Power's new carbon lead batteries are some of the most advanced batteries available. Partnering with the well known battery manufacturer Narada, Giant Power carbon lead batteries are ideal for off grid usage. Offering over 7000 cycles at 30% depth of discharge amongst other impressive features, carbon lead provide excellent performance and value for money.
Read the full writeup on Solar Choice: click here.
The Solar Choice website provides comparisons of solar quotes for Australia's residential solar market, manages tenders for commercial-scale projects, and also develops large-scale solar farms. The company's website is one of the most widely-accessed solar information portals in Australia, and also contains a large amount of information on battery storage for solar.
February 26, 2016 | By Nathan Gathercole| Comments
About Nathan
Nathan is the owner of Aussie Batteries & Solar, and has been immersed in the battery industry for many years. Growing up on the Sunshine Coast, he enjoyed taking full advantage of the spectacular outdoors on offer, and has turned this passion into a thriving business. As the saying goes, "Find a job you love and you will never have to work a day in your life".