Getting The Best 12V Portable Solar Panel for Camping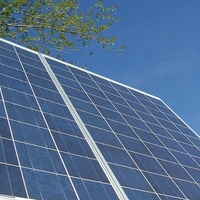 Choosing The Best Portable Solar Panels and Portable Solar Panels for Camping with Solar. Learn all about 12V Solar Panels & Solar Panel Setups.

Camping with Solar has many great benefits and using a suitable portable solar system allows you to travel to unpowered and remote locations without sacrificing items like portable fridges, LED camping lights, mobile devices and much more. Camping with Solar Panels means you can avoid paying substantial fees for powered sites. Also, swapping a generator for portable solar panels when camping or caravanning means you don't have to detract from the peace and quiet you went outdoors to find. More and more of us are ditching our generators and investing in portable solar panel kits for camping as it is a clean, silent and efficient energy when camping or caravanning. Portable Solar Panels can even end up saving you money by powering your favourite devices without the need to buy petrol.
12V Solar Panels work by converting sunlight into an electric current which can be used to charge batteries or converted using an inverter to safely power 240V appliances such as laptops and phone chargers. While solar panels are simple to set up and use, choosing the right one takes a little more consideration. With a range of solar panel brands on the market, you need to know that the products you are buying will meet your power requirements and are of high enough quality to last.
Our guide to choosing a 12V portable solar panel takes you through what you need to look for in the construction of your panel, as well as sizing information and how to use a solar regulator.
The Difference Between Fixed vs Portable Solar Panels
12V Solar Panels can be used in two main variations, depending on your power needs and the type of trip you're taking. Fixed Solar Panels are mounted on the roof of your caravan, boat or 4WD to absorb sunlight while travelling or when your vehicle is parked in a sunny spot. Most caravans have a roof space big enough to hold a system that covers the majority of their power needs and there won't be any set up to worry about when you arrive at your destination. The disadvantage of fixed solar panels is in their positioning - because they will be laid flat atop your vehicle and you may not always park in direct sunlight, they lose around 20% of the power they could potentially produce in a day. With portable solar panels, this is less of a problem. The panels can be placed in the sun and moved to follow its arc while a cable runs back to your battery. This allows you to 'chase the sun' and generate the maximum amount of power from your panels. However you will need to allow extra time for setting up and packing down your solar panels as you journey around.
The Cell Quality in 12V Portable Solar Panels is Important
The type of cells used in your 12v portable solar panel is an important consideration. Solar panels are graded on the quality of the photovoltaic cells used in their construction; with the more efficient cells producing the most energy. The three main types of solar cell used in modern solar panels are the mono-crystalline which works best in direct sunlight, poly-crystalline which functions more efficiently in low-light conditions and the less common amorphous cells made from thin, flexible film panels.
Look for a trusted manufacturer behind your solar cells, such as Kyocera. The Japanese brand's solar cells use multicrystalline technology (a combination of mono-crystalline and poly-crystalline), which features a greater surface area to collect sunlight and increase output.Some lower quality brands will rate their solar cells to a higher wattage than the level they perform at, leaving you with an inferior panel that won't support your power needs. When it comes to Solar Panels the cheapest options are often an inferior panel and it is worth investing a little more to know that you're getting a good quality panel that will last and is covered by a warranty. Good quality panels will generally have great standard warranties because the product technology is advanced and has a proven track record.
The Solar Components are essential for getting the best Solar Panels
Solar cells may be the most important part of the portable solar panel but without solid cabling, frame, hinges and other components, they won't be able to perform to their full advantage (such as from power loss due to insufficient cable thickness). Look for aluminium frame, legs, and heavy duty latches as this ensures your solar panel is sturdy enough to withstand being packed away and set up. Rust proof aluminium components and hail proof solar cells are also a good indicator that your panel has been built to last the tough Australian environment. At Aussie Batteries & Solar, we hand build and check each portable solar panel in our Sunshine Coast factory so you can be sure your product is up to scratch. We know that investing in Solar for Camping and Caravans means you want to get a great solar panel system that you can trust and will last the distance.
Solar Panel Size Matters
Before choosing a solar panel, decide which devices you'll be taking on your trip and work out their daily usage. You can do this by taking the total number of amps used by your devices per hour and multiplying it by the hours you plan to use them each day. This is your daily usage and if you multiply it by the number of days you intend to be away, you can work out the total number of amps needed for your trip.
You will also need to ensure the battery you intend to use with your portable solar panel is correctly sized. The total power needs of your devices must be less than the total storage of your batteries. If you're only going away for a couple of days, you can sometimes make do with a panel that will not completely top up your batteries each day. For example, on the first day of your trip you might drain the battery to 50% capacity and your solar recharges it back to 80%, second day you drain it to 30% and solar recharges it back to 60%, and on the third day you come home and charge it back up to full (keep in mind that draining the battery to a low level on a regular basis will reduce its lifespan).
However, if you are going to be away for an extended time, it's best to get a solar panel that will meet or exceed your power usage each day. This will ensure that the battery is fully charged each day. If you size your solar panel and battery correctly, you won't need to worry about being left stranded without sufficient power. If in doubt, we recommend going a little larger, as you will never regret having more power than you need (and it can really come in handy if you have bad weather!).
Sizing your solar panels correctly is often the most important and technical part of working out what you need. If you need some help, feel free to give one of our solar experts a call.
We would love to help you custom build a Solar System for your RV, Camping, Caravan, 4x4, Off Road requirements. Speak to our 12Volt Solar experts email or call our friendly team on 1800 853 315 we deliver Australia Wide & Provide Free Quotes & System Design.
Solar Regulators and Solar Inverters
A good portable solar panel should come complete with a solar regulator, preferably one made with dust and moisture proof components and connected with strong cabling to your panel.
Before being connected to a battery, the energy produced by your 12V portable solar panels will need to be run through a solar regulator, also known as a solar charge controller. Solar panels can produce between 12V and 21V, and this fluctuation in power would cause damage to the battery if left unregulated. A good regulator ensures the correct voltage is put into the battery and will switch to float charge once the battery has reached its full capacity.
The most important thing to remember about using a solar regulator is setting it to the correct battery type in order to prevent over charging. See our beginner's guide to solar charge controllers for more information.
Warranties Matter
Lastly, don't forget to check the warranty that accompanies your portable solar panel. Investing in a solar panel with a good warranty will give you peace of mind that your product has been built to high standards and can be repaired if needed. Aussie Batteries & Solar portable solar panels come with a 2 year warranty on everything that covers repair and replacement, as well as a 25 year performance warranty that guarantees 80% of the panel's rated wattage.
For expert, tailored, no-obligation advice email or call our friendly team on 1800 853 315
Browse the Aussie Batteries & Solar selection of 12v portable solar panels for camping or portable solar kits for camping Australia.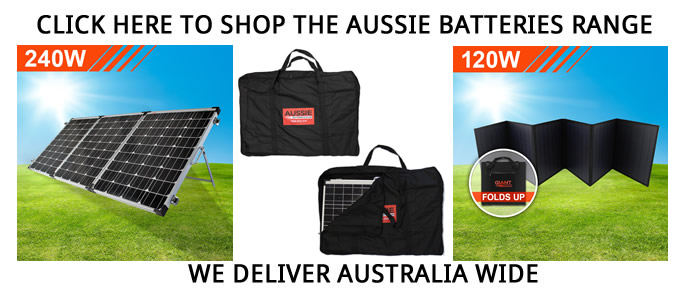 May 15, 2019 | By Aussie Batteries | Comments