Choosing the Best Deep Cycle Battery
Choosing the Best Deep Cycle Battery ? And How do Deep Cycle Batteries Work? "What is the best deep cycle battery"? Is the most common question our team get asked! Learn more about the best Deep Cycle Batteries & AGM Deep Cycle Batteries for camping, caravans, 4WD, marine and 12 Volt solar setups!
We always answer that when choosing the best Deep Cycle AGM Batteries you shoud check that the product has reliable customer reviews, so you know that they are being used and tested.
Customer feedback allows you the buyer to see that the best deep cycle battery can power everything in a range of camping applications. The best deep cycle batteries will most often be used for camping, 4wds, boats, caravans, motorhomes and a variety of other off-grid power setups. The best way to look after deep cycle batteries is to suit your battery to your appliances and how much power they use, this will allow you to get the best deep cycle battery performance over time.The main reason to choose an AGM Deep Cycle Battery is the price. They are incredibly affordable. The reason that AGM deep cycle batteries are so popular for camping is that they are best when weight and space are not an issue. Also, you can keep connecting batteries in parallel to increase the overall battery bank capacity. When choosing the best deep cycle battery you need to understand the difference between Gel Deep Cycle, AGM Deep Cycle and Lithium batteries, and also know what gear you want the battery to run, as this will help you decide on the correct size.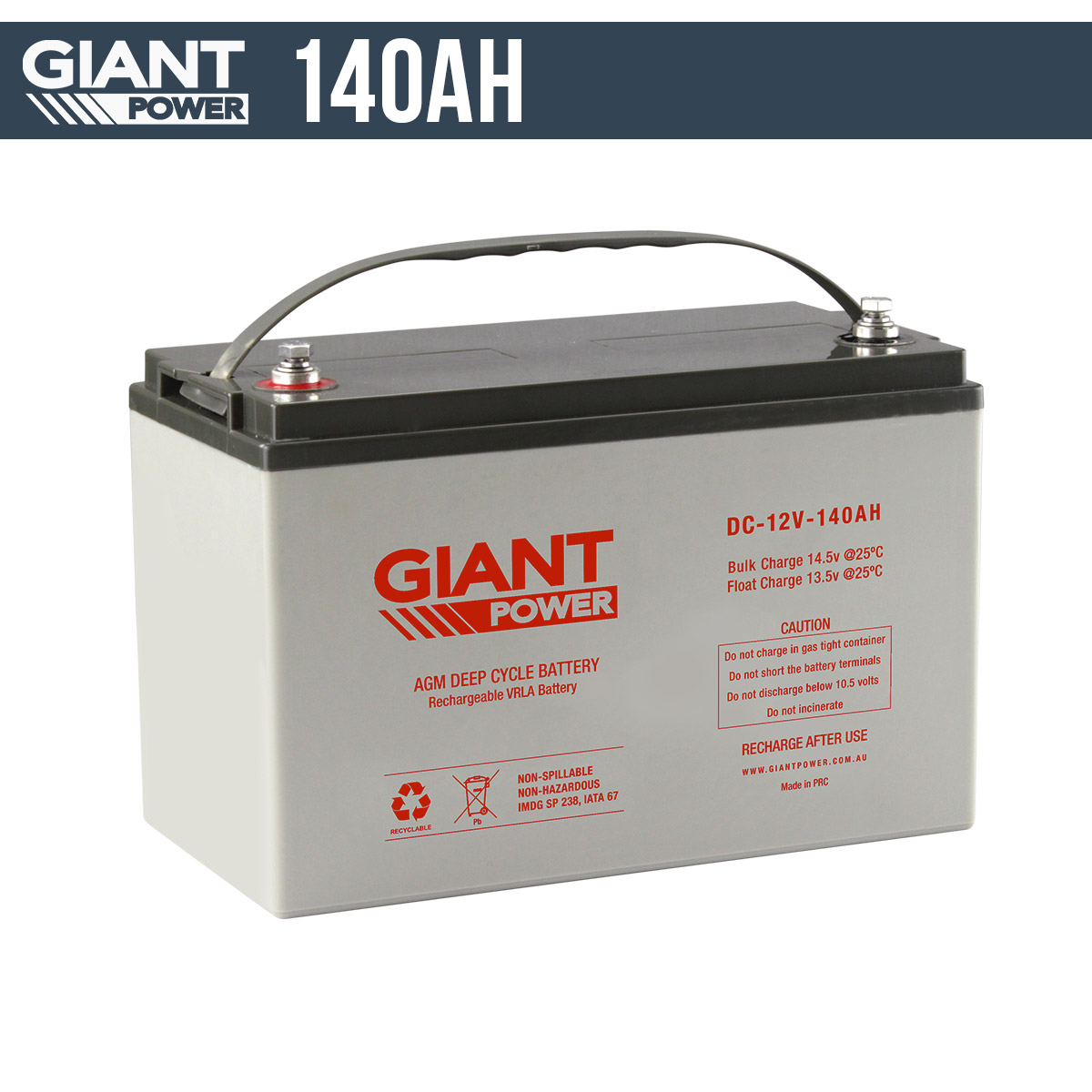 Why the

GIANT POWER 140AH is a Best-Selling AGM Deep Cycle Battery

in Australia:

A Giant Power

140AH

AGM Battery is best for most Australian 12 Volt Setups and power requirements customers ask for and is an Australian Tier 1 Top Rated

Deep Cycle Battery

!
The GIANT AGM DEEP CYCLE 140AH AGM BATTERY is compatible with all major battery boxes on the market.
Industry Leading Australian 5 Year Warranty.
140AH AGM Battery has a best-quality 12 Year Designed Service Life.
High Quality Bolt Terminal Connections.
Aussie In-house Warranty Testing Facility.
Australian Owned and Operated Company.
Aussie Customers rated this the best AGM Battery Australia !
FREE SHIPPING TO MOST STATES OF AUSTRALIA
Aussie Batteries stock the widest range and best quality AGM Batteries in Australia.
5 Star Review – Customer Feedback that shows why GIANT POWER Batteries are an Australian bestselling AGM Battery - Top Quality Batteries for Solar Power Systems.
Learn more about getting the best deep cycle battery for camping!
Deep Cycle Battery Cycle Life
Battery cycles are one of the most (if not the most) important specifications on a deep cycle battery and one of the things to look for when asking what is the best deep cycle battery ? We find that many people don't understand what battery cycles are so in our video above, one of our battery experts explains what a battery cycle is and how they affect battery life. With the knowledge in this video you'll be able to make sure your deep cycle battery has a long and healthy life, as well as easily compare different batteries to find the best deep cycle battery for your needs.
Selecting the Best Deep Cycle Battery
Selecting the best deep cycle battery can be challenging as we said earlier reviews are your best place to start. And when looking for the best deep cycle battery, you will want to read the reviews to gauge the quality of the battery performance and company feedback. This will generally tell you what the best 12V deep cycle batteries are and what products will give you the best performance for your setup. Remember that all deep cycle batteries use chemical reactions inside the battery to develop voltage which then powers your equipment. So getting the best battery will often mean that the internal components of the are well constructed, and it should be heavy! The heavier, the better in fact as this shows the lead being used. Also, look for a batter from a reputable company with a reliable warranty. You should start by ruling out any cheap or unknown brands on eBay or Amazon as these will likely be poor quality, and you will simply lose the $$$ and then have to go buy a decent battery after learning a painful lesson.
One RULE of getting the best deep cycle batteries is that the cheapest is definitely not the best! The best deep cycle batteries are designed to discharged and recharged multiple times. So they are not like a conventional car battery that works by producing bursts of electrical energy for short periods of time. That is why it is best to use deep cycle batteries when you need to get steady power over long periods of time, such as running a fridge when camping or 12V lights and any 12 Volt setup. You can also charge a deep cycle battery direct from a solar panel and battery box setup.
Learn more about the best 12V deep cycle batteries in 2020 and why Aussie Batteries have one of the best reputations for quality deep cycle battery and solar products in Australia.
BROWSE OUR FULL RANGE OF DEEP CYCLE BATTERIES With AUSTRALIA WIDE SHIPPING AVAILABLE - Need Expert Advice - Freecall Now - 1800 853 315 or LEARN MORE ABOUT GETTING THE BEST DEEP CYCLE BATTERY
September 2, 2020 | Comments
Blog Posts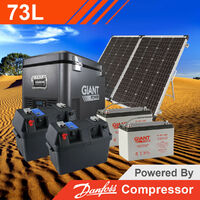 HOW TO GET THE BEST SOLAR POWER SETUPS FOR REMOTE CAMPING - The ultimate guide on how to get the best Solar for Camping and Solar Panel Camping Setups. Solar Power for Camping Explained:... read more
View more posts
Free eBook
Learn everything you need to know about
Deep cycle batteries
Solar panels
Portable fridges
Inverters
and more!
Download now