Solar for Camping & Solar Panel Camping Setups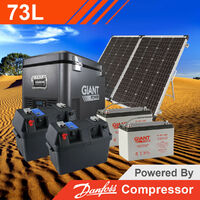 HOW TO GET THE BEST SOLAR POWER SETUPS FOR REMOTE CAMPING - The ultimate guide on how to get the best Solar for Camping and Solar Panel Camping Setups. Solar Power for Camping Explained: A guide to the ideal solar power setups for camping!- Everything you wanted to know about camping with solar.
Solar Power for Camping & Solar Panel Camping Setups
Let's look at how you can use the suns energy to run electric devices like a fridge or lights while camping. Let's look at the benefits of portable solar panels and batteries for camping setups.

Adding solar to your campsite is one of the easiest and most efficient ways to get power by using solar panels and a battery. However, if you're new to this concept or are only just starting to consider a solar power setup, choosing the right solar solution can be confusing and even overwhelming. Yes, solar technology has come such a long way that there are hundreds of brands out there in various options, sizes and prices. With miles of un-spoilt landscape and some of the world's most vibrant flora and fauna, Australia is a paradise for camping, 4WD and caravan enthusiasts. While escaping to the great outdoors can seem as simple as throwing a tent in the boot or hooking up your caravan, it's also important to think about your energy requirements.
How are you going to power the appliances you want to take camping? No matter what Camping Setup you use, Portable Solar Panels or Complete Solar Kits with Batteries can offer a solution to all these problems and get you the best Solar Power for Camping!
Solar Power is basically the conversion of energy from sunlight into electricity. It is an easy, cost-effective, clean alternative power source that allows you to get Portable Solar Power when camping or travelling off grid. Solar for Camping has become more and more popular with the advances in lightweight folding solar blankets and portable solar options that allow users to easily get 12 Volt power for camping in any location!
What is the Best Basic Solar Setup for Camping, Caravans, 4WDs, Boats, Motorhomes, RV's?

Solar is essential for a comfortable camping experience, especially when you consider you're actually helping the environment by powering your campsite using a clean, green way with solar power!
The key to a basic solar setup for camping is to use and energy efficient solar panels and a good quality deep cycle battery and battery box if needed. Then you simply place the solar panels in the sun and connect to your deep cycle battery setup. You can choose between mounted solar panels to be fitted onto the roof of your caravan or motorhome. Or many prefer a foldable portable solar panel setup for camping that allows them to "chase the sun" with a cable running back to the battery box and battery setup. By connecting your panels to a suitable AGM Battery and using with an inverter, you'll also be able to run 240v appliances such as laptops and televisions! So a basic solar setup will generally use the following;
Quality Solar Panels like a Folding Solar Blanket or Portable Solar Panel
Deep Cycle Batteries - Preferably AGM Deep Cycle Battey that will store the power produced by your solar panels.
Battery Box with 12 Volt sockets - cigarette lighter style and anderson plugs at are connected to the Solar and battery. This simple 3-piece setup of a Solar Panel, AGM Battery and Battery Box would allow you to use solar to run or charge 12 Volt appliances and accessories such as phones and tablets, car fridges, TV's, DVD players, radios, LED lights, fans, air/water pumps, air compressors, mobile phones, tablets and cameras.
Finally a Solar Regulator - will help to protect your AGM Battery from overcharging.
***This camping solar system will only recharge the deep cycle battery via the solar panels and does not necessarily need to be fitted to a car or caravan. This means, if you are camping you have the option to leave it at your campsite to charge up during the day while you are out and about exploring.
What is an Advanced Solar Setup for Camping, Caravans, 4WDs, Boats, Motorhomes, RV's?
Next you have the more advanced solar setups for camping these are long-lasting camping solar panel setups for when your camping solar needs are a bit greater or you are on the road for extended periods of time. As such your solar setup may be more advanced and will generally include;
Quality Solar Panels or a Folding Solar Blanket or Portable Solar Panel
A DCDC Charger with a built-in Solar Regulator.
Deep Cycle Batteries - Preferably AGM Deep Cycle Battey that will store the power produced by your solar panels.The Deep Cycle Battery which you usually have mounted somewhere inside your 4WD or Caravan is not to be confused with the battery under the bonnet that starts the car's engine.
Pure Sine Wave Inverter - This is connected to the Deep Cycle Battery and cleverly converts the 12 Volt power stored in this battery to 240 Volt power.
Getting the right solar setup for camping means you can use any household appliance that plugs into a normal power point - think coffee machines or your thermomix. The size of the inverter you require will depend on the wattage of the appliances you intend to use so you should always check on the tag or sticker of an appliance to find out its wattage. e.g. thermomixer is about 1500 Watts.
You need to have a good idea of how much power your devices may required before you can decide on the appropriate size of your solar panel array, and the size of cables and battery bank!

Aussie Batteries & Solar stock a range of Solar Setups for Camping and Solar Panel Camping Kits. Our range of camping solar setups are designed to accommodate every individual and their camping setup. Browse our range of solar for camping and solar panel camping setups or speak to our expert team and Let us help you find the Best Camping Solar Setup for your needs - Freecall Aussie Batteries & Solar Experts Today! Get expert advice EMAIL or call our friendly Camping Power experts on 1800 853 315
Camping with Solar Gives Reliable Power
Many of our panels, including the 130w 12v portable solar panel also feature cells from German manufacturers, Bosch. The A Grade mono-crystalline solar cells offer high annual yields even with sub-optimal levels of sunlight and power output is boosted by a 3-busbar design that reduces series resistance. Our solar panels also come with a 25-year performance warranty that guarantees 80% of rated solar panel wattage.
Camping with Solar is Good For The Environment
While generators are still a popular power source for many campers, increasing numbers of environmentally minded adventurers are making the switch to solar. Portable panels offer a silent and carbon neutral source of clean energy with none of the harmful gasoline fumes emitted by generators. Many National Parks have also begun restricting the use of generators due to their high noise levels, giving yet another reason to power your camping trip with portable solar panels.
Camping with Solar is Cost Efficient
The biggest saving after investing in a portable solar panel is the free energy you'll be able to enjoy – and just by adding sunlight. Unlike generators, which require constant refueling, folding solar panels can be placed in the sun to charge while your vehicle is parked in the shade or mounted on top of your caravan or motor-home. Aussie Batteries & Solar portable solar panels are also pre-wired, meaning there are no hidden extra costs in buying equipment to get your panels up and running. There's no need to worry about maintenance either; the panels are both dust and water proof.
Camping Solar With Lithium Ion Batteries

A great way to configure your camping solar setup is to include one or multiple Lithium Ion Batteries to store power. Lithium Ion batteries have the advantage that they are lighter and store more power than the alternate AGM Batteries. Lithium Ion Batteries such as the Giant Power Range of Lithium Ion Batteries also come with advanced bluetooth applications that allow you to connect directly to the battery and see how much power is going in and out of the battery.
Camping with Solar means you always have Emergency Power
Losing power in the middle of nowhere is a situation no camper wants to find themselves in. With an Aussie Batteries & Solar portable solar panel, you can rest assured that you'll always have the energy needed to charge phones, batteries and other small electrical items at least until the power returns.
Got a camping trip planned? Looking to start your 4x4, camper trailer or caravan solar upgrade but not sure what products will allow you to travel the way you want? Phone 1800 853 315 for solar camping advice and talk you through your solar camping setup and power needs. We can provide an Obligation Free Quote with Australia Wide Delivery !
August 18, 2021 | By Aussie Batteries | Comments