How Many Amps Can I Expect My Portable Fridge/Freezer to Use?
When going on a camping trip, people often wonder how much power their portable fridge will be using. In our latest Q&A video, one of our experts explains how many amps you can expect your device to use in different situations, and how you can minimise your fridge's power usage as much as possible.
January 20, 2015 | Comments
Blog Posts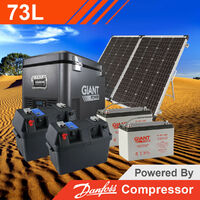 HOW TO GET THE BEST SOLAR POWER SETUPS FOR REMOTE CAMPING - The ultimate guide on how to get the best Solar for Camping and Solar Panel Camping Setups. Solar Power for Camping Explained:... read more
View more posts
Free eBook
Learn everything you need to know about
Deep cycle batteries
Solar panels
Portable fridges
Inverters
and more!
Download now